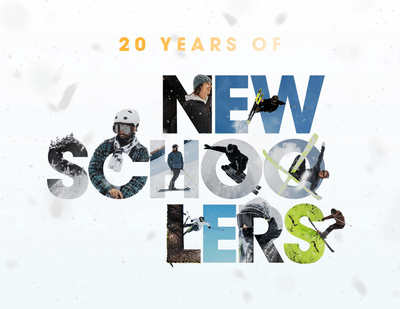 "It all started back in 1999, sitting at work, bored… yet feeling slightly ambitious. Matt [NS founder, Matt Harvey] decided that skiing was taking a definite turn for the better, and the sport needed a core website to promote it." From a pre-social-media dream to connecting skiers from around the globe, Newschoolers has come a long way since that day. One thing that has remained constant throughout the years, however, is the members that make it all possible. From scrolling the forums at work, to watching the newest videos in a lecture, members like you have remained the lifeblood of the site. From everyday posters to the pros who still visit the forums, everyone plays their part. With this in mind, we wanted to take a look back at some of our favorite moments from over the years, from legendary threads to events and video parts that changed our small world. While the website might not be old enough to drink, we sure are, so forgive us if our memories have slipped - we're doing the best we can. Help us out and add your favorite NS memories in the comments.
1999-2001

Matt Harvey Has a Dream -
First NS Homepage
From the primordial stew of freeskiing's (and the internet's) early days, skiing's greatest online community is born. Sparked by the desire to connect with other freeskiers, who were few and far between at the time, Newschoolers was born. Photo of the very first homepage
Chad's Gap First Hit- article
During the early days of the forums the seeds were sown for one of the longest-lasting legacies of Newschoolers - Chad's Gap. The gap was first hit in 1999. Ask an early member "how do you get to Chad's from the Alta parking lot?" sit back, and let the memories flow.
Parkasaurus - video
Skiing's first and perhaps greatest "superpark" event begins. Every year, this shoot would push the limits of skiing to a new level.
2002
Armadaskis.com Goes Live - article
Launching with the ARV, and a team including Tanner Hall, Boyd Easley, Julien Regnier, JP Auclair, JF Cusson, and Anthony Boronowski, Armada Skis is born.
Johny Moseley's Legendary "Dinner Roll" at the Olympic - Thread & video
Johnny M, freeski legend, throws a dinner roll (more or less a cork 7) in the moguls. From the OG thread in Ski Gabber, "The judges were behind the times and underscored him, but Moseley opened the door for a much better sport."
2003

NS Cults are Born - article
The niches within the niche, cults dished out the advice, from building your summer setup to getting laid.
C-Crew Starts Making Waves - thread
Tanner Hall, Pep Fujas, CR Johnson, Evan Raps and friends… now that is a legendary crew.
Corey Vanular Wins 1st SuperUnknown - video
Level 1 Productions crowns Vanular the winner in what would become THE quickest path by which up-and-comers could find a way into the film game. Winning is still a huge deal today.
2004
R.I.P Freeze -
Forum
Freeze Magazine, the early core voice in our freeskiing world is shut down after being acquired by Transworld.
Jason Levinthal Founds Full Tilt - article
Rescued from the depths of your hoarder dad's Raichle Flexon collection, Full Tilt boots begin their rise to ubiquitous dominance.
Siver Cartel Launches "Special Ops" Line - article
- take photos from in there
By freeskiers for freeskiers, Siver Cartel was the OG freeski outerwear company.
2005
Kris Ostness Releases TEDDY BEAR CRISIS
-
trailer
Perhaps the most legendary freeski film of all time, TBC set the standard for the genre, from its artistic direction to the era-defining skiing. If you haven't seen it, sit back and get educated.
NS Radio Takes Off -
article
Our very own radio show. If you remember this one, you're an OG member.
Steve Stepp Makes NIPPLES a Legend. -
The edit
Not sure if this would fly nowadays, but Nipples had the best summer camp experience ever in Whistler.
Meatheads Releases "Born From Ice" -
article
The East Coast crew would hold it down for many years to come.
MY ANKLES ARE BROKE! - video
Tanner Hall's infamous crash takes Chad's Gap's notoriety to a new level, with perhaps skiing's most viral video of all time.
Crochet Era Begins- intro video
If you weren't knitting your own beanie (or toque) what were you doing? DIY clothing was the name of the game in the early days, from these hats to stretching your tall tees. Movement made strong by the one and only EastAR5 -RIP
Simon Dumont Overshoots by 100 ft to Flat - video
Always in competition with Tanner Hall, Dumont decided he needed his own mega-crash.
Gallant's Death -
video
One of the most infamous crash videos of all time comes out as Gallant gets bodied.
2006: year of JEA.

I Hate NY's Movie Bogart Drops -
video
Before there was Traveling Circus, there was I Hate NY. Featuring: Andy Parry, Will Wesson, Ahmet Dadali, Giray Dadali & friends.
Tom Wallisch & Steve Stepp Release the Zoolander Edit -
video
A very young Steve Stepp and accomplice Tom Wallisch take to the slopes of Mammoth for an all-time classic edit.
Andy Mahre & Pep Fujas No Poles at X Games -
video here!!
Andy Mahre and Pep Fujas fucked the world up by dropping their poles in this year's X Games. With this move, these luminaries of style began the poles versus no poles debate.
Jamal the Urban Coach Makes his Debut - video
Urban skiing discovers its self-appointed head coach in this legendary spectator video.
The Salomon SPK Launches and Takes Over the Game - thread
Before Full Tilts were "the" boot, SPKs ruled the scene.
Newschoolers Hosts the JEA Video Awards-
article
Awards for both pro and am categories, with names like Garret Russell and Tanner Rainville showing up on the am side, and Level 1's Long Story Short taking the pro best film award.
2007

First-Ever West Coast Session -
article
Perhaps one of the best manifestations of the spirit of freeskiing, the West Coast Session would begin the annual spring pilgrimage to Mount Hood for many years to come.
First IF3 Festival! - article
The best party in skiing, IF3 is an epic gathering of ski films and pros in Newschoolers' hometown of Montreal. In its first year, films like Idea, Realtime, Believe, and early films from Stept and 4bi9 were shown. Check out that guestlist!!!
4bi9's "Look It Up" Drops -
trailer
From the early days when skiers like Tom Wallisch were "up and comers" 4bi9 released their first full film.
Legendary Vermont Open Train - video
One of the most famous clips in NS history showed us all what skiing with the whole online crew NS'ers would actually look like. A video that made everyone want to be a part of something big. Extra points if you can name the trio doing a backflip holding hands.
Switch 720 Small Girl Tap -
video
Since the beginning of time, there have been kids skiing on jump landings.
Candide Breaks his Back on Big Bertha - article -
video
The crash nearly ended the career, and life, of skiing's biggest name. Thankfully he somehow found a way back and continues to push the view count bar ever higher.
"Idea" Releases & Nimbus Crew is Born - video
Eric Pollard, Pep Fujas and Andy Mahre change the game with no-poles pow skiing, huge switch pow landings, and artsy editing. This movie remains a cult classic and the all-time favorite of many.
2008:
Iconic Rails to Riches Podium - LJ, Sean Jordan, Brogan: -
article
A group of young pups, who are now staples and legends of the game, topped the ever influential Rails to Riches podium.
Newschoolers Movie - article VIDEO COMING SOON
With five user-submitted segments and two pro segments, Newschoolers made our own movie "First!"
Simon Dumont Breaks QP World Record- article video
Simon Dumont grew wings and floated the biggest air ever on a quarterpipe.
Orage Masters V at Mammoth - article
Skiing's gnarliest party, masquerading as a contest, the Orage Masters is a true icon of the wild west days of freeskiing.
Jon Olsson Super Sessions AKA JOSS is Born -
article
One of the best contests to ever grace snow, the Jon Olsson Super Session gave us some of the most memorable skiing videos ever over the years.
Final Candide Invitational - article -
video
Candide's invitational event brought out some of the best skiers in the world to hit some of the gnarliest features constructed from snow until 9 Knights came onto the scene.
LINE Travelling Circus 1st Episode -
first episode
LTC is perhaps the best manifestation of freeskiing, and it's still going today.
Salomon G Suit Hits the Market -
image
The Buy/Sell/Trade forum was inundated with "WTB" threads for this iconic suit - just make sure it's got at least one X before the L.
2009

WME vs Level 1 - the scoop / the update - Podcast
With the Release of Refresh, narrated by the legendary Warren Miller, Level 1 Productions found themselves in a legal fight with Warren Miller Entertainment.
The Drama Llama Debuts article + story
Embracing our role in internet beef, Newschoolers debuted the Drama Llama IF3. This unofficial mascot would go on to provide one of the best stories in Newschoolers' history.
NS 10th Anniversary Party - NSX: article
Newschoolers turns 10 and celebrated the only way we know how, partying.
Chug Life - article +
episode 1
Ian "Chug" Cosco hits the internet with one of the best and funniest series to ever hit our eyeballs, Chug Life.
My Friend is a Pro - article & video
The hottest music video in skiing hits the airwaves, My Friend is a Pro, featuring Colby West and Simon Dumont, jk John Symms. I think I still have this on my iPod nano...
RIP Shane McConkey
article
Shane's death rocked skiing. His enormous personality and infection stoke left the world a better place.
"FUCK!" Drops - video
Evan Heath and Clown School release the quintessential Park City edit, a trope infamous in its own right on Newschoolers. More than 100k views later, it's still a classic.
Hathbanger Makes Billboard Charts with Remix - song
When the ski world goes mainstream. Pro skier Andrew Hathaway AKA Hathbanger went big with this Miley Cyrus and Biggie remix.
The Hyphy Movement Begins - video
The tees were tall, bandanas were worn, and E 40 was blasting in the speakers - what a time to be a skier.
Lil Horsey Trolls Everyone - thread
An alias account for a large group of pro skiers, Lil Horsey was a legendary troll. The Warren Miller diss track may be the ultimate manifestation of this brilliance.
2010
JOSS Team Newschoolers - interview - video
Who invited us? One of Newschoolers' greatest honors over the years was sending our very own team to represent skiing's keyboard warriors at the coolest event in the world. LJ, Matt Walker, and Gus Kenworthy did us proud.
RIP CRJ -
article
One of skiing's legends and most inspirational figures passed away from a ski accident, 5 years after a life-altering injury that he battled back from. CR's words and positivity continue to inspire others to this day.
TJ Schiller Lands 1st 1620 in X Games - video
Big changes came to skiing with this trick, as we finally moved on from the double-cork 1080 era.
Teddy Berr Throws Naked Frontflip over 50m Jump - video
Not a lot needs to be said about this legendary send, 150' of pure skinsuit lawn-dart action, followed by one cold ragdoll.
Jon Olsson Creates Stepdown of Doom - article
This thing was huge! One of the largest jumps from Jon Olsson's legendary events. Andreas Hatveit took the win with a dub cork double mute to double japan.
Nike 6.0 Outerwear is Released -
article
Nike makes its brief foray into the freeskiing outerwear game. Still waiting for them to come back...
Sammy Carlson Throws 1st Switch Triple Rodeo 12 - video
The first-ever switch triple. The following winter, he won X Games and promptly headed off into the backcountry to blow minds.
Candide Wins the FWT Overall - article
Winning this title all but cemented Candide as the GOAT.
Tanner Hall Wins His Last X Games Medal (probably)
With seven gold medals and 4 silvers, T-Hall is currently the most decorated skier in X Games History
2011

JP Auclair Street Segment Drops Video
Sherpas Cinema released what would become the magnum opus of the legendary JP Auclair.
Red Bull Cubed Pipe with Simon Dumont - video
While Dumont may be best remembered for his X Games resume, this swiss-cheesed halfpipe might be his most infamous video part.
Newschoolers X Jiberish Collab Comes Out threads
Jiberish was worth more than just money back in the day, this piece might still be...
Totally Trevor Launches - video
Newschoolers grown talent "Totally Trevor's" irreverent webisodes were some of the funniest and weirdest videos on the skiing internet.
2012

Virtika's "Last Friday" Goes Viral - video
David Lesh polarized the ski world with this one, turning the gangster knob to 11.
Instagram Launches
The internet of skiing was made available to all. Things would never be the same. Influencers rose, edits were published instantly, and full-length projects began to make their way to the endangered species list.
Candide's "Few Words" Drops - video
The goat's resume, compiled into one film, this footage still holds up today.
The 1st "Wallisch Project" Goes Live -
trailer
Breaking out from parts in full films, Tom Wallisch created his own banger short film, with 8 minutes of classic Pretzel Man steeze.
RIP Sarah Burke -
article
Skiing lost one of its brightest stars with the halfpipe training death of Sarah Burke. Her infectious spirit and tireless drive made Burke a legend remembered not only for her results but her role in pushing the sport to a new level.
2013
TGR Collab Contest - Dale Talkington Wins $100k - video
Cashing in, Dale Talkington stunned the greater ski world, taking home TGR's massive check, beating a stacked field made up of all different types of skiers.
Sammy Carlson Wins X Games Real Ski Backcountry - video
From child prodigy in the park to dominating the backcountry Sammy Carlson staked his claim as one of the greatest all-around skiers with this victory.
Magnus Graner Wins SuperUnknown WITH POLES - video
The Swedish swag king Magnus Graner introduced himself to the world with his SuperUnknown victory, complete with tall tees and poles.
EC Headwear Makes it Big Time with Charging Cables - article
A Newschoolers success story unlike any other, EC Headwear not only graduated from the crochet era but made it big time. Proud dad moment here.
Joffrey Pollet-Villard Sets New Halfpipe World Record at 8.5m -
video
French rock and roller Joffery Pollet Villard captured the ski world's attention with the insane hight on his signature alley-oop flat 5's.
Hoodcrew Drops 1st Full-Length Movie - full movie
Degenerates, urban skiers, and Newschooler am heroes, The Hood Crew, give the people the movie they have been waiting for - Freed The Streets.
Stept Productions drops "Mutiny"
-
Trailer
Nick Martini and Cam Riley put together one of the most iconic street videos to ever hit the ski scene.
The 1st and Only NS Magazine Comes Out - Overview
User stories and photos came to life with real ink on real paper in a real magazine. Still have one of these? Save it, it's a collector's item.
Candide's "One of those Days" Goes Viral - Video
"Have you seen that video with the skier?" - Everyone. Candide came out of nowhere with the first of his ultra-viral video series.
Jason Levinthal Leaves Line to Start J Skis - article
After years taking Line all the way from his garage to a major ski industry player, Jason Levinthal starts all over again with J Skis.
Henrik Lands First Nose Butter Triple - video - Tanner narrated
Fueled by Tanner Hall's epic pump-up speech, Henrik Harlaut threw down to win his first X-Games gold with a nosebutter triple.
2014
Freeskiing Make its Olympics Debut. Article | Harlaut :
Video
With much controversy, slopestyle and halfpipe skiing entered the limelight. Joss Christensen, David Wise, Maddie Bowman, and Dara Howell were crowned freeskiing's first gold medalists.
The Drama Llama is Returned! -
Article
The best comeback story since Michael Jordan was cut from his high school basketball team - the Drama Llama was returned years after being stolen.
RIP JP Auclair & Andreas Fransson - Article
We lost 2 legends of the sport in one day.
2015
First SLVSH Cup - Finals Video
Showing off freeskiing at a raw and fun level, SLVSH brings their first full tournament to life. XXX takes the first crown.
RIP Matt Heffernan - Article
Longtime member, up-and-coming ripper, and all-around great person, Matt Heffernan AKA Heffy won't soon be forgotten. #senditforheffy
"Deadkind" Breaks NS- video
Jake Carney and SIMPLE. took style to a new planet with the hottest edit out of Whistler maybe to ever grace the web.
"On the Road with Mr. Bishop" Debuts -
video
Debauchery incarnate, Mr. Bishop took to the web, showing the world how to take on skiing events Newschoolers style.
Leo Taillefer Wins 1st GoPro Line of the Winter -
video
The quirky Frenchy found his way to POV fame with this gnarly line. He went on to make a nice living off the contest with several further wins.
2016
Tom Wallisch Sets World Record Rail Slide - video
Tom Wallish slid a really, really, long rail. 424' to be exact.
"BE Inspired" is Released - video
A two-year project with B & E themselves - Phil "B DOg" Casabon and Henrik E Dollo Harlaut. Two of the most stylish skiers ever made this one to remember.
Dew Tour Taken Over by Newschoolers & TEN - article
Newschoolers and then parent company TEN try to breathe some life into the traditional contest format at Dew Tour.
1st Ever X Games Real Ski Street - Video
Wesson takes home the gold in the first edition of X Games' urban video competition, while Tom Wallisch takes home the fan vote.
2017
Amer Sports Armada Buyout - article
Born from riders, Armada (and its debts) are bought out by Finland based Amer Sports, owner of Salmon, Atomic, and others.
Revision Skis Goes Under - article
Born from hype, low prices, and a sick team, Revision skis folded under scandal and undelivered preorders.
Tom Wallisch 'Imagination' JP Tribute Drops -
video
Recapturing the magic of JP's segment in All.I.Can, Wallisch reminds us of the childlike wonder and undimming light that JP shared with the ski world and beyond.
Andri Ragettli Does First Quad Cork - video
Freeskiing is now aerials… again. Andri Ragettli brings skiing into the quad cork era for good with a Quad 1800. You could argue Wacko Wells was the first though...
Tanner Hall Gets Redemption on Chad's - article
14 years after breaking his ankles on the famous gap jump, Tanner Hall returned for redemption, double backflipping the booter.
2018:

Henrik Wins Everything but the Olympics? - Article
Appearing unstoppable, Henrik Harlaut dominated the comp scene, stacking gold medals with his next-level balance of tech and style. One gold he missed, however?
The Olympics.
-
Thread
Freeskiing is Included in its 2nd Olympics
Oystein Braten, Sarah Hoefflin, David Wise, and Cassie Sharpe win golds. The judging of men's slopestyle (in particular) generates huge controversy in the forums.
Thanos Dog Thread + results - Threads
The newschooler thread that actually made Armada change the name of a ski. Ah, the power of our weird and wonderful website.
2019:
Final Level 1 Movie - "Romance" is Released - Article
"Romance" caps the annual movie run from freeskiing's favorite film company. Thanks for the good times guys!
**This thread was edited on Jan 22nd 2020 at 8:14:29pm
**This thread was edited on Jan 23rd 2020 at 2:08:45pm