We finally did it!
First!!! The NS Movie Volume 1 is done. And to commemorate its completion, we're doing something special and unique to release the film. On Monday, October 13th at 7pm PST/10pm EST we will be doing a Live NS Webcast of First!!! with streaming & production provided by Adrenaline Garage.
Just like the NS Awards and Freestyle.ch, you can watch the live broadcast of the movie and chat along with fellow NS'ers in the comfort of your own home, dorm, or shanty town with net access.
Date: Monday October 13 @ 7pm PST/10pm EST
Where: http://newschoolers.com/web/content/pagetemplate/name/streaming/page/first
The movie will be available for download after the show.
Streaming details: First!!! will be streamed using Flash. To download the latest flash player, visit: http://www.adobe.com/go/EN_US-H-GET-FLASH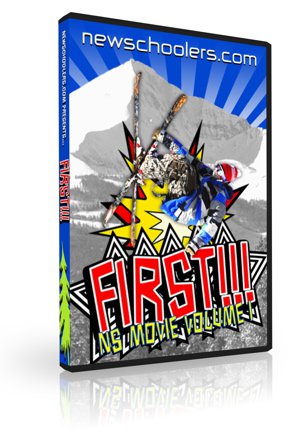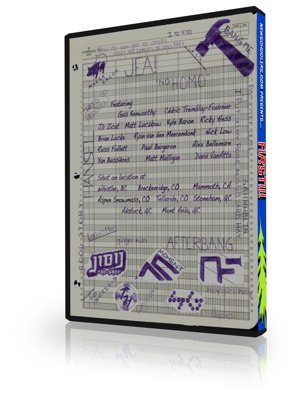 To give a little background on this project to those of you who have been hiding under a rock for the past few months, it all started when our good friend Dave Brunelle called the NS office at the beginning of the summer and pitched us the idea of doing an NS movie. We were initially quite frightened by the idea, as we were all so busy that we couldn't imagine finding the time to take on such a massive project. Not to worry Dave said, as he wanted to spearhead the effort and work with a multitude of athletes, videographers and film companies to create the segments, get the NS community as involved as possible by voting for their favorite footage along with naming the film itself, and once it was all said and done, put everything together on his own with as much feedback and support as we could offer. We were sold.
As Dave put the finishing touches on the movie last week I had a chance to sit down with him in between his last second all-night final cut pro sessions and the uploading of the movie to NS's servers to discuss his vision for the project, how the process played out, and his plans for future NS movies...
What prompted you to want to make an NS movie?
I always knew an NS movie was inevitable, it was only a question of time. The motivation for me to undertake the project came around the start of summer. I was living in Kingston and going to school at Queen's University. Anyone who knows this town understands it isn't the most interesting place to be during the summer. So I thought I would give it a shot.
Why make an NS movie as opposed to say, starting your own production company and doing something completely independent?
That was my orginal plan, I've been doing freelance film work the past few years. But because of school, I've never had the time to really dedicate months to film and produce a full length film. I also realized that with such a huge audience, an NS Movie is a must. Not only does Newschoolers.com benefit, but so does every member that takes part in it. Very few people can say, "Hey look I have a segment in a ski movie, I've got potential, sponsor me," and now they can. It brings the idea of Level 1's Superunknown to a much larger scale.
What can people expect to see in First?
The format of the movie is 5 member submitted segments along with 2 pro segments. The first thing people will notice is the variety of footage. Because everyone uses different cameras, the quality differs from one edit to another. There is a good mix of park and backcountry with mostly unknown-am riders. The only thing I think the movie lacks is lifestyles shots.
Who's in it, and which companies contributed footage to the film?
The movie will feature:
Gus Kenworthy
Cédric Tremblay-Fournier
JD Zicat
Matt Luczkow
Kyle Baron
Ricky Hess
Brian Lock
Ryan van den Meerendonk
Nick Low
Russ Follett
Paul Bergeron
Alex Bellemare
Yan Bussières
Matt Mulligan
David Van Atta
BIG thanks to DOS Media, ESK, NSF, Stept and ATA Productions for the footage.
How will this film differ from all the others this year?
This is essentially a member made movie so it will be lower quality and might not flow as well. That said, it will still showcase some of the best riders unknown riders on NS.
One thing that struck me about the project that was really cool was how involved you got the NS community in it, with having them pick the title, design the cover, etc. Looking back, which part of this whole process was the most enjoyable for you?
The part I enjoyed the most was the amount of support I was offered. I'm sorry if I snubbed a lot of people because so many offered help. I have seen this project proposed before but it always seemed to get shot down.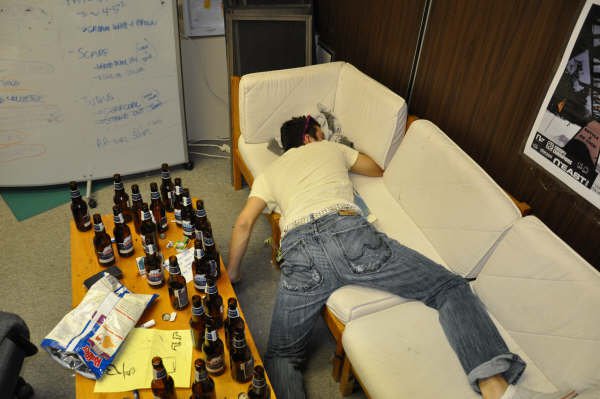 How hard was it to finish editing the film in the NS office when we're always partying and forcing you to drink and snus?
It wasn't that hard, I have a much higher tolerance than most of the staff at NS, who gets drunk off of two beers?
Now that the movie is done, there's going to be an online premiere. Tell everyone about it.
Well thanks to the awesome people at Adrenaline Garage, you can watch the movie and chat about it along with the rest of NS at 10pm Eastern Standard Time on Monday, October 13th. After the movie, don't forget to vote for your favorite segment to determine the grand prize winner.
Will there be an NS Movie Volume 2?
Of course, I am already in the planning stages and I can guarantee it will be 100 times sexier than Volume 1.
What can we expect next year?
Monthly competitions which will make the movie much more well-rounded, a new voting system, way better prizes, better quality, bigger sponsors, etc...I plan on releasing all the details for the new movie around November.
Thanks and shout-outs?
All the NS staff, all who contributed footage and most importantly, the NS members who voted, waited patiently, and supported this project all along.
Thanks,
See you at the Premiere
Dave