Mountain Dew® and TEN: The Enthusiast Network announced today new details around the winter Dew Tour ski and snowboard competition coming to Breckenridge Ski Resort, Colo. on December 8 - 11. The first big competition of the season is turning the traditional format on its head by building a new game-changing three-part competition course for both the individual competition and new Team Challenge as part of TEN and Mountain Dew's reimagined vision. In addition, a Streetstyle competition will take place on Friday, December 9 as part of Breckenridge's downtown Dew Tour Experience. View the entire event schedule here.
The progressive new course taking over Breckenridge Ski Resort's famed Freeway Terrain Park, built by renowned Snow Park Technologies and Breckenridge Terrain Parks, will be split into three sections: a modified Superpipe zone that will boast distinct additional features including a hip entrance and waterfall exit, a slopestyle jump zone consisting of three consecutive jumps and a separate slopestyle rail zone, incorporating more jib features than ever before seen at Dew Tour.
http://video.grindnetworks.com/embed/Lg0UXaigJ?
"The idea behind all the courses is to challenge riders and skiers to change up their runs from standard competition formats and approach the course from a fresh perspective," explained Chris Gunnarson, Snow Park Technologies president. "With input from the athletes, we designed the courses with allowances for them to take their tricks and style to the next level in competition."
"This year's new Dew Tour layout has gained a lot of its creative inspiration through the Peace Park courses I have created with Mountain Dew for the past five years, evolving and expanding upon the traditional halfpipe. It's cool to see a contest as prominent as Dew Tour take cues from a project that I've been so passionate about," said Danny Davis, Mountain Dew snowboard athlete and former Dew Tour Superpipe Champion. "I'm hopeful the new formats and layouts this winter will encourage competing riders and skiers to continue to be creative, adding style and fun to each of their runs to really excite fans.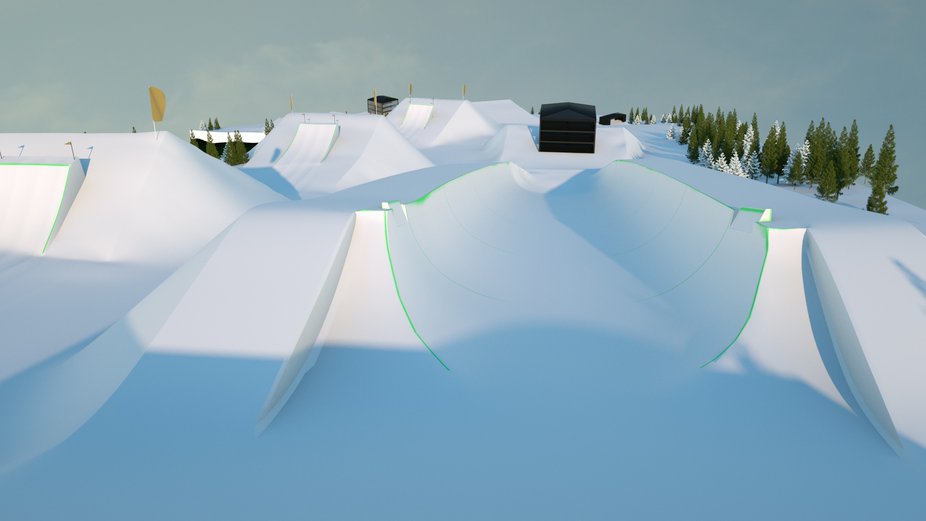 Individual Competition: The world's best ski and snowboard athletes have been invited to compete in the new course in an individual competition which will consist of athletes competing in specific disciplines - Individual Pipe and Individual Slopestyle (Jumps/Jib). The women's individual competitions will take place on Friday, December 9 while the men's competitions will be held over the course of two days on December 10 and 11.
Team Challenge: Dew Tour will also bring its new Team Challenge to the winter event, which was first introduced at this past summer's skate competition in Long Beach, Calif. The Team Challenge invites the 12 biggest winter hardgoods brands (six ski and six snowboard) to Breckenridge to compete in a fun new team format that embraces the industry's community. The hardgoods brands will select three of their team athletes to compete in one of the three sections, allowing wildcard athletes who are not competing in the individual competition an opportunity to compete at Dew Tour. As a result, some of the best jib/rail snowboarders and skiers will be seen competing for the first time at Dew Tour.
Streetstyle: Dew Tour's signature Streetstyle event will be returning this year with a ski and snowboard jam session held in downtown Breckenridge at the Blue River Plaza on Friday, December 9 at 6 pm MDT.
Returning partners Toyota and U.S. Army will again join Mountain Dew at Dew Tour with on-site activations throughout the Dew Tour Experience - a four-day festival that intersects music, action sports and culture. TEN: The Enthusiast Network will be bringing its popular winter sports awards shows, the TRANSWORLD SNOWBOARDING Riders Poll Awards and POWDER Awards, to the Dew Tour for the first time this year.
More details on Dew Tour's winter event in Breckenridge will be revealed over the coming weeks. Stay tuned at DewTour.com and on Facebook, Twitter, Instagram, Snapchat and YouTube @DewTour. NBC will continue as Dew Tour's broadcast partner with the Winter Dew Tour airing two specials on December 17 and December 24, 2016.
Apply for media credentials to the winter Dew Tour here.