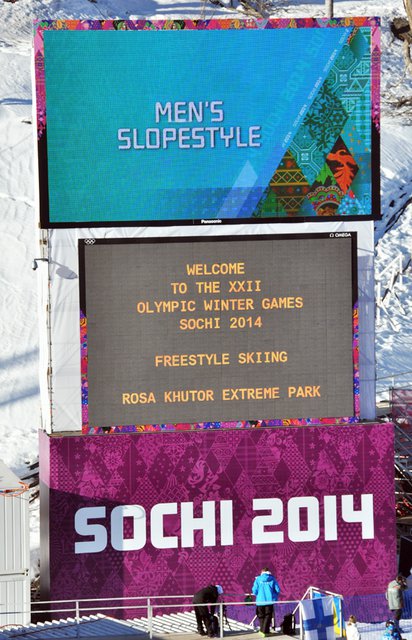 Words & photos: Ethan Stone
Today the latest chapter of freeskiing history was written on the slopes of the Rosa Khutor Extreme Park in Sochi, Russia, as Team USA swept a podium for the third time in Winter Olympic history.
Months and years of anticipation led up to today's historic Men's Ski Slopestyle final, where 32 men from fifteen countries battled it out for slopestyle supremacy and the rare honor of bearing away freeskiing's first-ever Olympic medals.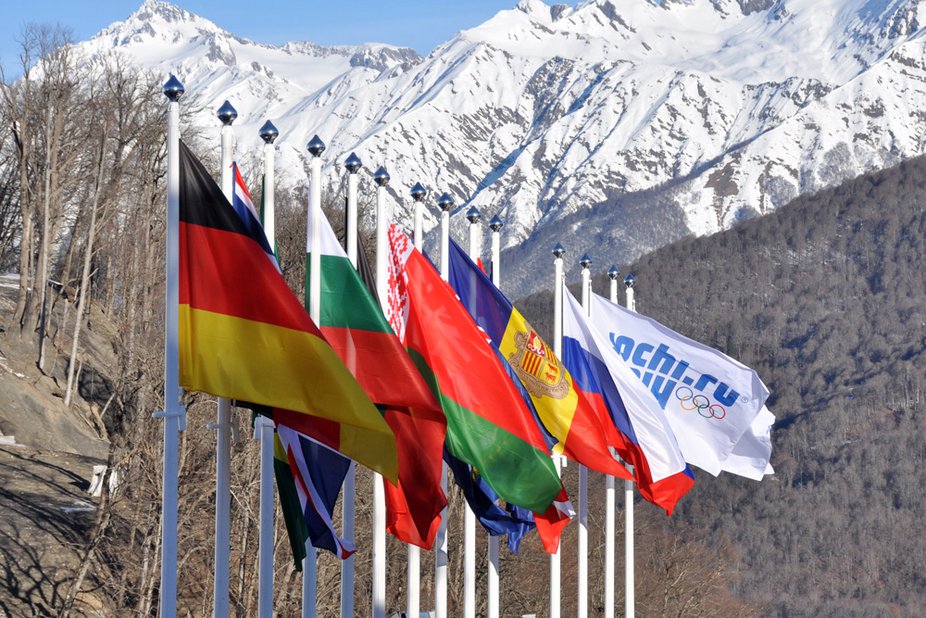 A stunningly beautiful day welcomed athletes and spectators alike.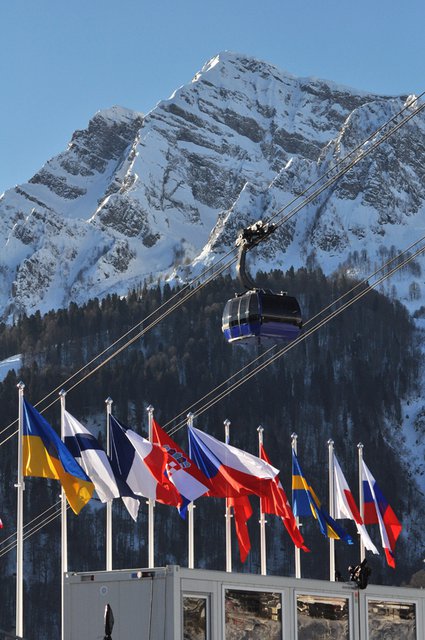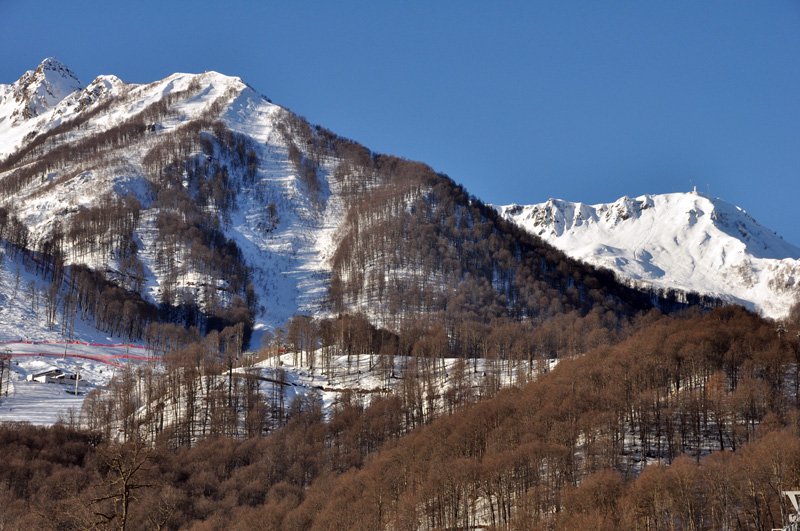 The terrain of Rosa Khutor above the Extreme Park looks excellent. Can't wait till the Olympics are over and they let people ski it again.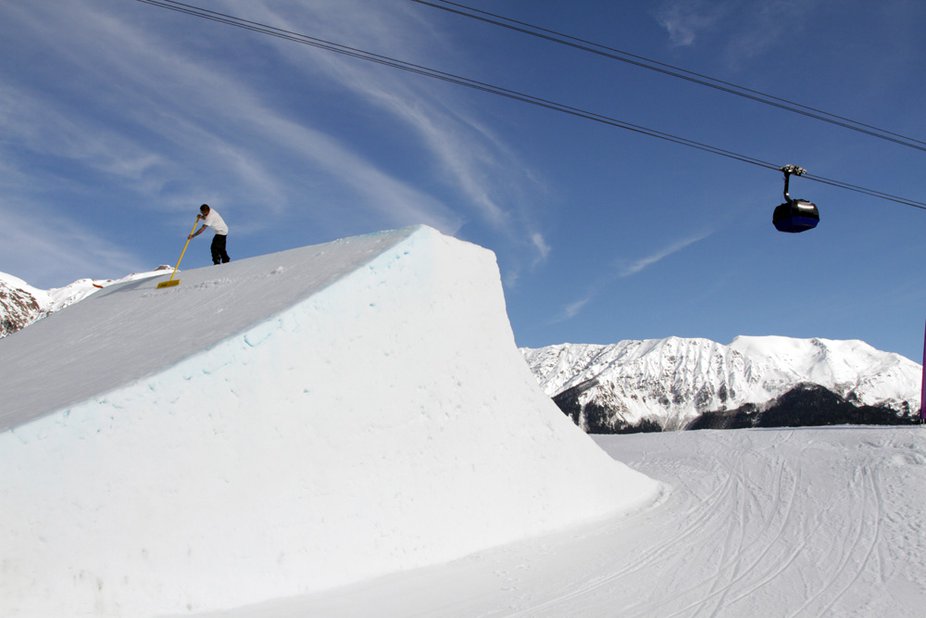 Jump 3 big enough for ya? I was asked by Newschoolers to measure the jumps so I paced them out yesterday. They weighed in at 21 meters (63 feet), 23 meters (69 feet), and 27 meters (81 feet).
From the day's first light it was readily apparent that the stars were in alignment for a spectacular slopestyle debut here in the mountains above Sochi, Russia. Thursday, February 13 dawned without a cloud in the sky as thousands made their way up the valley to witness the big show at the Extreme Park.
The slopestyle course was perfectly groomed, and fast and firm from the cold night before. As competitors hot-lapped the course during a brief warm-up session, it quickly became evident that everyone intended to go big today. VERY big.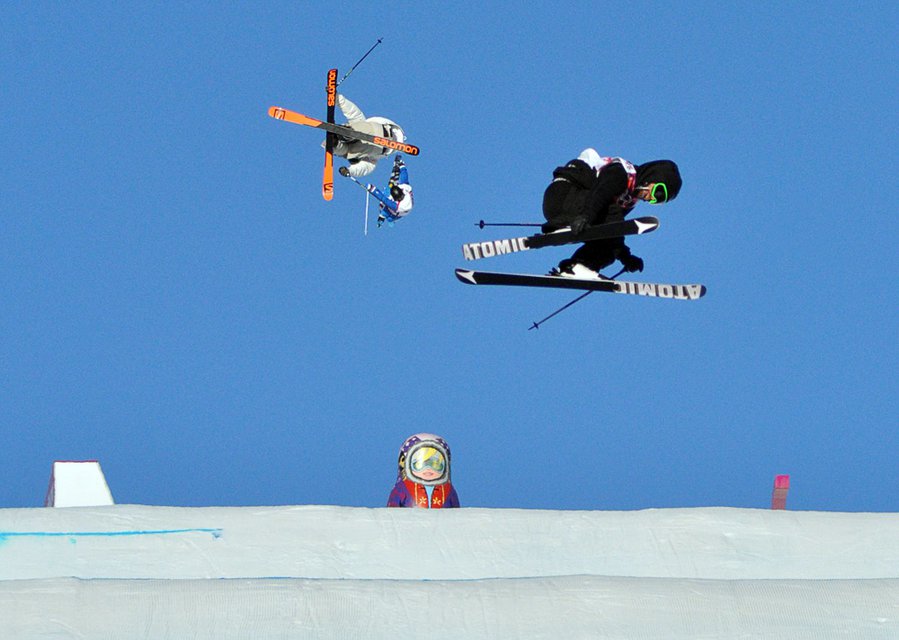 Somebody call air traffic control, it's getting busy up there.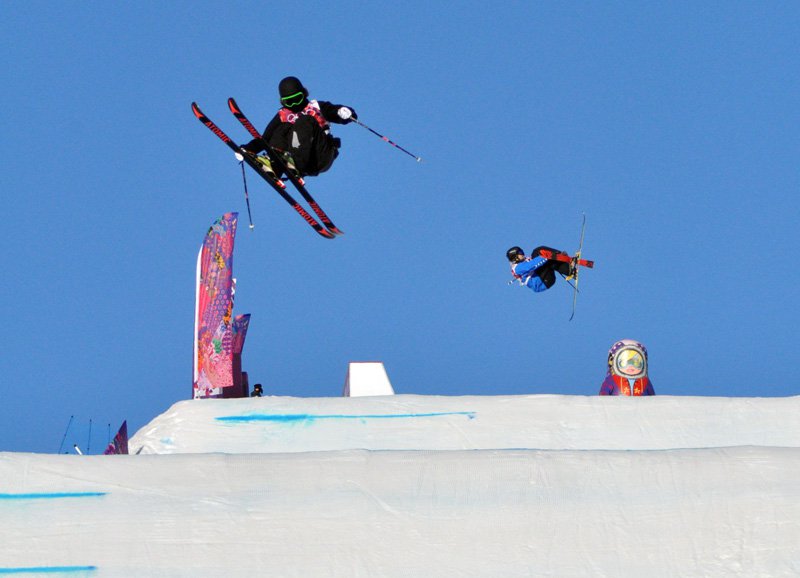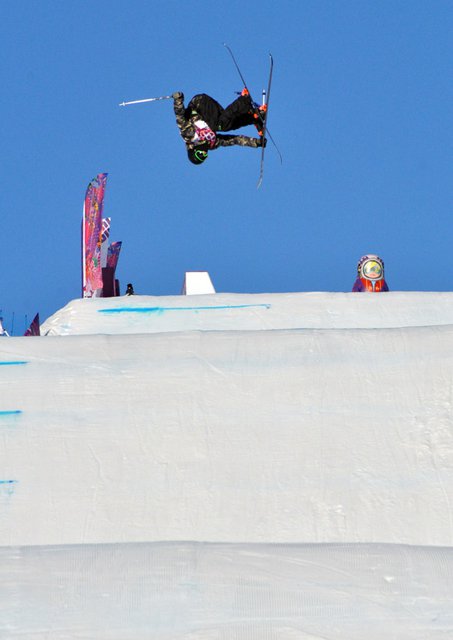 Antti Ollila of Finland boosts during practice.
As the stadium seating at the finish slowly filled to capacity, the qualifying round kicked off with two runs to determine which twelve skiers would advance to the finals.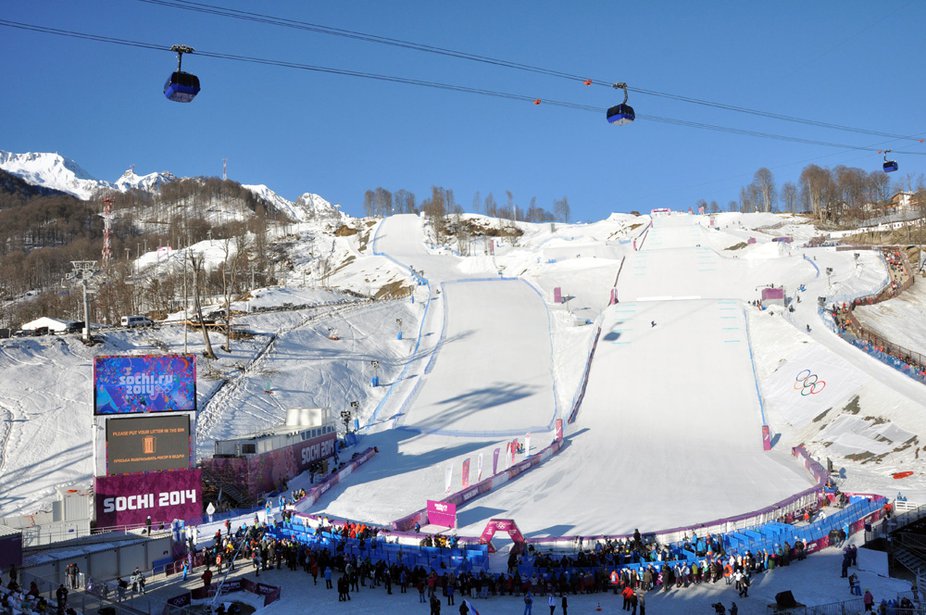 Please direct all complaints here.
Last's week's surprising snowboard slopestyle results (namely, a gold medal run without a triple cork) had everyone wondering how today's competition would go down. Would the judges favor style and execution over technicality? Or would the growing number of triple-cork variations in many competitors' trick bags win the day? Only time would tell.
As the qualifying round got started, it quickly became apparent that today would be a day of surprises. Several of the most favored skiers, including Nick Goepper, Bobby Brown, Alex Beaulieu-Marchand and Henrik Harlaut, uncharacteristically went down on their first runs, opening a window of opportunity for others. It fell to perennial performers Russ Henshaw, Andreas Hatveit and Gus Kenworthy to set the bar during the first qualifying run. Henshaw posted the first score in the 80s with a disaster 450 on, backside 270 out on the down-flat-down in the first rail tier, followed up with a leftside double cork 12 mute, switch double cork 900, and a nose-butter double cork 1080, earning a score of 84.6.
Hatveit, never one to be outdone, followed Henshaw immediately with his own disaster 4 on, 2 out and similar jumps: leftside nose butter double cork 10, rightside double cork 12, and a switch leftside double cork 900, bumping the day's high score up to an 88.
Hatveit was followed by Kenworthy, whose clean rail section, leftside double cork 12 blunt, switch right double cork 10 japan, and a monstrous switch left double cork 900 japan halfway down the landing netted him an 86.4, right behind Hatveit.
From there on out, the heat done got turnt up. New Zealander Jossi Wells and Great Britain's James Woods both posted scores in the eighties, and Austria's Luca Tribondeau displayed the day's first triple (a forward triple cork 14 mute) in a clean run, picking up an 80.2.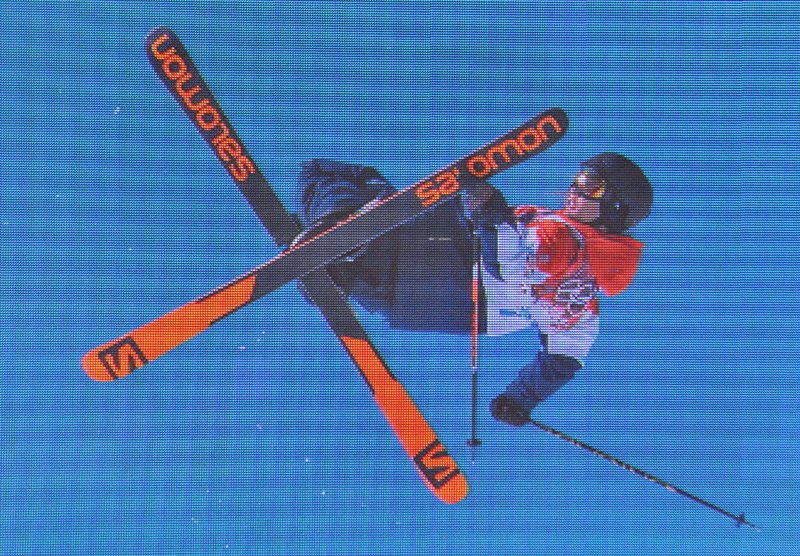 Woodsy giving his all despite a nagging hip injury.
But it was American Joss Christensen who ended up with the nod for the top-dog spot in the first qualifying run, putting down a clean, technical run through the rails, including creative use of the butter pad to cannon feature with a 180 in and switch on, cork 450 out of the cannon, and three grabbed-up double corks to pick up a score of 91, the day's first score in the 90s.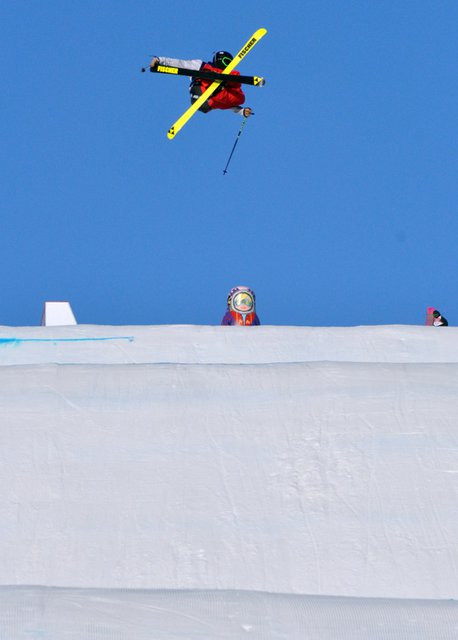 Joss Christensen laces his first run.
Even so, by far the biggest cheer of the day went to home-country favorite Pavel Korpachev of Russia, who was supported by a huge rallying cry from his compatriots, and rode out both his qualifying runs despite being a little outclassed in the competition.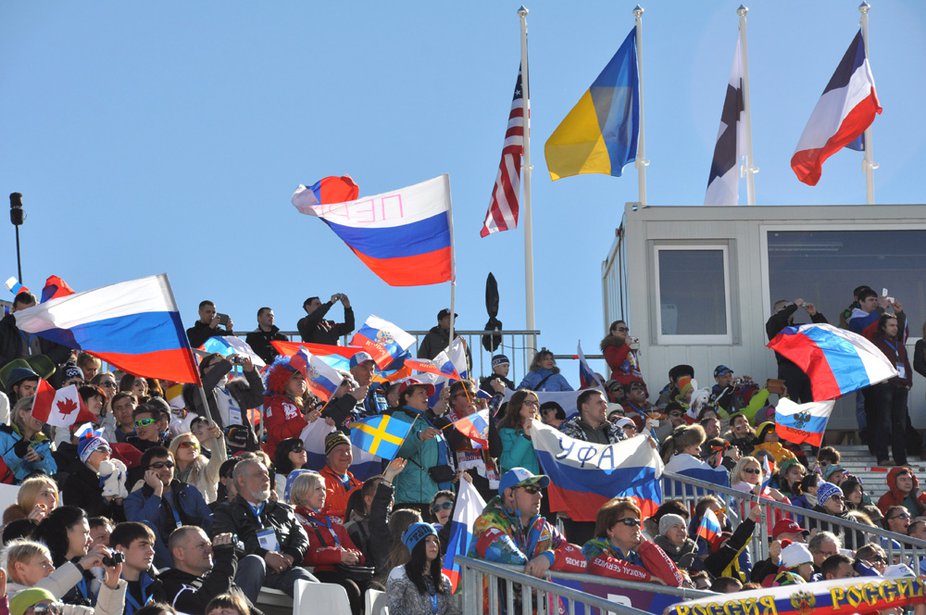 The Russians go nuts for Pavel.
In Run 2, several more competitors were able to put down their runs and move into qualifying position, including Norway's Aleksander Aurdal and Oystein Braaten, and Alex Beaulieu-Marchand of Canada. The tension kicked into high gear when it came time for heavy hitters Goepper, Brown and Harlaut to step up or shut up in their second runs. Geopper played it safe, opting to store his triple for the finals and easing in seemingly effortlessly with a score of 87, Brown played his cards similarly, sticking to doubles to pick up an 83.0 and the 12th-place bubble position, and Harlaut squeaked into 11th place with a run that featured both a nose-butter and tail-butter double even while struggling to find speed in the jumps.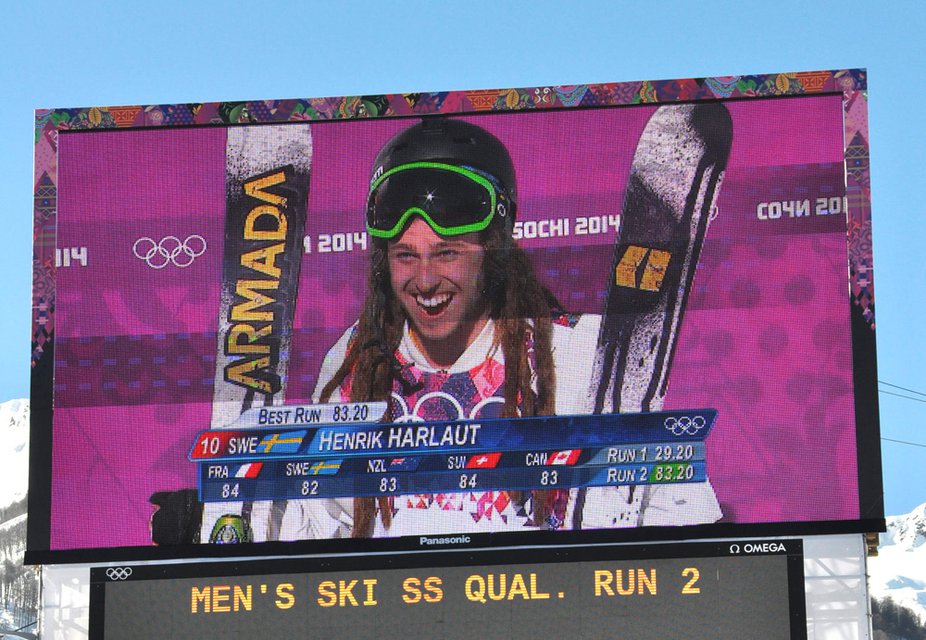 Wu-Tang is for the children.
At the end of the second qualifying runs, all four American athletes and three Norwegians were to be found among the top twelve to advance, in addition to James Woods, ABM, Russ Henshaw, E-Dollo and Jossi Wells.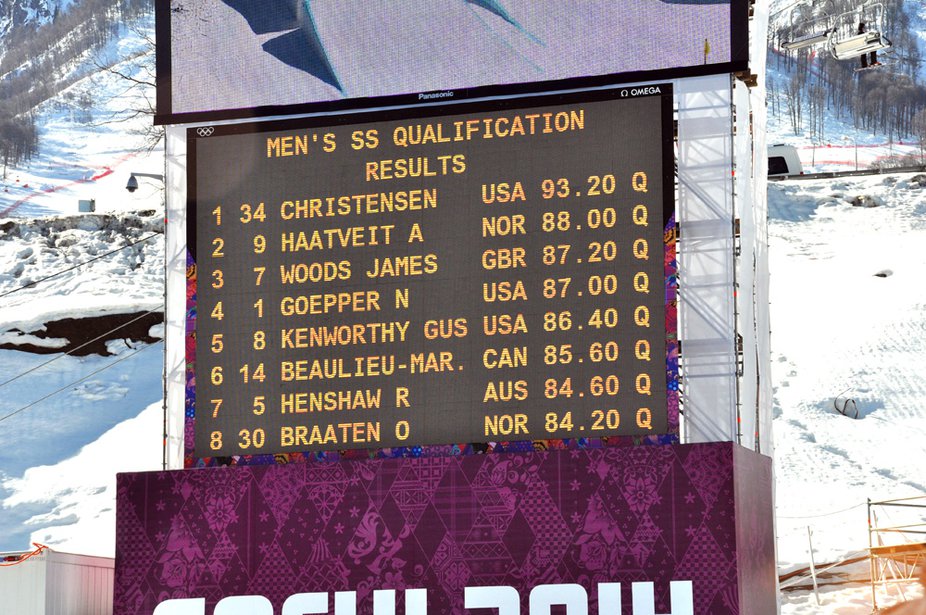 The finals got off to a shaky start, with only three of the first eight competitors finding themselves able to put down a clean run. Bobby Brown, skiing in just a t-shirt, sent a triple cork 1440 so deep on the third jump that the impact upon landing knocked him clean off his feet, while Jossi Wells lost his flow in the jumps, ABM got hung up on the first rail, and Gus Kenworthy couldn't quite get his beautiful switch triple 14 to his feet.
Henrik Harlaut then proceeded to blow everone's mind by tossing his signature nose-butter triple cork 1620 to the extreme bottom of the first jump, stomping it clean and completing his run with a switch tail-butter leftside double cork 1080 and a switch rightside double cork 1080. But in the same run, he came off a rail just a tad early and didn't stomp his third jump as well as he could have, picking up a score of 83.8 despite the ridiculously huge triple.
Nick Goepper's first finals run was a solid bid for the gold, stepping up his tricks in the rails and stomping a clean triple 14 on the bottom jump for a score of 92.4. But he didn't hold the lead for long: top qualifiier Joss Christensen stomped everything in his run, and capped it off with a switch right triple cork 1260 on the final jump--unnatural triple flip!--that he'd just learned earlier this week during training. Thanks largely to the unnatty trip, Joss vaulted into the lead with a 95.8, a score so high he had to look twice to make sure he read it correctly!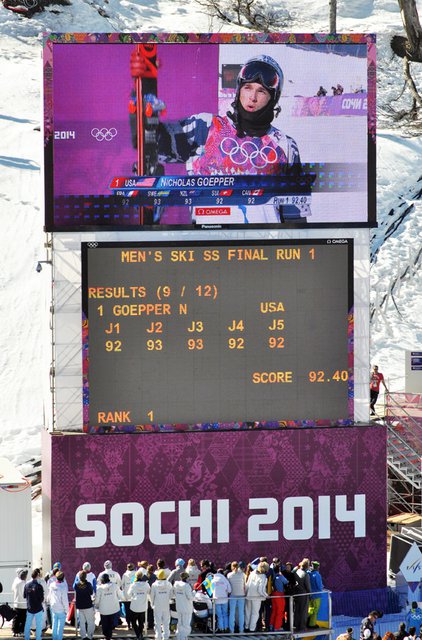 Goepper thinking that a 92 might not be enough for gold...
All at once there was only one run left in the event that we've all been fretting about for far too long now. 12th-place qualifier Bobby Brown put down a clean safety run, opting not to triple and just get to the bottom in one piece. Henrik Harlaut, proving his preternatural talent once again, lands his fourth-ever nose butter triple--his lifetime record for that trick is now 4/4--while going about as deep on the first jump as a human being can possibly go. But the judges were seemingly unimpressed, rewarding E-Dollo with just an 84.4, a slight increase from his first run.
Henrik was followed by Jossi Wells, who just didn't have any luck in today's finals. He bobbled his first rail trick and knew his run was finished, so he gave the purists in the crowd a little present by zero spinning not once, but three times through the jumps, putting one of the classiest zeros in the game on display. Aleksander Aurdal and Oystein Braaten couldn't get their second-run scores out of the 60s, Russ Henshaw went for broke with his own triple 14 on the final jump but can't quite get it around, and ABM unfortunately went a bit too deep on his second jump--by this time, skiers were regularly boosting three quarters of the way down the landings--and couldn't hang on to it to get in his last hit.
Next in the start gate was Gus Kenworthy, who did just about everything right that you can do in a slope run--aggressive spins throughout the rails, followed by a double cork 16 blunt (stomped), switch right dub 10 (stomped), and his switch triple 14 japan that came effortlessly to his feet. With this run Gus jumped into second place behind Joss, bumping Goepper into third, and suddenly opening the possibility of a podium sweep for the USA!
Gus Kenworthy, very stoked on his run.
Only three riders remained. Goepper uncharacteristically missed his screamin seamen grab on his switch dub, and knowing that his score wouldn't improve, opted to throw a crowd-pleasing double backflip on the last jump. James Woods got another fairly clean run in, but it didn't display the groundbreaking progression the judges were looking for. Andreas Hatveit put down his run again, but double-wobbles his last two hits instead of truly corking them. Perhaps overseeing this error, the judges still awarded Hatveit with a 91.8, but it wasn't enough to break into podium placement.
And all of a sudden, the last rider remaining in the start ramp was 22-year-old Joss Christensen from Park City, Utah, who found himself with a victory lap on his hands and executed it in the best way possible, stomping his run and his unnatural triple once more to silence any naysayers. Today was quite simply Joss's day.
It was over. The event that has been dominating discussion in the freeskiing world for the past two years was wrapped up, with three Americans on the podium. A crowd of lusty Americans sang "The Star-Spangled Banner" at the finish corral, as Gus, Joss and Nick, draped in an American flag, mugged for the cameras.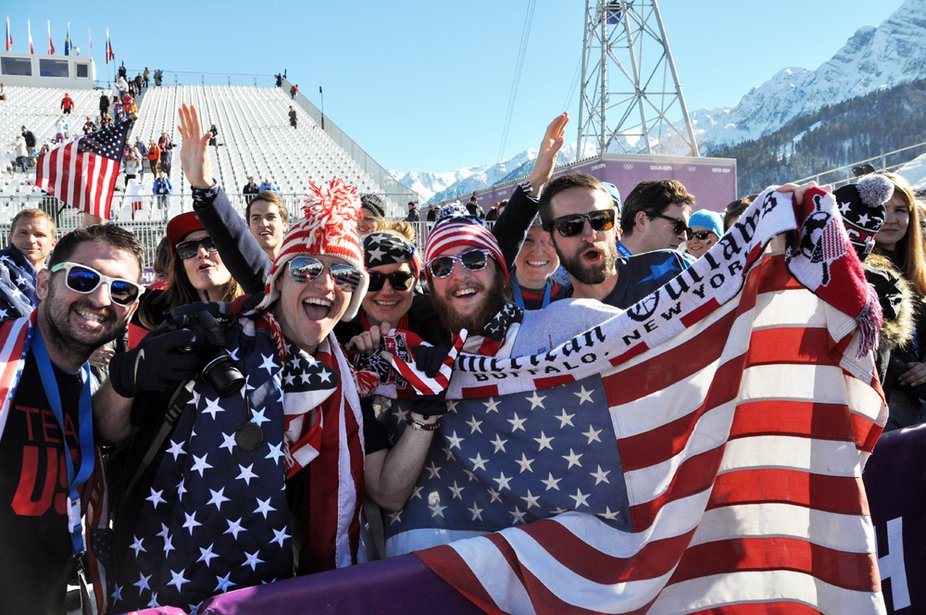 It's a Party in the USA at the finish corral.
Amidst the commotion, I bumped into Canadian team coach JF Cusson and American coach Skogen Sprang, two legends of the sport. There are perhaps no two better people to provide some perspective on what happened today.
"I think it's amazing [that Joss won]," said Sprang. "He works super hard and he's the nicest guy ever, and he's got amazing style and amazing skiing ability. I couldn't be more happy for him."
"This great for everyone, and definitely for the sport," he added.
I asked Skogen if he had even imagined a U.S. sweep. "It's that wild idea in the back of your head," he replied, "But you don't want to get your hopes up to high. All the boys have been skiing good all week, but there's a bunch of other good guys in the contest. I was hoping for one medal, had my fingers crossed for two, and three is pretty much off the charts."
"I still don't believe what I saw today, man," said JF Cusson. "The course was the sickest course I've seen, huge jumps with really soft landings, and everybody went for it. History was put in the books today."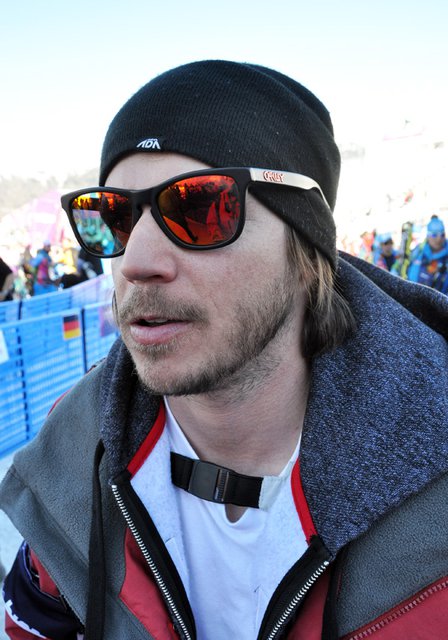 The man, the myth, the legend: JF Cusson.
I asked JF how he felt about the sport he helped found returning to the venue that he and other early freeskiers once distained.
"Back in the day I turned my back to moguls because it was completely controlled by FIS, and mainly the problem was the judging," he replied. "Right now the AFP has total control of the judging, and that's the only reason I took the job [as Canadian coach]. I think our judges are sick, they know what's going on."
"Now we get to forget about the Olympics for two or three years," Cusson said. "I can't wait go golf."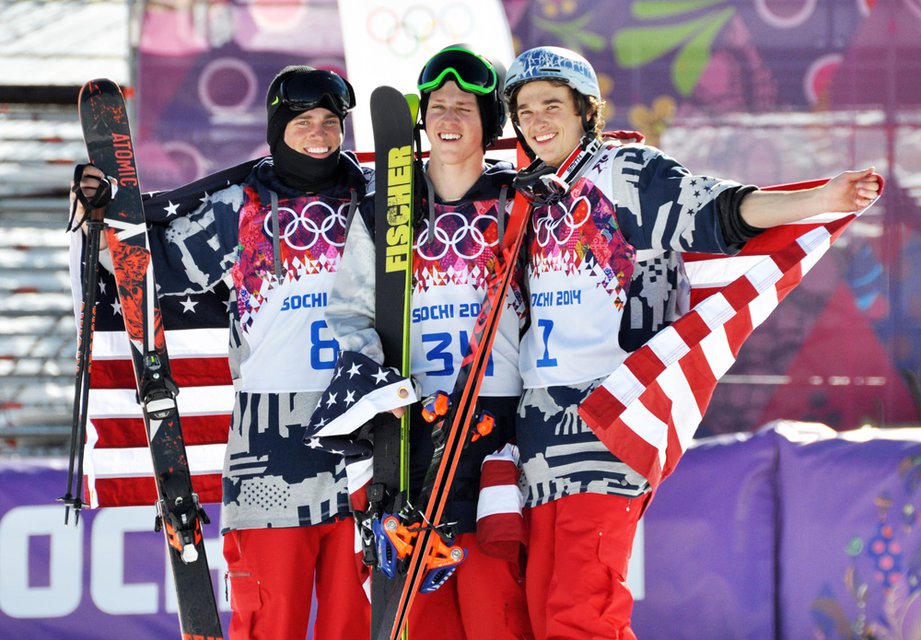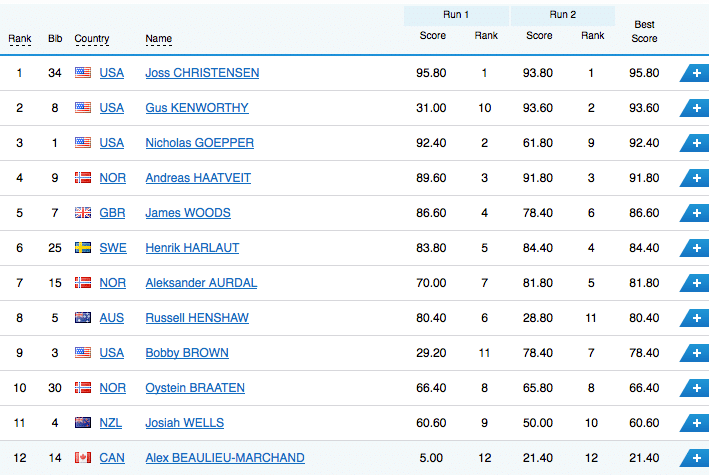 Finals Runs Breakdown
Bobby Brown
Run 1
Disaster 270 to switch (down-flat-down rail)
Switch on, frontside 270 out (up rail)
Switch 270 on, pretzel 270 out (down rail)
Switch left double cork 900 tail
Right double cork 1080 mute
Left triple cork 1440 mute (fall)
Score: 29.2
Run 2
Disaster 270 on, 270 out (DFD rail)
Switch on, front 270 out (up rail)
Switch 270, back 270 out (Down rail)
Cork 540 hand tap (Matryoshka doll)
Switch left double cork 900 tail
Right double cork 1080 crouton
Left double cork 1080 mute
Score: 78.4
Henrik Harlaut
Run 1
Disaster 270 on, 270 out (DFD rail)
Switch on, front 270 out (up rail)
Switch 270 on, early off to switch (down rail)
Switch 540 tail tap (Matryoshka doll)
Nose butter leftside triple cork 1620 safety
Switch leftside tail butter double cork 1080
Switch rightside double cork 1080 high phil grab
Score: 83.8
Run 2
Disaster 270 on, 270 out (DFD rail)
Switch on, front 270 out (up rail)
Switch 270 on, back 270 out (down rail)
Switch 540 tap (Matryoshka doll)
Nose butter triple cork 1620 safety
Switch left double cork 1080 blunt
Switch right double cork 1080 high phil
Score: 84.4
Jossi Wells
Run 1
50-50 to switch 50-50 (DFD box)
Switch on, back 270 out (up rail)
450 on, 270 out (down rail)
Back 270 out (wall)
Left double cork 12 mute
Switch right 180
Cork 5
60.6
Run 2
Jossi Wells
50-50 to ski slide (DFD box)
Zero spin
Zero spin
Zero spin
Score: 50.00
Aleksander Aurdal
Run 1
Disaster 450 to switch (DFD rail)
Revert
Backside 450 out (up rail)
Switch on, front 2 out (down rail)
Switch 2, misty 450 out (wall)
Switch right double cork 900 japan
Left double cork 1260 mute
Switch double misty 1260 (no grab)
Score: 70.00
Run 2
Aleksander Aurdal
Disaster front 450, back 270 out (DFD rail)
Back 450 out (up rail)
Switch 270 on, 270 out (Down rail)
Switch 270 on, misty 450 out (wall)
Switch right double cork 900 japan
Left double cork 1260 mute
Switch double misty 12 mute
Score: 81.8
Oystein Braaten
Run 1
Disaster 450 on, 450 out (DFD rail)
Switch on, front 2 out (up rail)
Switch 270 on (down rail)
Flat 360 off wallride
Right double cork 1080
Left double cork 1260 tail
Switch double cork 1440 mute
Score: 66.4
Run 2
Disaster 450, back 270 out (DFD rail)
Switch on, front 270 out (up rail)
Switch 450 on, off early (down rail)
Flat 360 off Wallride
Right double cork 1080
Left double cork 1260 tail
Switch double cork 1440 mute
Score: 65.8
Russ Henshaw
Run 1
450 on, 270 out (gap rail)
Lincoln loop hand drag (hitching post)
Lipslide, back 270 out (down rail)
Cork 360 hand tap (Matryoshka doll)
Right double cork 12 mute
Switch left double cork 900 japan
Left nose butter double cork 1260 safety
80.4
Run 2
Disaster 450, 270 out (gap rail)
Lincoln loop hand tap (hitching post)
Lipslide back 270 out (down rail)
Cork 360 hand tap (Matryoshka doll)
Right double cork 1260 mute
Switch leftside double cork 900
Left triple cork 1440 mute (fall)
Score: 28.89
Alex Beaulieu-Marchand
Run 1
270 on (fall)
Score: 5.0
Run 2
Disaster 270, front 270 out (DFD rail)
Switch on, front 270 out (up rail)
Switch 270 on, front 270 out (down rail)
Switch 900 tap (Matryoshka doll)
Left double cork 1260
Switch right double cork 1080 double safety (fall)
Score: 21.4
Gus Kenworthy
Run 1
Disaster 270 on, front 270 out (DFD rail)
Switch on, back 450 out (up rail)
Switch 2 on, front 270 out (down rail)
Switch 450 on, 450 out (wall)
Left double cork 1620 tail
Switch right double cork 1080 japan
Switch left triple cork 1440 japan (fall)
Score: 31
Run 2
Disaster 270 on, front 270 out (DFD rail)
Switch on, back 450 out (up rail)
Switch 270 on, front 270 out (down rail)
Switch 450 on, front 450 out (wall)
Left double cork 1620 tail
Switch right double cork 1080 japan
Switch left triple cork 1440 japan
Score: 93.6
Nick Goepper
Run 1
Disaster switch 270 on, front 450 out (DFD rail)
Cork 720 tap (hitching post)
Front switch-up, back 450 out (down rail)
Switch 270 on, misty 630 out (wall)
Left double cork 1260 blunt
Switch right double cork 900 screamin' seamen double grab
Triple cork 1440 mute
Score: 92.4
Run 2
Switch disaster 270 on, front 450 out (DFD rail)
Cork 720 tap (hitching post)
Front switch-up, front 270 out (down rail)
Switch 270 on, misty 630 out (wall)
Left double cork 1260 tail
Switch right double cork 900
Double backflip
Score: 61.8
James Woods
Run 1
Front 450 out (donkey dick)
Back 450 out (up rail)
Switch 270 on, front 270 out (down rail)
Switch 180, cork 630 tail out (cannon)
Left double cork 1080 double grab
Right double cork 1260
Switch right double cork 1080 octograb
86.6
Run 2
Front 450 out (donkey dick)
Front 630 out (up rail)
Switch 270 on, front 270 out (down rail)
Switch 180 up to cork 630 tail out (butter pad to cannon)
Left double cork 1080 double grab
Right double cork 1260 tail to truckdriver
Switch right double cork 1080 octograb
Score: 78.4
Andreas Hatveit
Run 1
Disaster 450 on (DFD rail)
Backside 450 out (up rail)
Switch 270 on, back 270 out (down rail)
Switch 540 tap (Matryoshka doll)
Nose butter left double cork 1080
Right double wobble 1260 mute
Switch left 1080 double grab
89.6
Run 2
450 on, back 270 out (DFD rail)
Front 270 out (up rail)
Switch 270 on, back 450 out (down rail)
Switch 540 tail tap safety grab (Matryoshka doll)
Nose butter left double cork 1080
Right 1260 mute
Switch left 1080 double grab
Score: 91.8
Joss Christensen
Run 1
Switch disaster 270 on, front 270 out (DFD rail)
Switch on, front 450 (up rail)
270 on, back 270 out (down rail)
180 up, switch on to cork front 450 out (butter pad to cannon)
Left double cork 1260
Switch left double cork 1080
Switch right triple cork 1260
Score: 95.8
Run 2
Switch disaster 270 on, front 270 out (DFD rail)
Switch on, front 450 (up rail)
270 on, back 270 out (down rail)
180 up, switch on to cork 450 out (butter pad to cannon)
Left double cork 1260 double grab
Switch left double cork 1080
Switch right triple cork 1260
Score: 93.8
Today's Honorable Mentions:
- Lauri Kivari's off-axis grabbed switch double backflip in qualifying
- Beau-James Wells for being the only competitor to hit the whaletail rail
- James Woods for being the only competitor to hit the donkey dick rail
- Oystein Braaten for his creative use of the wallride feature
- Jossi Well's zero spin run