All photos by Brent Benson. Find more of his work on his Instagram or Facebook.
Throughout the past twenty years, Chad's Gap has become legendary within the ski community. But who is Chad? Where is the gap? Did ski patrol actually blow it up? Luckily, one particular photographer has the answers to it all. Brent Benson is a Salt Lake City-based photographer who has been at nearly every single session at Chad's Gap - from the very first kicker built by Chad Zurinskas to Tanner Hall's redemption run in 2017.
Back in the 90s, an injury caused Brent to pick up an old camera and, incidentally, began his career as a ski photographer. After seeing countless numbers of powder shots, Brent was inspired to photograph something different. "We started to document big airs - and Chad's Gap was my first published photo ever," he said.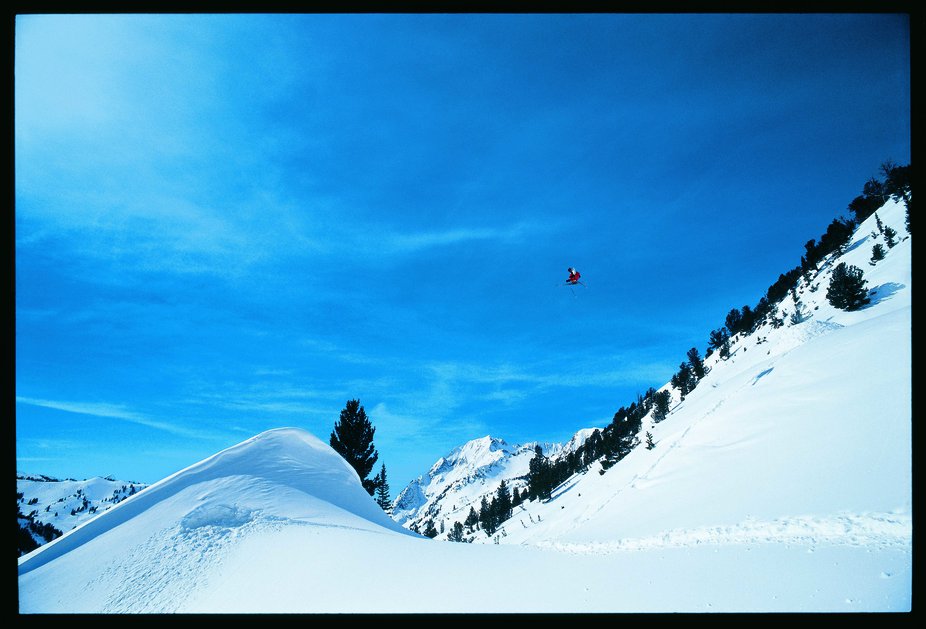 Chad Zurinskas in 1999.
While the gap has since become iconic, Brent explained that at the time, "We didn't think much of it, it was no big deal. We just thought it was another big jump."
So how did Chad's Gap come to be anything other than an ordinary jump?
Oddly enough, the story begins with a bunch of snowboarders. For a brief period of time in the 90s, snowboarding edged out skiing as the most popular snowsport at Snowbird. Every year the snowboarding posses would throw a huge party in Grizzly Gulch, the slack-county of Alta. Different crews would build kickers all over the flowy terrain - including one on the landing of Chad's called the nipple.
In 1998 snowboarder Andy Brewer told Brent and Chad about a certain possible gap that no snowboarder had yet to attempt. The two skiers walked up to the area in question, where Chad then declared, "Yeah I can jump this," and determinately started to build a kicker that day.
In January of 1999 a crew of skiers including Chad and Candide, along with filmer Kris Ostness had a jump session in Grizzly Gulch - though the infamous gap wasn't initially included on the list of things to film. Brent explained that while the rest of the crew was sessioning other areas up the canyon, "Chad was building his little kicker down in the gap." That first kicker for the 120-foot gap was estimated to be no more than five feet high, but Chad sent it anyways.
"Chad tried it at least three times but came up short, gave himself a fat lip and was kind of beat up," said Brent. It was late afternoon and the sun was quickly setting. "Candide tried the gap and crashed, but did it again and made it with a mute grab - that photo went to Freeskier Magazine."
Candide lands the gap.
Candide, at sixteen years old, thus became the first skier to clear the gap. But as Brent explained, "Chad felt really defeated, so Kris named it Chad's Gap anyways since it was his vision." Five days later Chad cleared the gap.
Little did the crew know that day at Chad's Gap would be talked about for years to come.
"I was brand new to photography and didn't think much of the gap," said Brent. "We didn't think it was going to be that oh-my-god-this-changes-everything moment but it got such a cult following and blew up."
In fact, Chad's Gap blew up both metaphorically and literally. While filming for Teddy Bear Crisis in 2005 the jump was the largest it had ever been. During this era of ski films, it was common for the crews to tear up their kickers after they were done filming. At this particular location, Brent explained that "We were being lazy and didn't feel like tearing it down. We asked Grom at Alta Ski Patrol if they could blow it up and he said, 'Yeah we have a bunch of old dynamite we need to get rid of anyways!'"
Alta Ski Patrol then stuffed fourteen pounds of dynamite in the kicker. "It was 7:30 in the morning so there weren't too many people around and backcountry skiing in 2005 wasn't as busy as it is now." Brent estimated that around, "Seven or eight Alta Patrollers were around because they all wanted to see it blow up." The film crew placed a bunch of teddy bears on the kicker, but due to the lackluster boom from the dynamite, they only flew about ten feet up. Chad's Gap was never fully blown up by Alta Ski Patrol. "I remember one of the ski patrollers even said, 'That sucked.' Later in the day they brought a snowcat up and pushed it down for us instead," added Brent.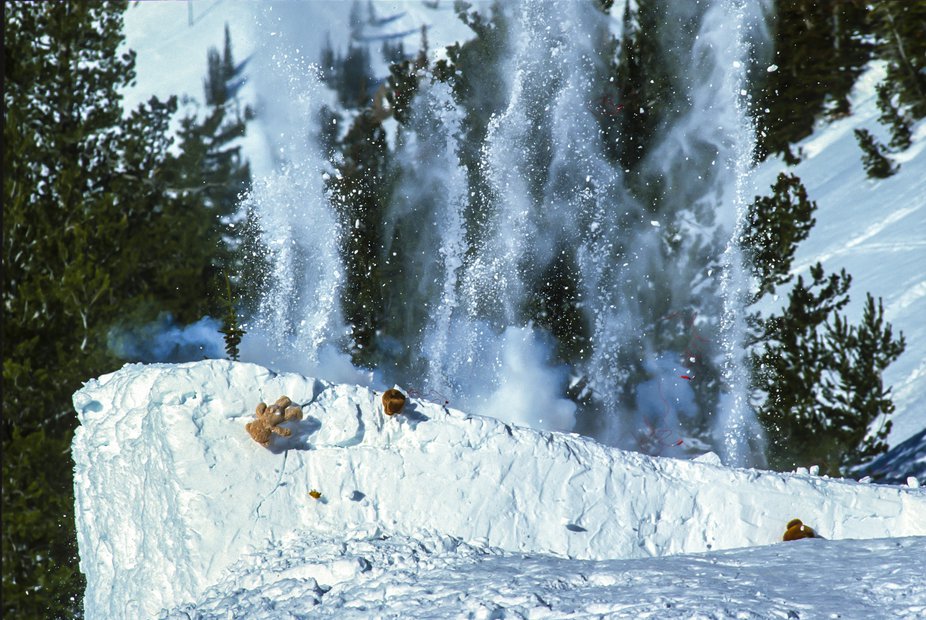 The attempt to blow up Chad's Gap.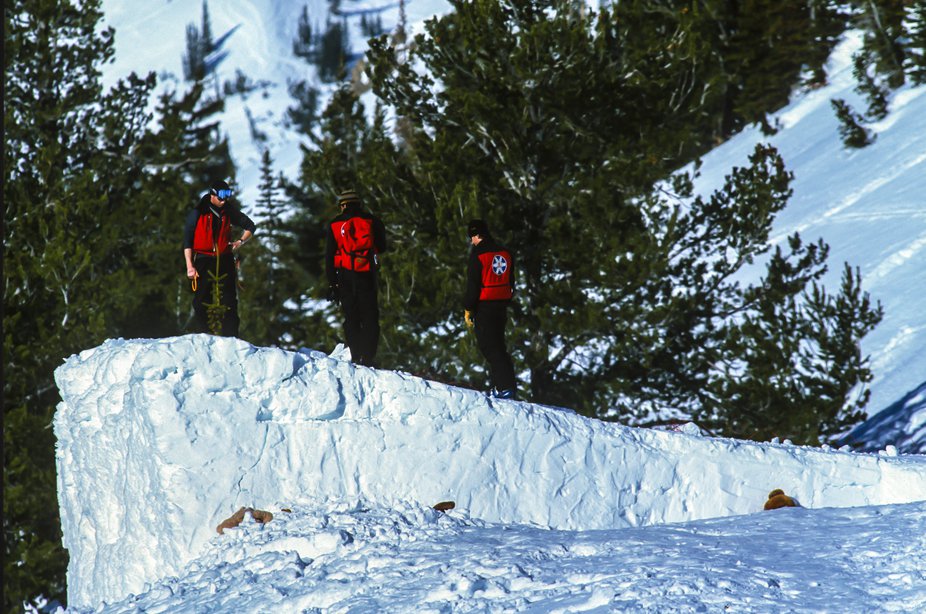 Alta Ski Patrol scoping out the damage.
That year was also the session of Tanner Hall's infamous ankle injuries, which Brent reckons wouldn't have happened if the snow was powder and not spring slush. It wasn't until five years later, in 2010, that the kicker was built again, fuelling the legend that the gap had indeed, been blown up. "We came back and built that year [2010] and Tim Durtschi did the first double 1080 over the gap - it was huge [that year]", says Benson. "Then it sat unsessioned again for some time until Tanner came back in 2017 for redemption."
Clearing the gap is no joke. One year Brent's crew brought a speed gun and found out that a skier needs "to be going over fifty-one miles an hour or else they won't make it. 53 or 54 - you're definitely making it over. Fifty-one is pushing it." Another year they also took a measuring tape and found out the gap is 120 feet, though nowadays Brent estimates it's built back a few feet shorter.
Through big sends and broken ankles, Chad's Gap has earned a well-deserved iconic status. "I think the cult following is hilarious, I love it," said Brent. Generations of skiers will come and go, but the legend of Chad's Gap will only continue to grow as a test piece to any skier daring enough to try to clear it, let alone send something new.
Vote now for Brent's Chad's Gap photo as the favorite Powder photo from Alta here.