Ok, so updates from the frontlines of the IF3!CASH prize for Best Film - Pro! As if booking Kid Koala, sponsoring the event and webcasting it wasn't enough, we here at NS decided to blow the bank out and hook up one of the film makers who truly threw down on their video this year. So whoever wins Best film pro gets a stack of bills (which will be whatever we've got leftover in our account, but should be about a few grand) to distribute however the hell they want! If you're only sending a representative, I'm giving it to them so make sure they use it wisely. :)LIVE broadcast - Cko has been murdering himself getting all the final details of the broadcast locked down. We're going to have a chatroom window projected on the screen behind the presenters, so those of you watching over the internet will be able to talk shit LIVE at the show! Stay tuned for details on how to watch, but for the time being put it in your calendar to start watching the pre-show at 9:30EST! Get together with some of your buddies and have your own IF3 party!Am films nominated/Field Productions bumped upwards! - After watching many and many films, our jury recognized the talent of the young generation and also decided to include Field production into our Pro category. ''They are definitely of a pro caliber and can compete against any pro films'' says IF3 co-founder and Newschooler's president Doug Bishop. Therefore, the IF3 will officially present 12 professional films in competition. Amateur film of the year official selection: -Chronological, Stept Productions-On Air, Tuckered out films -Look It Up, 4bi9-The Fin Life, Montage Inc.-Beaver Tale, Mystic Land ProductionsMake sure to buy your tickets to these!Don't forget if you're an am producer to submit to our videocontest system. For some reason it doesn't accept .mp4, so just make sure if you're a mac person that its in .mov.
http://www.newschoolers.com/web/content/news/news_id/1567/Pro
attendance list: Looks like everyone and their cat is attending, so if you haven't purchased your ticket yet, get on it they're running out FAST!
First
Last
Aaron
Smith
Ahmet
Dadali
Alexis
Godbout
Anais 
Caradeux
Andy
Parry
Andy 
Mahre
Arnaud
Kugener
Austin
Holt
Ben
Leoni
Brandon 
Kelly
Cedric
Tremblay-F
Charles
Gagnier
Charles
Grant
Chris
Bentchetler
Chris
Turpin
Dan
Marion
David
Crichton
Frank
Raymond
Giray 
Dadali
Glen 
Plake
Henrik
Windstedt
Iannick
B
JD
Zicat
Jen
Kuntz
JF
Houle
JF
Cusson
JL
Ratchel
Joe
Schuster
JP
Auclair
Kaya
Turski
Kye
Peterson
Liam 
Downey
Lynsey
Dyer
Max
Hill
Michelle
Parker
Nick
Martini
Pat
Waite
Phil
Belanger
Phil
Poirier
Phil
Casabon
Phil
Larose
Sammy
Carlson
Scott
Hibert
Sean
Petit
Sean 
Decker
Shea
Flynn
Simon
Dumont
Tanner
Hall
Thomas
Rinfret
Tyler
Secrest
Vincent
Dorion
Film MakersJoshBermanBenCormierJeffThomasAaronHambyChrisJamesSkyPinnickArnaudKugenerEricIbergCodyCarterPhilLaroseAbout the Newschoolers Award: IF3 organizers recognize that an international film festival is only as good as the awards it bestows upon its' most deserving films. That's why they have aligned with Doug Bishop at NewSchoolers.com to present the NewSchooler awards for outstanding professional and amateur film entrants. Awards categories include: Major Awards Best Film – ProBest Male - ProBest Female – ProBest Trick – ProBest Cinematography – ProBest soundtrack – ProPeople's Choice – ProBest Editing - ProBest Film – AMBest Edit – AM Minor AwardsMost Professional - AMBest Trick - AMBest Soundtrack – AMBest Male – AMBest Female – AMBest Teaser of the year – WebBest Hand Job – (best follow cam) Pro awards will be decided on by a pre-selected panel of industry-expert judges while amateur awards will be judged by a combination of judges and peers. The winner of the coveted "Best Amateur Movie" prize will head to Studio411 in Los Angeles for a once-in-a-lifetime opportunity to lea rn more about the business side of action sports filmmaking and a chance to pitch their upcoming project for global distribution. Studio411 is the top action sports studio working with the best ski producers such as Poorboyz Productions, Train Jump Entertainment / Tanner Hall Productions and Plehouse films. For more information about the selection process or Newschoolers Awards with Kid Koala at Club Soda, visit http://www.if3.ca. About IF3: The IF3 was created to gather the world of freeskiing annually to create public awareness of free skiing's new dynamic emergence through showcasing the year's best freeskiing movies. The premier IF3 is made possible through the generous sponsorship of Bula, Newschoolers.com, Red Bull, Liberty Ski, DNA, K2, Orage, Blind Five, Boxfresh, Movement Ski, Peak Performance, Moment ski, Stowe Mountain, Ski Press, Freeskier, SBC Skier, 33mag, Musique Plus and Crux magazine. For films schedule details and more information visit http://www.IF3.ca .**UPDATED SCHEDULE OF FILMS**Some of the films were a little longer than was expected, so make SURE to check out the updated schedule... things are a little earlier on Saturday than written on your tickets!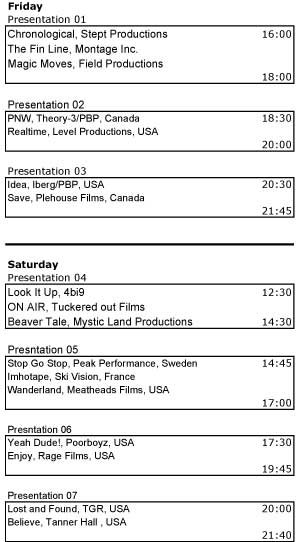 Buy your tickets, and get your ass to Montreal. This thing is going to be off the charts!