An in-depth look at the Slacker by @J_skis for 2023, with ski specs and full review discussing pow, park, durability, and more.
Ski: J Skis Slacker
Length skied: 182
Shape: 136 / 110 / 128 mm
Weight (each ski): 1920g
Mount: -6cm
Binding: Armada Shift MNC 13
Days skied: 16
Reviewer height/weight: 5'10, 160lbs
Review location(s): Red Mountain (BC), Orford (QC), other side-country spots in Quebec
Conditions skied: Park, groomers, hardpack, moderate pow (10-12cm fresh)
[Editor's note: Our review was conducted on the 2022 JSkis Slacker, which is unchanged for 2023 except for graphics]
For the first time ever, J Skis designed a touring specific ski. The category exploded in 2020-21, so their timing was on-point, as ever. To me, the Slacker fills the gap in their line of skis so that it now covers all of the fun facets of skiing. They already had park/urban, all-mountain, and powder covered in the line-up, and J Skis have now entered the backcountry realm. The objective was to build a ski light enough to keep up with other uphill-focused alternatives while maintaining appealing features for skiing down.
Shape / Flex / Construction
At 110mm underfoot, with 136mm tips and 128mm tails, the Slacker is has a fairly traditional footprint for a wide, directional, all-mountain freestyle (touring) ski. That's a lot of categories for one ski, so naturally, it is meant to be versatile. You will see it has a little bit of camber with a 3mm lift, leading into a significant early rise and rocker at the tips. The tails are rockered as well, but visibly less than the tips.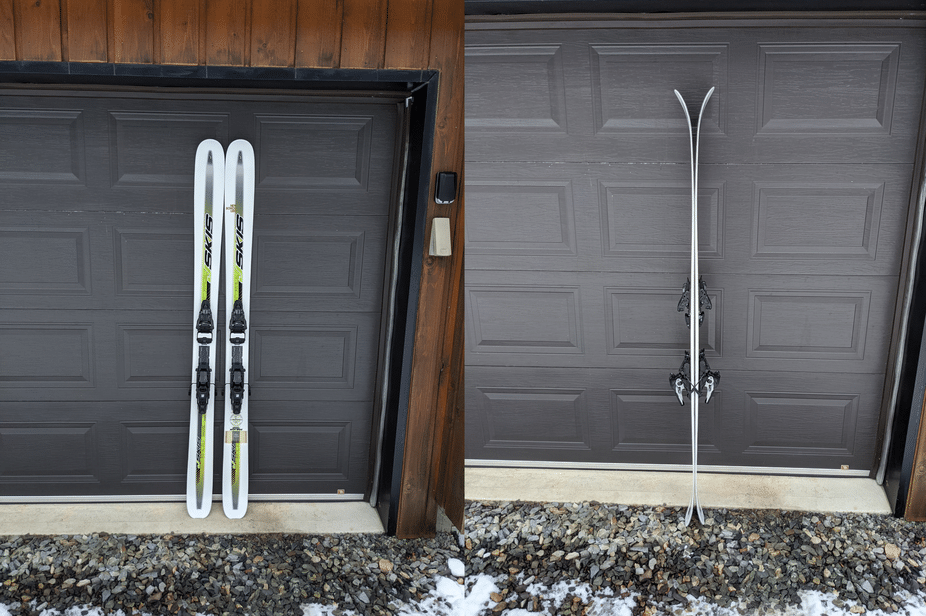 They are also J's first ski with a notch for better securing skins in place.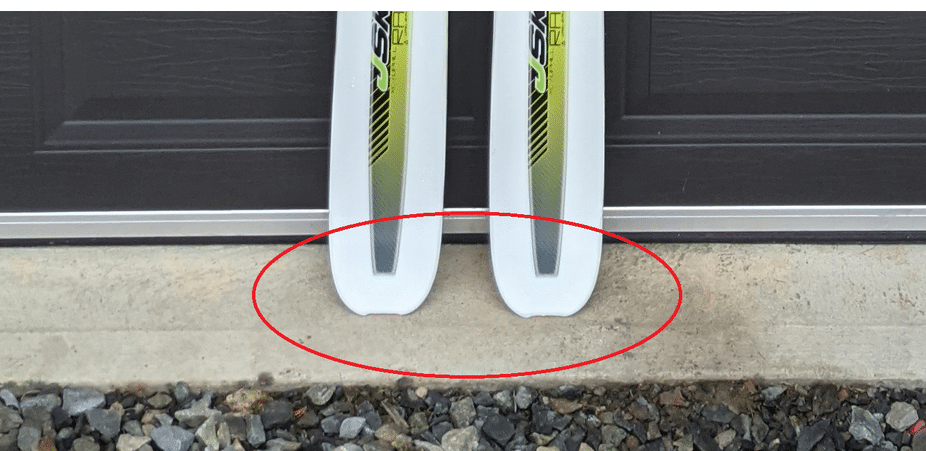 A full sidewall keeps this ski damp, while it tapers towards the tips and tails to shave weight and add some flex and playfulness.
The Slacker is relatively lightweight with an Aspen core, and maple running along the edges to retain stiffness. Conceptually, the Slacker is a lighter, stiffer, and slightly wider version of J's Vacation with a tighter turn radius. While it may be an odd comparison to bring up, the Slacker's weight and flex remind me of Armada's ARW 106 UL, one of my favorite skis from the Newschoolers ski test. I'll elaborate on how they compare further down.
Uphill
This being the first touring ski for J Skis, the uphill experience needs to be examined. The Slacker sits just under the 2kg mark, meaning it's not the lightest touring ski available, yet a relatively light all-mountain freestyle ski. However, a comparable length Sir Francis Bacon is 100g per ski lighter and the Vision 108, a more dedicated touring option, is lighter again.
I mounted Armada Shift MNC 13s to them, so in all, this was a heavier-than-average setup. Other than getting touring adapters like Daymakers, or an even heavier option (Cast/Duke PT) I expected the Shifts to be the best binding solution for this ski and for retaining aggressive downhill capabilities. The skis worked well uphill, but of course, you do feel the extra weight.
The notch at the tail is key for keeping the skin clips in place. I have gone on many walks with my previous round tails kit and my skin straps would fall loose at least a couple of times per ascent.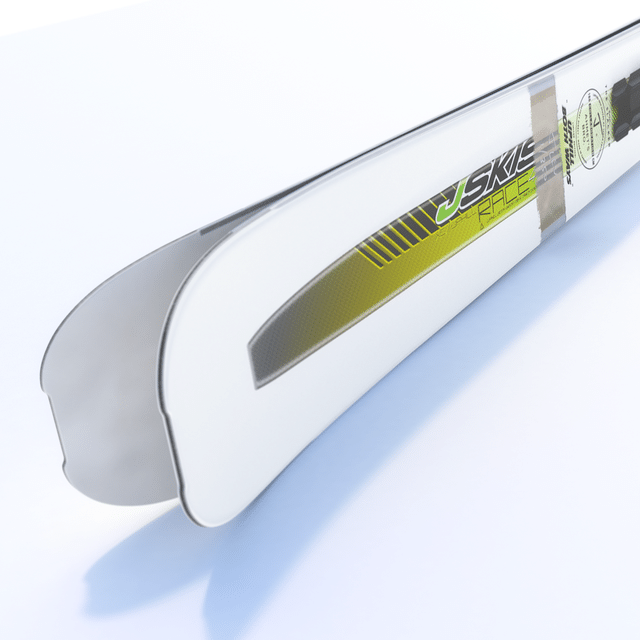 Downhill
Groomers
Most of what I skied with the Slacker was tight East Coast tree runs. In Quebec, we didn't get much of an early season, so I had plenty of time to test these on hardpack, narrow groomers. While they aren't made for railing icy turns, the skis handled better than several other freestyle ski options that I've tried in similar conditions. I was testing the Liberty Transfer in parallel and quickly realized that unless I intended on lapping the park all day, I preferred skiing the Slacker for better edge control and noticeably more solid torsional rigidity. Early season conditions were best suited for race skis and while the Slacker is not at all built for that usage, it held its own for the month and a half of icy laps we had to endure. The 19.5m radius was just tight enough to enjoy carving the occasional uncrowded groomer, and they held an edge on aggressive turns.
Powder
It started dumping in February, so I finally got to enjoy these skis in more suitable conditions. The East Coast tends to get a few freeze-thaw cycles each season, which build a layer of ice under whatever fresh snow comes blowing over. February 2021 was an exceptional month where that cycle didn't happen. We just got layers of accumulated fresh snow that never melted, so you could find some great skiing if you knew the right spots. The Slacker's 110 waist and rockered tips make floating on soft snow amazing. They're also light enough to maneuver around tight trees at high speeds and make a great east coast powder ski.
995996">http://995996
When I was reviewing the Vacation, the main issue I had was the ski's stability on landings. The tails in particular were much softer than I was used to, and I couldn't stick anything bigger than a 10-foot drop. Granted, that's not just the ski's fault, but I was definitely accustomed to more support from my tails. That's an issue I'd say was resolved with the Slacker. I feel much more confident skiing fast and hitting natural features. This is particularly where I saw the resemblance with the ARW 106 UL. After a few runs on both these lighter skis, I knew I could trust their backbones and ski more aggressively.
Park
This is not a park ski. But as far as touring skis go, they are meant to handle at least a bit of park. I mounted the skis at the recommended -6cm which is still decently close to center, so I didn't have a balance issue on rails. Swingweight was more of an issue. While it's a lightweight ski, the 182 length, 110 underfoot and -6 mount did impact how nimble the ski felt in the air and while spinning off rails.
In the same way as I felt comfortable skiing fast and sending side hits, the Slacker felt stable on park landings. It took a few switch landings for me to fully trust the rockered tails, but I got the hang of it and had no problem spinning a few fun park laps after a morning of touring. I slid some rails, hit some medium jumps (up to 30 feet), and never spun anything above 540; but that's all I really wanted out of this ski. That said, the Slacker's stiffness and stability does come at the expense of playfulness. While the full sidewall tapers at the tips and tails, they aren't as easy to butter as, for example, the K2 Reckoner 102 or the Faction Prodigy 3.0. The Vacation was another ski on which you could load up the tips or tails effortlessly. The Slacker is just more rigid and needs additional energy for buttering.
Durability
I didn't take it easy on this pair and had no issues to report. I hit some rocks in the early season and didn't hold back when exploring some untracked side-country. They now have scratches on the base, but no core shots or edge cracks. Totally good to go for another season.
In Conclusion
I recommend the Slacker to all NSers getting into touring. It has a balanced combination of features that make for a good uphill ski that's been optimized for a fun downhill experience. If you're all about earning your turns, choose this ski for the turns. While it's designed for touring, it's not a mountaineering ski and there are lighter options more suited for that type of adventure. But for a Newschoolers mindset, I loved the Slacker for charging down steeps, cliffs and side hits with confidence. To me, these were the perfect tool to get more serious about touring without feeling like a nerd.
To see our reviews before anyone else, download the Newschoolers App: iPhone - Android
Find out what I'm reviewing in real-time: @jerryofthedave