J Skis Vacation 2022 Review
The 2021 J skis Vacation, an all-mountain park ski. A preview of J Skis playful and buttery park ski, plus weight and full specs.

Newschoolers' Quick Review:
https://youtu.be/F889fp2dpJI


The Vacation is an all-mountain directional twin-tip ski. It got re-engineered this year for a softer flex, yet keeping some pop with J Skis's go-to maple core and carbon fiber construction. The skis have a sintered base, 3/4 wrap 2mm edge, and full sidewalls.

I'll start by emphasizing that the Vacation is without question a very fun ski for playing around. That flex pattern staying consistently soft along the entire ski opens up a lot of possibilities for skiing differently on otherwise ordinary terrain. These skis are so easy to butter, press, manual, or even Mario Kart race down.

These are a great option for the mini park, because they're extremely playful and you can get creative on any feature. To me, they became scary to take on big jumps and features, as I lost a lot of confidence washing out repeatedly, particularly landing forwards.

I've skied 17 days on them this season. I didn't hit any urban or land on big rocks. I hit a bunch of rails but never with a huge disasters or anything and unsurpisingly, I didn't experience any edge cracks. J Skis have a pretty good reputation for edge life and as far as I can make out on my limited time on these, that seems justified.



Click here for our full review of the 2022 J Skis Vacation | The Roofbox Reviews
Specs:
Sizes: 166, 173, 180, 186 cm
Dimensions: 127 / 104 / 122 mm
Radius: 18.5M - 180
Weight: 2015g /ski - 180
Brand Description:
A wide ski with a soft playful flex for throwing tricks all over the mountain from the park to the pow. The 2022 J Skis Vacation is the ultimate getaway from traditional boring skis! It features a truly one-of-a-kind, soft flex pattern that's equally distributed throughout the length of the ski. This enables it to match transitions and excel at a larger variety of freestyle terrain so you can throw down with more style and control, without getting bucked. Its 104mm waist is super versatile, it floats easily in powder, yet is quick enough to also shred all over the mountain, including the park. The added surface area under foot makes for stable landings and provides even more balance and control when buttering and sliding rails. I designed the tips with a very smooth rocker and a unique early tapper geometry for a catch-free, effortless, surfy feel. You can pivot on a dime, and never have to worry again about catching your tips when popping from forward to backwards, buttering, or throwing tricks... even in fresh snow. If your idea of fun is to slash, press, air, butter, nollie and jib from untracked pow to the park and everywhere in between, it's time for a Vacation. #JVacationSki

Construction:

- Carbon Stringers are light-weight while adding extra pop
- Maple Core is the highest grade wood for powerful energy and a long life
- Full height/wide sidewalls for maximum dampening and durability
- Thick edge for durability on rails and rocks and extra long tune life
- Extra thick sintered base for durability and speed
- 4 directions of fiberglass for maximum responsiveness in all directions

Base:





Other topsheet & base option: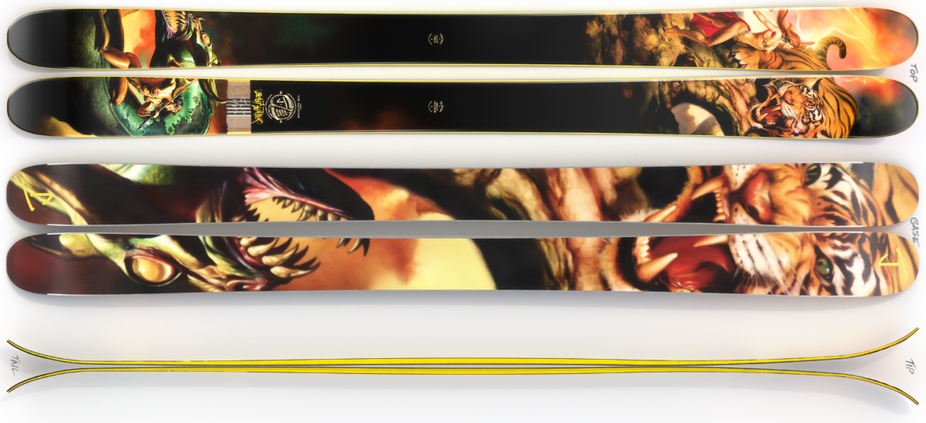 Shop For J Skis Vacation

Merchant

Sale Price

Retail Price
Shop For J Skis Vacation

Merchant

Sale Price

Retail Price