Ski: J Skis Vacation
Length skied: 180cm
Actual Length (Tip-tail w/ straight tape): 177cm
Shape: 135-104-124
Stated weight (each ski): 2,015g
Radius: 18.5 m
Mount: -4cm (recommended mount)
Binding: Look Pivot 14
Days skied: 17
Reviewer height/weight: 5'10, 158lbs
Review Location(s): Orford (QC), Sutton (QC), Breckenridge (CO), Norquay, Sunshine, Lake Louise (AB), Killington (VT)
Conditions skied: Powder (8"), thin cover backcountry, hard groomed, East Coast ice, park, spring slush
_
Intro
J Skis needs no introduction. Founder and ski industry innovator Jason Levinthal leads a team of passionate young professionals out of Burlington VT to make skis with unique marketing in our section of the snowsports industry. J is no stranger to NS and what people these days like to ski. This season, I was looking for a new pair that can do it all. I wanted skis that I could trust enough to take as my only pair on a ski trip out west or to weekend getaways to shred everything - from park to groomers to real snow on real mountains, even for some touring as I had acquired some Daymakers in early winter (Daymaker Touring review here). Looking at J's line, the new Vacation looked like a great fit.
_
Shape, Flex, Construction
The Vacation is an all-mountain directional twin-tip ski. It got re-engineered this year for a softer flex, yet keeping some pop with J Skis's go-to maple core and carbon fiber construction. The skis have a sintered base, 3/4 wrap 2mm edge, and full sidewalls.
Examining the profile, you'll notice a little bit of camber (3mm) and a pronounced early rise. The idea behind this combination is to make the skis hold an edge on groomers while remaining surfy and playful in softer snow.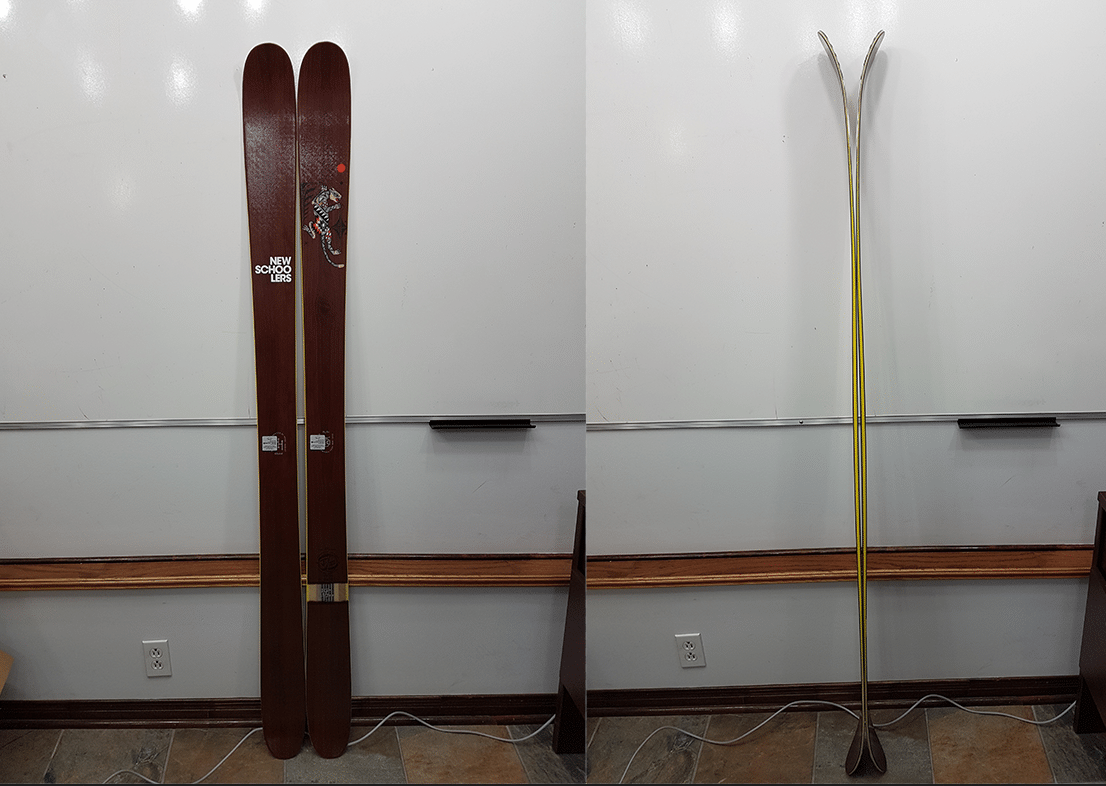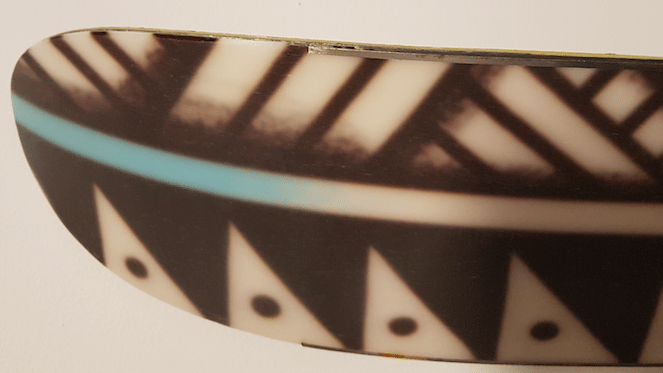 3/4 wrap - I did not notice any filler between metal and base at the end of the edge
When handflexing them I could tell right away these were going to be very soft, even more so than I expected. I was a little concerned because from skis I've had in the past, I am way more comfortable on and experienced with a stiff ski. The Vacation has a unique flex pattern. Unlike many skis that remain stiff underfoot while softening at the tips, the Vacation is flexy throughout the entire ski. With the addition of rocker, the tips and tails feel even softer. I had never tried anything like this, let's see how they performed.
_
On Snow - Resort Skiing
Being used to stiffer skis, I needed some time to adapt. I'll start by emphasizing that the Vacation is without question a very fun ski for playing around. That flex pattern staying consistently soft along the entire ski opens up a lot of possibilities for skiing differently on otherwise ordinary terrain. These skis are so easy to butter, press, manual, or even Mario Kart race down.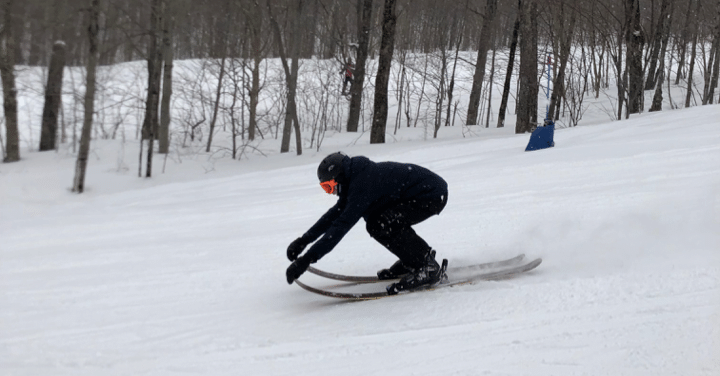 You can easily lean front or back and they'll bend right at the binding. Butters are practically effortless. Manuals are a breeze. I felt more stable pressing the Vacation than any other ski I've tried, as there was more ski surface in contact with the snow.

As you see in the first shot, flex point is basically at the toe piece and the entire front of the ski is supporting the butter. However, there is a tradeoff with how much energy they give back when flexing them. They definitely don't push back as hard as many other skis with stiffer underfoot, if comparing to the Line Sir Francis Bacon or Atomic Bent Chetler 100.
That makes for a great ski to enjoy in basically all green and blue terrain. The name says it all, it's a super fun ski that lets you be free and truly experience "not taking skiing too seriously".
Trying to rip some turns on East Coast ice is where I started to feel some difficulties. Almost anything will turn fine on a freshly groomed run and so does the Vacation; but as soon as it gets icy, these skis gets shaky. They're just not meant for ripping sharp turns on hard snow. If that's a major factor for you, look for a stiffer ski or one with more camber you'll have a much better time. Something cool I noticed is that the entire ski will bend as you lean into some heavy turns with that flex pattern and hold an edge in a pretty unique way. But really, when comparing alternatives, this ski is not built for carving hard, it's just too soft.
_
Powder
The Vacation is fun in powder. I've only scored a couple days of deep but I could tell right away these work well, as long as conditions are soft. The early rise lets you surf the fresh with ease and control. The flex pattern allows you to have fun, ski differently and rip butters with confidence. It's a soft ski that does great in soft snow.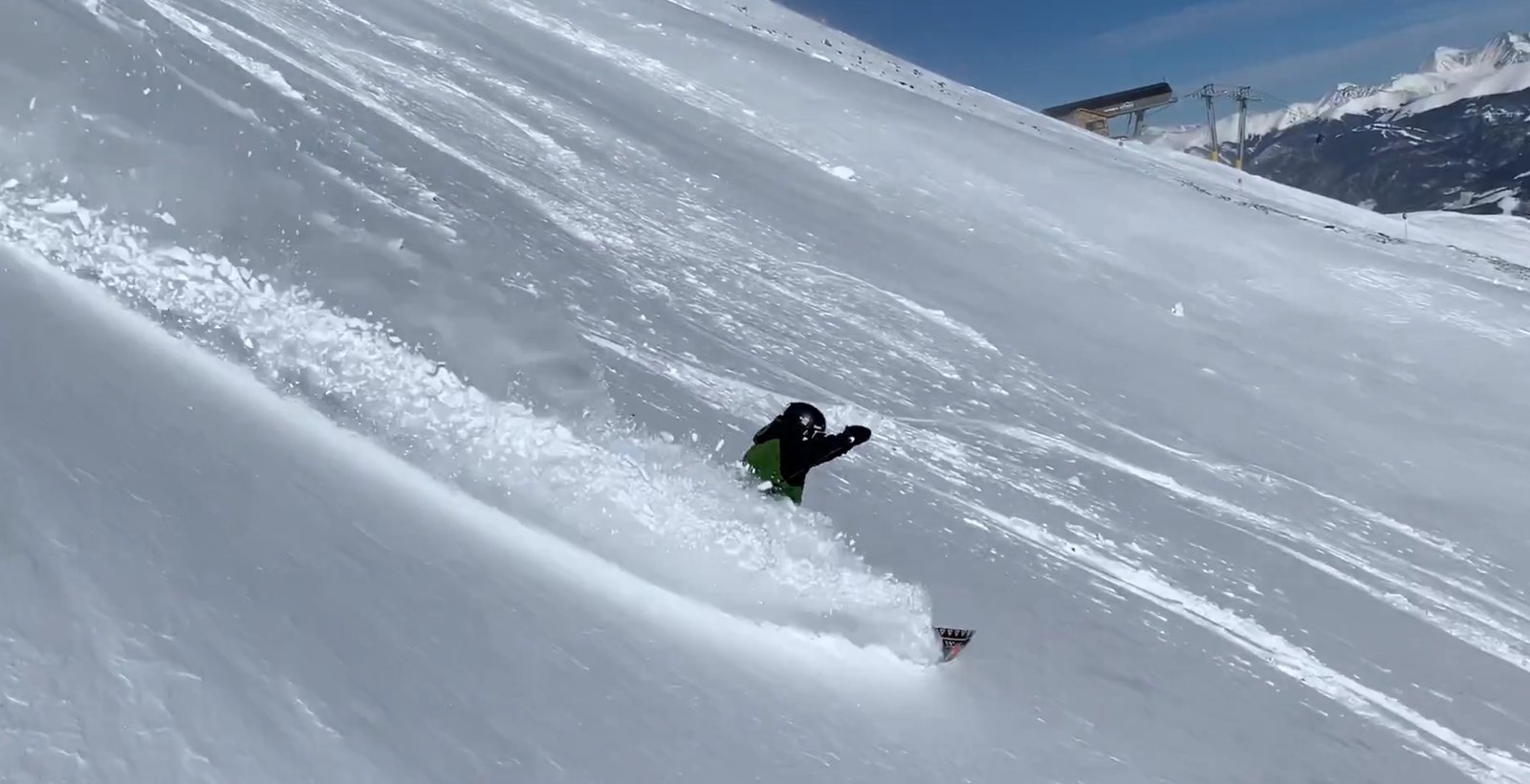 Riding a bowl off Peak 8 at Breck
Where I had trouble was hitting bigger cliffs. Well - hitting them was not the problem, sticking the landing was. The lack of rigidity brings a lack of stability and the skis don't forgive if you land a little backseat. Because they bend so close to your boot, they ski much shorter and you need to stomp in near-perfect balance if you're hitting any cliff 10' or bigger.
I did get to try a 186cm Vacation while I was at Red Mountain with the J Skis team. The difference was huge - the longer skis are damper and more supportive. The extra length felt a lot better, alleviating a big chunk of the stability problem I had with the 180cm yet not compromising playfulness. I was just able to charge way more. That being said, I strongly recommend you take a longer ski than you are used to, as the Vacation skis shorter than its stated length.
_
Park
I can see how some may love the Vacation as a park ski, but it's not for me. For the same reason as my issue with cliffs, you basically need to have your tricks nailed down to near perfection in order not to wash out. I found myself bailing on tricks I normally have on lock because I didn't get the same stable feeling as my usual, stiffer park ski on landings. I'm sure that's something you can get used to and practice, but it threw me off guard. I was on a trip visiting SkiBig3 with Karl Fostvedt, Lucas Wachs and Taylor Lundquist and I kept embarrassing myself washing out on what are typically easy tricks for me.
These are a great option for the mini park, because they're extremely playful and you can get creative on any feature. To me, they became scary to take on big jumps and features, as I lost a lot of confidence washing out repeatedly, particularly landing forwards. Realistically, these are probably the softest feeling ski overall on the market right now, when you combine the soft flex, how they remain soft close to the binding (Editor's Note: Even the Blend has a stiffer underfoot section than these - Twig).
https://www.newschoolers.com/videos/watch/934362/540-bail-J-Skis-Vacation-review-mp4
Of course, this was a poorly executed 540, but I don't film a ton and the video is to show the skis washing out from a nose heavy switch landing. I am pretty confident that on my Surface Blanks this would not have been an issue.
It's also important to note that I mounted these at recommended setting. -4cm is not ideal for riding park and I likely would have had more tail support with a true center mount. However, that would have meant compromising support in the nose, which was also an issue. Like I mentioned in the intro and to justify this decision, I was looking for a ski that could do it all which ended up being a trade-off of stability for versatility. If you are looking for a do it all ski and looking to go big, there are definitely better options out there. Swingweight was also impacted by the choice of mount, leaving more length to whip around in the front, but the skis are light enough that it wasn't much of a nuisance, it was just hard to land cleanly.
_
Durability
I've skied 17 days on them this season. I didn't hit any urban or land on big rocks. I hit a bunch of rails but never with a huge disasters or anything and unsurpisingly, I didn't experience any edge cracks. J Skis have a pretty good reputation for edge life and as far as I can make out on my limited time on these, that seems justified.
However, a common problem, especially with soft skis and 3/4 wrapped edges, is repeated pressure and flexing of the point where the metal ends, causing a gradual separation leading to a delam. Looking closely at the nose, I noticed a slight separation (approximately 1mm) between the edge and the base. Though it seems minor, this problem typically worsens gradually and eventually to pullout/delamination. [Editor's note: As a team, the roofbox reviewers saw this problem to varying degrees accross most of our skis this season, and though it's a pretty poor reflection of skis overall, I would describe this as 'normal' - Twig]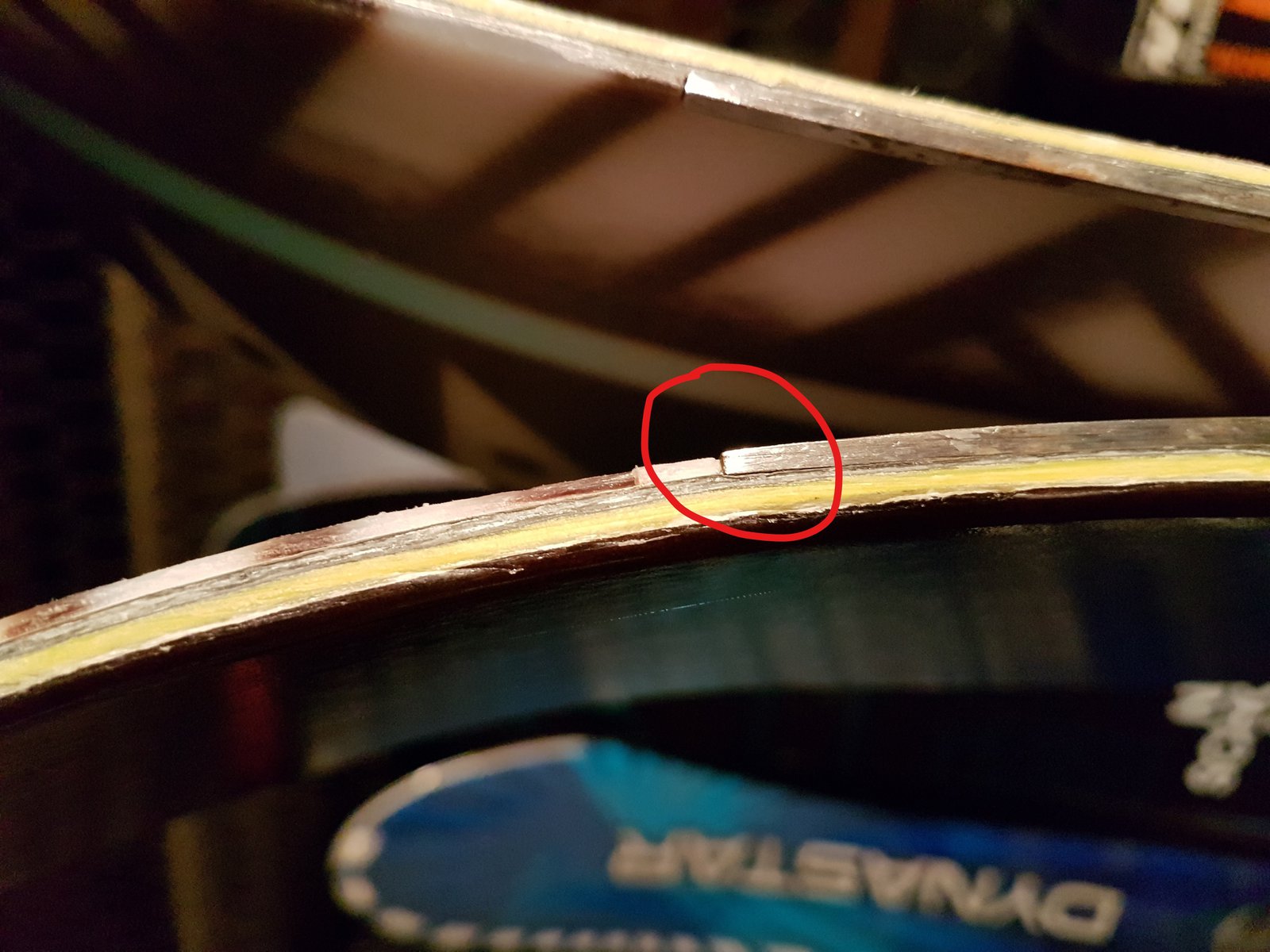 That was the only real visible sign of aging after the season. Overall they still look good.
_
Conclusion
TLDR, the Vacation is a super playful ski. I am not a fan of this ski for hitting large and X-Large jumps and features. The very soft flex quickly made me lose confidence in sticking landings. Same deal for medium and big cliffs say 10+ feet. If you do not land perfectly, you will likely wash out as the skis give little support when landing off-center. Ice and hard snow were also no bueno. And coming from a racing background, almost needless to say, there are countless better options for carving on a hard surface.
That being said, they are a fun choice for light powder days, slushy spring shreds, soft moguls, the mini-park, as well as days meant for taking it easy on groomers and just having fun. I enthusiastically endorse these for showing off ground tricks and getting creative with the swerves. They also work a treat if you have that flowy smooth McVeigh style in the park. But even if this ski sounds like it's made for you, my recommendation is to take a longer ski than you think you need. I was on the 180cm, but would have been better off with 186cm. The price you pay in swingweight is well worth the added versatility.
_
To see our reviews before anyone else, download the Newschoolers App: iPhone - Android
Find out what I'm reviewing in real-time: @jerryofthedave
Next up from me: Liberty Transfer