Ski: Lib Tech Yewps 118 (2021 model, which is unchanged for '22)
Length skied: 185 cm
Actual Length (Tip-tail w/ straight tape): 184cm
Measured weight (each ski): 2045g / 2067g
Shape: 144-118-134
Sidecut: 21 meters
Mount: -5cm - "sweet spot"
Binding: Pivot 15/ Cast Freetour
Days skied: 20
Reviewer height/weight: 5'5, 140 lbs
Review Location(s): Grand Targhee, WY - Jackson Hole, WY - Valdez, AK
Conditions skied: pow, groomers, corn, slush.
[Editor's note: Our review was conducted on the 2022 Lib Tech Yewps, which is unchanged for 2023 except for graphics]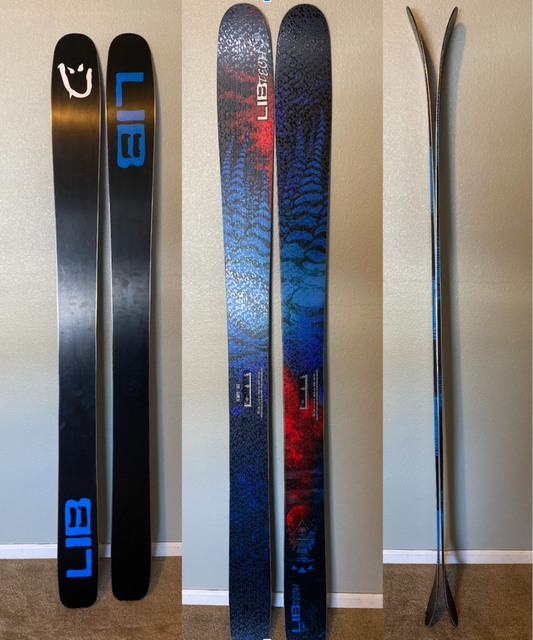 LibTech is mostly known for its snowboards but has been making some very fun skis for quite a few years now. They make everything in the Mervin Manufacturing factory, which means that all of their skis and snowboards are made in the USA. Mervin claims to be the world's most environmental board factory, built with wind and water generated power, they also state that they produce zero hazardous waste at the factory. It is good to see a company touting its green manufacturing while still producing fun skis.
A couple of years ago we reviewed the UFO 115 for a Roofbox Review and we came away super impressed with that ski and actually still have it in our quiver of skis, so when we were told about this new ski that is replacing it we were stoked to give it a try. Lib Tech skis are known for having Magnetraction which means the edges are wavy, similar to a serrated knife. They claim this results in better edge hold, more control, less fatigue, and higher performance. Most of these claims are hard to measure but based on our experience on the UFO, but Lib Tech skis do indeed have good edge hold. The main distinct difference between the Yewp and the UFO is that the Yewp is fully rockered while the UFO has a little bit of camber.
Shape/Flex/Construction:
The Yewps feature a full sidewall construction, and a ¾ edge wrap to reduce swing weight. It has what Lib Tech calls the Biobeans topsheet and an Eco light construction wood core. There are no specifics as to what other materials are inside this ski so it would seemingly be a pretty standard wood core with fiberglass. The whole construction is billed as eco-friendly.
The Yewps flex slightly stiffer all around than the UFO 115 did. We quantified the tips and tails of the UFO 115 as 5/10 and the midsection as 7/10. The Yewps step that up a little to 6/10 in the tips and tails and 8/10 underfoot. The ski isn't some super stiff charger but if certainly stiffer than its predecessor, which is probably a good thing given that they took the camber away. It would seem that with the stiffer flex pattern and the slightly heavier weight they were going for a more versatile ski that could handle chopped up inbounds snow a little better than the UFO. The reverse camber profile should make the ski plenty easy to maneuver and maintain most of the playfulness of the UFO.
On-Snow Performance:
As with any ski with a small contact patch, the ski can be a little squirrely when running bases flat on firm snow. Most full rocker skis experience this same sensation and some cambered skis with deep rocker lines feel very similar. The easy solution to this is just to be slightly on edge most of the time, given that this ski is 118 underfoot it will hopefully not be seeing all that much super firm snow conditions. That said the Yewps can carve well once up to speed and laid on edge, the Magnetraction never let either one of us down but there is a delay between carve as it takes some time to transfer from edge to edge on a ski that wide.
Steeps:
I had the opportunity to bring the Yewps helicopter skiing in Valdez, Alaska this past Spring and couldn't have been happier with my ski of choice. We get a lot of opportunities to test skis on steeps in Jackson Hole, but there's nothing like 'The Last Frontier' to really put them through the ringer. As expected, the Yewps excelled in this category. As a huge fan of camber and the UFO 115s, I was bummed to lose some of the camber, but the increased stiffness helped make up for it. The Yewps are both stable and easy to maneuver in steeper terrain, and combined with a solid edge hold (Magnetraction at work?!), I never had to worry about the skis on my feet when it came to confidence in big mountain terrain.
https://www.newschoolers.com/videos/watch/1026823/174722088-118269307032249-242575059441439352-n-mp4
Powder/Float:
Erica: The Yewps truly shine in powder. I remember a powder day I had at Grand Targhee, and just spent the entire morning blasting through the snow, with big wide open powder field turns. They not only floated perfectly but were stiff enough that I was able to really continue to charge as the mountain began to get chopped up.
Dylan: I enjoyed the Yewps in powder as well, I didn't get them into much last year due to when we got them and Erica taking them to Alaska with her, but I got them into one solid storm day at Jackson Hole this year where they opened up some new terrain and had about 18 inches of fresh to play with. I was impressed with how fun they were, super easy to throw sideways and the tips still floated well.
Mixed conditions:
The Yewps do great in chopped up soft snow, I enjoyed the easy to pivot nature and found the tips to not deflect too easily which makes skiing fast in choppy conditions a lot easier. I did find as conditions hardened I was noticing the downsides of the full rocker profile a little bit, but that was on spring mornings before the mountain had softened up. Once there was any softness to the snow the Yewps did great.
Playfulness:
One of the main benefits to a full rocker profile is that at slow speeds the ski is super easy to move around. This combined with the relatively low weight and the flex pattern made it about as playful as I expected. I was able to throw slashes wherever I needed to and change direction super easily, as well as throw some nose butters in there just to make sure I still remembered how to do them.
https://www.newschoolers.com/videos/watch/1026824/168889387-826898547923101-7733135931826000829-n-mp4
Durability:
We have had some top sheet delamination problems with these skis, both ski tips started to split, and one spot further down on the skis as well. All spots were easily fixed with some epoxy, but it would seem that Lib Tech has some work to do on their epoxy mixture. The bases and edges have held up well and show no signs of damage or delam, it would seem the problem is isolated only to the top sheets at this time.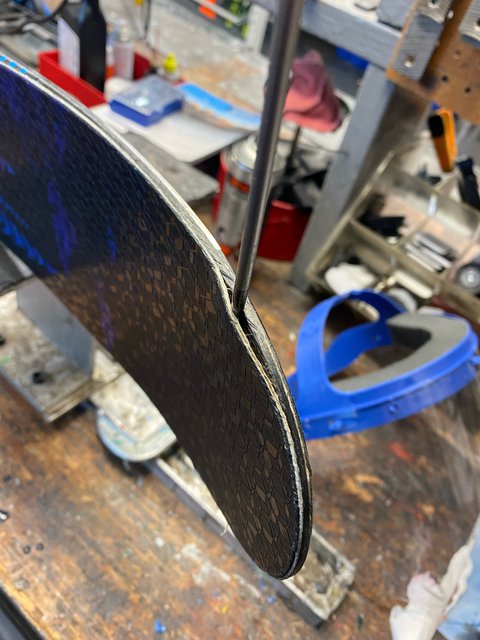 Comparisons:
Lib Tech Yewps 118 185 cm vs. Lib Tech UFO 115 185 cm:
The biggest difference between the Lib Tech Yewps and Lib Tech UFO 115s is their profiles. The UFO 115 features a slight amount of camber versus the Yewps full rocker. The UFO is slightly softer, but the camber gives it a similar snow feel, the UFO is also a little lighter. The on-snow difference are slight, but overall the Yewp builds on what was already an extremely fun ski and takes it another step in the versatile big mountain direction. The stiffer flex and a little heavier weight help the Yewp outperform the UFO when the snow gets chopped up. It does give up a small amount of playfulness for this improvement on the rest of the mountain.
Yewp vs. Moment Chipotle Banana:
While the Chipotle Banana isn't a ski that is getting reviewed for the Newschoolers reviews, it is a ski that I got this year for personal use and I have now gotten a couple of days on them. Both of these skis have a full rocker profile and look very similar from the sides. The Bananas have slightly less rocker as well as a much longer turning radius, but are 4mm wider underfoot. What this leads to is similar levels of float in powder, as well as both having a very surfy playful feel when skiing soft snow. The Yewps carve groomers better as well as perform at slower speeds better thanks the slight more splay in the rocker profile. Where the Bananas perform better is at higher speeds, the longer turn radius and slightly damper build provided less feedback and less of a desire to ski across the fall line and more desire to ski straight down it. With that said the differences are relatively minor and I can happily switch between these two skis without changing my skiing style all that much, I just notice the speed limit a tiny bit on the Yewps and have yet to reach a speed limit on the bananas. Overall very similar feeling skis with the Yewps being friendlier and easier to ski and the bananas having more of a backbone and appetite for speed.
Yewp vs. Bent Chetler(18/19 model, first year of lightweight build):
These two skis serve a very similar purpose as playful pow skis, and being within a couple millimeters of each other they both perform in untouched pow perfectly well. As the conditions get more chopped up the differences between the two skis arise. The Yewps are significantly more stable and able to blast through chop a lot better, while providing very similar levels of float in powder. I thought the sweet spot mounting point worked better for skiing all over the mountain than the recommended line on the Bent Chetlers. Overall, I think the Yewp is much more versatile and I would really only choose the Bent over it if I was using it solely as an untracked pow ski, if there is any chance of skiing in bounds or near other peoples tracks the Yewps hold composure much better.
Conclusion:
Lib Tech has done it once again. For a company who is known for their snowboards, we've been consistently impressed by how fun Lib Tech skis are, and the Yewps are no different. If you're looking for a big mountain or powder ski that can float and slay deep powder, but is still able to cut through crud as the mountain starts to get chopped up, don't hesitate adding the Yewps to your quiver.