Ski: Lib Tech UFO 115
Length skied: 185 CM
Actual Length (Tip-tail w/ straight tape): 183.5 cm
Measured weight (each ski): 1979/1996 grams
Claimed weight (each ski): 2041 grams
Shape: 146-115-136
Sidecut: 19 meters
Mount: "sweet spot" -6.5cm from center
Binding: Tyrolia Attack 16 (2019 model)
Days skied: 20
Reviewer height/weight: 5'5, 135lbs // 5'8, 170lbs
Review Location(s): Jackson Hole
Conditions skied: Pow, Groomers, Backcountry, slush, corn
I, Erica [EA] and my boyfriend Dylan [DD] are Jackson Hole, Wyoming based skiers. We're fortunate enough to be able to share equipment, and therefore are bringing a double perspective to the powder and big mountain ski Roofbox Reviews on Newschoolers. When applicable, our individual opinions are noted with our initials.
––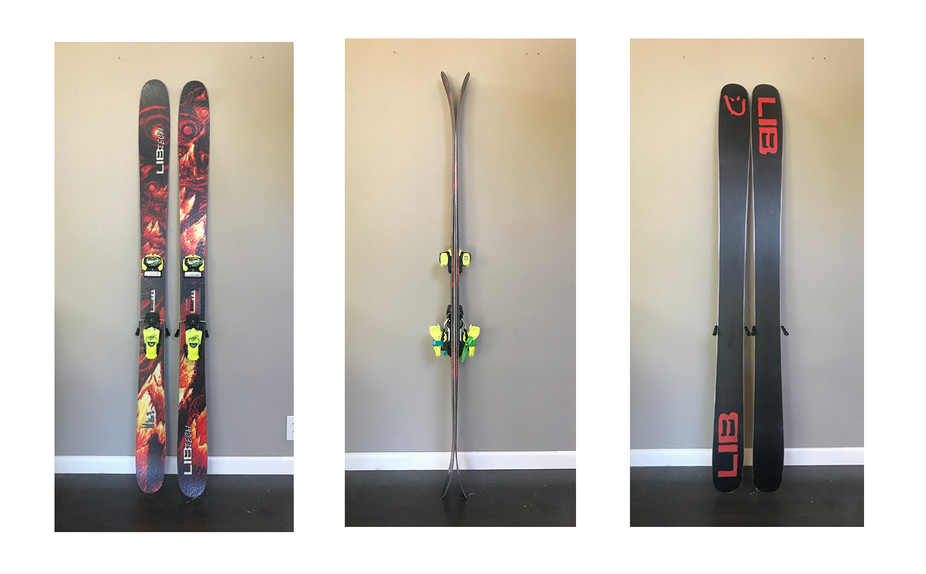 Introduction:
Known originally for their snowboards, and more notably Magne-Traction technology, Lib Tech has been in the game for a while now, manufacturing skis in Northwest Washington state. I [Erica] actually used to ride a Lib Tech snowboard back in the day when Magne-Traction first came out, and I still lived in the midwest (...and snowboarded). The technology is known for increased edge hold in icy conditions, which I know to work on a snowboard. The UFO 115s were updated for the 18/19 season, but remain unchanged for the 2020 season.
Regardless of the marketing term, my [Dylan's] initial impression of these skis seems to match what they are describing it as. The UFO 115 looks like it will be a super playful pow ski, but I am looking forward to getting out on it to confirm my suspicions and hopefully get it out of its comfort zone once or twice to really test it out.
Lib Tech describes the UFO 115 as "Longer tip and tail Rocker zones make this freestyle contour 115 the soft snow and resort pow freestyle stick. Long floaty entry combined with a pulled nose and tail ensures float, reduces swing weight and excess lift ensuring you won't get blown into the backseat when things get big, deep and loose." That's a lot of marketing talk in there that doesn't particularly mean much if you are used to more traditional tech speak.
Lib Tech is also touting their eco-friendly materials such as topsheets and cores. In their own words, they build using:
"- The most exotic, high performance, environmentally friendly materials.
- The safest, most efficient, environmentally friendly process. Including maximized material yields, recycling, and repurposing.
- The factory produces Zero Hazardous waste.
We do it all ourselves because we love it and nobody does it better. The world's best boards… dream boards."
––
Shape/Flex/Construction:
The UFO 115 features a full sidewall construction, the standout marketing feature of the ski is the Magne-Traction sidecut which is similar to a serrated blade on a knife and the purpose is similar; to cut into harder snow surfaces and provide better edge grip. The stated turn radius of 19 meters is pretty standard for a pow ski that is more oriented towards the jib end of the spectrum. The UFO has a close to symmetrical sidecut and has mount recommendations from center to around -8cm. We chose the mount labeled "sweet spot" which is -6.5 cm from the measured center of the ski. The ski has minimal camber and pretty deep rocker lines with splay and a decent amount of tip and tail taper. I [DD] would quantify the flex as a 7/10 underfoot and through the cambered section, with the tips and tails softening to a 5/10. The transition in flex is smooth with no weird kinks where the flex suddenly changes.
––
https://www.instagram.com/p/B4AXm3KFKOv/?utm_source=ig_web_copy_link
On-Snow Performance:
I [DD] found the UFO to be very easy to get along with on groomed snow, I pretty much hopped on it and was immediately able to lay into a carve, some people would call this being an "intuitive" ski. Turns were easy to initiate and the ski had good edge hold at speed, I find the 19 meter turn radius to be about perfect for laying arcs on softer groomers around Jackson, you don't have to go super fast to get them laid over but at the same time it doesn't feel like the sidecut if fighting you when you are above a moderate speed.
I [EA] checked off many of my biggest lines of the season on the UFO 115s with complete confidence. From tight couloirs at high speeds, to hop turns and even open pow, they're a stable, bomber, and predictable. On groomers, the UFO 115 is predictable, with consistent edge hold. I didn't necessarily notice the Magne-Traction very much here, but I don't necessarily agree that it is an important feature of the ski, them being built for powder that is.
I [DD] also checked off a few big lines on these skis this winter, I found that when the snow was predictable, even if it was predictably hard I reached for these skis because they're fun and can hold their own in pretty much any conditions I was going to find myself in. I took them down a couple of steep firm couloirs in the backcountry of Jackson and found that even though this ski isn't really designed for that, the edge hold was really good for a wide ski that doesn't have a lot of camber. I'm not sure if it was the Magne-Traction or if Lib Tech just built a ski with good edge hold but either way this ski bites in when you need it to.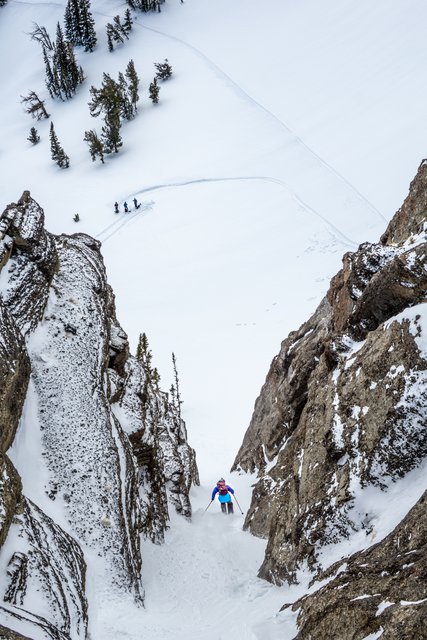 Erica finds a spicy line in the Jackson Hole Backcountry on the UFO 115. Photo by Dylan
––
Powder/Float:
[DD] The UFO to be very easy to ski in untracked pow and provided plenty of float. They planed easily out of the snow without having to get into the backseat and I didn't experience unexpected tip dive on landings or in deep snow. I found the minimal camber combined with the deep rocker lines provided a ski that was very quick to go where I wanted it to and didn't require excessive input. I didn't notice any weird catching or drag from the tips or tails in soft snow or notice any downsides to having the magnatraction sidecut.
[EA] The UFO 115 is surfy, buttery, and floats incredibly well in soft snow. With a 115mm waist and 146mm in the tips, I had no issues staying afloat in deep snow. They are incredibly easy to ski and don't require much thought to make turns. The UFO 115s quickly became my go-to powder ski for their predictability, reliability, and versatility.
https://www.instagram.com/p/Buz9nURlNnO/
––
Mixed conditions (Crud/Slush/Ice):
Mixed conditions are not where this ski shines. The ski is definitely manageable in conditions that include non-consistent snow but I wouldn't call this ski a crud buster. I pin this down to the fact that the ski performs so well in powder as well as being super playful, but the design choices that contribute to those traits such as deep rocker, minimal camber, and soft tips and tails are counterproductive when assessing the skis ability to go fast through variable snow.
When encountering variable snow it was best to slow down, jib the side hits, and try to ollie from patch to patch. If I attempted to blast crud I found the soft tips would fold on me and the ski would try to deflect around obstacles instead of going over them. That being said, the UFO 115 isn't marketed as (nor trying to be) a crud destroyer, and looking at the sidecut, rocker, mount point and flex I wouldn't expect it to compete on the same level as something like a flat-tailed directional ski.
––
Playfulness:
Be it in soft snow or hard snow, as long as the snow is pretty consistent you can depend on the ski to go where you want it to go and it responds as it should, which really makes the ski shine in this category. I found spinning very easy, and the swing weight seemed lower than the measured weight of the ski would suggest. Butters off cat tracks are easy to initiate and once flexed the tips provided plenty of pop to get the rest of the butter around. The tails are also very natural to pop off, and it is very easy to ollie over obstacles or pop for the next pillow in a line, I even found enough pop off the tails in powder to be able to hop up onto rocks and over down logs that were in my way.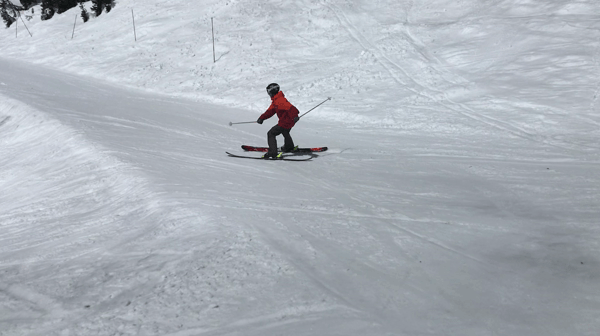 ––
Durability:
As of now, neither of us has noticed any durability issues, the top sheet has sustained almost no chipping and we didn't acquire any core shots in the base. Overall, we are very impressed by the build quality considering at least a few rocks were hit during our time on the UFO 115.
––
Comparisons:
LibTech UFO 115 vs. Crosson Marauder:
Compared to the Crosson Marauder that we also received to review this season, the UFO is pretty much the complete opposite ski. While the Marauder was good for inbounds chopped up snow and skiing fast, the UFO is substantially more playful and less work to ski in deeper snow.
LibTech UFO 115 vs. Line Mordecai:
These skis behave very similarly, I [DD] skied the 179 Mordecai for a few days earlier this season. The pair I was given were used from a friend so my mount locations were pretty limited and they ended up mounted in a pretty similar spot to the UFOs at around -6cm from center. The UFO has stiffer tips and tails with a similar underfoot feel, but with that comes the fact that the Lib Techs don't butter quite as well but you can still press into the tips and get them pressed. I found these skis to be the most similar out of all the skis I was on this year. I did like the length of the UFO's a lot more than the length of the Lines, but that could be remedied by going to the next size up from Line.
LibTech UFO 115 vs. Atomic BentChetler 120 (2018/2019):
While these skis aren't exactly apples-to-apples to compare, with the BentChetler obviously being wider and a little more powder oriented, I felt they actually deserved to be butted up against each other because they're both twin tipped soft snow skis aimed at more at jibbing and with the new construction of the Bentchetler they are relatively in the same weight class. Once you get to this width of ski the difference in float comes much more down to the rocker and shape of the tips than it does to the waist width. If choosing between these two skis, the LibTech can definitely handle more big mountain terrain than the Bent can.
I found that in a few tight couloirs the Horizon tech tips and tails would be very slippery when relied on them during hop turns or when they do collide with the wall on the side of the couloir. With that said I also didn't notice the Horizon tech that much when trying to do pow butters or slashes/ slarves. I would recommend the Bentchetler over the UFO if what you ski involves a lot of deep light snow where you don't come across a lot of tracks, or if you spend a lot of time hitting backcountry booters. I found the lower swingweight of the Bent to be noticeable when doing tricks, but I also found the lower weight to be a negative when encountering challenging terrain or variable snow conditions. I wouldn't say that the LibTech crushes variable snow but it certainly has more composure than the bent when the going gets rough.
––
Conclusion:
This ski is an exceptional addition to someone's quiver who is looking for a soft snow oriented ski that's very fun to ski and oriented more towards being playful than going fast and big. We would recommend it to people who are going to be using it much like we did, which was as a sidecountry ski that saw icy couloirs, open pow fields, pillow lines and then icy bumpy traverses back to the resort. On those icy traverses was one of the only times we noticed the Magne-Traction and it was in a good way, it made it easier to hold higher lines than ski partners which saved us some side stepping. The Magne-Traction is a positive contribution to the ski as opposed to being a marketing gimmick. Overall, we would highly recommend these and will be keeping them in our quiver for those deeper, softer days.
For what we're reviewing in real-time, follow us on Instagram: @erica_aarons & @jahweazvt.
Up Next: Crosson Maurader, Candide 2.0