Since 1978
Fieldsheer®
has redefined what clothing can do; offering next-generation heated clothing for everyday use in the most challenging conditions.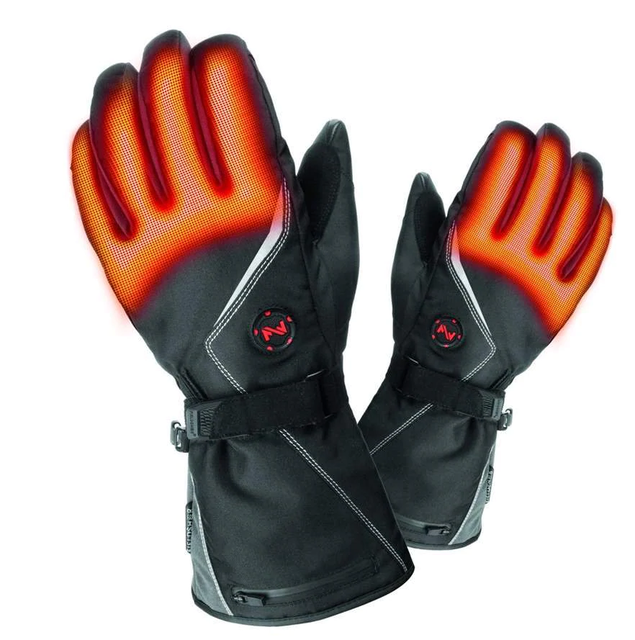 Out the box these gloves felt like quality before even considering they had a heat function. The material feels like a rugged poly type coating that is quite water resistant and comes with a waterproof rain guard lining inside. They have reinforcement material in the the palm, thumb and outside of the hand which leads me to believe these will last many seasons.
I used these gloves on very cold days skiing and they worked like a charm. I went the first two hours without using the heat system and once my hands got cold I just plugged in the battery and 2 runs later I was in full heat. My girlfriend also has Raynaud's (symptom of poor circulation that causes hands to freeze very easily) these works like a charm for her.
I would recommend keeping the batteries unplugged and inside your jacket until you are ready to use them to get maximum output.
Pros:
-Warm gloves even without the heat
-Very well made
-Cure for people with Raynaud's
-Easy to manage temperature
Cons:
-Batteries are smaller than I hoped but can still be charged rather quickly.
-Hands can get a little sweaty if you are prone to wet hands.
This was my favourite piece from Fieldsheer testing. Not only does it feel stylish but it works extremely well. With heated gear I usually try and last as long as I can with it off and then once the cold sets in - that's when I plug em in. Once plugged in, 5 minutes later I can feel a huge difference. Leaning back on a chairlift with this in on was a new level of luxury I have never felt.
I tested the vest over my base layers and thin hoodie and still felt a huge amount of heat on both sides of my body. The material itself is so light that you can put it under any puffer or jacket without ever noticing it. It also has a very convenient located battery placement area - fits one of the larger battery packs easily so you can stay warm for as long as you have battery life.
Strongly recommend for anyone who gets cold easily while skiing or needs to spend a lot of time outside
Pros:
-Extremely effective heating system
-Thin profile - easy to fit under and over layers
-Charger location is perfect
Cons:
-None
I was a little skeptic about the socks and was genuinely surprised. They offer adequate heating in the toes where it counts most but I found the battery placement (although conveniently placed) was still a bit in the way. I was unable to properly use when skiing due to the boot being in the way. On the other hand I used them out on a cold ice-fishing day and was relieved to be able to turn them on and warm up without having to go inside.
Pros:
-Extremely warm before using the heater
-Heater works wonders
-Batteries last many hours - enough for any full day in cold temps.
-Easily controllable via the Fieldsheer app
Cons:
-Moisture management is not the greatest (which I think is to be expected with such a thick stock)
-Scared to wash them!
-Not the greatest for ski boots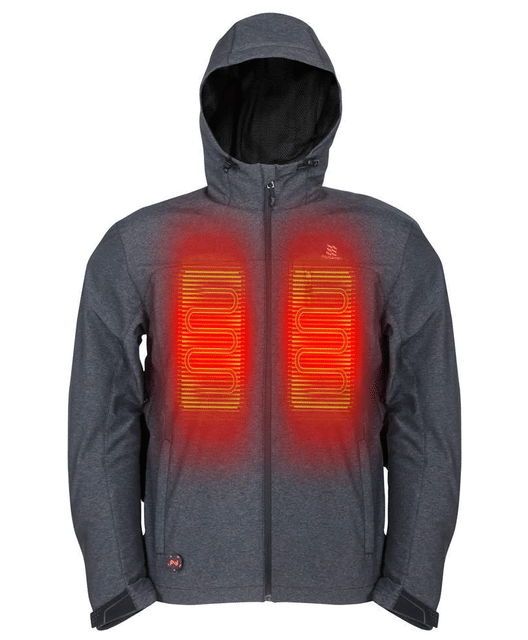 The Fieldsheer adventure jacket can absolutely make those cold days a lot more comfortable. The jacket itself is very well made with tapered sealed zippers, great pockets locations and comes equipped with a waterproof liner inside. The jacket serves as a warm garment on it's own but once the heating system is turned on you can really feel the technology. The jacket is well insulated so that warmth you create inside the jacket stays in the jacket. This was great for skiing and even better on cold days where you are not moving as much. This paired very nicely with the vest making a -22 Celcius nor-easter storm extremely manageable. I would be careful wearing this on warmer days as it could be too hot!
Pros:
-It's a quality jacket on it's own
-Heating capabilities are extremely efficient
-The jacket fits true to size
-Looks like your average quality winter jacket
Cons:
-The jacket could use a bit more breathability but on cold days it insulates better than most jackets