Vishnu WET 2022 Review
The 2022 Vishnu WET, a park ski. A review of Vishnu's tool for the creative park skier, including specs and topsheets previews.

Newschoolers' Quick Review:
The Wet is pretty much a pure park (and street) ski. In truth, they go beyond that. They are pretty much a pure 'jib' ski, designed first and foremost for buttering, ollieing and playing with smaller features. And perhaps unsurprisingly, they are one of, if not the, best skis I have ever tried for that kind of skiing. They are quick, light and flexible without being a noodle. On rails, the Wet is (again) one of my favorite skis I've tried. Super low swingweight makes them ideal for fast, technical tricks and the shape/flex makes them super easy to press and surface swap. But on jumps, the reality is they are less stable than the vast majority of park skis out there.

For the technical part, Vishnu are pretty sparing with information about ski construction and materials on their website beyond the fact that their skis have a bamboo/poplar core and that the Wet has dimensions of 116-88-116. The skis have a full sidewall construction and textured topsheets. The edges are fairly middle of the range, I measure 2x2mm.

The 17m radius and mid-soft flex combine to make most turn shapes pretty comfortably. And the skis aren't so soft as to be uncomfortable, they actually hold a pretty good edge. They do get a bit jittery at high speeds but anything with this much rocker does and I was pleasantly surprised to find they aren't particularly torsionally soft.

Vishnu have a great reputation for durability on NS and in my 10 days of skiing the Wet, I saw no real reason to doubt the validity of this in terms of park skiing. The edges held up admirably (no cracks on mine) not being notably wide (I detune heavily so I tend not to have major edge issues), and despite being a full sidewall construction, that textured topsheet held up like a champ with virtually no chipping.


Click here for our full review of the 2022 Vishnu WET | The Roofbox Reviews
Specs:
Sizes: 177, 183, 189 cm
Dimensions: 116 / 88 / 116 mm
Radius: 17M - 177
Weight: 1688g /ski - 177
Brand Description:
The 2022 Vishnu WET is designed specifically for street skiing. WET features a symmetrical shape, camber underfoot, tip and tail rocker, with the softest flex on the market. Our unique flex pattern softens with rocker in the tip and tail, creating a perfect balance point for manuals, butters, and presses. The camber and stiffness underfoot will keep you stable on landings. These lightweight, playful skis will allow you to catch any transition, press and butter easier than ever before, and allow for new possibilities to ski creatively. Get Wet.

Sandwich construction, Bamboo/Poplar core.

Other Topsheets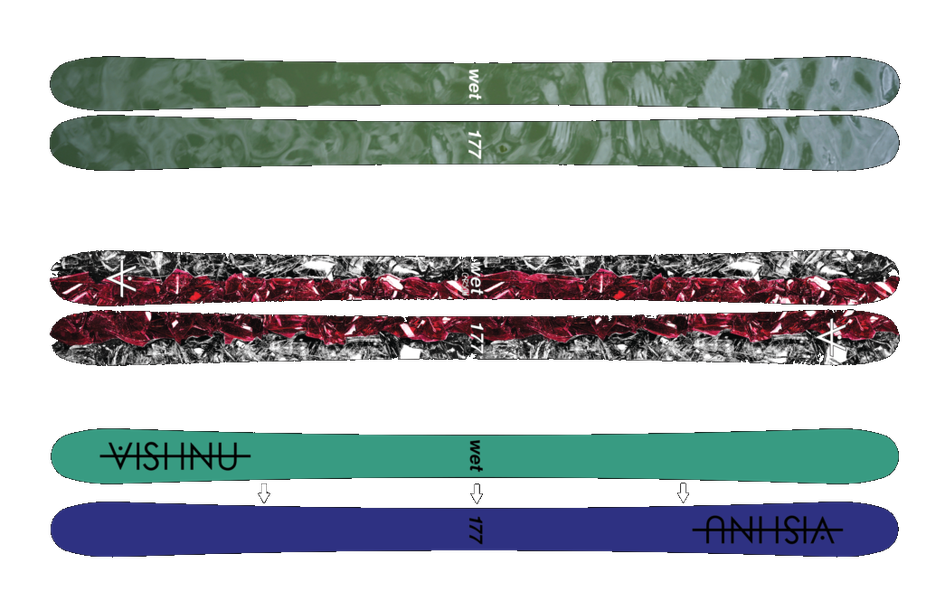 Shop For Vishnu WET

Merchant

Sale Price

Retail Price
Shop For Vishnu WET

Merchant

Sale Price

Retail Price