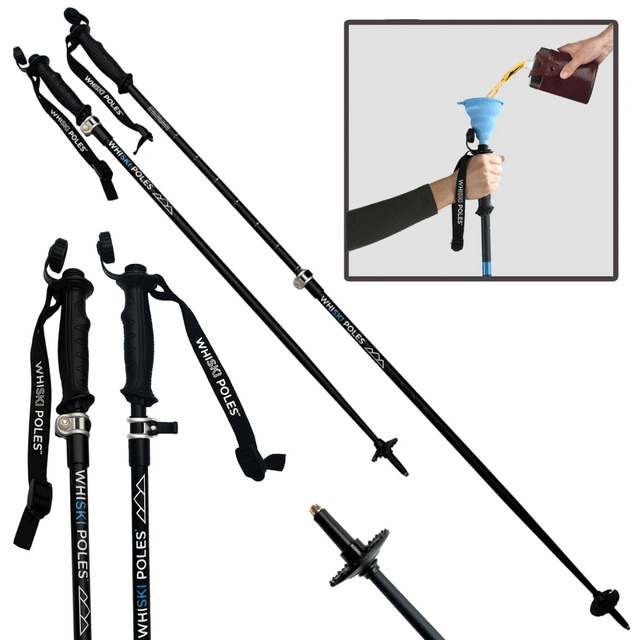 Manufacturer's Description:
WhiSki Poles are high-performance ski poles with an integrated flask in the cavity of the pole. But don't be fooled, WhiSki Poles are a premium ski pole prior to the novelty of the flask!

- Telescoping pole length from 36"-54" (90cm - 140cm)
- One size fits all types of skiers: backcountry, park, resort
- The adjustable latch will not wear out because mechanism can be tightened over time
- Crafted from aircraft grade aluminum 7075, 16mm upper / 18mm lower
- Each pole holds approximately 4 fluid ounces/pole (235ml), or a half a pint per a pair, fills only the top half of the pole
- Each pole weighs approximately 8 oz (250 g) when empty, or 13 oz (360 g) when filled. Most skiers do not notice the additional swing weight.
- Quality is paramount, WhiSki Poles conform to the international ski pole standard ISO 7331, NSF and FDA
- All poles ship with a free collapsible funnel + stickers!
- Optional power baskets, stash handle inserts
- Colors: Matte Black

https://www.newschoolers.com/videos/watch/917460/WhiSki-Poles-2-0--High-Quality-Ski-Poles-w--Integrated-Flask---Stash-Handles---SHOTSKI-Kit

Price: $59 Currently live on Kickstarter! Save 60% by backing the campaign.