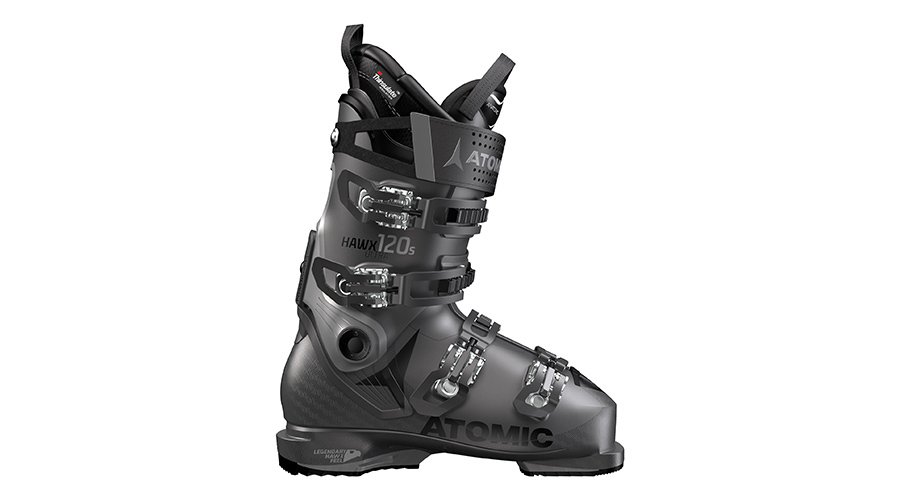 Newschoolers' Review:
Reviewing boots sucks, because the best boot is the one that fits. In my case, these didn't, not really. Atomic have a fantastic fit system in the form of Memory Fit, but unfortunately, that can only make the boots bigger not smaller. Even out of the box, these had too much volume for me above my instep and overall (despite being a 98mm last and fitting nicely length wise. I wear a Full Tilt classic normally and that toe box feels much snugger). For the review I filled up that space with foam (which works in the short term fairly well) and found them pretty impressive. The 120 flex was actually stiffer than I like, even without the booster strap I usually wear. It took me a few sessions to not feel completely uncomfortable in a 4-buckle boot again but even when I did, I never felt quite right in the park.

First thing to note with these boots is they are seriously light. I have never skied an overlap boot anything like this light, I didn't notice any difference coming off Full Tilts (whereas usually, I try something else and think oh this is heavy, and switch straight back). They 120 flex was stiff enough that particularly on cold days, I actually couldn't flex them enough and that made some trickery more fiddly/less precise (for reference I weigh around 65kg/140lbs). For example on butters, where I can usually change things in part by using my ankles/feet to make small adjustments, here I was just locked rigid. On nosepresses on rails and butters, I found it difficult to get my knees over my toes to really flex the skis.

However, I loved these things for ripping around the mountain. The amount of control I had was definitely superior to my regular choice of park boots (I ride the stock 6-tongue in my full tilts most days). They certainly allowed me to transfer power to my skis much more quickly. Driving through cruddy snow on stiff skis, these were definitely a gamechanger. I think if I was going full all-mountain/backcountry mode, I'd be tempted to switch back to 4-buckle now that they come this light, but I think I would still take the flex down a notch. I have tried a few others and you're in the 10 tongue before Full Tilts feel around like this in terms of forward pressure transmission, but they still feel a little softer laterally than the Hawx. I also had a quick go on the XTD tour version of this boot and more generally, I'm very impressed by Atomic's offerings lately. I kinda wish they fit me better. - Twig



Manufacturer's Description: Lightweight and high performance come together in the Atomic Hawx Ultra 120 S – and it's got the Legendary Hawx Feel in a narrow 98mm last. The pre-shaped Memory Fit 3D Platinum liner offers an incredible first fit – and the Memory Fit process makes for a perfect fit in minutes. It's part of the lightest alpine ski boot range we've ever made, thanks to Prolite – our revolutionary light construction with added reinforcements in key zones – cutting weight by 25%. They also feature Power Shift, Cuff Alignment and our Cantable Grip Pads, making them some of the most customizable boots to date. For strong skiers, it performs under even the most demanding conditions. You'll get ski-all-day comfort, and still be able to push your skis and your skiing as hard as your body and mind are willing.