For our review of the redesigned ARV 106 for 2019, click here!
[Editor's Note: Our review was conducted on the 16/17 Armada ARV 106, which is unchanged for 2017-18, except for the graphics].
The Roofbox is back for 2016-17, with one aim: No bullshit, in-depth ski reviews, by ski bums for ski bums. No sponsored athletes, no 'we took 3 runs at a ski test'. Brands send us the sticks and we spend a solid chunk of our own seasons shredding them. Then when, and only when, we've spent enough time on a ski to judge it fully, we tell you what we honestly think about the pros and cons of a ski and who we think it will work for. It's a matter of pride for us that 'NS Tested' means something and that we advise you as best as possible what you should be slinging in your roofbox.
Ski: Armada ARV 106
Length skied: 180cm
Tip-Tail Length (Straight Tape): 178.6cm
Shape: 133-106-123
Measured weight (each ski): 1978/1999g
Mount: -2cm from true centre
Binding: Tyrolia Attack 13
Days skied: 9
Reviewer height/weight: 5'9, 145lbs
Review Location(s): Saas Fee, The Snow Centre (Hemel)
Conditions skied: Fresh pow, thick leftover pow, jumps, piste, chop, skatepark, indoor
Armada's new ARV series marks something of a major change for the brand. For years now, their line up has boasted several traditional cambered park skis, as well as the Alpha shape in various guises. All of which, with the exception of the AR8 in the Zero Collection, are now gone. The replacements? The ARV 86, 96 and 106. And on the subject of new directions for Armada, the ARV 106 is also their first attempt at a rockered mid-fat jib ski. You could certainly argue that they are a bit late to that particular party. It's an increasingly packed market segment full of great skis.
However, Armada have aimed for a different type of skier with their offering. Significant taper and and rocker have become widely used on mid-fat skis to develop their powder performance to the max. Many mid-fats are becoming, in essence, narrower, more accessible, powder skis. The K2 Marksman is an obvious example. But the widest of the new ARVs only has minimal early taper and fairly mellow rocker too, particularly in the tail. It most resembles the pre-2015 Line Sir Francis Bacon, so it's perhaps no coincidence that the new ski appears in the first Armada ski collection formulated entirely under the watch of Andy Hytjan, previously of Line.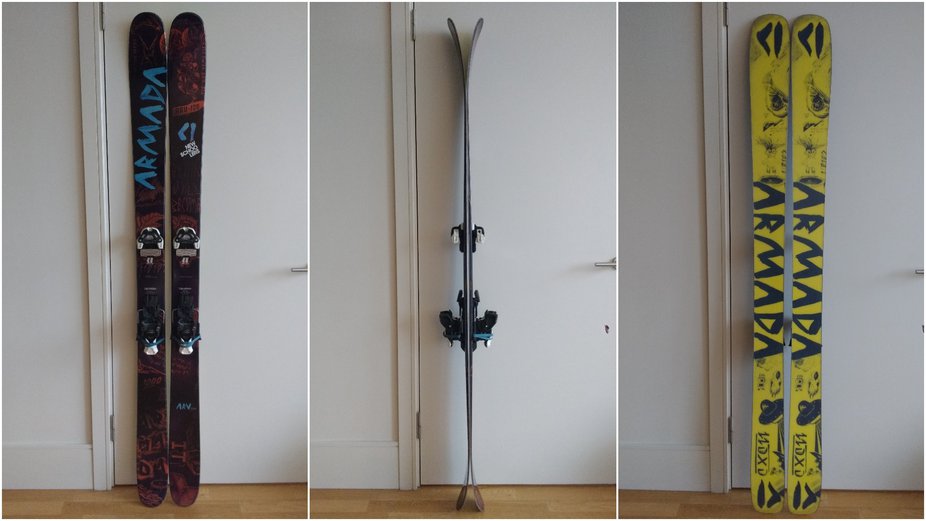 That 108mm iteration of the Sir Francis Bacon was my go-to park/mountain jib ski and probably my favourite one ski quiver of all time. The new one, while still one of my favorite all mountain skis available, isn't something I'd want to ride in quite the same way. It's safe to say that when I tried the ARV 106 at a ski test I was excited to feel traits familiar from my days on the old SFB. This was the number one ski I wanted to spend time on after that test and despite high expectations, I wasn't disappointed.
To me the 106 feels like park ski that has grown up (and outwards, as people also have a tendency to). It has a familiar park ski feel on snow, with its solid flex underfoot and smooth/steady softening into the tip and tail. Armada's flex chart denotes the ski as 6.5 in the tip, 7.5 underfoot and 7 in the tail but I'd say the extremes of the ski are softer than that would suggest. In particular, the rockered section in the tip is fairly soft. Not quite as soft as the Al Dente but it's a fairly similar feel of playfulness in the tip (Editor's Note: I am comparing to the Al Dente Zero here, which is a slightly stiffer ski than the EDollo/Old Al Dente. I actually spent much of the testing period switching between the Al Dente and these and there is definitely a 'same brand' feel about the two skis). Unsurprisingly then, the ARV is as good a ski for nosebutters as I have ever skied. That nose is a wide/stable platform, the flex is solid enough you don't wash out much but soft enough they are still a breeze. Perfect.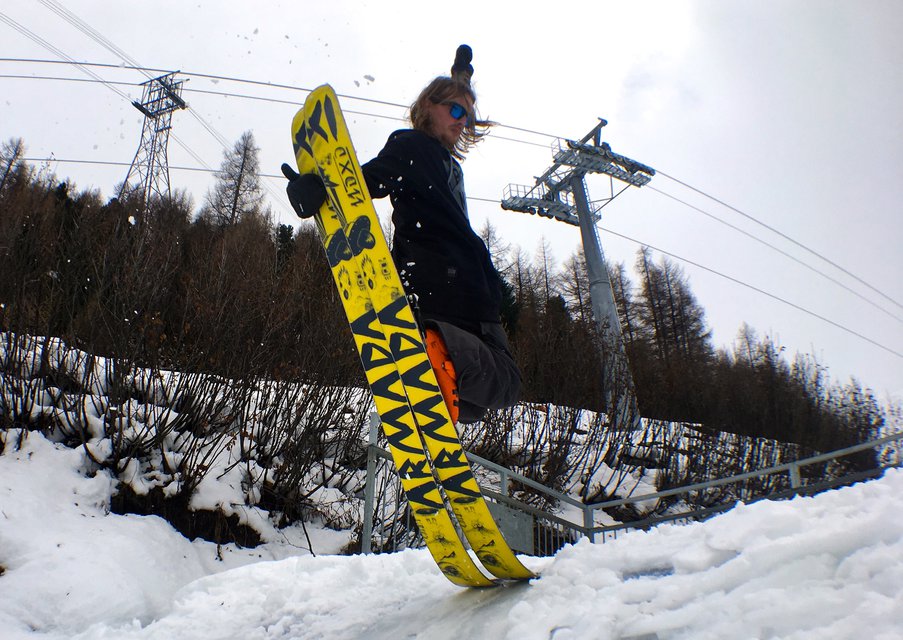 The tail is a little more solid and has less rocker making it noticeably more stable, but as I broke the skis in, tailbutters and presses became increasingly comfortable. There isn't much in the way of camber, which means that you aren't fighting against the shape when pressing but directly behind the binding they are still pretty solid so you need to get your weight out over the more flexible part towards the tail of the ski. Once you find the balance point they flex like a dream. One last note on the flex is that they feel similar to most of Armada's skis in terms of the damp vs poppy scale, i.e. somewhere in the middle. More energy than say a K2 but not a super snappy ski, just right in my opinion.
The low tail height and fairly short rocker profile seemed, on inspection, like it would be less than ideal for landing switch in deep snow. But despite it being November when I skied these, Saas Fee provided plenty of snow to test out this theory. Riding out switch in pow was actually pretty comfortable for a ski that size. Because of the smooth profile of the tail, despite sinking a bit, it actually knifed through snow comfortably where a more traditional twin tail shape would have been pushing the snow and sending you onto your back.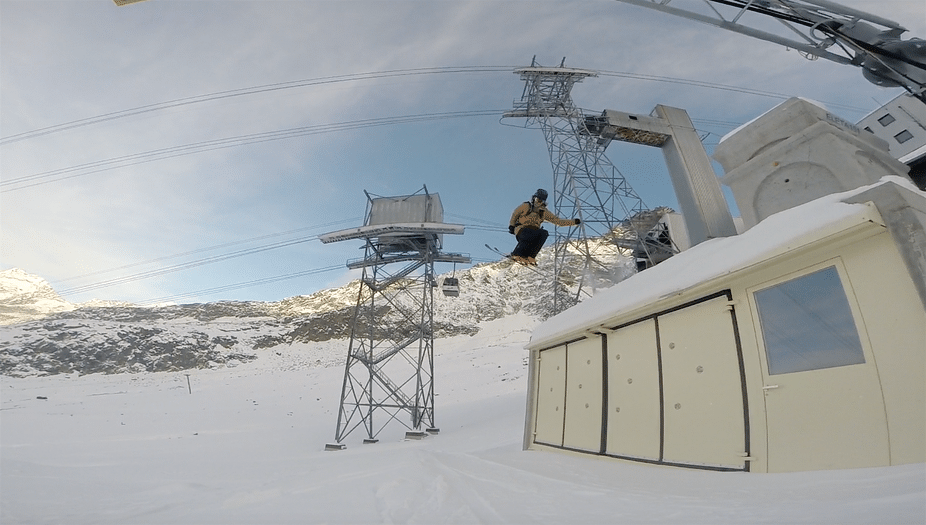 There are downsides to the shape on the pow front though. As already mentioned, these are more of a fat park ski than a narrow pow ski in shape and you can feel the difference between them and more pow ski shaped offerings. Without lots of early taper, they don't travel sideways in deeper snow as naturally as some and less rocker means you have to pay a bit more attention when skiing deep snow. That's not to say that they are bad in pow, I can happily ski them in a foot of fresh by any means, but the more traditional shape isn't as surfy as some other offerings, and they feel more comfortable skiing fast in fresh than pivoting.
For reference, I mounted my own pair significantly further forward than recommended which is at -6.5 (with a secondary recommended point at -3.5). I've tried a few different mounts and concluded -2cm is my favourite. I probably wouldn't go all the way to true centre myself, because of the sidecut setback but at -2cm they they still carve well. If you're used to a centre mounted non-symmetrical park ski, the feeling of the ski at -2 is comfortingly familiar. Further forward than that and you do start to notice you are fighting the sidecut, further back and you lose the sense of balanced weight which I can't live without in the air.
The groomed snow performance is also pretty good. They do develop some tip flap and twist a little at speed, but the width makes them stable enough and the tail is stiff enough not to wash out. They definitely aren't a true crud buster either but they do an ok job in mixed snow, they are perfect in slush and a dream in a few inches of fresh. In other words, they are pretty versatile.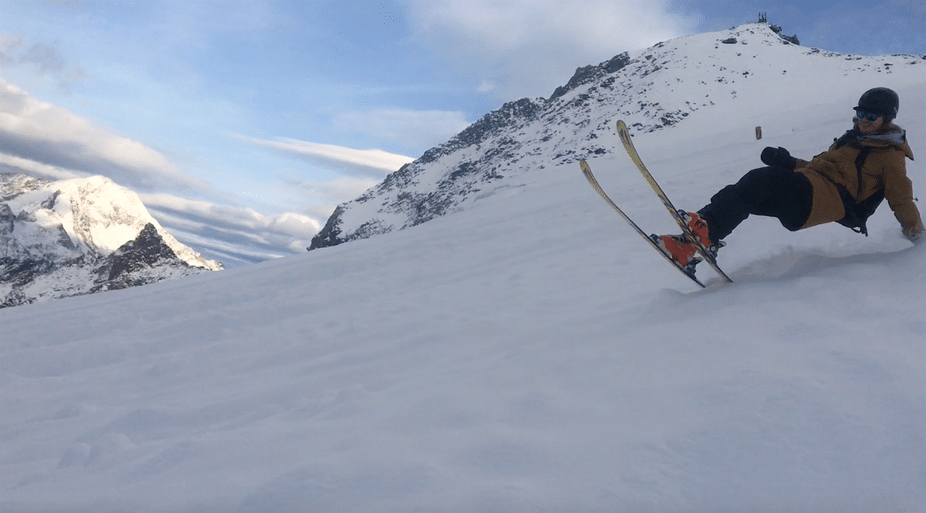 They're also pretty light, without feeling fragile. My pair weighed in at just under 2kg per ski, which puts them in the same sort of bracket as the new Sir Francis Bacon. And like the SFB with it's thinned down tips, the ARV 106 feels lighter than it is thanks to honeycomb tip inserts (called Spin Tip, think Rossignol-esque but without the need to show them off to punters). The resulting swingweight is really low, they're super comfortable to control in the air for the size and so really quite a fun jump ski.
I think of everything I've skied recently these would be my first choice everyday ski but for one issue. The edges are are Armada's 1.7mm impact, their narrowest edge offering. That shouldn't worry an occasional park skier or someone who doesn't ride a lot of rails. But I love a good rail day and I love fat skis on rails. These are not the answer for filling that slot in your quiver. A fat edge certainly doesn't guarantee you won't destroy the edges in the first few days (and nor does a narrow one necessarily mean you will) but it does give you a better chance of the ski holding up. Edge size certainly isn't the only factor but it's a big one. It does irritate me a little when I see a brand advertise a ski as park-friendly but then chuck a narrow edge on it. For me, the fact that I'd steer clear of using them in the park is their only major flaw of the ski.
Shop For Armada ARV 106

Merchant

Sale Price

Retail Price
Shop For Armada ARV 106

Merchant

Sale Price

Retail Price
But that doesn't change the fact that the ARV 106 is a great ski. It has certainly found a place in my quiver. I take them out whenever I just want to go for a rip all around the resort, if I'm not sure how much snow has fallen and if I'm going on a trip and don't know what I'll be riding. They are the sort of ski that allows you to make any day of cruising groomers, skiing left over snow and just jibbing whatever the mountain puts in front of you as fun as possible. They'd make a fantastic pow ski for jibby east coasters and a great daily driver for anyone on the west. They're also a great choice for a spring sidecountry jump ski or a jibby touring ski, which is what I will most likely use them for when my Daymakers show up.
Do I like them as much as the old Sir Francis Bacon? To ski on, the simple answer is yes. They are lighter, more stable, better on groomed and in deeper snow. But I don't feel I could ride the ARV as my park ski, whereas with the old SFB I did, so they lose out on versatility. The TL;DR is that the ARV 106 is one of my favorite skis on the market at the moment. It brings all the fun of a park ski to the rest of the mountain. If that sounds like your cup of tea then you can't do much better right now.
Skied these? Let us know what you think below.
Follow my insta to check out what I'm reviewing in real time: @twig_spens
Next up: Armada ARV 96