[Editor's Note: This review was conducted on the 2018/19 ARV 106, which is unchanged for '19/20 except for graphically].
Welcome back to Roofbox Reviews for 2019: Our no bullshit, in-depth ski reviews, by ski bums for ski bums. No sponsored athletes, no 'we took 3 runs at a ski test'. Brands send us the sticks and we spend a solid chunk of our own seasons shredding them. Then when, we feel we've spent enough time on a ski to judge it fully, we tell you what we honestly think about the pros and cons of the ski and who we think it will work for. It's a matter of pride for us that 'NS Tested' means something, that these reviews can't be bought and that we advise you as best as possible what you should be slinging in your roofbox.
_
Ski: Armada ARV 106
Length skied: 180cm
Actual length (Tip-tail w/ straight tape): 178.0cm
Shape: 134-106-124
Measured weight (each ski): 2016/2004g
Mount: -1cm from true center.
Binding: Tyrolia Attack 16
Days skied: 22 (6 pow, 1 street, 12 park, 3 touring)
Reviewer height/weight: 5'9, 145lbs
Review location(s): Saas-Fee, Snowpark Zermatt, Picos De Europa (Spain)
Conditions skied: Pow, freshly groomed, chopped up pow, park, slush, heavy backcountry spring slush.
_
It's been just two years since Armada revamped their jib lineup with the introduction of a whole new ARV series ranging from 86 to 116mm. Armada call them "the funnest family in skiing" and this year all four skis have been tweaked in what Armada describe as a "complete redesign". Possibly the most significant changes come to the 106mm model and, although I probably wouldn't go so far as to call it a complete overhaul, enough has changed to make me to want to revisit the 106. The previous iteration was one of my favorite skis, so much so that I made it an Editors' Pick two years running. Naturally, I was hoping that Armada had managed to improve the few aspects I didn't like about the ARV without ruining a great ski in the way some brands have done in the past.
_
Shape/flex/construction:
Both the shape and construction of the ARV 106 for 2019 have changed significantly. The rocker profile remains similar to previous years but the rise is a touch longer, with more splay in the nose and tail. It's still a much more mellow rocker profile than most skis in this category, and there's a little more camber underfoot, too, compared to the '16-'18 ski. The flex of the new ARV cores feels a touch stiffer to me across the range compared to the old skis. I'd call the 106 a fairly medium flexing ski for the category, in a similar ballpark to the Line Sir Francis Bacon but probably softer in the tips/tails. My personal rating flex rating based on on-snow feel would be 5-7-8.5-7.5-6 from tip to tail. The underfoot section and sections immediately fore and aft of the binding are pretty solid but the ski softens off in/just before the rockered sections.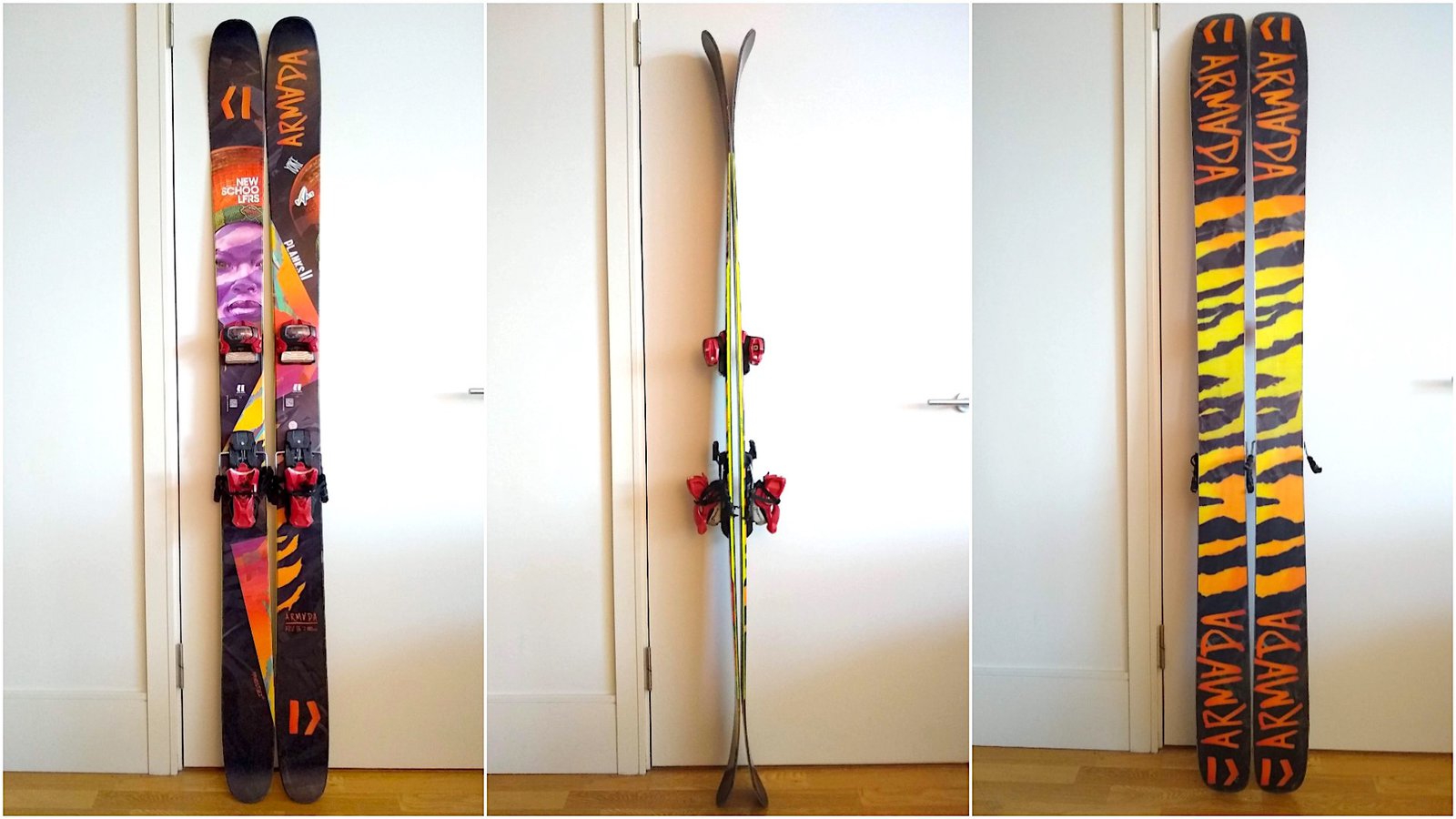 The footprint has changed more significantly. It's now more 'pinned' than previous incarnations, meaning that the skis taper a little earlier and more markedly. Although, they are a millimeter or so wider at the widest points, they also taper more to give a slightly narrower (more pointed) shape at its extremes. Armada markets the new shape as being based off the old JJ 2.0, and you can see the inspiration, but it's still far closer to the ARV 106 of prior seasons.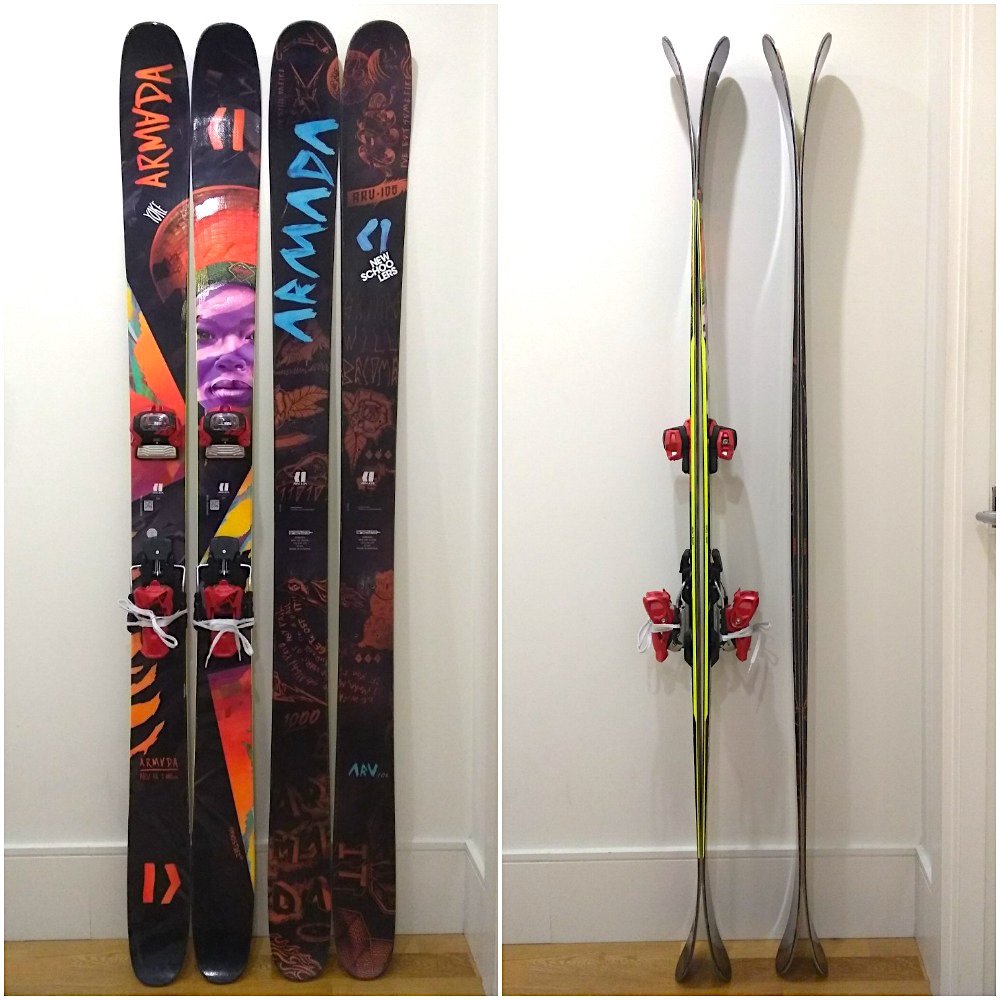 New vs old
There are major tweaks to the construction as well. The new AR75 construction has an almost full sidewall under the binding, and it's a slightly longer full sidewall than the previous model. It also has a step down so that part of the sidewall extends to the rocker points at each end of the ski. Combine that with fatter 2.2mm edges and the new ARV 106 is a far beefier proposition, good news for skiers wanting to take these to the park (for more on that, read on). The switch from a regular full edge wrap to a four-piece edge construction may prove less good news. There's also a switch in core construction with a a new ash/poplar laminate featuring two full length ash stringers, something we see across the entire ARV range.The resulting skis seem slightly stiffer and have a lot more pop/snapiness compared with their predecessors.
_
On snow:
Last year, winter finally returned to the Alps and so of the first seven days spent on the ARV 106, six were pow days (with one street session due to closed lifts and gnarly avy risk). One of the weaker points of the old ARV was its deep snow performance. Because they are less rockered than many skis in the circa 105mm jibby category, the old shape, with minimal taper and a more square tip shape didn't feel that happy going sideways in deeper snow. In a single run I realized that the new model surpasses its predecessor in that respect. In deeper, particularly heavier snow, it felt far more intuitive and less prone to hooking thanks to the more pinned shape. There are still skis in the jib-focused mid-fats category that handle deep snow better than these, because they benefit from more rocker; the K2 Marksman and the Kartel 108 being notable examples. However the transformed ARV sits much closer to its competition, and I'd go as far as to say it has overtaken the Line Sir Francis Bacon (SFB) in terms of pow performance. The slightly more upturned tail and stiffer flex felt more comfortable landing switch in deep snow and managing heavier deep snow conditions respectively. There was maybe one occasion when I found myself wishing I had something wider, but at my height and weight I found these a very adequate pow ski.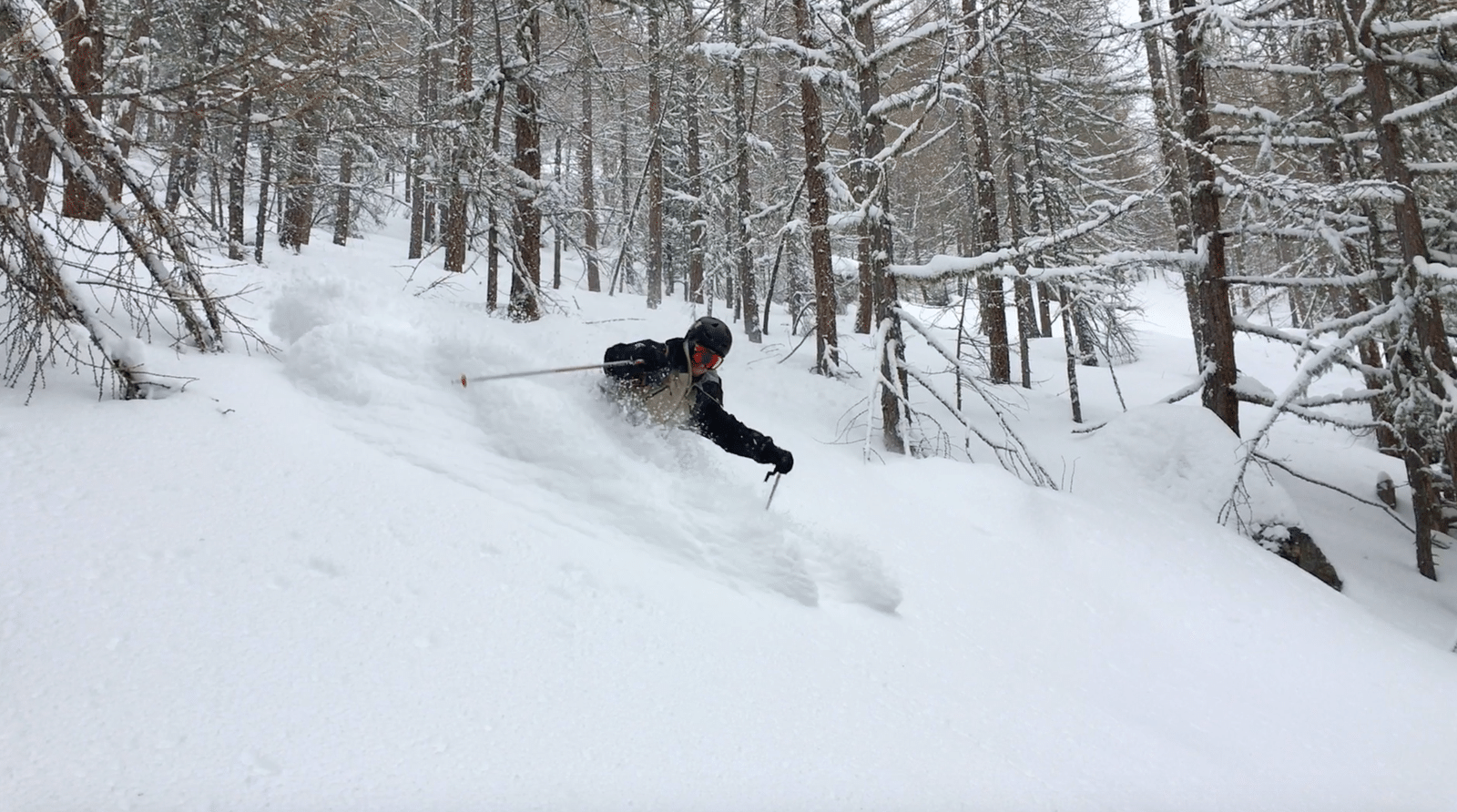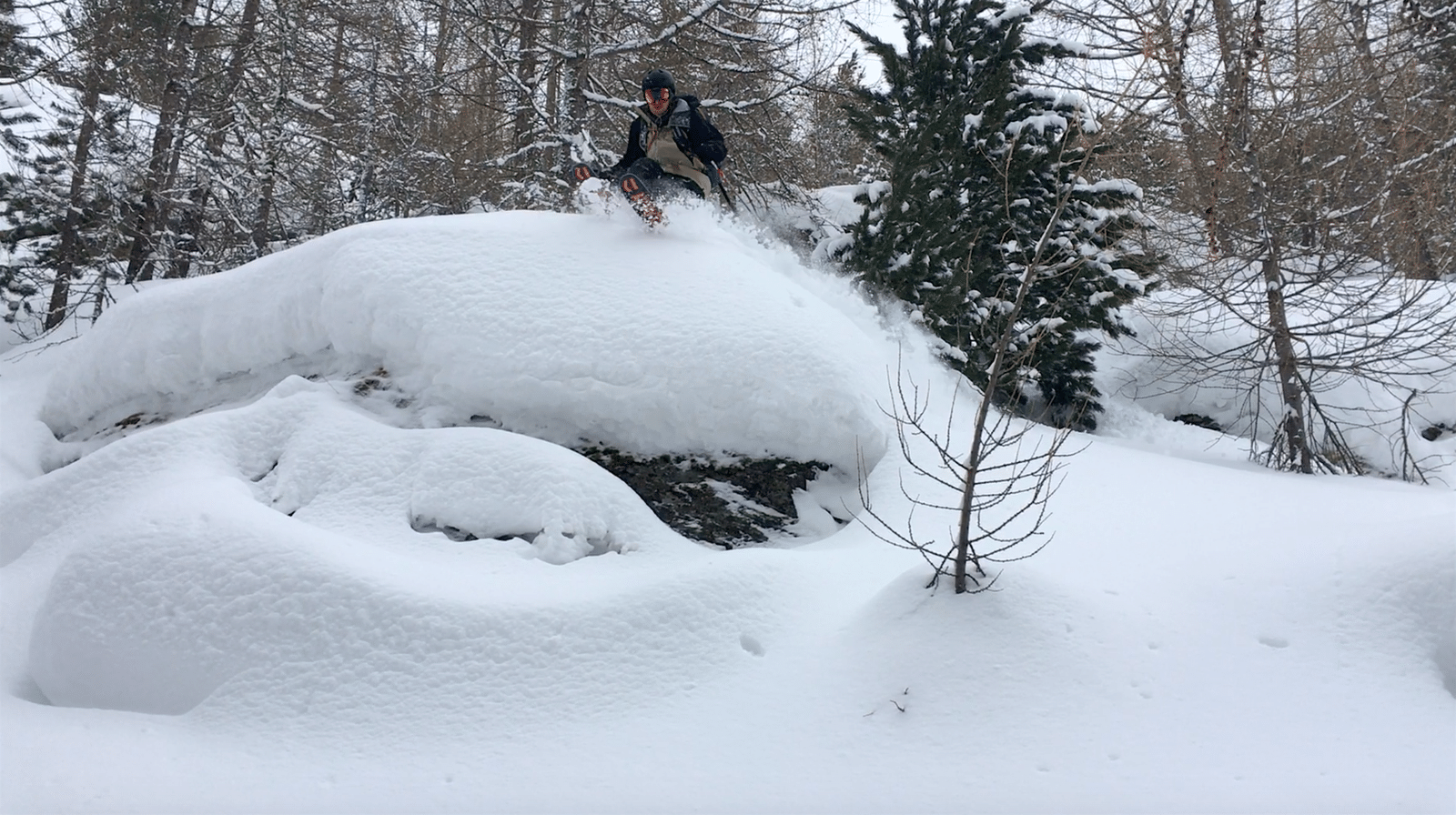 Pow day fun on the ARV 106. Photos: James Coates
Elsewhere, the ARV tends to outperform most other skis of its like. It has a longer running length than most (thanks to having less rocker and taper). And the new beefier, more solid construction gives it more stability on both groomers and in mixed snow. On groomed snow it's probably my favorite jibby mid-fat out there, narrowly beating the Line Sir Francis Bacon because of its arguably more comfortable 20.5m radius (though you'll prefer the Bacon if you value quickness over stability). It's slightly slower edge to edge and in the turn than the SFB but you can really lay into turns and the new core gives it a little more energy out of the turn too. It also pushes through mixed snow better. I loved them for blasting through slush and jibbing all over the hill. There are better skis for specific things like charging or dancing through tight trees, but there is nothing else I can think of that jibs so happily (more on that later) and still does everything else as well as the 106 does. The one downside was that the tail did get washy when I got backseat, particularly on steeper lines at higher speeds. That's to be expected from a playful ski, while and the relatively mellow rocker does help, it's not a miracle ski that you can somehow butter on anywhere and still charge the biggest lines. When I was skiing down from an end-of-season camp and ski trip in Spain, complete with a heavy pack, I could feel the tails wanting to fold up on me So it's worth bearing in mind that for a heavier skier these will feel less stable (as all skis do). As ever, there is a compromise, and a bit of stability loses out to jibiness. In short, though, Armada have done a great job of fixing the few shortcomings of the previous 106, while keeping the ski fun and the 'park ski-like' feel intact.
_
Park/Jibbing:
At the end of the day, the ARV will appeal to people looking for a playful, fun ski to jib it all, and they hit that brief with aplomb. The slightly stiffer flex does make playing around, buttering and jibbing a touch more work but it also gives more energy coming out of butters versus the old ARV. In particular, the forward most part of the noses feel more solid. The new taper makes the skis more comfortable buttering in pow and heavy slush despite being more solid. They also felt much more stable on jumps with hard landings. So, for better skiers, I think the ski now offers more.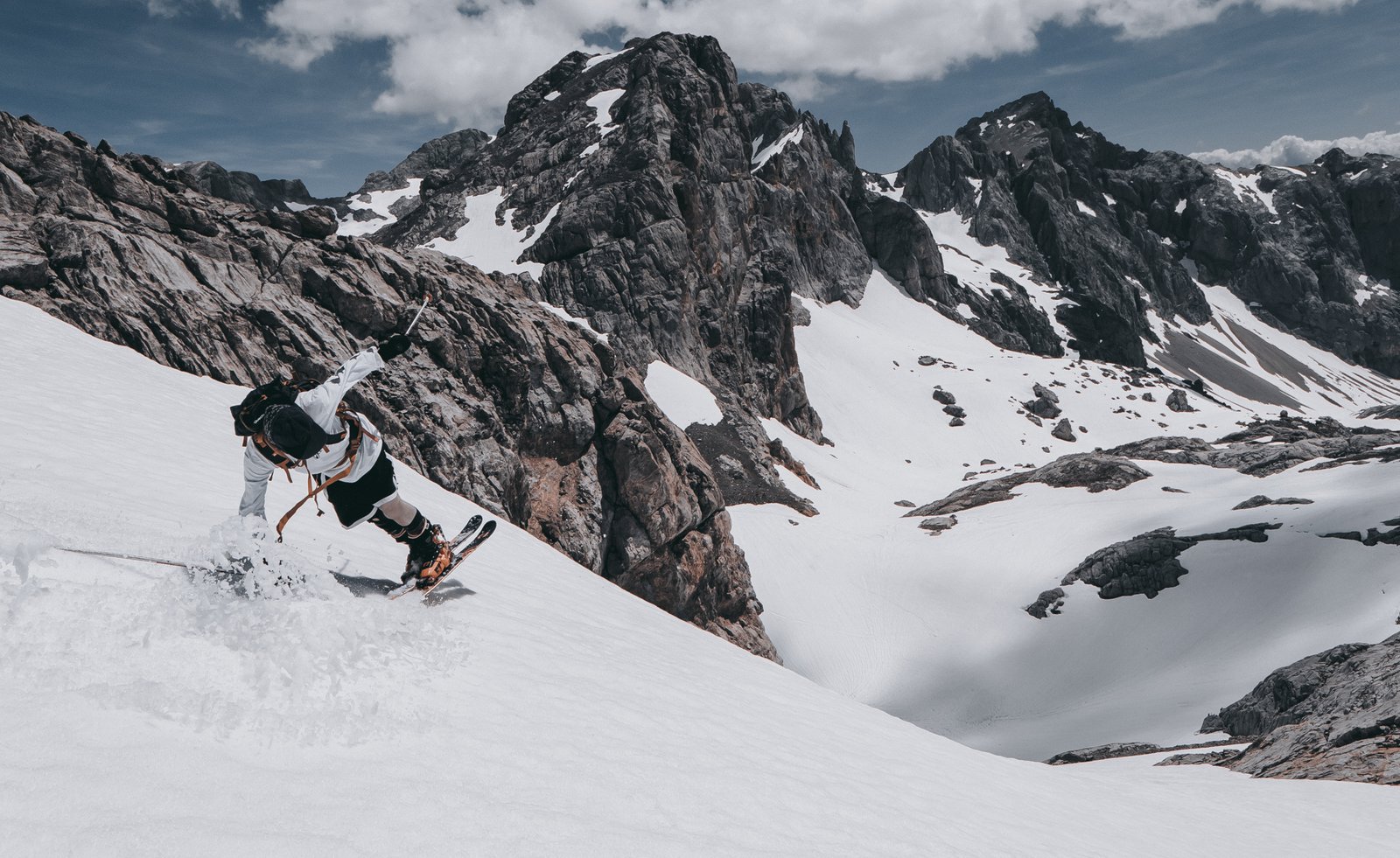 Playing high in the Picos De Europa. Photo: Pablo Varela
This does come at a price though, because they are bit more cumbersome in the air/spinning on/off rails. I love fat skis on rails and these are no exception, they are great for surface swaps and presses as you'd expect. Wider edges and an extended sidewall seem to have altered the balance of the ski however, putting more weight out towards the nose and tail, meaning I found them harder work playing around in Zermatt's extra jibby spring park than the old ARV. The new model isn't actually heavier (ok, it is - around +20g - but nobody can feel that) but it does feel heavier.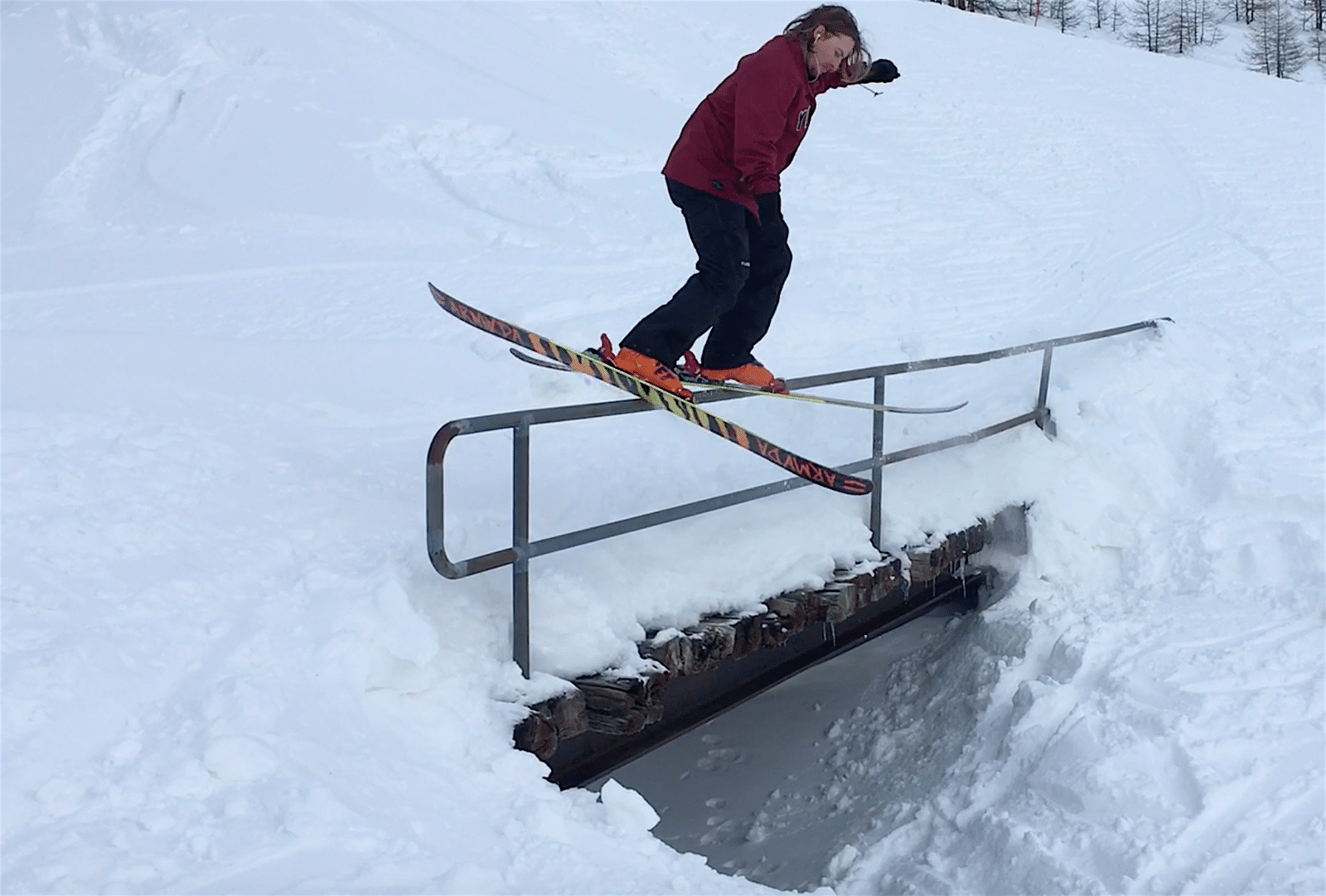 Mandatory rail shot. Photo: James Coates
That said, the ARV is still lighter than much of its competition. While the Line SFB feels a touch lighter, it also feels less durable. Meanwhile, the K2 Marksman, ON3P Kartel 108 and others feel significantly heavier (though do offer even fatter edges). I grew up riding fat skis in the park and never had much issue with any of them weight wise, but since starting the Roofbox, I've got more used to narrower skis with the result that I now found these unwieldy on occasion. However, if you are used to wide skis in the park, these are still on the lighter end and I think they seem to be a solid compromise between making a beefy ski and a lightweight one.
_
Durability:
Durability is always going to be a key factor in park performance and I criticized the previous ARV 106 for having edges too thin to really hold up to park abuse. The new edges are bigger than before, but still not that fat. Armada call them their 2.2mm Impact Edge (the old ARV was 1.7mm), but the increased dimension is seemingly the width (across the base), not the height, with the latter being more important for edge life in my experience. The change will still help with durability though, and the more extensive sidewall should also play a beneficial role. Wider skis tend, in my experience, to be less hard on their edges, presumably because it's easier to keep the bases flat on rails. In my one day of hitting a street rail and twelve days in Zermatt's park, I didn't get any edge cracks (though I did already have edge cracks by this stage on the narrower EDollos, despite them having the exact same edges and construction).
One concern of mine has been the introduction of a four-part edge wrap, and that's affected the whole range of Armada skis I've had the opportunity to review this year (these, the ARV 96 and the EDollo). This construction, where the edge is separated into 4 pieces, one wrapped solely around the tip, one around the tail, and then an edge running each side of the ski, is designed to let the ski to flex more naturally, like a three-quarter wrap, and as such, increase durability. However, it does also introduce more 'gaps' that need to be filled between the pieces of edge and with these skis at least, there does seem to be an issue there. Twenty-two days in, four of the eight pieces of edge filler have come loose, leaving gaps in the construction of the 106. Although, I haven't seen any significant issues as a result, that felt important to note. I have also seen the same occur across the other two Armada skis.
As always, durability is tough to comment on, even after twenty+ days. But my instinct is that overall, the new ARV 106 feels more solid than the precursor. If you do want a fat ski with the best odds of durability being top priority, ON3P's Kartels would probably still be my recommendation, thanks to their 2.5x2.5mm edges and beefier overall construction. However I do prefer how the ARVs ski in most conditions, so for me at least there's a difficult tradeoff, they are both great skis.
_
A note on mounting point:
Much to the dismay of ski designers everywhere, I'm generally a center-mounter. For pow skis I tend to go with -2cm unless convinced otherwise, and for these, I decided to split the difference and go -1cm. I did, however, talk to Armada's design boss, Andy Hytjan, before doing so, so I figured I'd share his wisdom here:
"The recommended line is designed for carving/all-mountain performance for the general public (on my skis this measured out at -3cm). However, most of the team mount true center for their own use, with Sammy and a few other guys recommending -1.5-2cm for the best performance in pow."
I enjoyed -1 in pow, but would concur that another cm would have been a nice touch for forward float, at the cost of slightly trickier switch landings/skiing.
_
Conclusion:
My TLDR on the new ARV 106 is that while I really liked the old version, particularly as an all-mountain ski, I like the new one even more. Perhaps the old ski was a touch easier to ski but that is a really minor point and the new iteration is an unquestionably better performer in almost all aspects. It continues to be my own pick in the category.
The ideal skier for the ARV 106 would be someone who wants a wider jib ski, probably as a one-ski quiver, or possibly someone my sort of size looking for a pow ski they can also use comfortably in the park. The shape would also excel, I think, as an East Coast fat ski. They'd also work as the narrower of a two-ski quiver someplace with a lot of snowfall; they handle most everyday conditions with aplomb, remaining fun all the while. The Kartel 108 and K2 Marksman are both superior deep snow performers, but neither feels nearly as playful or as easy to ski as a daily driver. The changes to the ARV 106 ski might appear subtle but they have improved nearly all aspects of performance, and the old ski was already seriously good. They're an Editors Pick again (full lists of picks coming soon) and probably my personal favorite ski of the year.
_
If you have any questions about the ARV 106, feel free to hit me in the comments and I'll do my best.
To see our reviews before anyone else, download the Newschoolers App: iPhone - Android
Find out what I'm reviewing in real time: @twig_spens
Next up from me: Völkl Revolt 95
Shop For Armada ARV 106

Merchant

Sale Price

Retail Price
Shop For Armada ARV 106

Merchant

Sale Price

Retail Price