Ski: Line Sir Francis Bacon
Length skied: 184cm
Actual Length (Tip-tail w/ straight tape): 183.8cm
Measured weight (each ski): 1782g/1803g
Shape: 147-107-139
Sidecut: 16m
Mount: True center
Binding: Tyrolia Attack2 16
Days skied: 12
Reviewer height/weight: 5'9 (173cm), 140lbs
Review Location(s): Ski Big 3, Copper Mountain
Conditions skied: Hardpack, fresh snow up to 1ft, old but untracked/pow, bumps, crud, park.
_
[Editor's note: Our review was conducted on the 2020 Sir Francis Bacon, which is unchanged for 2023 except for graphics]
Four years ago, one of my first ever Roofbox Reviews was on the third iteration of the Line Sir Francis Bacon. In my introduction, I described the SFB as one of the legendary skis of our generation, with each of its multiple iterations finding a place in the quivers of many a skier. That run has continued and for '19-20 the Bacon is reborn once again with changes that suggest something of a return to its roots. For the first time with an evolution of the Bacon, the waist width goes back up again, to 107mm and there are other tweaks to move these back into a more 'all-mountain + powder' ski territory. They are, as always with Eric's skis, stunning to look at. However, I have always thought white skis, especially white powder skis are a stupid idea. I lost them once and was very grateful that I'd stuck some stickers on the tips is all I can say.
_
Shape/flex/construction:
The most noticeable thing about the construction of the new Bacons is that they are the first ski I've seen to have fully convex tips/tails. Skis like the Armada ARV 116 and Atomic Bentchetlers have elements of convexity in that portion of the ski, but they are not pressed fully convex in the same way the Bacons are. Beyond that, the construction is trademark Line, but the return of the fatty base and edge to the Bacon (and the big brother, the Outline) are more than welcome to me as someone who typically rides this ski in the park as much as elsewhere.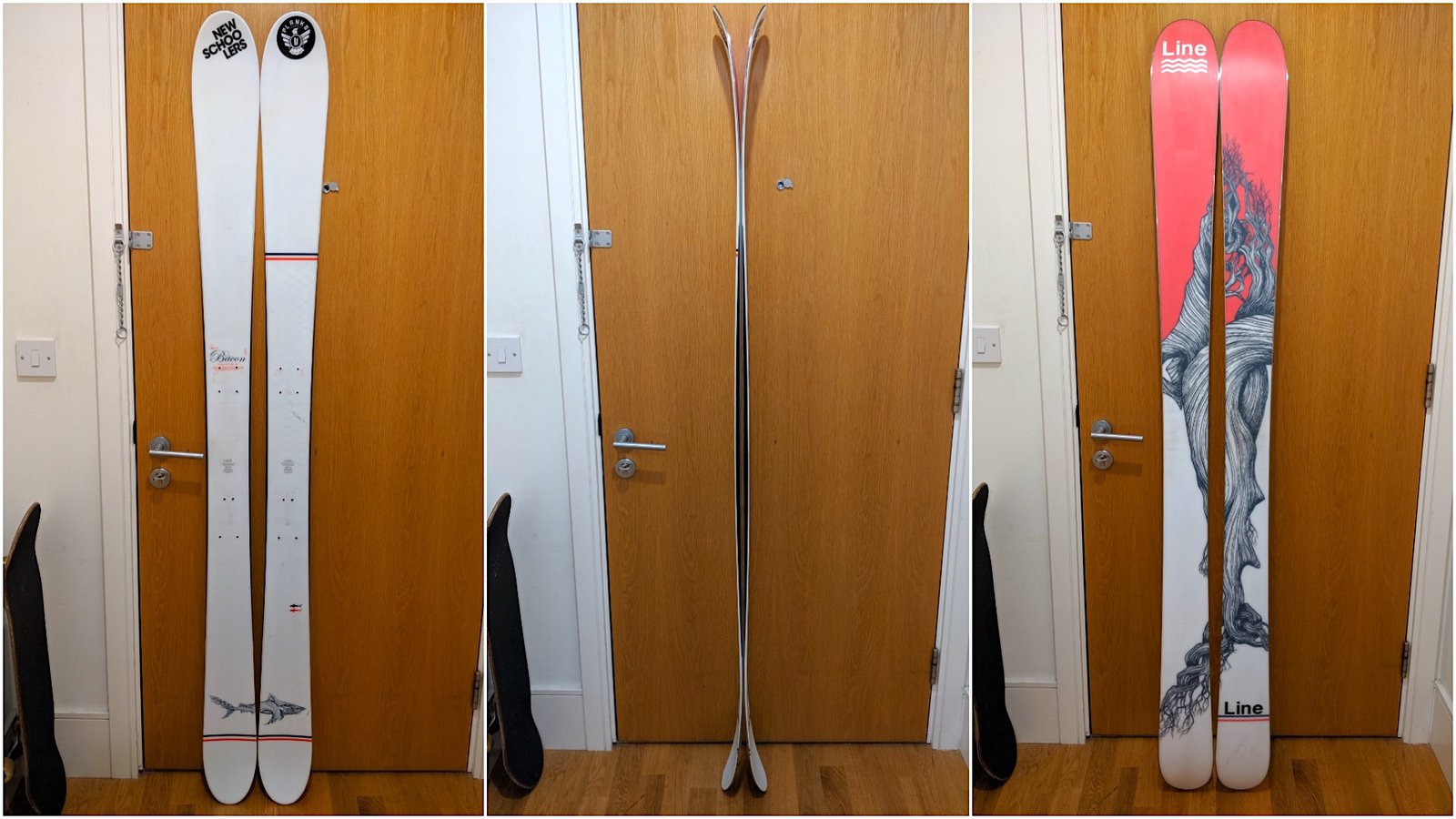 The shape of the ski, even ignoring the convex tips, is pretty extreme, with a 107mm waist flaring out to a whopping 147mm in the spooned tip. A 16m average turn radius in the 184 length is the result.
Hand flexing them, they are soft in the tip and tail but still decently solid underfoot, much like the previous model. I'd say they are a touch softer than the outgoing Bacon but stiffer than the versions that came before that. They have a relatively average amount of rocker for a ski in the category, with plenty of camber underfoot. The early taper is fairly minimal, leaving you a long running length when the ski is put on edge.
_
On Snow:
I chucked these skis in my bag for a long trip to Canada/Colorado, assuming that I'd be skiing plenty of fluffy soft snow. Alas, the snow didn't really materialize, so I found myself skiing these mostly on groomers and in the park, where I found them a little long. As a rule, 184 is a pretty long ski for me for anything except pow (and these run true to length), which is why I went with a true center mount, a decision I was pretty happy with though wouldn't necessarily recommend for most.
Luckily, these are super easy to ski. They have a short turn radius, and Line/Eric have clearly built this ski by taking huge cues from the Sakana. If you've skied the Sakana, then you kind of have a feel for what these skis feel like on edge, i.e. incredibly fun. Sure they are less directional, so a more centered stance is required, but the new Bacon is essentially an evolution of the Sakana, built for doing tricks. Which means they rip on groomers. The deep sidecut is so much fun for carving, even in the long length and even center-mounted. I had a blast taking them just about everywhere. I got to try a 176 at the OR On Snow demo and found those even more fun. On either length, you can really flex the skis into short turns, but they still track nicely in more medium radius maneuvers too. The 176 version felt like an overgrown slalom ski, I had so much fun just cruising around on those, but even the 184 felt super quick. Amazingly, the spooned tips don't hurt the carving performance noticeably, which I was definitely not expecting. They'll hold an edge when you want, but you can also throw them sideways with ease.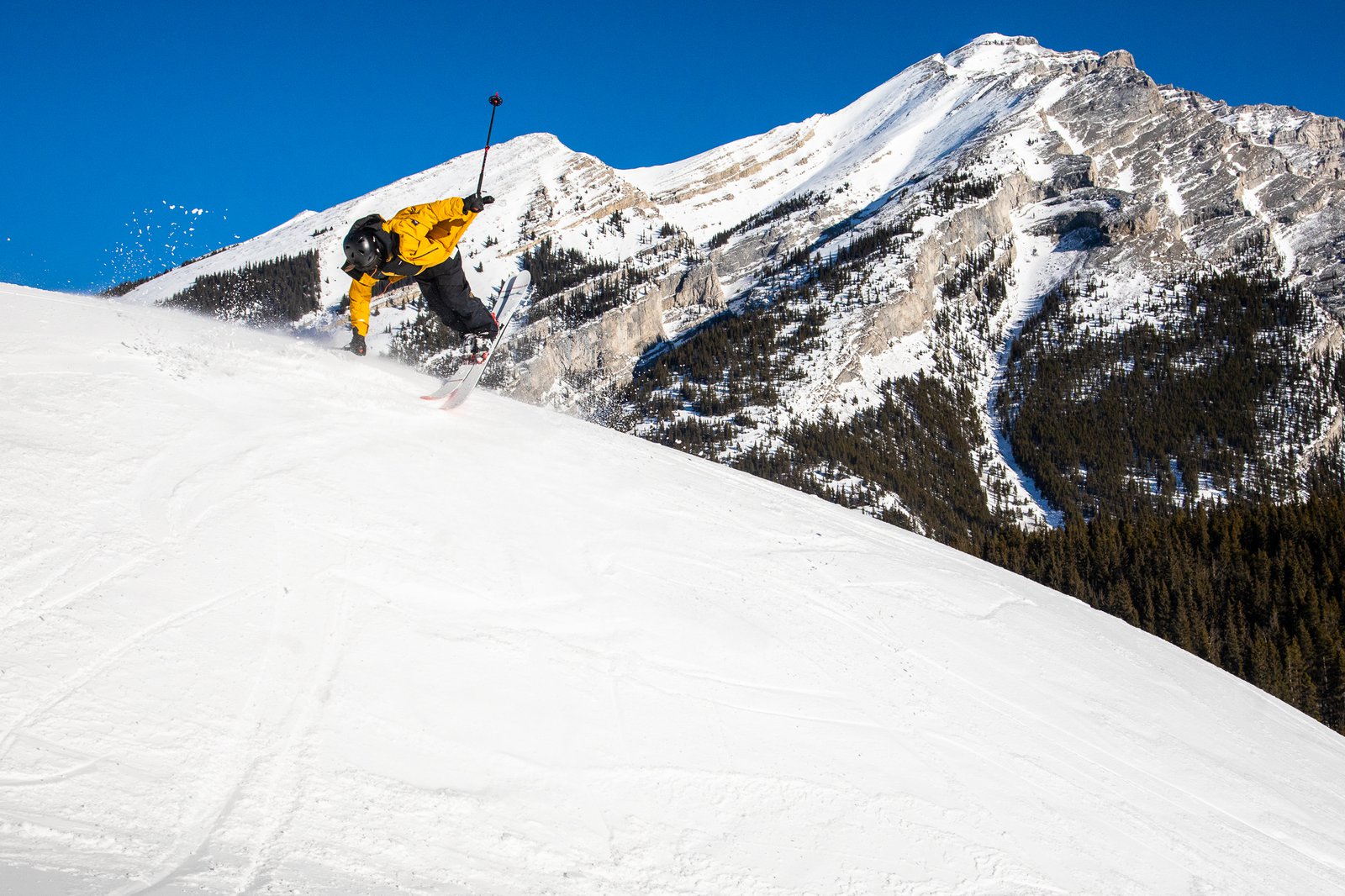 Photo: Jamie Walter
There is something of a speed limit though. The Sakana is both stiffer and damper than the Bacon. It has that flatter, grippier tail and back-mounted stance, so you can push those pretty much as hard as you like. The Bacon, however, does get somewhat flappy and loose if you ski really hard, particularly in mixed snow. I'd say they are roughly comparable to the ARV 106 in terms of stability, but much more fun to ski on hardpack (the ARVs are good on groomed, but the SFBs are good AND fun). These are definitely more of a hard snow performer than some jibby all-mountain skis, such as the Vishnu Wide and J Skis Vacation.
In the patches soft snow I did get to ski, I found that they go sideways beautifully despite lack of taper, and I can only attribute that to the convex tips. I'd happily ski them in any depth of snow I've ever had the chance to ski. Sure, these aren't a huge 115+mm powder ski but with nearly 150mm tips and 107mm under the boot, I certainly don't need anything bigger. I would, however, advise anyone bigger than me to stick with the -2cm recommended mount. I'm used to skiing skis mounted no further back than -2 with a near centered stance anyway, because that's all I ride but at center it was kind of easy to get over the shovels softer shovels on these and tip dive/go over the bars. I only went center knowing I would likely end up skiing a lot of park and that these skis were already on the big side. When I skied the demo skis at the OR test, the -2 mount felt better in the pockets of softer snow at the side of trails, though fairly similar elsewhere.
When the pow gets tracked out and heavy, the Bacon can struggle a bit more. They are a fairly soft, jibby ski so that isn't entirely surprising but the big tips seem to exacerbate this and they do get bounced around a quite bit. You can kind of roll with it to a point, popping off tracks, etc but when things get really chunky and cruddy, you're going for a ride. These aren't the ski to blast through anything, you kind of just have to point them and hope. Crud is really the only all-mountain condition I didn't find these impressive in though, and even on ice they were better than they should be (though obviously not great). Overall, the combination of sidecut, convexity, and rocker really seems to work to deliver a very versatile ski. Chapeau Eric/Line.
_
Park/Playfulness:
While I stayed on the ground, everything worked pretty perfectly for me with the SFB but as soon as I was in the park, the size did catch up to me. I used to ride the old SFBs (2nd generation) in a 178 as a park ski (and the true length was about 175) and despite being a freakishly light ski (1750g in a 184 at 107mm underfoot!) these felt like boats. Even for spinning off wind lips into soft snow, I'd probably prefer to ski the shorter version but that comes down to personal taste.
However, these were what I had with me on what turned out to be a predominantly park trip, so I skied a lot of park on them nonetheless. And they are fun, very fun in the park. When you get over the fact that you are looking down at something that looks like you should be paddling it down a river, you can actually throw them around fairly easily. If I were a bit taller/heavier I'd have said they were a very fun park/pow combo option.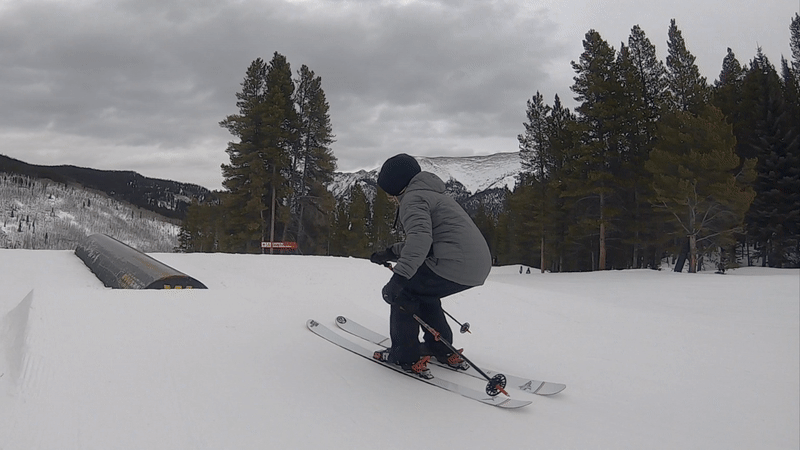 I didn't ski a ton of jumps on these, I was actually recovering from a broken arm at the time I was skiing these but I did some 4s off rails and some 3s into mixed snow off sidehits, and they were comfortable enough to spin all things considered. But the tips are huge and the widest point is pretty far towards them, so they don't have the lowest swingweight despite being physically light. Those spoons drag in the air somewhat. However, the outside of the ski is more rockered than the center thanks to the convexity, so you get a little extra landing platform when you land flat base, making them pretty stable landing drops and off jumps. So, a mixed bag there.
On rails, they were super nice for surface swaps and presses, but I found them a bit loose on 5050s because the fat tips would knock together and mess with my lock. With butters, they are very easy to initiate and they are the easiest ski to just lean on the noses and keep spinning that I've tried (720 on snow butters etc, I really should have filmed one of these while i had the chance), there is almost no chance of catching an edge. They have plenty of pop out of butters/presses too, you can get them flexed pretty easily but they will ping you back, making them nice for ollies, etc. However, there is no grip at all when you are out on the tips because there is no edge contact, so I found both the direction and rotation of butters hard to control/stall out and I slipped out a bunch of times. In all, they are a very unique ski for doing tricks on, opening lots of doors but they do also have a couple of drawbacks.
_
Durability:
The skis I skied were still a sample of the first attempts at convexity so it is really hard for me to gauge what the durability of the production skis will be like. My edges held up ok despite skiing rails every day of the 12 days that I rode the Sir Francis Bacon. I had one or two cracks but no signs of anything serious. I'm glad to see the fatty base and edge re-introduced to the Pollard series, and I'm sure it will help improve durability in the park over the previous models.

However, I did get delams on the same side of both the tips which you can see in the above photo. It's tricky to know if this was one-off bad luck, a sample issue or a just weak point in the new construction. I did see the beginnings of delams on several skis I tested this year (four out of seven pairs I tried) so it's clearly something that results from how much time I spend flexing the tips, but these were the most severe of all.
_
Conclusion:
The new SFB is a very interesting ski, definitely unique and definitely a ton of fun. I actually loved my time on them. And most of the things I didn't like about skiing them were a result of being on a ski I found a touch long rather than with the ski itself. I would love to spend some more time on the shorter length but even in the 184 I ultimately had a blast. The Sir Francis Bacon is back to where it belongs: aimed directly at the jibby/playful skier who is already riding it all. If you loved the second generation Bacon but didn't find the third generation playful enough then you're certainly in for a treat.
These skis manage to be both soft and playful, AND perform pretty well at most aspects of skiing too. There's always a compromise and these don't do mach 10 or chunky crud very well but for the target market, that won't matter at all.
If you've always hated softer all-mountain skis because they don't carve, these even might be the ones to change your mind. It almost goes without saying that these are not the skis for you if you're a directional chargey kind of skier. For anyone else who wants to ski with a big ol' grin on their face while messing around all over the hill, I'd strongly recommend you to try these out. If the issues I had with the delams are a one-off or a prototype issue that has been fixed, then these will undoubtedly continue the cult status of the Sir Francis Bacon. They aren't for everyone but I expect a lot of you guys to LOVE these.
_
If you have any questions about the Line Sir Francis Bacon, feel free to hit me in the comments and I'll do my best to get back to you.
To see our reviews before anyone else, download the Newschoolers App: iPhone - Android
Find out what I'm reviewing in real-time: @twig_spens