Ski: Lib Tech UFO 95
Length skied: 178cm
Actual Length (Tip-tail w/ straight tape): 176.6cm
Measured weight (each ski): 1628g/1662g
Shape: 126-95-116
Sidecut: 17m
Mount: True center
Binding: Tyrolia Attack2 16
Days skied: 22
Reviewer height/weight: 5'9 (174cm), 145lbs
Review Location(s): Saas-Fee, Kitzsteinhorn
Conditions skied: Hardpack, powder, slush, park.
[Editor's note: Our review was conducted on the 2020 Lib Tech UFO 95, which is unchanged for 2021, 2022 & 2023 except for graphics]
_
All Photos: Marinho Meyer
Introduction:
I first encountered Lib Tech back in my skateboarding days but, in all honesty, I never paid a ton of attention to their early forays into skiing. Given the zeitgeist, however, they demand attention for their efforts to reduce the environmental impact of ski/board production. In their own words, they build using:
"- The most exotic, high performance, environmentally friendly materials.
- The safest, most efficient, environmentally friendly process. Including maximized material yields, recycling, and repurposing.
- The factory produces Zero Hazardous waste.
We do it all ourselves because we love it and nobody does it better. The world's best boards… dream boards."
While still being a predominantly board focused company, Lib Tech has quietly been banging out skis for some years now. By and large, they've been doing so without much attention from the NS community, despite having skiers like Lucas Wachs on the team. It's somewhat beyond the remit of a ski review to really delve into fact-checking their environmental claims, but if skis can be made in a more environmentally friendly way (and the materials and processes Lib Tech use, on the face of it, seem to do just that), and still perform just as well, surely that's a no brainer. So we wanted to check out if as well as 'dream boards' the brand is also producing dream, environmentally friendly, skis.
_
Shape/Flex/Construction:
I've always thought that Lib Tech skis looked a bit weird with their elongated, pinned noses and less rockered, square tails. The UFO series typifies that Lib Tech shape, their profile is pretty directional, with significantly more nose rocker than tail rocker. The sidecut set back is also pretty significant. On my skis, the recommended mounting point was marked at -6cm from true center. For production models, this will be moved to -3cm.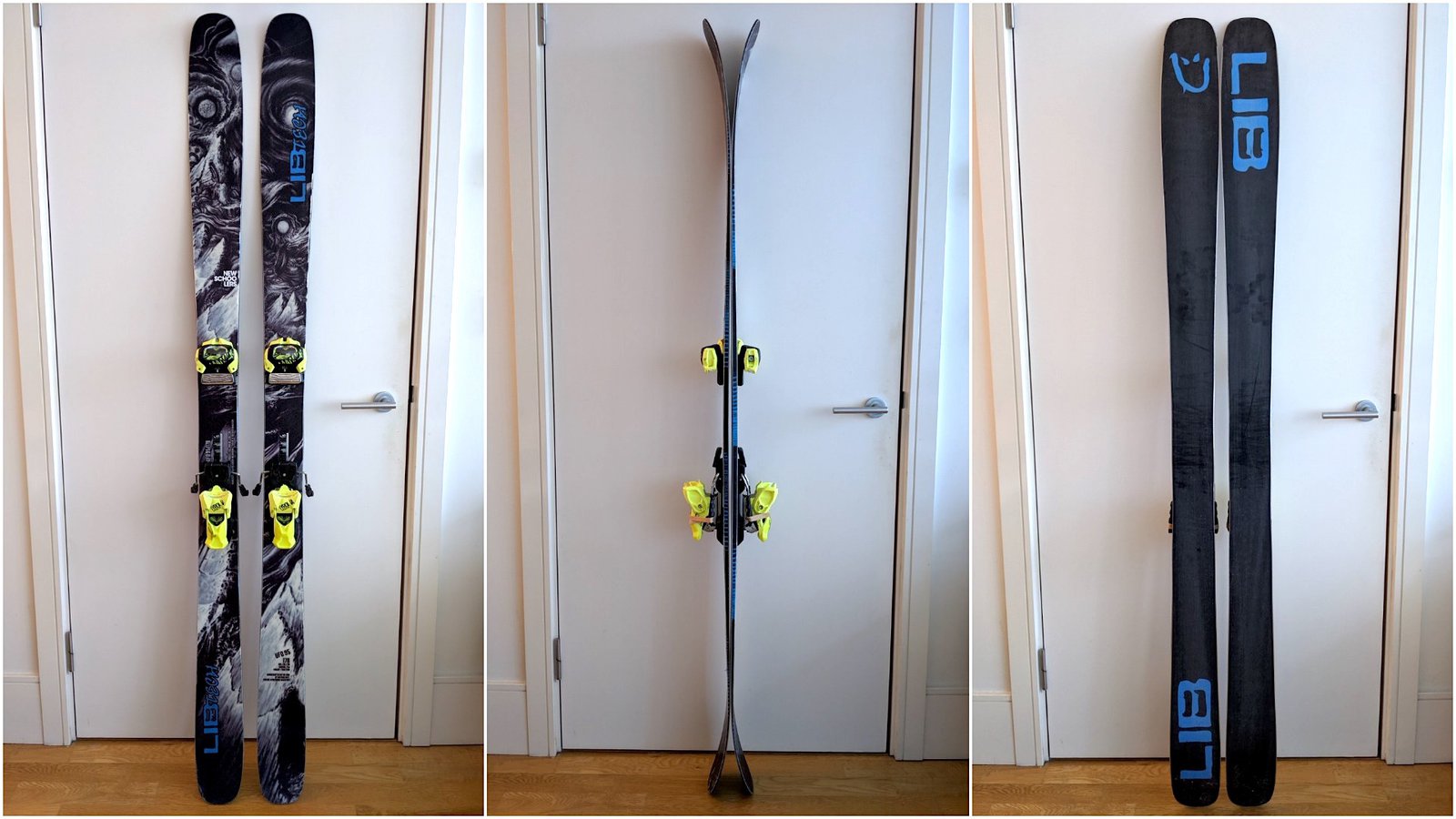 The UFO 95s have fairly middle of the road flex throughout, similar on average to the ARV 96 but damper. They are actually a touch softer in the middle section of the ski than most these days but more solid in the tips/tails. They did soften noticeably after skiing them, but they remained decently solid. I'd characterize the flex as 6.5/10 in the shovel, 7 in the middle of the ski, and 7.5 in the tail. That's not to say the tail is as stiff/stiffer than the middle section. But compared to other skis, this ski has a stiffer tail and a more average flexing underfoot and nose.
The construction is perhaps the thing that differentiates these skis from others the most. They feature LibTech's trademark Magne Traction (waved edges). The waves are less extreme than they are on Lib Tech's boards but still a noticeable difference to a regular edge. The edges are a three-quarter wrap and the skis also feature full sidewalls and 'Bio Beans' top sheets, made from a bean-based plastic, not a petroleum-based one.
_
On Snow:
I usually center mount all my skis, but after speaking to some Lib Tech riders, I decided to plump for a -2cm mount, which is +1 of recommended (and 4cm in front of what was marked on my skis) and they felt great. You could center mount these skis, but they are definitely directional, I think even -3cm puts you in front of both sidecut and running length center, so my instinct would be to say not to.
Skiing hardpack, I really enjoyed the UFO 95 and it was this aspect of the performance that led me to pick them out as my daily driver for much of the second half of the season. I ski mostly park, but in Saas-Fee (where I do most of my skiing), there's a good amount of all-mountain on the park lap, so it's nice to have a ski that is comfortable at speed, which these definitely were. Sure, if you pushed them as hard as you could, they did get a little skittish but the dampness of the ski really worked in their favor. I particularly enjoyed the feel of the UFO in turns. Turns initiation was noticeably quick and I found the skis tracked really well with little skidding out that you sometimes get from the soft rockered tail on many modern all-mountain skis. I loved them for flowing around the mountain, laying out turns, throwing some high-speed butters and popping off random features.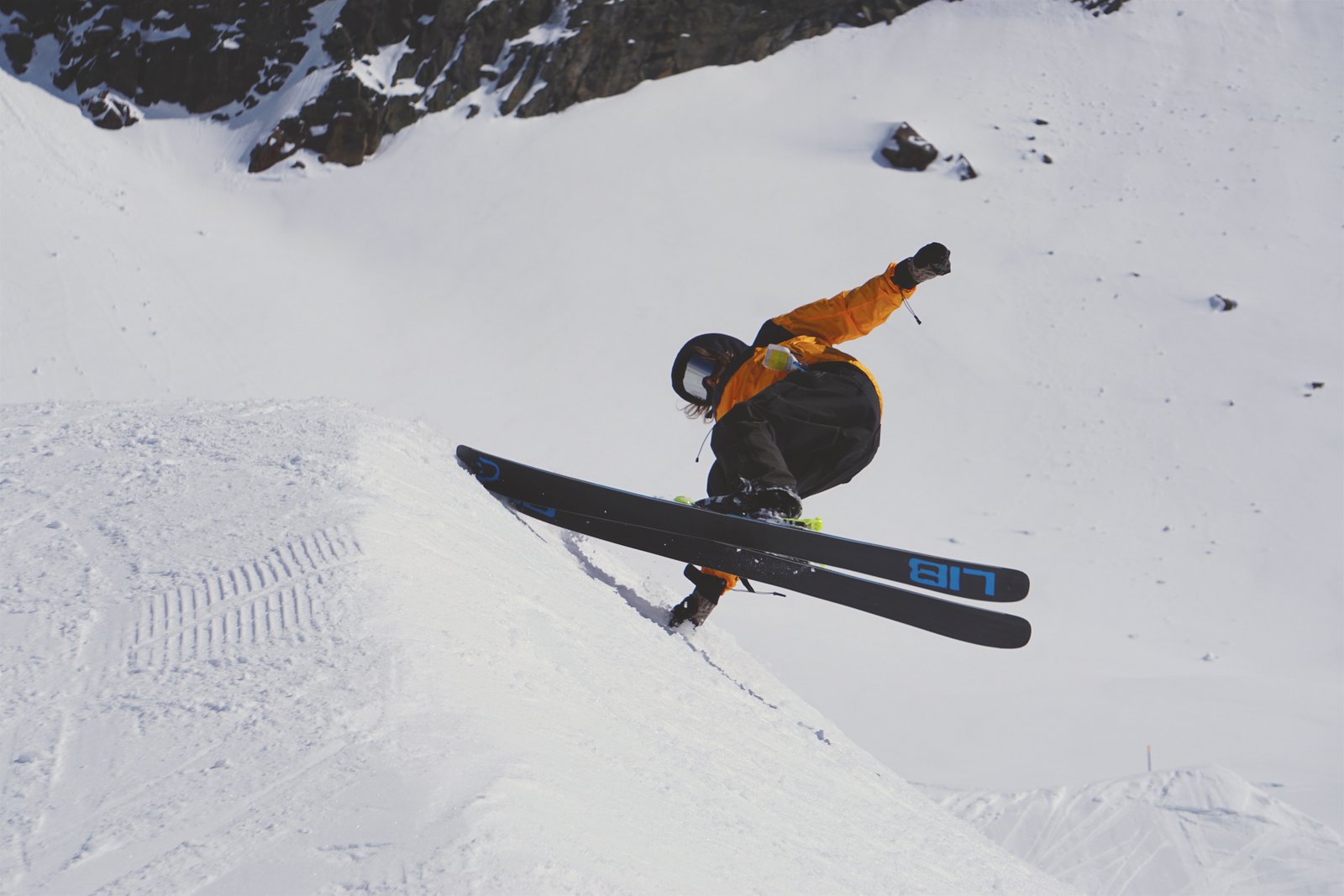 I'll mention Magne-Traction again in this review, but it was when riding good-to-mixed conditions on groomers that I noticed it most in a positive sense. I heavily detune my edges because I ski a lot of rails, and you could feel the edges of UFOs gripping better than a normal edge when detuned, as long as the snow was soft enough for them to bite in. The skis performed well in a greater range of snow conditions than most detuned park skis. By which I mean there were hard snow conditions I trusted these but normal skis would have given up holding any kind of edge.
However, there was a flipside. On really bulletproof ice, when the edges were making no impact, I actually found these skis scarier than what I usually ride. When the blunted waved edges were failing to cut into the ice, it felt like there was almost no control, with much of the 'effective edge' forming the troughs of the waves. I didn't even feel that I got the minimal control from friction I get from my normal skis when drifting. Magne-traction is touted as the solution problem of detuned edges not gripping. With the greater edge pressure you can generate on a snowboard, I can see it working in all conditions but on these skis, I found it a mixed result. It worked in more conditions than a normal detuned ski, but when the snow got really icy, I found these even worse.
For a 95mm ski, I really enjoyed the UFOs in pow. On most days, I preferred to take these out instead of my wider skis. For days with a few soft snow laps before heading to the park, they were perfect. They handled fresh snow under say, 30cm(1ft) impressively well. The proportionally stiffer tail provided good support landing drops and the plentiful nose rocker and taper provided float.
Weirdly, especially given the soft snow performance, I found the shape to be very hooky in heavy slush and I'm not 100% sure what aspect of the ski was causing it. Our reviewers on the wider UFOs had similar findings though. Those relatively minor gripes aside though, I found the UFO 95 to be a great all-mountain ski. They quickly became my favorite ski all-round ski of the year and the range, according to feedback from both Matt K and Erica/Dylan on the 105 and 115 respectively, is a worthy rival for established names in that market like the ARVs and the Jeffreys (Kartels).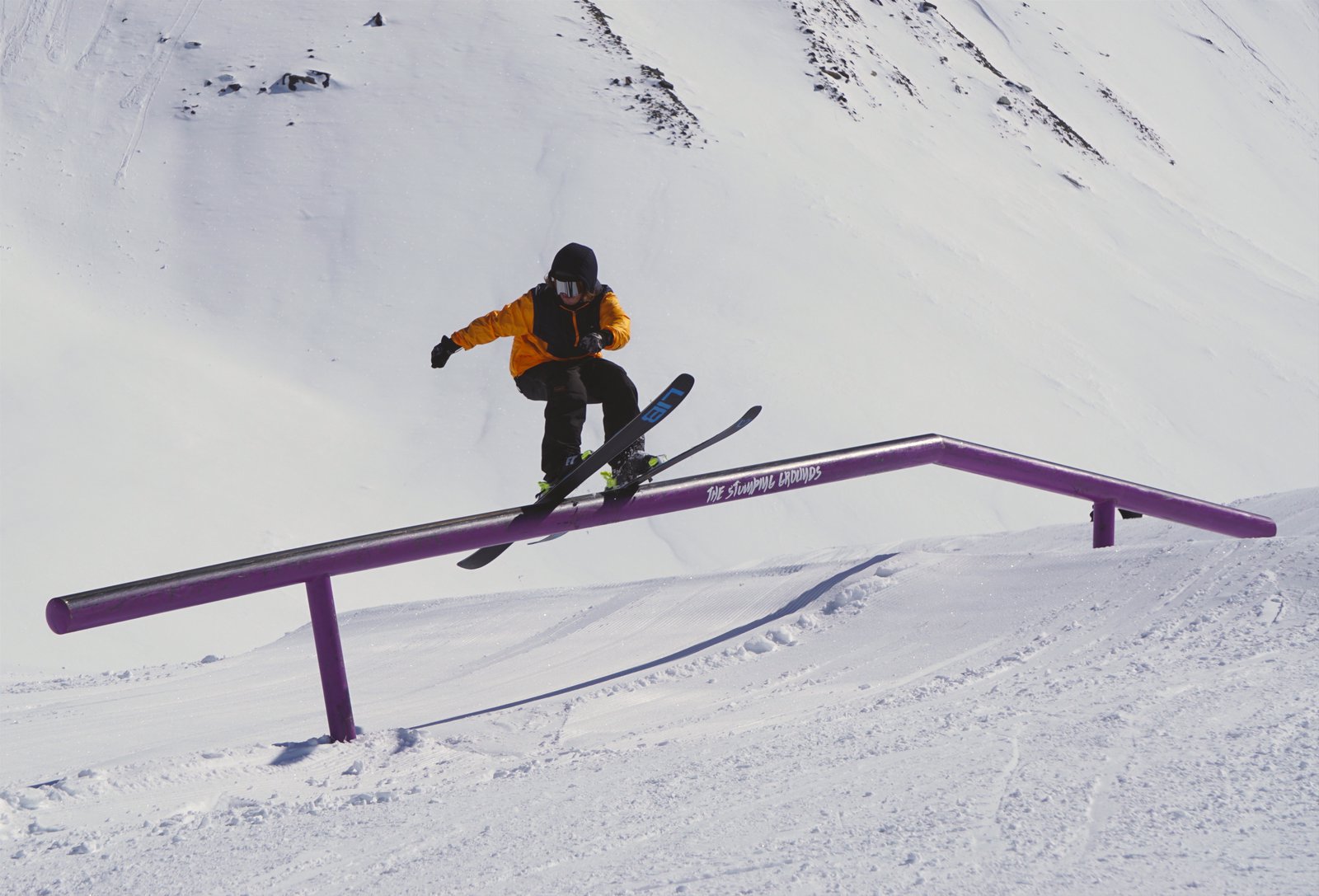 _
Park/Playfulness:
Looking at the UFOs, however, you can instantly see that the shape of the ski is far more directional than either the ARV or the Kartel. And not only do they have a more directional shape, but they also have a directional flex. The nose is pretty playful, I felt comfortable in nosebutters, getting just enough energy out of them to pop out. But the tail is more solid and less rockered, attributes which combine to make the tail feel much stiffer. At low speeds, I struggled to flex into tailbutters, and on nosebutters, I was leaning on the rocker as much as I was flexing the ski. At Kimbosessions I was hurt, so really limited to slow speed playing and I definitely felt like I was on the wrong ski for that. The flex doesn't work as well in the park as some others, in terms of matching transitions etc. The typical fairly symmetrical 'soft in the nose/tail/stiffer underfoot' pattern that most park skis have is more comfortable.
However, in Saas-Fee, skiing faster in harder snow conditions earlier in the season, I still found myself playing around on these pretty comfortably. The UFO is a fun ski to jib on when you are pushing them harder, and the solid platform combined with rocker gives provides some stability where many skis these days don't. The directional shape and flex do mean they aren't the most balanced ski though. With a -2cm mount and far wider/more tapered noses than tails, they felt a little odd in the air at first too but I soon got used to it. The UFOs are super light at under 1700g per ski in a 178, so the low actual weight helped counteract the mount setback and I got used to spinning them normally on jumps pretty quickly.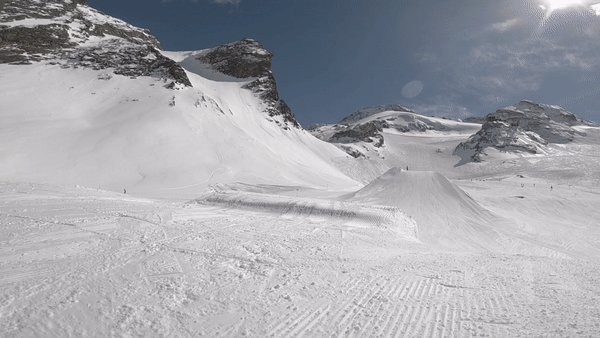 On rails, I was less comfortable. I definitely prefer a more symmetrical ski for rail skiing and the Magne-traction edges felt a bit strange. I had heard some horror stories about early iterations of the Magne-traction skis on rails, with people claiming they caught edges all the time but I didn't experience that at all on these skis, which feature a far more watered-down version of the technology than the earlier 'NAS' branded skis. However, I did feel like the waves in the edge gave me inconsistent grip when scissoring for switch-ups so these would still not be my first choice for rail heavy days.
_
Durability:
The real test for Lib's 'green' materials is, of course, durability. But the durability of skis is, as I always mention, the hardest thing to figure out while testing. In this case, I skied the UFO 95s longer than most ski to try and get a read on things.
The UFO 95s aren't really designed to be primarily used as park skis, which is nonetheless how I used them. That said, they are marketed as 'Lucas Wachs' park jibber' so I don't feel it was an unfair test. They lack fat edges and so perhaps unsurprisingly, I got a handful of edge cracks. But the edges held in underfoot with no further damage. The ends of the ¾ wrap edges were just starting to show early signs of pulling away from the rest of the ski in the tips after 22 days, and that's generally a sign of impending delamination. You can see in the image below that the edge and base are starting to separate slightly, with the edge pushing up a small bump in the base.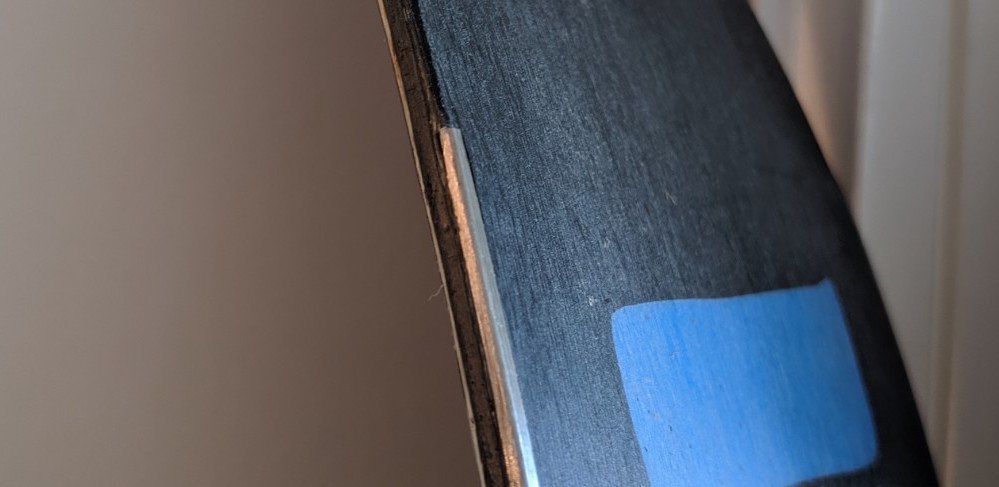 The Bio Bean topsheets got pretty chipped up as you might expect on a full sidewall ski. They felt a bit soft, definitely not as tough as some of the new textured topsheets, but none of the damage was structural so that isn't really a big deal. Overall, I wouldn't say the damage after 20+ days was particularly bad, the skis were still perfectly skiable. But it was worse than I see on some skis I test. I've also had skis last far less well but on the evidence of one pair, I wouldn't consider durability a particularly strong suit of the UFOs. But I would consider the issues I had a result of thinner edges, rather than any of the eco-materials used. If you don't ski a lot of rails these will likely hold up as well as most other skis. If you do, there are tougher skis out there.
_
Conclusion:
The UFO 95 is one of the more different feeling skis I've tried for the Roofbox. I actually hated them at first, the flex was very different to most skis I try and the directional shape threw me off. But once I got used to them, they became perhaps my favorite ski of the year as an all-round performer. They definitely wouldn't be my first choice for a park ski, but I was willing to tolerate that because I liked them so much as a skinny all-mountain jibber.
Overall, I'd pigeonhole the UFO range as all-mountain skis that you can throw tricks on, as opposed to skis like the ARVs, which I'd describe are essentially park/jib skis which still handle all-mountain well. The new shape of the Line Chronic is probably the closest comparison I've skied and I really enjoyed those too. The Chronic is better in the park and more comfortable center-mounted, but the UFO is more fun in softer snow (except for slush). Perhaps most importantly for me, I'd say the UFOs had character, they had aspects that made them remarkable where many skis feel much of a muchness.
I really like the idea of what Lib Tech is trying to do in making a more environmentally friendly product, and I don't feel that the UFOs suggest a major trade-off for their eco-credentials in terms of quality/durability. They do offer a pure park ski, called the Backwards, which has fatter edges, but I tried those at a ski test and they didn't hit the same heights that the UFOs do in my opinion. I found them somewhat lifeless. It'd be dope to see Lib Tech beef up the edges on these, the narrowest UFOs to make them more of a park option, but that aside, I really enjoyed my extended testing time on the UFOs. I'd strongly consider them if you're looking for a narrow all-mountain ski or just looking to try something different.
_
If you have any questions about the Lib Tech UFO 95, feel free to hit me in the comments and I'll do my best to get back to you.
To see our reviews before anyone else, download the Newschoolers App: iPhone - Android
Find out what I'm reviewing in real-time: @twig_spens