Cover photo credit: Will Wesson
Freeskiing is still relatively unknown in Russia and at the same time, what Russian freeskiing there is flies under most people's radars. But there's a new brand coming out of the scene, Twoowt Skis, and we wanted to find out more. So, we hit up team rider Andrey Anufriev about the company and how it became a reality in a growing scene.
_
The ambition to produce skis was first discussed years ago when Andrey was filming with the Russian production company, Life Steeze Media (LSM):
"Even back then, we were thinking about producing our own stuff that we could promote with all the hype behind the crew. It was really huge in Russia back in the day, and even pretty known internationally. Unfortunately, there is no more LSM as a ski media, but most of guys are still in the game and, once we had the opportunity, we decided to give it a try and reincarnate freeskiing in Russia behind the new skis that we produce now."
Life Steeze was certainly most people on this site's introduction to Freeskiing in Russia. But I wondered whether freeskiing's Olympic debut at Sochi, in 2014, have any impact on the sport's popularity in Russia?
Short answer: no. Andrey says it didn't really help the culture "still no one outside of riders will understand what freeskiing is", but skiing more generally in Russia is big... "even the president skis!" But freeskiing is still tiny in Russia, compared to Europe and North America. But Andrey says that while "it may be tiny, but it's definitely growing and we believe that something like our projects can help to move it in the right direction!"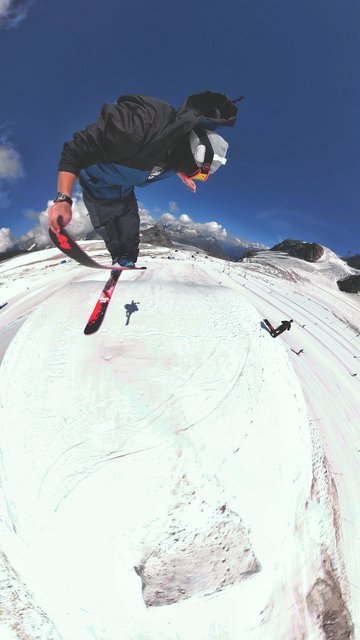 Twoowt was born from a desire to give the scene its own identity again, something for skiers to look up to. Their's first models were Dima Makrushin (of Life Steeze Media fame)'s signature classic style park/street ski called "MAKRO" and the wider BC model "KEEN" (with 112 underfoot). They arrived before Andrey was directly involved were pretty traditional skis in their respective areas. When Andrey was recruited, both he and the brand wanted to get more progressive with their designs:
"I connected with the brand a bit later into the project, but within a year I was already working (designing and testing prototypes) on the third model in the line, that would fill the gap between the narrow park and the pow ski. I just skied so many different brands and skis in super different conditions that I had a really clear vision of my 'dream ski'! They became my signature skis called the 'Dyed Sticks' and they are 102 underfoot with a modern funky shape & flex.
"Now the brand is pushing on and the team is growing, with 5 Russian and 2 European skiers on. I'm sure it'll grow even more this season! Everyone in the crew is working to make the brand more recognizable and we've got lots of stuff in the bag."
Twoowt's riders are already working hard on their second team movie, the follow up to СРОСТ (watch that here). But as well as the movies, Andrey wanted to regularly do some regular edits featuring park skiing in different locations, so he and his filmer/editor friend Aleksey Bogatyrev started a new web series, Twoowt Laps.
"The idea is simple as f*ck - make some high-quality park edits from all over the world with as much og style in it as possible!"
https://www.newschoolers.com/videos/watch/924168/TWOOWT-Laps----1-Kaunertal
_
They nailed that brief with Twoowt Laps 1: Kauternel (above), which is full of bangers, filmed flawlessly but edited with a hint of old school flavor. It was filmed in preseason, at Snowpark Kaunertal, with their good friend — and new member of the team— Samuel Ålander, who's from Sweden (Check his Insta series here ). Ålander says he met Andrey four years ago when they were skiing in Austria and "he introduced me to the brand in October. He arrived in Austria with fresh skis for me and a lot of hype about the future."
The idea of Laps was originally just to keep producing park content, but Andrey skis a lot of powder, so it will develop to showcasing various types of skiing. But the filmer, Alexey, will ensure that the quality of edits will remain high, no matter what they contain.
The edits and films, like the brand itself, are about trying to inspire the Russian scene. Andrey says that at the end of the day, they're just passionate skiers, they want to keep it core and do it for those who are part of the growing scene.
"We care about the younger generation of 'real skiers'", says Andrey. The brand even made sure to include a unique tiny twin-tip ski for young kids in the line.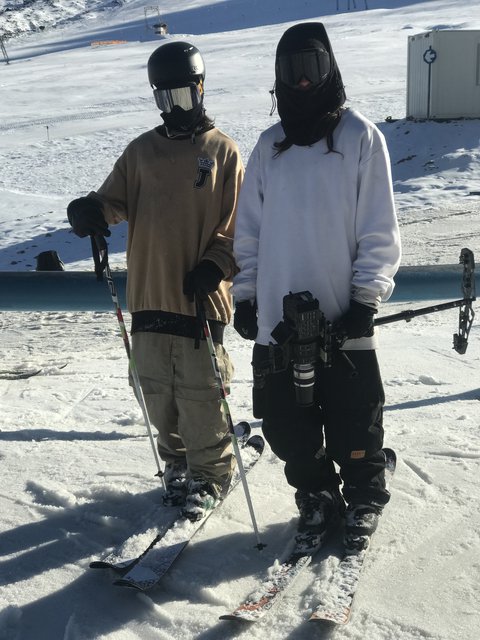 Sam and Alexey representing
For now, Twoowt is largely a Russian brand with mostly Russian skiers but it looks like it's getting a lot bigger in the near future. Andrey jokes that the ambition for the brand, is simple: "We want to be the biggest worldwide super-underground company of course!" The challenge is to take the company international, but still retain the Russian identity. Whether they can achieve that remains to be seen, but from an outsider's perspective, it's cool to see a new brand popping up as part of a growing scene and offer something new. Welcome to the game Twoowt.