Photos: Peter Cirilli
The beast of the east showed its true colors this past weekend as Killington again hosted Rails 2 Riches, the East Coast's premiere rail jam. The $25,000 dollar prize purse on offer attracted a host of returning talents such as Dom Laporte, Sandy Boville and Christian Franchino alongside a crew of new faces: Bobby Sullivan, Laurent Bilodeau and Alex Hackel to name but a few. Jason Arens flew straight out from Dew Tour to head up the judging and Magnus Graner was also on the list of riders but unfortunately missed qualifiers and was not able to compete, An all-star cast to be sure combined with negative temperatures and strong winds set the stage for the classic early season contest.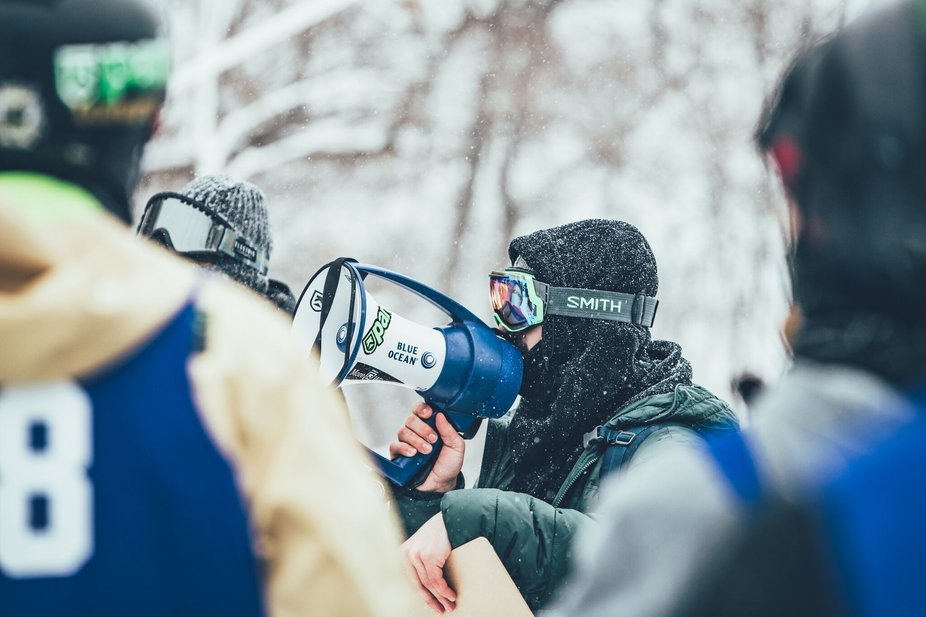 Mike Garceau the man behind the madness.
Qualifiers started off with a bang. As the riders got used to the course the tricks started to come from big disasters to underslides and nosebutters. Sandy Boville stood out with crazy consistency and quickly sealed his way to finals. Thorn Merrill, who snagged his spot in Rails 2 Riches by virtue of winning the Loaded Turkey Railjam a couple weeks ago stood out among the pack as well by stomping a disaster 450 on the DFDF. He was on a mission with a point to prove and made it to the finals. Newschoolers very own Travis says he reminds him of a young LJ with "super aggressive style, literally stomped every trick so hard that he left bomb holes in the landings". Big things to come from him.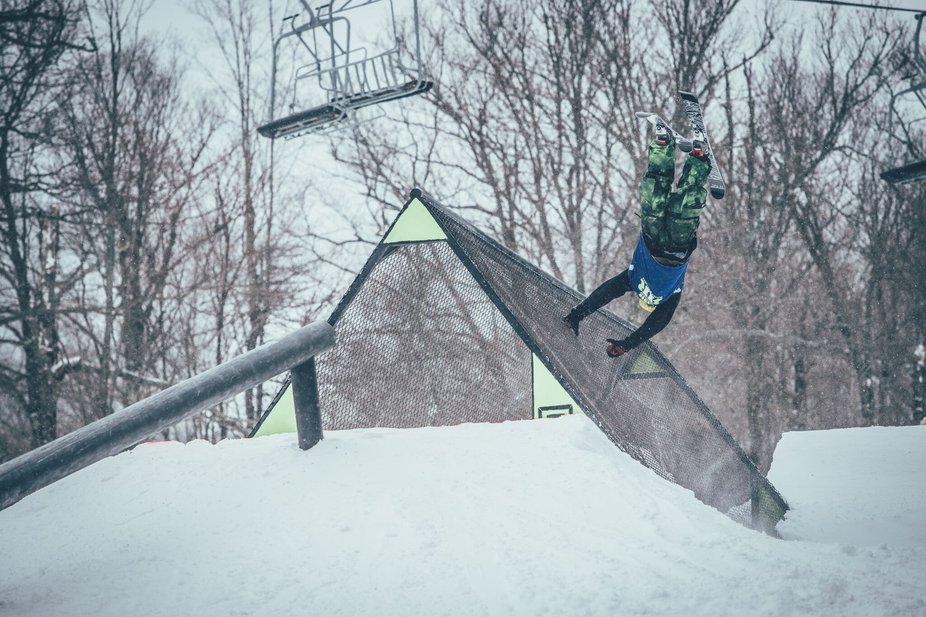 Kevin Merchant using the course to the best of his creative ability, handplanting the A frame to an underslide blind two combo.
Weather conditions weren't ideal, new snow along with strong winds made it tough to lace tricks. Luckily, about halfway through the weather started to break and allowed the athletes better conditions for a chance to seal their spot in finals. Christian Franchino came alive and started to stomp trick after trick, most notably nailing a front swap pretz 4 on the down flat down donkey. Emile Bergeron took a gnarly spill three quarters through but came back to snag a spot in finals with a nollie lip 2 on the down flat – gap to down rail. And for those who didn't make it? Well it was a pow day so everyone got their money's worth.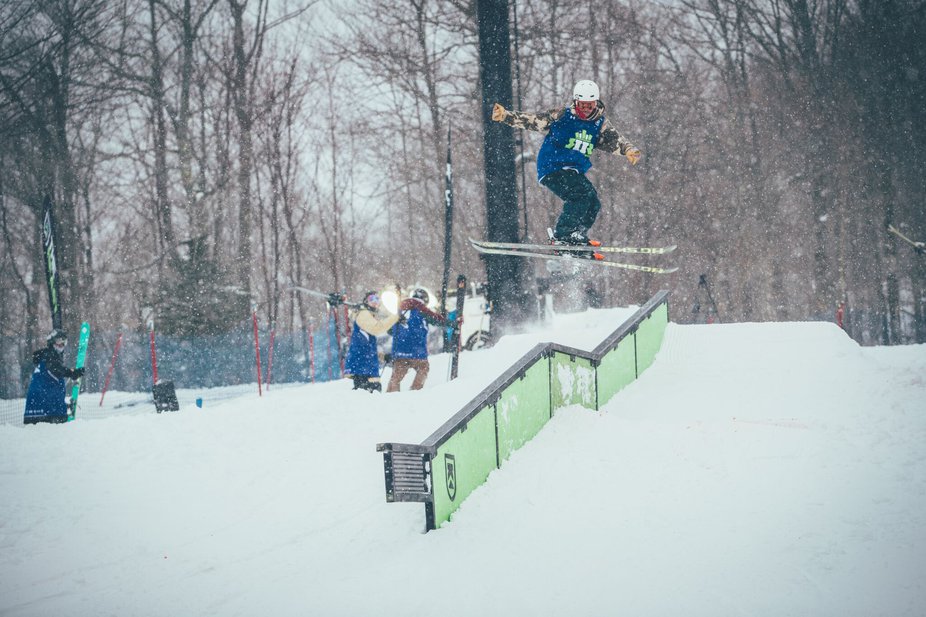 Reigning champion Christian Franchino
But if qualis were good, the night session was electric. Finals picked up right where qualifiers left off with but better conditions and a growing crowd. The vibe was set for some very entertaining skiing courtesy of Rory Walsh, Christian Franchino, Alex Hackel,and Zac Massi, who all made finals (shout out Daís) alongside Sandy Boville, Emile Bergeron, Bobby Sullivan and many more. Throughout finals it was anybody's game. It seemed as though every contestant was stomping everything they threw. Thorn Merill was a crowd favorite, taking full advantage of the A frame gap to down tube. Sandy lacing up 3 swap variations, as well as stomping a Lip 270 front 450 on the dfdf. Rory Walsh also destroyed the down flat down donkey with huge lip two disasters, receiving hoots and hollers from the crowd. Emile Bergeron showed extreme dedication focusing the majority of his night on landing a nollie lip 450 to switch to seal men's ski best trick.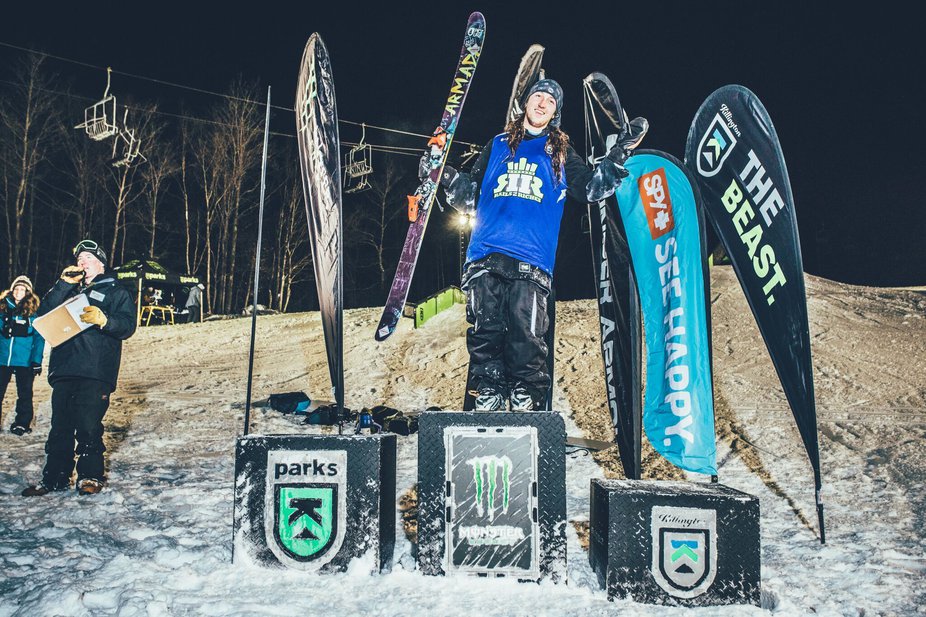 Bobby Sullivan stomped his way to the podium lacing a switch 4 disaster on the DFD among countless other rail combinations, landing in 3rd place. Zac Massi stood out all night long with 5 swaps on the A frame Gap, finding his way to 2nd place. Never missing a beat the entire night, Sandy Boville took home first place. Mixing it up between features, stomping trick after trick after trick it was no surprise to see him on top of the podium.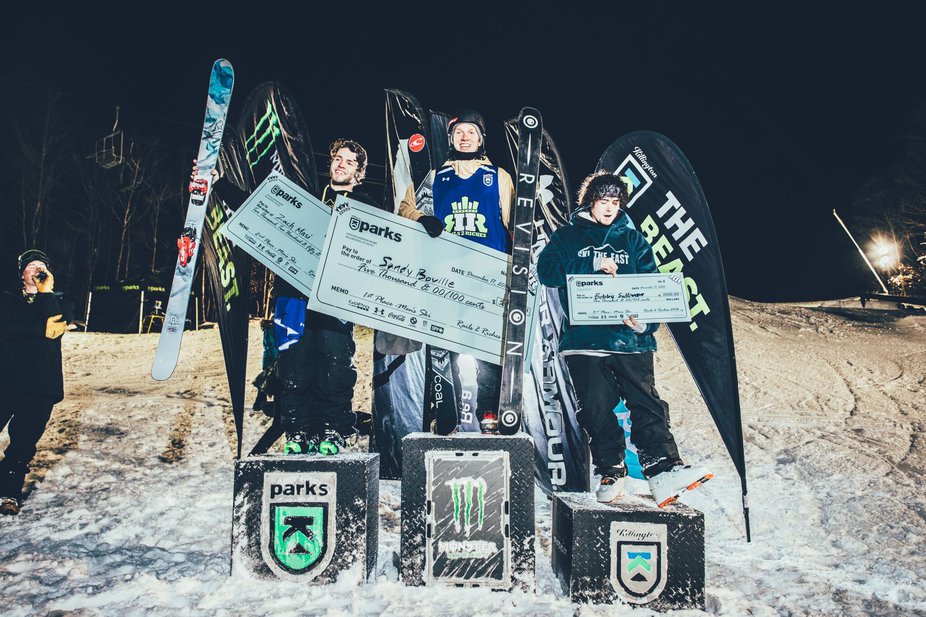 Here is the video recap
http://www.newschoolers.com/videos/watch/851093/STE-TV--Rails-2-Riches-2016
Thank you Killington for an amazing weekend. See you next year!