The sun has set on another Olympic year; this year seeing skiing's third inclusion and the debut of big air at The Games. Competition in freeskiing always brings controversy and innovation, often in equal measure. This year was no different. Although skiing managed to stay somewhat out of the spotlight in terms of judging decisions… thanks to snowboarding.
There's always cause to question the inclusion of something as freedom-based as park skiing in something as regimented and stringent as the Olympics - we saw the same apprehensions all but eradicated with skateboarding's first Games in the Summer. While skiing has had a few cycles to stifle these opinions from even the most 'core' spectators, it has to be said that Beijing 2022 was a largely positive advert for the sport. If seeing A Hall's slopestyle wizardry (feat. bonus British commentary) or that epic Women's Big Air Final gets even a handful of kids to pick up a beaten-up second-hand pair of twin tips and get into the park then the culture moves forward.
We have decided to throw together a quick roundup of some of our favorite moments from the games, the steezy, the sketchy and the silly - skiers being skiers let's say.
_
The Steezy
Team Austria:
Team Austria deserves a shoutout for their performances, even if they didn't end up with the silverware. A style clinic went down from a team of riders we've certainly yet to see even the best from. Lara Wolf's switch dub misty 12, which went down in practice but couldn't be stuck in qualifications, was a really nice axis, styled out proper. Matej and Dani Bacher are the future. The way they rode the slopestyle course showed both what slopestyle could be (with a little tweak to the judging perhaps) and that they are forces to be reckoned with for years to come. It was heartbreaking that Bacher couldn't put down a whole run with his transition finding, playfulness and creative vision, because his mid-section was the standout moment of the contest. The Austrian threat is on the rise and not only was it great to watch this Games, but they'll also be making waves (read: swerves) for years to come.
Women's Big Air:
Arguably the best event on the freeski side of the games, it had everything you want from a big air contest and the bar was raised to the Olympic level the pundits don't shut up about for a full fortnight. It should go without saying - but that's not the job of an article - that the level of women's riding has been on an exponential rise of late and it felt like the energy and progression of the last 4 years culminated in that final to make magic happen.
The emotion and tension as those last runs got thrown down is indicative of the excitement that competition skiing can create, we can hate on it all we want but I live for that sh*t. Progression, intensity, and love were all present. Eileen's right dub 16 came through so clutch to back up her left dub 14. One couldn't help but feel for Tess getting pipped at the end like that but it made for a great show.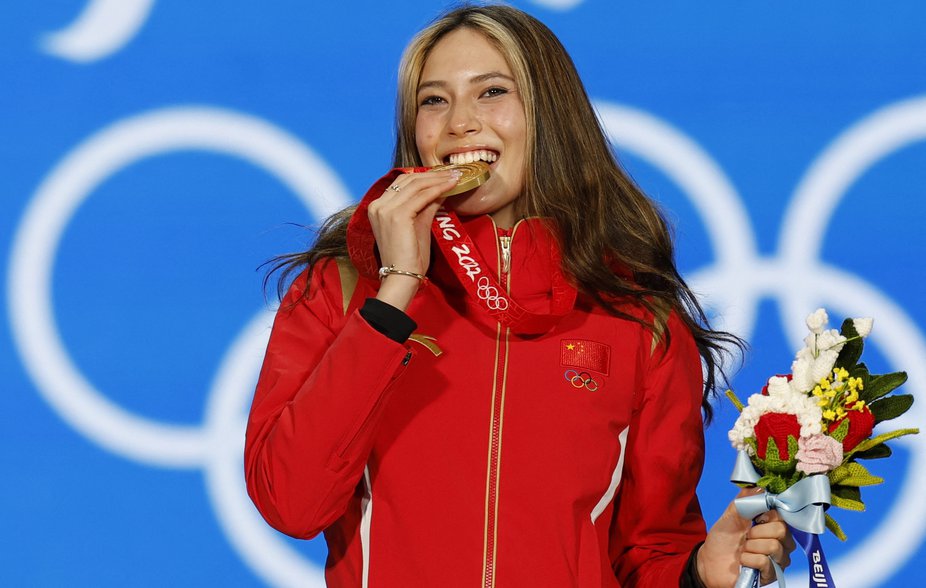 Eileen's first of three
_
The Ski Judges:
The crew doing 'the hardest job in the world' actually did a pretty good job of it this year. Judges spend their lives being shit on, so we thought it was high time they got their props. There were a few mistakes, Mac getting overscored for a missed blunt that pushed Edouard out of finals comes to mind. But especially compared to their snowboard equivalents, compared to the, by and large, the judges crushed it. No boot grabs won gold and halfpipe runs that changed the sport didn't need to be put down twice to win gold, despite the IOC and bad video feeds applying to skiing too… which we'll come onto shortly.
_
The Sketchy
Andri Ragettli Freakout
Competition doesn't always bring out the best in us. The pressure, the intensity and the grandiose nature of the stage can bring out the other side of the beast. We saw only love for Zoi Sadowski-Synott from other competitors when she stomped that boosted dub on the final hit of slopestyle finals to take home gold. There was camaraderie aplenty when Ben Harrington took one of the most brutal pipe slams we've seen in a long time; Miguel Porteous and Gus Kenworthy were the first to the scene to help the young Kiwi.
Enter competitions skiing's pantomime villain, the guy that everyone loves to hate, Andri Ragettli. I want to preface this by saying we should all have huge amounts of respect for one of the most superhuman recoveries we've seen in skiing. Knee surgery to world cup victories in 10 months is no mean feat. His skis may be short and his runs may be 'box tickers' but that is one hell of a rehab story. We all know the pressure these guys are under, especially with this being a once-every-four-years deal. As such we can't expect these guys to always be stoked. But against a backdrop of sportsmanlike behavior across both skiing and snowboarding, it's certainly was not a good look to stamp on and throw your skis around.
Olympic Coverage
In general, the mainstream coverage was pretty weak. I've already mentioned the bad feed the judges were watching but in general but one gets the sense that, more and more, folk who know what they're looking at should be in charge. Although hard to assume some kind of control over such a gigantic event, it felt like highlights shows, photographic coverage and general television angles left a lot to be desired. Hopefully, in four years' time, we'll have some better angles for the judges and the viewers at home.
Add to this the fact athletes weren't allowed to post anything from the field of play meant that plenty of dope riding got missed. Warm-up laps and follow cams pre contest gets people fired up and produces some of the best content from the likes of X-Games and Dew Tour; I'm calling for someone to sort @hotlapsofficial and @gimbalgod media passes next time around.
The official photos from the games were beyond woeful. Breaking Rule 1 of shooting skiers jumping; avoid the "man in the sky" shot. This travesty was coupled with a significant amount of the official photos containing grabs that had evidently been missed. We should expect, and demand, better goddammit!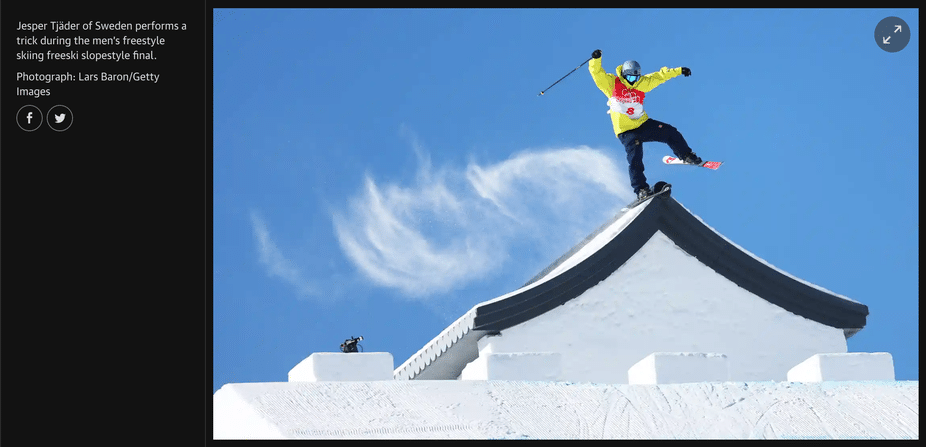 Who signed off on this one?
Switch Cameraman Slam
When it comes to filming one poor cameraman had a short and bitter encounter with Finnish halfpipe skier Jon Sallinen. We've all been there, you're focusing on the shot, not the skier and suddenly they fill your frame and take you out, it's happened to Magnus and Peyben, myself and Mark Donnelly and countless others no doubt but this one looked EXPENSIVE, it's not just a Sony Alpha taking a knock; one can only assume these guys are well insured for this type of thing.
_
The Silly
Birk Ruud Scores 69 Across The Board
Other things we really enjoyed from the games were things like Birk Ruud's victory laps, a 'chill' flag bearing dub 14, this got awarded an array of 69s from the judges. Nice. This news spread as far as Business Insider and put ski judges in the limelight for their sense of humour. Must've been nice to not be whinged at for once. And although not ski related the Jamaican bobsled team finished +4:20 from the leaders so there's that too.
Team Sweden
In terms of further content from the games, the Swedish BTS (recently with English subtitles added) has shown great insight into the riders' time at the Olympics and showing us that behind most of the competitors is only love and stoke (sorry Andri) and a few bold choices to skateboard a Chinese Olympic village. I think everyone made it out of the country without being disappeared, maybe the greatest success skiing could have hoped for at this iteration of the games?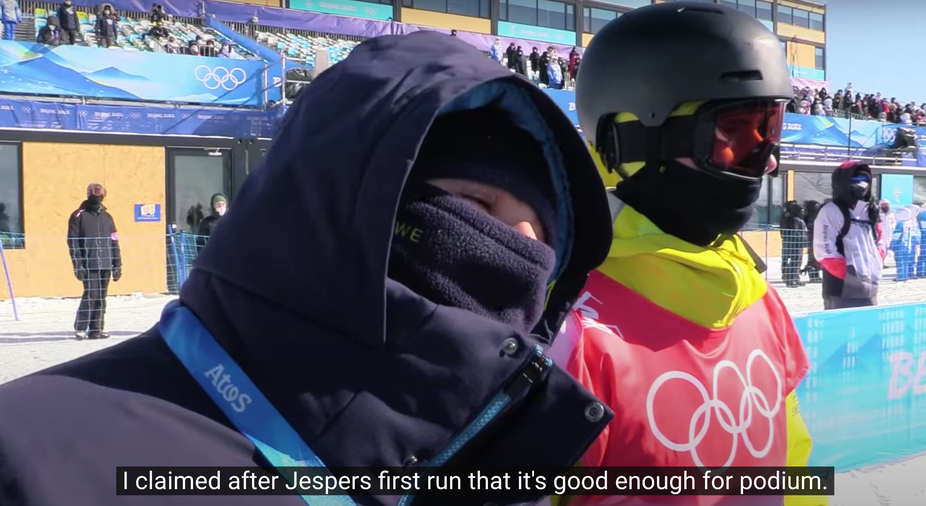 _
Tom Wallisch
Tom Wallisch's ever-increasing role as a TV presenter and commentator - doing a stellar job making freeskiing more accessible for the average watcher - culminated in another piece of hilarity. Teaching Matt Iseman of The Olympic Roundup on NBC some freeski grabs with some K2 Poachers unceremoniously electrical taped to his feet.
_
All in all, this was a great event for skiing and the riders for the most part were great ambassadors for the sport and the culture. The inclusion of big air was an unqualified success (and gave King Henrik his Olympic medal at the third time of asking). Big up Jesper too for his in slope medal - also very deserving after all these years. It's been a fun one even if Beijing time sucks for us euros and the athletes were dealt a very gnarly dose of cold on basically every comp day. Let's hope that we see more young guns in the park, stoked to ride some rails and learn their first 3s, the armchair experts give the judges a break and things are fixed up for Milan 2026