Women's Big Air, on the dystopian jump in western Beijing, saw the first freeski medals of the Beijing 2022 Olympics awarded and the first-ever Olympic medals in Big Air. With judging already in the spotlight after snowboard slopestyle (and some eyebrow-raising scores in qualifying) it marked the first big test for the ski judges. The majority of the favorites for gold made it through yesterday's qualifying without a hitch and jump, standing in front of the giant cooling towers looked prime. Even the wind, for which these Olympics are already becoming known, didn't play a major role. The women absolutely crushed it with an incredible show of Big Air skiing, indisputably the most impressive to date. There were dubs across the board and 14s and 16s required for the top spots.
_
Run 1:
Things went off with a bang right from the word go, with Anni K and Olivia Asselin dropping big dubs. Anni got a perfect mute in her dub 10, landing with plenty of swerve. Johanne Killi didn't have the best of qualifying, but her switch dub 10 japan here was close to perfect. With an 87, she set the early bar. Kirsty Muir went huge on her dub 12, tweaking the tail and nudging the early bar over 90 for the first time. Mathilde Gremaud went dub 12 too but 'only' grabbing safety kept her score just behind Kirsty. Eileen Gu stomped the first 14 of the day with a rightside dub 14 tindy. The amplitude was decent and she moved briefly into top spot with a very solid 93.75. Tess Ledeux went 180 further with dub 16, also with that wrapped up tindy that gets you a lot of rotation, and the run 1 lead with 94.5. Megan Oldham went switch dub 10 to round off the first run, but just shuffled a little on landing leaving her mid-table.
_
Run 2:
Anni K got things going again with a switch 9 but just tickling the safety grab. Olivia Asselin put down a dub 12 but went just a little too big effectively killing her chances after a missed grab on run one. Johanne Killi just went a touch too big on a switch dub 14. Sarah Hoefflin put down her second switch dub 10 but while she put it down pretty well to the right in run 1, went too big to the left on run two leaving her needing a huge final run score. Kirsty Muir went switch bio 9 and capped the blunt properly, going huge but lack of technicality kept the score down in the high 70s. Mathilde stomped a switch dub 14 safety for 93.25 taking a commanding lead. Eileen Gu followed that up with a left dub 10 safety to japan for a solid score, setting her up for the final run in a medal position. Tess Ledeux stomped a straight switch 14 japan and was justly rewarded with 93, setting her up with what looked to be an unassailable lead. Megan Oldham stomped a left dub 12, holding safety proper and moving herself way up the provisional scoreboard.
_
Run 3:
With the final run, the pressure was on and the order was reset to reverse score order. Olivia Asselin cruised a perfect dub 10 but was already out of medal contention after the first two runs. Her style is the illest though, definitely a star of the game for years to come. Sarah Hoefflin improved her switch left dub 10 from run two, but it wasn't enough to move her into a medal position, with a 76.25. Johanne Killi put down a switch dub 12 but narrowly missed the mute and just squeaked it around. Kirsty Muir sent it for switch bio 10 but went too deep and overrotated, leaving her in fifth place. Megan Oldham was the last skier to drop who could mix up the podium. She stomped a switch dub 10 japan much cleaner than her first run improving her score but not her fourth position. Eileen Gu took her time, building the tension before dropping in and putting down an unexpected left dub 16 (tindy). The judges waited a while, before awarding a 94.50 and giving her the lead. Mathilde Gremaud sent it for 14 but got the axis a little wrong, leaving Tess sitting in silver medal position and last to drop. She put down a switch 14 again, this time with a perfect double japan, but unfortunately, the landing was less than perfect, meaning no improvement. That left Eileen Gu with the first-ever ski Big Air gold and perhaps not her last of these games...
_
Medals:
GOLD: Eileen Gu
SILVER: Tess Ledeux
BRONZE: Mathilde Gremaud
_
Results: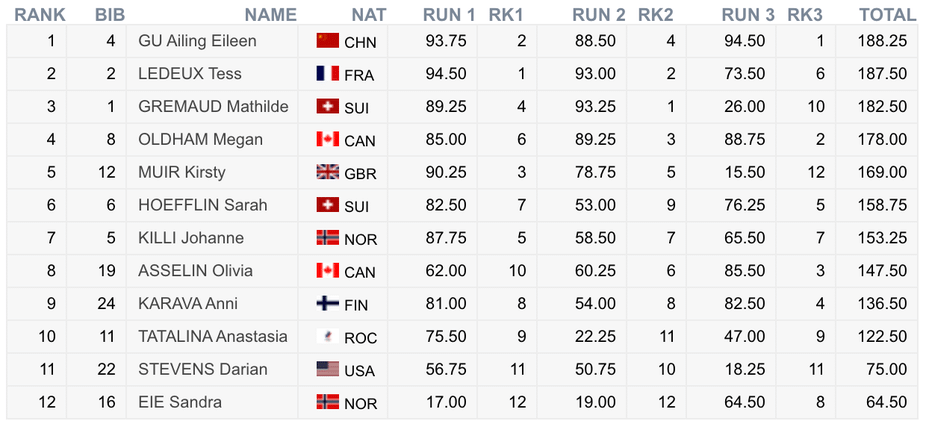 _
For highlights/replay, check your local TV provider.