Ski: Season Nexus 183cm (177cm Twig)
Reviewer height/weight: 5'11, 200lbs
Ski weights: 2070/2073g
Length Skied: 183
Straight tape-pull length: 181.4
Dimensions: 137-106-133
Radius: 17.5m (for 183 size)
Mounted: Marked, "Center," line, and marked, "∞," line. True center and -2.5cm, respectively (more on this later)
Bindings: Look Pivot 15
Locations: Gunstock, Killington, Waterville Valley
Conditions skied: Fresh groomed, ice, minimal fresh snow, park jumps
Days skied: 20+
__
At this point, most of us know Season Eqpt. and the significance of the company. For those who don't, I'll keep it brief. Eric Pollard and Austin Smith founded Season with the goal of creating sustainable, evergreen skis and snowboards with specific purposes. The graphics are very simple and will not change, and the goal here is to make skis that will not go, "out of fashion," with changing art forcing the company and retailers to lower prices and produce new skis, thus being less sustainable. So really, sustainable is our keyword here.
The Nexus is Season's take on a mid-fat twin, slotting right in between the Aero and the Forma, the other two models originally released with the inception of the company. Knowing that Eric Pollard and Josh Malczyk were behind the design of this ski, I think both Twig and I expected something along the lines of a more refined Sir Francis Bacon. As he said in his Kin review, the Nexus does offer a very unique shape with its pointed nose and squared-off tail. What it does not offer, however, was as much similarity to the SFB as we thought.
__
Shape/Flex/Construction: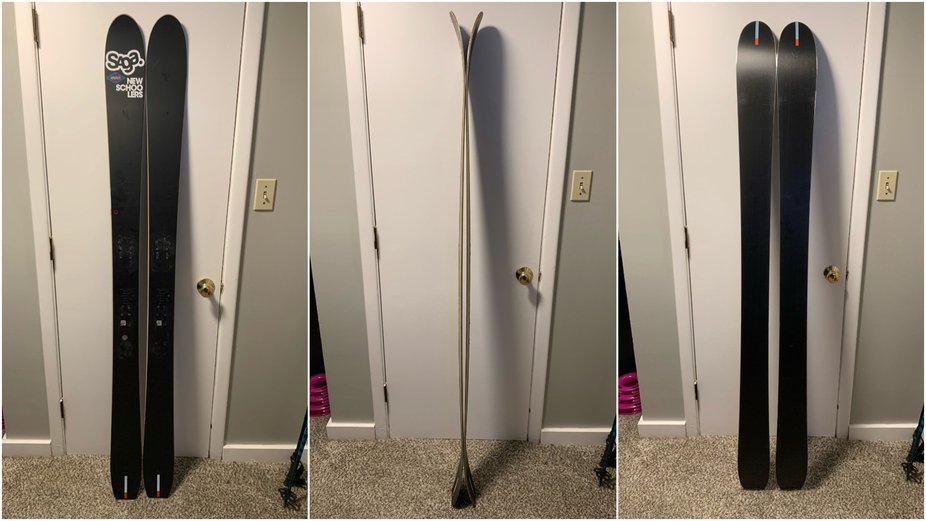 The Nexus is Season's mid-fat offering, being sold at $699. The construction is certainly higher-quality than I would assume for a ski at this price point, consisting of Karuba, fiberglass, a sintered 7500 base, and a chunky metal insert at the tail. The top sheet is nice and smooth, extremely optimal for sticker placement or going crazy with some paint pens (I didn't end up doing that like I wanted to, but some part of me thinks that Mr. Pollard did this by design, maybe giving us a nice blank canvas to work on, given that there's no graphic. Food for thought I guess.
The ski has a full sidewall construction, which was again surprising to me. Usually, at this price point, we would see some form of semi-cap once we deviate from the middle of the ski (think K2 Reckoner/Armada ARV 106). The shape, though, is what makes this ski immediately catch the eye. There is a sharp nose, à la Armada Whitewalker, and a blunt, square tail with a metal insert. The tips on the Kin are actually wider than the Nexus, coming in at 139mm compared to the Nexus' 137mm. With a 17.5m turn radius on the 183cm Nexus, we expect a nice tight carve and some good agility edge to edge. More on that later. The profile of the Nexus was probably the most interesting to me. Despite it being in the mid-fat, all-mountain category, I found a really extensive camber. While not super high, it was very long. I found 26cm of rocker in both the tip and tail, again less than the Kin. This means that the ski was more than 80% camber (51cm of 181.4cm). Again when thinking of other stalwarts in this category, it was surprising to see.
The flex pattern here is very smooth and what I would call, "consistent." No funny hinge points or obvious ramp-ups. We have a strong midsection that will taper off to slightly softer tips and tails, but by no means are they soft. I would say from tip to tail, the ski flexes 7-10-8. Again, a strong ski and not at all what we're used to seeing from Eric.
Regarding the mount points. These skis have a scale-like graphic that is printed on the top sheet, ranging from a "Center," line, to another line a good 5cm back. I initially mounted mine on the centerline, after doing some digging on Season's website.
Pulled directly from the mounting guide page:
IF YOU HAVE A PERSONAL PREFERENCE, YOU CAN MOUNT IN ANY WAY YOU'D LIKE, THE TRUE CENTER (THE CENTER OF THE SIDECUT, NOT THE ACTUAL CENTER OF THE SKI) IS MARKED ON THE SKI.
This struck me as odd because as I went to measure the printed lines (I'm a technician, never mount without measuring twice kids), I found that despite what the website clearly states, my marked, "center," was the true center of the ski. I also ended up remounting the ski to the ∞ line to test the ski where Season recommends.
To summarize all of this, the shape is unique, the mounting locations are certainly interesting, and the ski itself is very strong. This test took me a long time in order to truly, "get," the ski.
__
On Snow:
My first day on these was very confusing. For reference, some of my favorite all-time skis include the ON3P Jeffrey line, the Moment Wildcat line, and the Faction Prodigy line. Strong skis, directional twin shapes, designed to be versatile and capable in a multitude of conditions. Groomers from day one were an absolute treat. The ski is extremely intuitive when carving. The wider nose shape pulls you into a turn with the slightest input. The further I leaned over, the deeper I could get into the sidecut. The ski gripped on groomers and ice much better than just about any other ski in this category I have ridden, and the Karuba core proved to have a ton of energy. This is a ski that will push and bounce you out of one turn into the next. I found myself skiing groomed runs without releasing the tails at all, they were that stable and confidence-inspiring on edge.
After a few runs of 91 Octane speed and high edge angles, I decided to take my more typical approach of slashing turns, which is where the ski got confusing. The ski downright terrified me when I was bases flat. The tracking was really inconsistent and more than one time, I found myself penguin-sliding down the hill because I caught my inside tail edge when trying to straight-line to get speed. Despite this, "hooky," feeling in the tail, the ski still released pretty easily when asked. It was not friendly to backseat skiing, however, and would only release when I got over my toes and put my weight on the front of the ski. Like Twig said about the Kin, at any sort of speed, this ski has to be on edge. It doesn't chatter, but you will end up catching that tail edge after a few seconds of bases-flat skiing. Twig mentioned a detune at the tails helped him a lot, which is something I neglected to do. I skied it as it came from the factory as a quality assurance check to speak, and the tune that they do over at Altenmarkt is pretty serious. I think with a detune at the tails, the skis track better and feel much less hooky.
I didn't get to ski this ski in true pow, but I got a few days in some nice slush given the horrendous weather patterns we've had here in New England. The ski does really well here and was super fun. Every slushy bump is boostable and the ski does an excellent job at knifing through. You can ski it on edge as though you were skiing groomers and it will do excellent. If you like to slide and play around, it does that great too. Excellent all-around ski for springtime conditions, one of my favorites that I've been on for sure.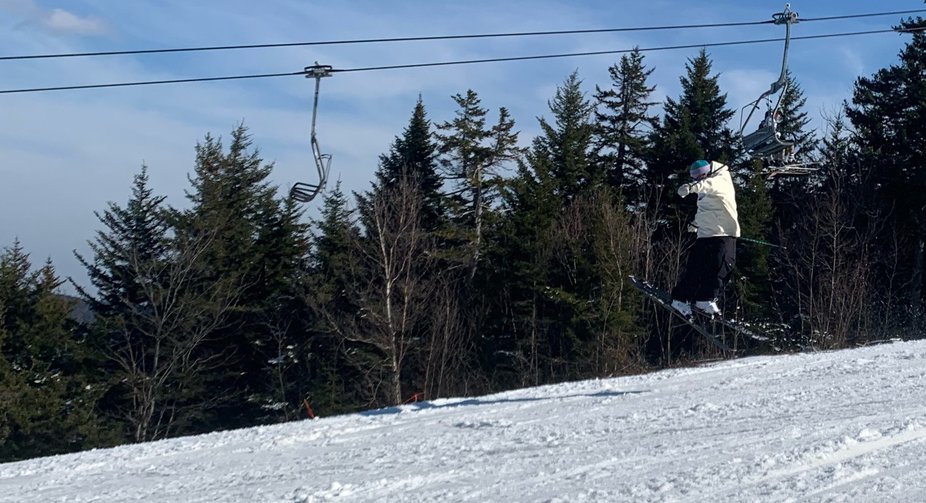 Forgive my lack of photos, I suck at skiing and I have been out for a few weeks with a knee injury.
__
To summarize here, this is not the end-all be-all of mid-fat twins. It does extremely well on-edge, much better than it has any business being as wide as it is. It has a ton of energy from turn to turn, and really feels like a true groomer ski (I know this sounds wild, but honest to god I have never skied anything more intuitive and easy on groomers) despite being 106mm underfoot. It excels in spring conditions, and if you land bolts every time, can definitely hold its own as a jump ski.
[I would agree with pretty much everything above. The Nexus absolutely rail for a ski this wide. They are ridiculously good on edge, the best ski of this width I've tried too. But they did have a slightly psychopathic streak when running bases flat with the factory tune. I had a big ol' crash just popping from flat. On landing, one of the tails engaged super hard and bucked me. After that, I did a bunch of playing around with the tune, I detuned the tails a little, which as mentioned, helped a bit. Then I tried increasing the base edge bevel to 1.25 and then 1.5 degrees which made them a little more predictable, but they still didn't feel 'loose' to me. The DNA of these skis is to be grippy and turny, and while they have a longer radius than the Kin, they are also much stiffer so I found them more prone to edge catches. You really do need to be 'on it' to ski them, they rarely felt 'easy'.
So, while they look quite a lot like a Line ski, they don't ski like one at all. They are more much aggressive than the Bacon, hell, they are more aggressive on edge than the Sakana too. They have a much more balanced shape than the Sakana though and they still carve as well, if not better. If you want a twin tip ski that is powerful, poppy, and absolutely canes groomers, these are the ones. If you want a loose surfy ski, then I'd look elsewhere. - Twig]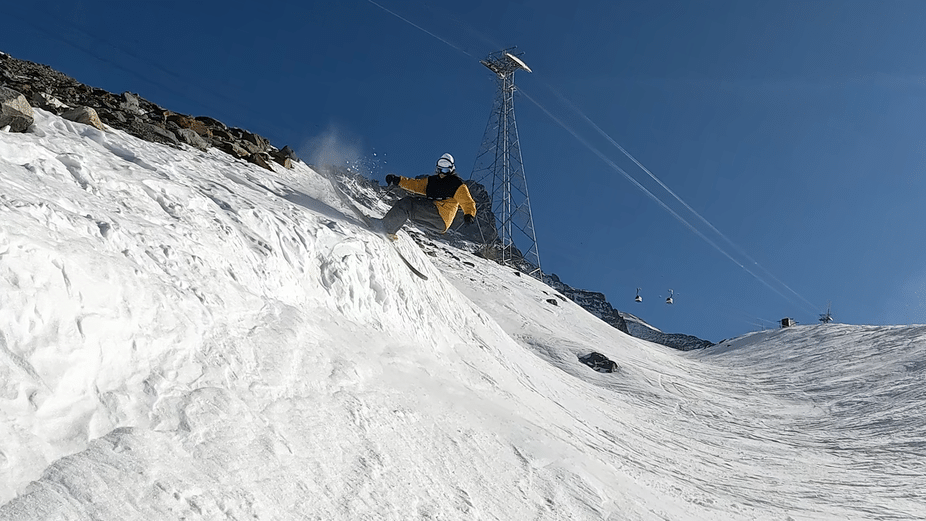 Photo: Hanne Lundin
__
Park/Playfulness:
I skied this ski at Killington's Peace Park setup (big shoutout to that crew, the setup is always insane and it's so much fun to ski). While I am no rail skier at all, I made it very intentional to ski the Peace Park, as the setup is much more oriented towards flow and transition, much like a skatepark. Knowing who was behind the ski, I thought they would do very well. First run through the park, it became immediately apparent that the skis were far too cambered. Any sort of transition would result in catching an edge and me going over the handlebars. They did, however, provide an almost unfair amount of pop for normal jumps. Even just skiing to the entrance of the park, I found I could lean back and pop almost a foot in the air with no lip or jump underneath me. This comes back to the energy the ski has carving. It's a strong ski but if you can put the effort in to bend it, it is extremely rewarding. I'm going to let Twig comment more on the park performance of the ski given his prowess in such skiing, whereas I am by absolutely no stretch of the imagination a park skier.
[With the 1.5-degree base edge bevel and the tails detuned, I could ski these pretty handily in the park, on jumps at least. The bases are super fast and they have the aforementioned insane pop, so overshooting is definitely a risk. I took these out to shoot photos back to back with the Kin and I found myself going to flat a couple of times. Luckily, they are fairly stiff and cambered through most of the ski, so they are very solid on landings, even if I was skiing them a little short at 177.
The radius is more manageable than the Kin's on takeoffs and they carve super nicely off jumps (as they do everywhere else). They are great for setting spins, they stomp landings. I actually think they are a great jump ski full stop, though they can occasionally feel too grippy on landings... you want to land fully rotated, put it that way. I think the stable platform would make them super nice for doing tricks into pow/off natural features too but I didn't get to try them in that setting.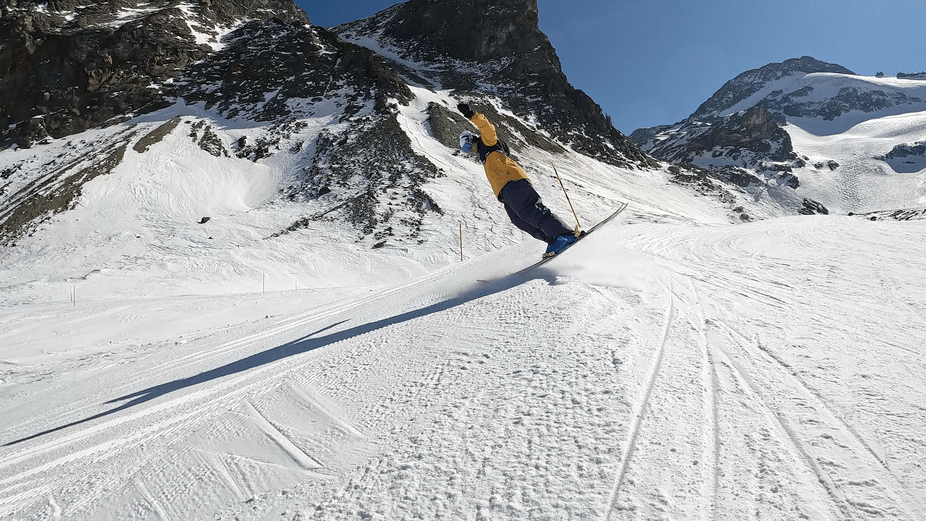 I wouldn't choose these if low-speed playfulness was my priority, but they work for some messing around. - Twig.
P: Hanne Lundin
__
And while they are on the stiffer side, they aren't so stiff that I couldn't play around on them. I could butter (easier switch than forward because I mounted at -2.5) and slash on them pretty handily, but more on lips/rollers than on flat snow. On totally flat snow where the whole ski was in contact, I found it harder to cut them loose and drift because they are just so grippy. The swingweight is fairly low for an all-mountain ski because they have a relatively central mount and aren't a particularly heavy ski, But it's not remarkable compared to other freestyle skis of this width. But compared to skis in the same groomer performance category (Sakana, Stranger (kinda), and even more so, chargier freeride skis like the Mindbenders etc) it's very very low. I also think the Nexus is a better turning ski, but that's by the by.
When I beveled the edges, I did brave one or two runs on rails and while I love how a wider platform feels for that these aren't a ski you basically want to be sliding rails on. For one thing, their turning ability is their trump card, so dull edges would ruin them, but they aren't basically designed for durability on metal either.
For me, these are an all-mountain ski that will work for some jump laps, rather than something you'd pick to regularly ski park but they do handle it pretty well. The forward mount feels very intuitive in the air and if you're looking to come from skiing park on stiffer skis to a chargier, wider ski these could be a great choice. - Twig]
__
Durability:
Like Twig said in his Kin review, all the skis from Season are built-in Altenmarkt at Atomic's factory. I haven't had any funky experiences with skis coming from there, and the Nexus is no exception. The overall build quality, look, and feel is much better than other skis in its price category. I had some typical scratching on the top sheets, but nothing even close to significant damage in the days that I skied these. Very impressed by the quality here.
__
Mounting Point:
__
As far as how my different mounting points affect performance… call me out if you want, but I liked the ski way more at true center. Twig, to my knowledge, has spent most of his time at -2.5, which is funny to me given that he is the park skier, and I am most definitely not. A lot of people here will potentially remember that I am a big supporter of going recommended, and I say quite often that true center has little to no benefit. For whatever reason, true center mount on these felt much more intuitive to me, and I did not get the same feeling that I was going to catch an edge as I did at -2.5. One thing to note is that I skied these as I received them (after checking the bases with a true bar), and Twig has told me that a retune on the ski helped him with the grabbiness so I'm sure he will speak to that.
At the ∞ mark, which again, according to Season, is the center of the sidecut (and also measured out to be true center), the ski is great on edge. I felt that I could ski down just about anything in front of me, having full confidence to lean over as hard as I could. Like I said before, this has been one of my favorite skis to ski on groomers. The ski is predictable and easy in a wide variety of turn shapes, save for super tight, slalom-style S-carves. I could not lean over the front of the ski quite as hard as a directional, stiffer charger, but the ski performed much higher than initial expectations. The center mount also lent itself to easy release if I pivoted from the center of the ski, making it very easy to go from hard carver to hard slarve. It also made the ski feel nice and balanced in the air, whether it was park jumps or side hits.
At -2.5, the ski performed pretty similarly on groomers to me. I could lean over the noses a bit more and push the ski a bit harder. An interesting characteristic of the ski became much more apparent here. When at -2.5, I felt that the ski grabbed and initiated a turn much better. It was a matter of simply leaning sideways and the surfboard-like nose taper would grab and pull me into a carve. Where it differed the most, was that I felt slightly more locked into one turn shape, unlike true center where I could dictate my turn shape, but the ski would not initiate by itself. It did make the tail feel slightly more locked in, leading to less "slarveability," but did not affect the feeling in the air to me.
[Twig: I skied these at recommended (-2.5cm) but didn't try true center. The above kind of makes me wish I had gone 1-1.5cm further forward because I would have liked these a little more pivot-y feeling, because that's my preference in a ski. At -2.5 i definitely had that 'on rails' feeling in the turn, though the tail rocker means you can break them loose when you want to. I did feel like at true, the tips would have felt a little too soft, because even at 2.5, I did sometimes want to be even further back when 'driving' the skis. The same goes for deeper snow (-2.5 felt far enough forwards). As with any ski, the mounting point is a compromise. I think -1.5/-2cm from true center would be just about perfect (and tends to be where I end up mounting a lot of my skis these days).
_
Conclusion:
The Nexus is a great offering from Season. It is very refreshing to me to see a ski like the Nexus, with its long camber and consistent flex pattern, in a category that is oversaturated with too much rocker and a lack of versatility. This ski by far is the most competent groomer ski I have ever been on with respect to the shape, width, and overall intention. It is not your Wildcat 108, your Jeffrey 110, or your Big Horn 108. While those skis are all leaders in their categories, this is a very fresh and new take on what a mid-fat, all-mountain twin should be like. The ski is unique in it's design and construction and I believe many people could hop on the Nexus and have a fantastic time. For $699, we get Austrian quality bases and construction and an "evergreen," ski. Graphics won't change, so you won't have to buy the same ski next season. There is a versatility here that I believe is pretty unique to this ski, and it is a fantastic option for the East Coast skier who wants to experiment with something wider than 100mm, but doesn't want to lose that edge hold and stability. If you have the opportunity, get out and ski these, whether you live in Utah, or Vermont. I think you'd be pleasantly surprised.
P.S. A huge thank you to Newschoolers, Twig, and Season Eqpt. for allowing me to conduct this review. I had a thoroughly fun time picking this ski apart and writing this review. Looking forward to hopefully contributing more of these in the future!
[I would agree totally with this conclusion. Having spent more time on the Kin but perhaps a week on the Nexus, I see a trend forming in that each of Season's skis is truly unique. The Kins don't ski like anything else on the market and neither do the Nexus. The latter absolutely rip, to the point of being slightly scary to someone who basically likes loose skis and waving their arms around. But they also blew me away with the level of performance they offer. There's always a tradeoff in performance with skis and with the Nexus, what you lose out on somewhat is 'forgivingness'.
But what you gain is a ski that will keep even an ex-race skier happy on groomers (I actually skied some gates with them and I made an ex-racer homie take a few laps to confirm this), while offering pop, balanced swingweight, enough flex to butter, and proper ALL-mountain performance. They are for the skier that wants to put the effort into every turn and every feature but to reap the rewards of their efforts with a ski that lets them ski to the maximum of their ability. They might be a good one to try before you buy, and I think they certainly suit very good skiers best. But if you have the skills, the skis will, as they say, pay the bills - Twig].