Ski: Season Kin 2022
Reviewer height/weight: 5'9, 150lbs
Ski weights: 1815/1819g
Length skied: 175
Actual length (with straight tape): 172.8
Dimensions: 139-97-135
Radius: 13m (average)
Mounted: -1.5cm from true center (+1 of recommended)
Bindings: Tyrolia Attack 17
Locations: Saas-Fee
Conditions skied: Fresh groomed, ice, slush, shallow fresh snow, park jumps
Days Skied: 10+
_
Photos/video: Hanne Lundin
Season Eqpt. has been around for a couple of years now and the Kin is the first ski added to their original three ski release. Each of their skis is unlike anything else on the market, with unique combinations of flex, shape, and profile making them stand out from the crowd despite the plain black topsheets and their rejection of the yearly product cycle.
It was perhaps strange that a company founded by Eric Pollard and Josh Malczyk did not offer a soft, full twin ski (or graphics for that matter). Ok, the Nexus is basically a twin with a squared-off tail, but it definitely isn't soft or particularly forgiving. The Kin changes that and ticks the soft, twin tip box. Although in what is becoming Season's trademark, it offers a unique shape and a different take on what a 'free-ski' should look like.
_
Shape/Flex/Construction:
The Kin is Season's pricepoint ski, coming in at $549, but they haven't skimped on the materials. The core is Karuba, and the base is a sintered 7500 base (AKA a 'Race Base'). The textured topsheet on the Kin, however, does feel less premium than the velvet smooth version on the Nexus.
The ski has a (more or less) full sidewall construction with just a small 'microcap' and the sidewalls extending into the tip and tail of the ski. But where things get really interesting is the shaping. The 175cm length has a 13m turn radius, which means that, while the waist is a modest 97mm, the tips flair to a pow ski worthy 139mm. There is a good amount of rocker there too (29cm of tip and tail rocker with a decent amount of splay) and there's a little camber underfoot, but just a couple of mm. The mounting point is -2.5cm… but with the symmetrical rocker profile you could easily go center if you wanted.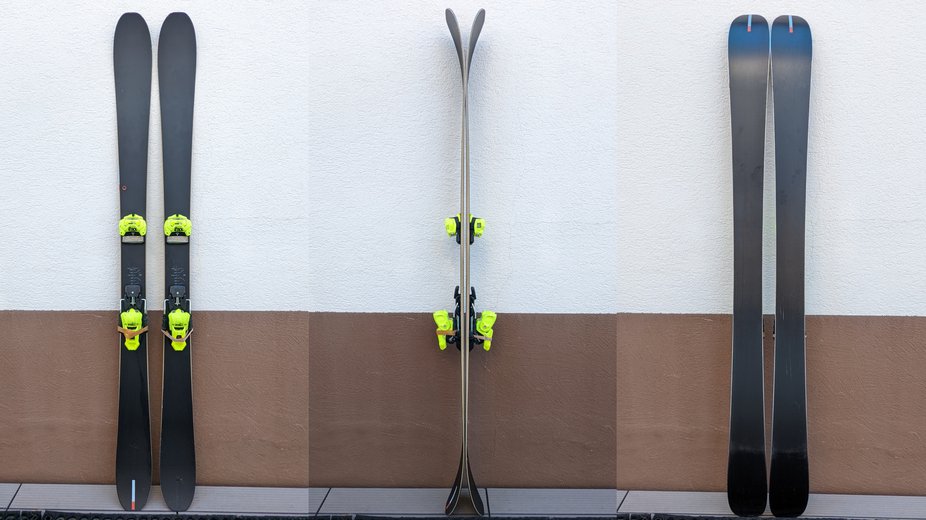 The flex is on the softer side of things… the tip and tail aren't THAT soft (maybe similar to the ON3P Magnus) but the mid-section of the ski is definitely softer than most. The flex is very consistent throughout the ski with no hinge point or obvious stiffening in the center. You can see that in the core profile, which is quite thin underfoot.
In short, these skis have a slalom ski-like turn radius, a park ski mounting point, as much rocker as Season's powder skis, and a flex pattern all of their own. They're a bit of a frankenski (sorry Moment) and were very intriguing to test.
_
On Snow:
The first day on these skis was probably the most fun I've ever had on groomers. Freshly tuned and with out-of-the-box flex, they absolutely rail. I found myself making turns I'd forgotten I could make. I hadn't felt anything like it since skiing slalom skis way back when. I could grip on ice, and the skis would turn with the smallest of movements. It was a 'my face hurts from smiling' kind of day… on an icy day in December.
Once I got more used to the skis, I could feel the shortcomings more obviously. While they don't have the terrifying nature of a slalom ski (and will still make those incredibly short turns) they do require you to pay attention. They are looser than the Nexus (more on that in that review) but they do bite the snow hard when put on edge, so it's definitely possible to bucked when edging a turn too hard. And like a slalom ski, they are a bit squirrely when they aren't on edge, more so because of how light they are, so that's the only place you want to be. They definitely get the jitters when you try and 'french fry' them going at any speed… they just want to turn. Saas-Fee has a couple of mandatory high-speed straightlines (if you don't want to end up walking) and they did feel pretty hairy on the Kin. After a few days, the flex softens off a bit and they do lose a smidge of that on edge performance too, though they are still by far and away the best combination of soft flex and turning performance I have ever experienced.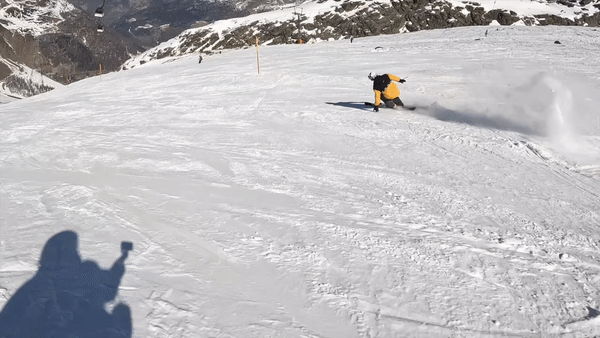 I had skiers thumb real bad when shooting for this so I pretended to still be young and did some handskiing
Then there's the versatility, or slight lack thereof. Essentially these are a fun, hardpack-only ski. Yes the waist is 97mm and they have plenty of rocker, so they float ok in a straight line. But they have so much sidecut that they are hooky in pow, and they are way too soft to be fun in any kind of crud. They'll do icy groomers, soft groomers, and slush, but the ski doesn't have the backbone for more mixed conditions.
That's quite a lot of shortcomings to list but essentially, none of them matter in the slightest because the skis remain laugh-out-loud fun to ride. As the flex breaks in, they get even easier to ollie and play on and you find yourself with a ski that grips like a much stiffer ski, turns on a dime but also cuts loose when you want it to. They don't love long turn shapes, but they will make them if you don't push too hard. But mostly, I find myself turning a lot more, and more sharply/quickly than I usually do... and enjoying every second of it. The bases are incredibly quick and where most soft skis end up feeling sort of inert on groomers, the Kin feels electric. It's very hard to compare these skis to others because they are pretty much totally unique. I'd love to compare them to the Black Crows Mirus Cor because those are the closest thing I can think of in terms of aiming for this space, but I haven't skied those yet. Of what I've skied, the Kin is in a league of its own when it comes to twin tips that turn.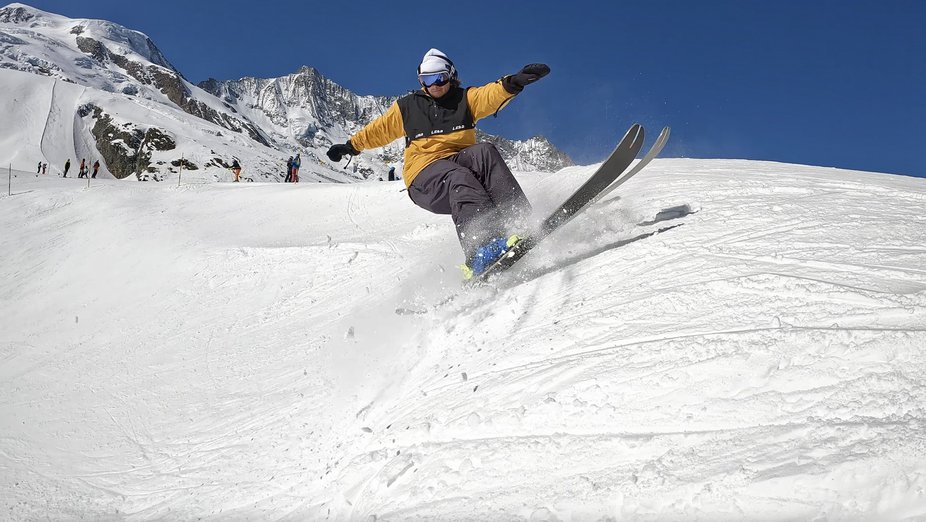 There have been a lot of moves into the 'fun carving ski' space of late, the Armada Stranger, Line Sakana/Blade et al. For me, they all go too far in the directional, err, direction. The Kin is the first ski that feels truly playful and park ski-inspired while also being an incredible carver.
_
Park/Jibbing:
However, I would not go as far as to describe the Kin as an ideal park tool. That tight radius can be fun for making quick turns between features and the flex is a lot of fun for playing around but there are some downfalls of both.
Part of making the Kin so 'carvy' seems to have been making it pretty soft underfoot and immediately fore/aft of the binding. Combine that with the rocker profile and the ski lacks stability on landings. I found them pretty scary to go big on. I'm trying to factor in the fact that I'm coming back from a blown knee here with all the associated concerns and do not want to overstate this point, but I would put them in the Blend / Vishnu Wet / J Skis Vacation stability bracket. I found myself washing out in tight transitions a few times too.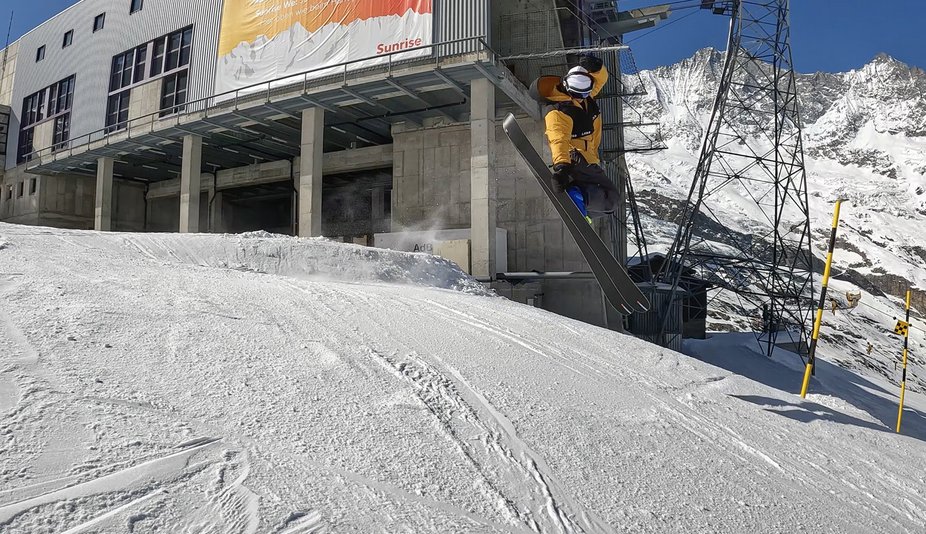 That tight turn radius also has its downsides in the park because they are almost too aggressive when carving off lips. On landings, if you land on edge the ski is already turning. That is a lot of fun when you do it on purpose, and a creative park skier could use these skis to do things almost no other ski could do, but for the average day in the park, I'm not totally convinced. I think some people will find these skis a revelation in the park, but they might be in the minority.
I actually really liked them for playing around because generally, I like soft skis. For buttering, they provide an interesting flex profile because they are soft underfoot compared to most, but that flex is consistent, so they don't overflex as easily as say, a Line Blend. They also have quite a poppy feel so you get great energy when releasing the butter. On rails, they work just fine, but to enjoy the best of these skis, they need sharp edges, which presents a bit of a conundrum.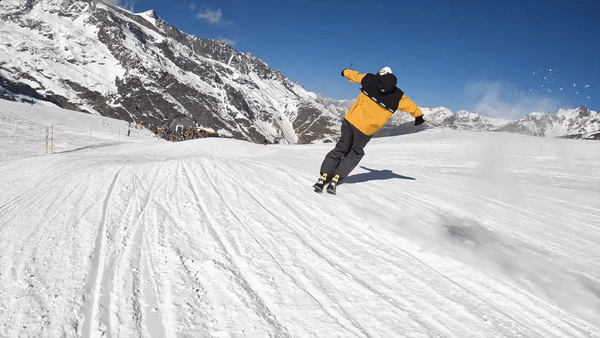 Essentially, I couldn't have these as my only park ski because I'd want something more stable for jumps. And ruining the edges on rails is something of a travesty. An interesting comparison is the 1000 Skis Park that I skied immediately before these. Those are perhaps even softer, but the camber in the tail makes them a little more stable on landings and the flex is even more poppy. I'd certainly choose the Kin for primarily turning and playing around, but as an overall jib ski, the Park has a more predictable feel while still turning pretty well and makes a better primarily park ski.
_
Durability:
All of Season's skis are built at the Atomic factory at Altenmarkt. My experience of skis built there, in general, is that the durability is good. The build on the Kin feels solid, with no real issues to report. I haven't hit many rails on these because I love turning them so much, but I have been buttering a lot, and often that causes delams. I've had no such issues here, although one of the red/white topsheet inserts in the tail that represent Season's branding did pop out at some point. That cosmetic detail aside, I'm very impressed with the build on both these and the Nexus.
_
Conclusion:
I've mentioned quite a lot of negatives in this review, but that is largely because the Roofbox Review structure is geared towards reviewing more traditional skis and assessing all aspects of a ski. These skis are deliberately different, they aren't an all-out park ski or a do-it-all midfat. The Season Kin is anything but traditional, so it does fall short of the mark on some traditional metrics like providing a stable platform or crushing multiple conditions. But regardless of the atypical aspects, I absolutely loved these skis. In fact, the quirks make these skis all the more interesting. I don't think I have had more fun on a ski since the Line Elizabeth. Despite being entirely different skis on paper, it's the Line Elizabeth, of all the skis I've tried, that the Kin has the most in common with. Yes, it has a much narrower waist and an even tighter turn radius, but the skis share the same 'je ne sais quoi'. The Kin is absolutely, riotously fun, and as part of a quiver, I basically think every fun-focused skier should own a pair if they can.
For $499-549 you get a lot for your money: an incredible base, great build quality, and a ski that will never 'age'. I don't see them as particularly versatile, or all-conditions friendly but when you have them out on the right day, they are without question, one of the most fun skis out there right now, especially at that price. A lot of skis have set out to make the 'boring' days, the flat groomer and small sidehit days, the family ski holiday or teaching a ski lesson days, as fun as possible. But for me, these are the ones. Season has absolutely nailed it with the Kin and made a totally unique ski. If you can, I'd recommend trying them to see if they'd fit your style but I'm pretty sure these would get a smile out of just about anyone.