Ski: Dynastar MFree 108
Reviewer height/weight: 5'9, 145lbs
Ski weights (per ski): 2213/2227g
Length skied: 182
Actual length (with straight tape): 181.6
Dimensions: 138-108-128
Mounted: -4.5 cm from true center
Bindings: Tyrolia Attack 17
Locations: Saas-Fee, Jeizinen
Conditions skied: Park, groomers, crud, pow up to 45cm, mixed snow, steeps(ish)
Days Skied: 7
_
All camera pointing by Hanne Lundin Wallengren
At the end of last season and the beginning of this one, I skied the Dynastar MFree 99, and I was blown away by its all round performance. It's now my resort ski of choice and so naturally, I reached out to Dynastar about its bigger brother, the 108 to see how it compares, and what it offers in a wider platform. If anything lets the 99 down, it's that despite some clever shaping the overall platform is on the narrow side for when the snow comes. Dynastar sent me the 108 just in time for Europe to get hit with its first storms of the season so these have already had a week of shredding in some pretty choice conditions. Again, given the reputation of Dynastar as more of a gnarly freeride brand, the MFree 108 proved something of a surprise.
_
Shape/Flex/Construction:
Probably the first thing you notice about the MFree 108, particularly coming from the sort of mid-fats I usually ski like the Line Sir Francis Bacons and the Atomic Bent 110, is that they are pretty heavy. At north of 2200g per ski, they are definitely not following the trend of lightweight boards aimed at hybrid touring/resort use.
They have a slightly longer radius than the MFree 99, at 18m in 182 but that's still on the short side in this width category. The rocker profile is a little more mellow than the 99, retaining plenty of camber underfoot and pretty significant rocker length but with a little less rocker splay and so a lower tip/tail height. Like the baby brother, there is significant taper too, especially in the nose. The mounting point is way back at -7.75cm, but I went for a conservative, for me -4.5cm.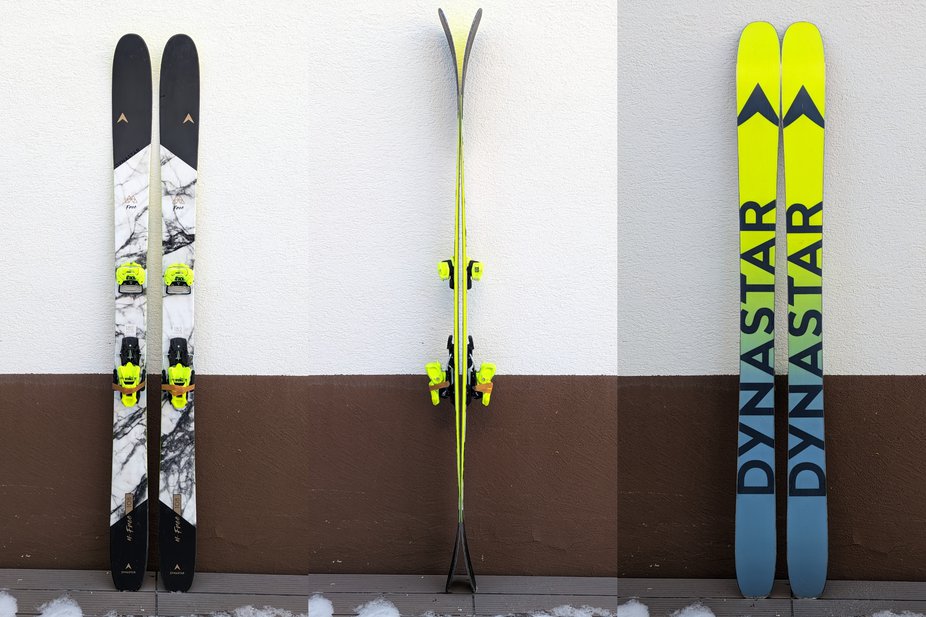 The 108 is also stiffer than the 99, with a solid platform in the middle two-thirds of the ski, but with some significant softening in the tip and tail. Approximating flex numbers is always a gamble but I'd go with 5/7.5/9/8/6.5 from tip to tail.
The MFree 108 also shares much of its construction with the 99s I enjoyed so much, with a hybrid poplar/polyurethane core, and a titanal binding plate for retention. The edges seem to be beefier than standard, I'd guess 2mm and the core profile is pretty bulky underfoot. There's a full sidewall there but it tapers down to a microcap in the rockered section.
_
On snow:
Groomers:
I was slightly worried about my choice of mounting point on these skis, given that I'd read warnings about fighting the sidecut by bumping the mount forward. By my own standards -4.5cm is quite a long way back, but it's more than 3cm in front of the line and occasionally, that does cause issues on skis with a tighter radius. I needn't have worried, these things are a lot of fun on groomers. I actually prefer them to the narrower MFree 99. I wouldn't go as far as to say they are exciting, they don't have much energy on hard snow, but they are a dependable groomer ski. The grip, especially given how easily this ski pivots, is impressive. I had no issues cranking them into turns either forward or switch. I was pleasantly surprised by how comfortable these skis felt switch, even at -4.5cm.
I think the dampness of a heavier ski really played a part in how much I enjoyed them on-piste, and I definitely preferred them to the much lighter Bent 110, for example. The MFree 108 gripped better and felt a lot less twitchy while being just as easy to release. That ease of release is a riot by the way, the 108 is a lot of fun to throw into a carve, and then break the edge hold and swerve. Here, the weight is the only downside as they aren't as easy to throw around as a lighter ski, but still plenty of fun.
One point of note is that, because the ski has a lot of rocker, the MFree felt less and less able on hard snow as the edges got duller. If you skied these on rails they would definitely suck on groomers, as all heavily rockered skis do. So if you want to edge, keep 'em sharp basically.
Park/Jibbing:
I only hit a couple of jumps and did some very basic stuff on the MFree 108. In a 182, which is on the shorter side for my freeride skis, they felt ok in the air, but nothing more. I normally mount skis at around -2.5cm so I could definitely feel that these were further back. Combine that with higher weight than many skis in this bracket and you have a ski that, while being very capable of throwing lower rotations and landing switch, is not a ski that would be my first choice were backcountry freestyle the highest priority. You could certainly ski them a bit in the park too, but again, there are far better mid-fat skis out there, so why would you?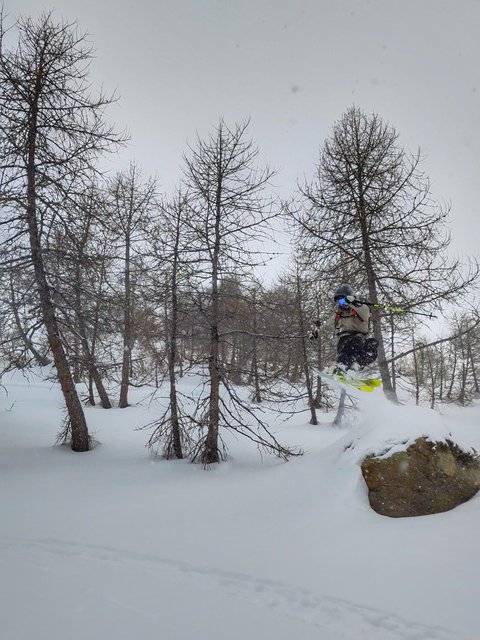 Not in the park but to my surprise the MFree 108 is super playful for small hits
_
What I was quite surprised by, and I touched on this in the groomer section, was the overall playful feel of the MFree 108. In my mind, Dynastar basically made skis for big mountain skiers, so I wasn't expecting a ski this fun to swerve around on and slash lips, butter etc. It's not the softest of skis, so it's not a matter of simply leaning gently into them and you're pressing, but their shape, both the rocker profile and taper, make them very fun for butters and presses when you put a little more energy into them. Again, the weight means there are quicker, snappier skis out there but for some mid to high speed swerve fun, I was a big fan.
Crud:
I found the damper, heavier feel of the MFree 108 (compared to my normal skis) very enjoyable in cut up snow soft snow. The tips aren't the stiffest, so it wasn't that feeling that these skis would crush bumps, ice boulders, and even medium-sized children (that you do get from some big mountain skis) but they bash through most conditions perfectly happily. The medium level rocker splay doesn't knife through really firm crud as well as some though, and the surfy shape isn't well suited to charging through the crappiest of conditions. To me though, these were a happy medium of playfulness and charging chops rather than an all-out crusher, but they only actually struggled in conditions I'd rather not have been skiing in the first place.`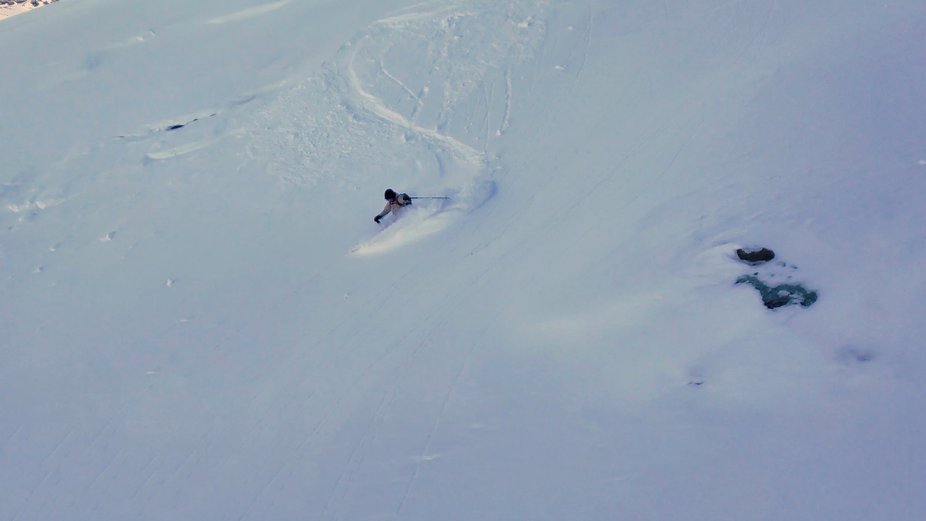 Pow/Freeride:
For the size, I'd say the float of the MFree 108 is pretty middle of the road. They aren't the widest in the tips and tails, and the more streamlined shape isn't as effortlessly floaty as some. The rocker has enough splay to pop you up but you do need to focus on not getting too front seat, especially with the mount point I picked. For the vast majority of days and skiers, the 108 is a perfectly capable pow ski, but if you ski somewhere it's really deep, regularly, then something wider might be a good shout.
The tail of the MFree 108 is solid enough for stomping pretty sizeable stuff easily, in fact, on the first few drops I hit, I was surprised by how little the tail gave, and it felt like it pushed me into the front seat. But once I got more used to the feel of a solid tail, these were a super stable platform for landing on. I was surprised, however, when fully opening the taps on some steep wide turns in slightly sun-baked snow that, I really would have liked the MFree to be a touch stiffer in the tips. I think that was partly due to my expectation of a chargy ski, but as I pushed my weight forward, I wanted just a little more resistance from the ski, and a little more power in the tip.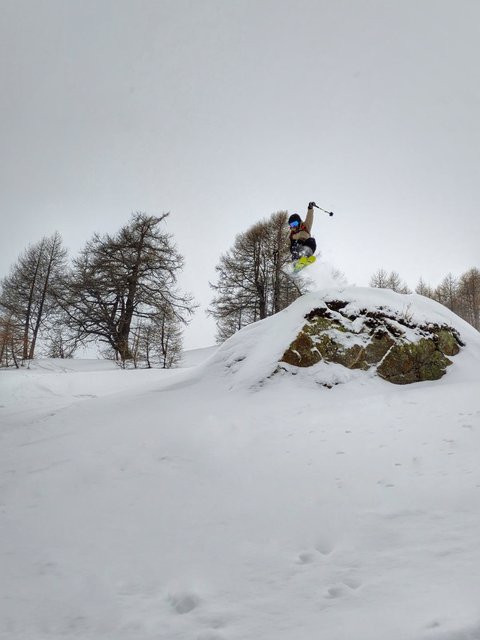 Pretty solid on flat landings... they also destroyed the little tree I'm about to shifty into
_
The reality is, these aren't an out-and-out freeride charger at all. The radius and shape don't naturally lend themselves to skiing really fast down the fall line. My preconceptions of Dynastar proved totally wrong, and the MFree 108s are more on the surfy, pivoty end of the spectrum. In soft snow, these go sideways beautifully, and to my surprise, they are one of the most capable yet playful skis I've tried. They turn on a dime in the trees and the tails just want to kick out and slarve more than anything. They are most at home popping pillows and bringing a smile to your face, not on the adrenaline junky limit. That's not to say they aren't a solid ski in bigger terrain, they still outperform the lighter, jibbier skis I usually ride, it's just that they are even better at the fun stuff.
Durability:
So far so good. I have mostly ridden these skis in soft snow, so I wouldn't expect to see any durability issues at this point and I haven't. The bases are holding up well, I've hit some rocks pretty hard and not seen any core shots and the edges took the impact well, but that's about all I can add here. I don't think many people would ski these on rails, so realistically, I think they'll hold up fine. Mounting felt super solid with the titanal plate, so I'm not worried about binding retention in the slightest.
_
Comparisons:
Atomic Bent 110:
The Bent 110 is much softer and much lighter than the MFree 108. The Bent 110 is a much better ski for bigger tricks and for touring as a result, but I much prefer the MFree mixed snow, skiing fast, and actually found it a much more capable powder performer in general. The main reason I would choose the Bent 110 over these is when weight is a significant concern or landing switch.
Armada ARV 106:
Strangely, given the respective reputations of the brands, the ARV 106 actually feels like the chargier ski of the two. It's probably stiffer overall, has less rocker, and has a longer sidecut. The only thing it lacks is metal, so it isn't as damp. These two make for an interesting comparison. The MFree is a better tree ski and probably slightly better on deeper days, but the ARV has more freestyle chops and is the ski I'd pick of the two for pointing it down steeper terrain. They're both very good skis in their own right, but for my lazy style of skiing, I preferred the MFree. The 106 is more work.
ON3P Jeffrey 108(110)
I haven't skied the new Jeffrey 110 and I've only skied the 108 for a few runs, but this comparison felt important because overall, I think these skis are very much in the same marketplace. The rocker profiles are fairly similar and they are both freestyle capable rather than freestyle specific. The main difference from my experience is that the MFree 108 feels better in tighter spaces, whereas the Jeffrey feels better when you point it, it's much less twitchy. The Jeffrey also has better sizing options. So if you'd be between the MFree 108 in 182 and 192, the Jeffrey in 186 could be a great option.
_
Conclusion:
In the body of a review, I always try to be as balanced as possible and leave most of the personal opinion for the conclusion. And not to put too fine a point on it, I really liked the MFree 108, just as I really liked the 99. Together, they made me totally reevaluate Dynastar as a brand, as they are some of the loosest, most surfy skis I've tried. Despite that, they retain a lot of performance when you want to push them, which for me, is a revelation. The disclaimer here is that I don't throw as many tricks, or land switch as often, as I used to, and so naturally, a damper, heavier ski makes more sense these days.
Regardless of that, I think the MFree 108 is one of the most versatile skis I've tried. That statement assumes the starting point that you don't want to huck big spins or hit lots of rails but you do still want to throw some tricks and ski playfully. It has enough power to handle most conditions, even if it isn't as chargey as some. But it remains super playful and it is one of the very best skis for tree skiing I've tried.
The biggest shortcoming of this ski is actually the sizing. The gap between 182 and 192 is huge, and I really think there needs to be an extra size in there somewhere. I would say probably 179, 185, 192 would make the most sense. I would have liked those few extra cm on steeper/deeper days and I am far from the biggest guy.
That aside, these are a banger of a ski, and they remain unchanged for '23-24 with very good reason. Not to sugarcoat it, they are a perfect 'aging freeskier' ski as they blend a lot of what we are used to, with some elements that significantly increase the directional performance over something like a Line Sir Francis Bacon or a Faction Prodigy. They lack energy in comparison to those skis, but they make up for it in solid performance. They'd also be a great ski for someone coming off more playful skis, who wants to go bigger, but doesn't want a full-on charger. They have definitely found a home in my quiver, if you're looking for something that toes the line between fun and dependable, I suspect they might be a great addition to yours too.