Ski: Dynastar MFree 99 2023
Reviewer height/weight: 5'9, 145lbs
Ski weights (per ski): 1991/1999g
Length skied: 179
Actual length (with straight tape): 177.8
Dimensions: 128-99-120
Mounted: -2.5 cm from true center
Bindings: Tyrolia Attack 17
Locations: Sunshine Village, Zermatt, Saas-Fee
Conditions skied: Powder, slush, deep slush, park, steep lines
Days Skied: 7
_
The Dynastar MFree 99 is marketed towards "fans of fast-paced descents, kick turns between pine trees and wild sessions beside the piste can now find their perfect ski." In other words, it should be a freeride ski with a smidge of fun, an accessible freeride ski, and a daily driver. And so, at the NS ski test, I was somewhat surprised to find the MFree 99 becoming one of my favorite skis of the test… in the park. And it wasn't just me, Mark, founder of 4West co and homie of NS, found the same. Such a revelation required closer examination. Dynastar agreed to send me a pair at the end of last season, then the planet melted for 6 months and there was no snow at all in Europe over the summer. Now, I've finally had enough days on the MFree to put this review together and yep, this ski was a bit of a revelation.
_
Shape/Flex/Construction:
The MFree 99 has a slightly deceptive topsheet which makes the skis look more directional than they are. But the rocker length is fairly symmetrical tip and tail. And while there is more splay in the tip, there is a lot of tail rocker splay too. We're in Vishnu/ON3P territory here, shape-wise. At 128-99-120 they are far from the fattest of skis but they have plenty of taper and slightly pinned tips borrowed from their powder-oriented bigger brothers.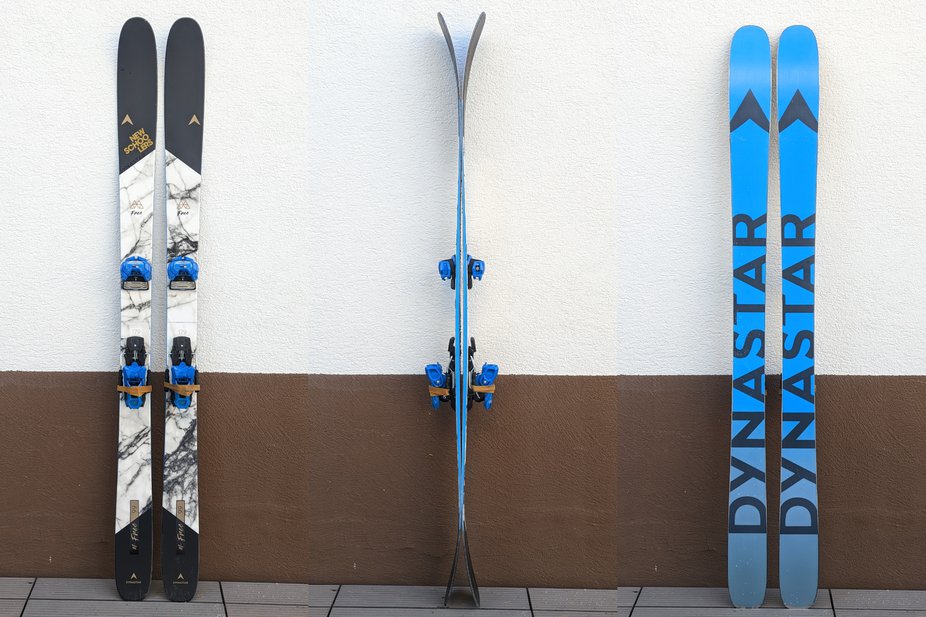 They feature sintered bases, plenty of fiberglass and interestingly, a poplar/polyurethane core. It's not so common to see PU in cores these days but the MFree series all use it to balance the poppiness of poplar and keep the weight down. When drilling (4.1x9 recommended), it felt like there was some kind of mounting plate in the ski too, but that isn't listed by Dynastar. Edges are pretty standard (around the 2mm mark).
The resulting ski feels stiff to hand flex, probably in the ballpark of the K2 Poacher. They soften slightly towards the tip and tail but feel relatively stiff throughout with no obvious hinge points. The flex also feels relatively symmetrical. The recommended mounting point was way back, but I ignored it and went -2.5cm from true because that's where I tend to like these kind of skis. I think you'd be mad to go as far back as recommended on a ski with so much tail rocker.
_
On snow:
Groomers:
With a relatively short contact length, groomers were never going to be the strongest suit of the MFree, and realistically, in the
~100mm range, there are better groomer skis out there. They grip well enough but on hard snow there just isn't that much contact length until you are cranking on edge. They definitely prefer to pivot than carve. Once you've hit a few rails, you do start to run into the issue familiar to ON3P/Vishnu users… no effective edge that isn't totally rounded. If you stay away from metal, they do turn pretty smoothly and predictably, and they are perfectly good for some groomer laps but if groomer performance is a priority, there are simply better skis in this category. It's mostly a lack of energy in the turn that makes them fine but somewhat dull on hardpack.
Pow:
But on the flipside, for a 99mm ski, the MFree is as good as it gets in the soft stuff. They have plenty of rocker and a particularly streamlined shape, which helps with both keeping the tips up and when throwing them sideways. At the NS test, we had much wider skis and more powder-oriented ones on hand but the MFrees were among the top of performers in the ~40cm of fresh we had. Of course, there are float limits to a 99mm waist. Once the going gets really deep, they don't sit on top of the snow as well as a wider ski and all the clever shaping in the world won't fix that, but for what they are, they are a stellar pow ski.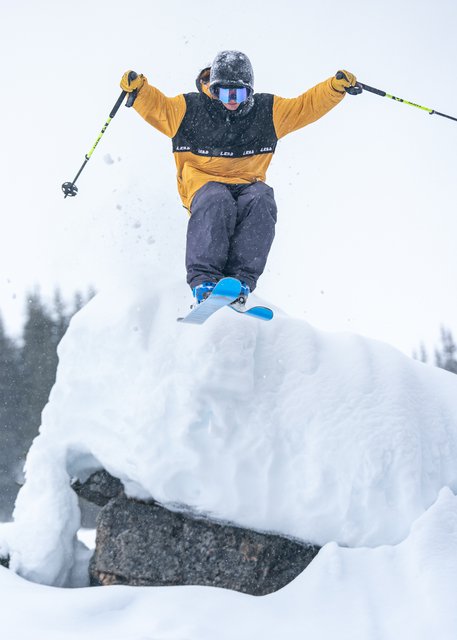 P: Chris Foote
Steeps:
The MFree 99 is equally at home in steep terrain. With all that rocker, it pivots on a dime, and as a fair stiff ski, it also has next to no issues with washing out. They are a ski you can trust in almost all conditions and on almost all terrain. They seem relatively damp too, so there isn't much chattering going on. The one potential downside here is the relatively short effective edge. If you find yourself in steep terrain, and it's icy, you simply don't have as much snow contact. In my opinion, if you find yourself faced with those kind of conditions, you should have stayed in bed, but it seemed worth pointing out regardless.
Crud:
For me, crud was a bit of a mixed bag. When it's soft but choppy, these skis plow through thanks to a narrow waist, stiff flex, and relatively damp profile. But in hard chop and post-avvy grimness, they deflect a lot because of the large tip splay. Again, that is a facet of the shaping but if railing through crappy snow is a high priority for you (to me it shoulda stayed in bed territory again) then something with a lower angle tip will serve you better and deflect less.
Park/Jibbing:
This was a big surprise for me and other testers, but the MFree (mounted around -2cm) is a riot in the park. As a rule, I think a mid-stiff flex and plenty of rocker is a winning park combination, with the ON3P Jeffreys and K2 Poacher great examples of this. You can kinda lean into the rocker and then really use it to lever yourself into butters, up onto features, and use the rebound to ollie over high features too. The MFree is as good as any of the more traditional park options for this.
These skis also do decently on jumps because of the solid underfoot platform. The MFree tick that box with aplomb. The swingweight is pretty good but it's not negligible, and most dedicated park skis do feel a bit lighter in the air. They aren't a jump ski but they certainly hold their on. On rails, with that rocker keeping the tips and tails out of the way, they are super smooth for surface swaps. But they are on the stiff side for pushing into legitimate presses, etc. Overall though, I'd say they are more of a playful, surfy style park option than a ski that's for throwing the biggest tricks but for me, they are actually a great choice as a 50/50 park/all-mountain ski (as long as you don't mind the rockered ski x rails edge hold issue).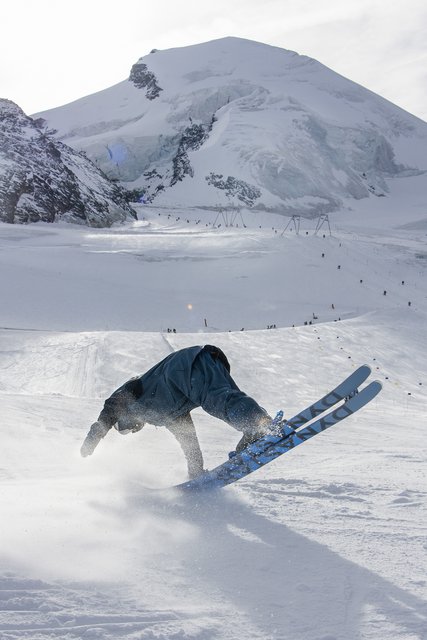 P: Hanne Lundin Wallengren
Durability:
In short, I don't really know the answer to how durable these are. I didn't put them through hell because rails were few and far between in the time I skied them. The edges are fairly standard width-wise. I don't have calipers but I would guesstimate they are a standard mid-fat edge (around 2-2.2mm). The ski isn't built for park skiing, and my generalized experienced is that, behind the marketing BS, skis designed with park tend to hold up on rails better on average. That said, the MFree 99 has a vertical sidewall underfoot, which tends to be a good sign in my books that they'll take more impact than some, and I have had no issues at all with the MFree99 so far. The finish on the skis was great and they feel like they will certainly last.
_
Comparisons:
ON3P Jeffrey 98/102:
The MFree line very much recalls the ON3P Jeffrey line in my mind. The skis feel pretty similar and have similar shape profiles. I haven't actually skied the new Jeffrey 102, so this isn't a direct comparison but the MFree is likely a touch softer and more forgiving (based on my experience of the old Jeffrey 98). The 98 was stiffer but a bit more energetic thanks to the bamboo core. I suspect the same is true of the 102. The 102 has a wider footprint overall, so will likely float better. But compared to the 98, I marginally prefer the MFree 99 on hard snow and definitely prefer them for throwing sideways on deeper days. I like both skis very much though. If you want but can't easily access the Jeffrey line (Europeans for example), or you want to keep your costs down, the MFree is definitely a ski you should be looking at.
Atomic Bent 100:
The Bent 100 is another ski that does well in the park, while happily crushing a variety of conditions. But it has a very different profile and way of going about it. With almost no tail rocker at all, the Bent is much less surfy, and it does better in crud and on groomers too. But the MFree is much better in soft snow and to me, it's just more fun.
K2 Reckoner 102:
At the opposite end of the flex scale, the Reckoner 102 is much softer than the MFree but is also surfy in the park and does great in pow too. The big difference is the Reckoner is much less stable overall, less at home in steep or consequential terrain etc. They largely work well in the same applications though, it just depends if you like a stiffer or softer ski. They are probably my two personal favorite skis in this space, despite how different they are.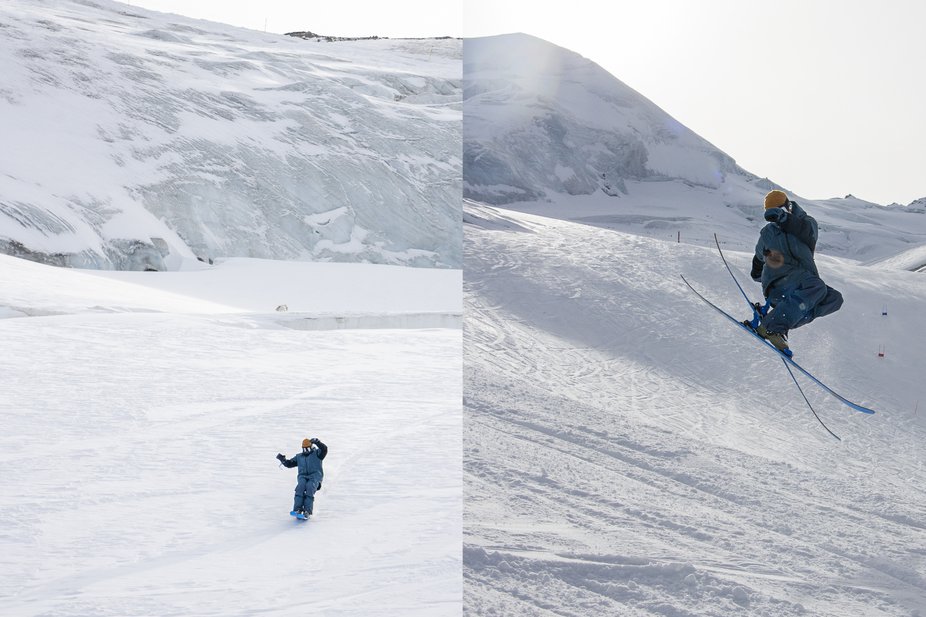 _
Conclusion:
One of the most fun things about reviewing skis is when a ski totally surprises you. I had the Dynastar MFree 99 pigeonholed as a directional charger, useful in mixed snow and versatile but lacking any kind of fun factor. In fact, these skis are a blast for pretty much everything and they offer plenty of fun too. I'd go as far as saying these were in my top three skis of the year and I think that most people could find them useful as part of a quiver. If you have no idea what the day is going to hold for you, these are one of, if not the best options out there. They can work as a stiffer, heavily rockered park ski, a narrower touring ski. and pretty much everything in between. The only thing that lets them down a bit is the somewhat lackluster groomer performance. I guess they aren't the most charismatic of skis either. Of course, no ski is for everyone but in my opinion, Dynastar hit it out of the park with these. They might be as close to a jack-of-all-trades all-mountain jib ski as I've tried.