Ski: 4FRNT Devastator
Length skied: 186cm
Shape:137-108-131 mm (21 meters radius)
Measured weight (each ski): 1987 & 2004 grams
Mount: -2cm from center
Binding: Tyrolia AAAttack 13
Days skied: 16
Reviewer height/weight: 6'2, 205lbs
Review Location(s): Alta Ski Area, Grand Targhee, Brighton, Woodward PC
Conditions skied: Slush, chunder, trees & 10"+ pow days.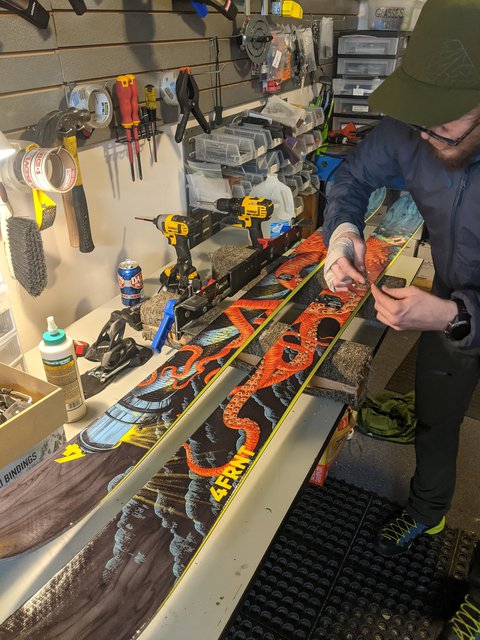 RIP Louis ❤
The Devastator has been a staple of the 4Frnt lineup for a number of years now but the 2021 ski, carried over to 2022 sees major changes from the tried and tested DNA. The previous iteration of the Devastator was a favorite of mine from when I did a review on those, so I was both excited and nervous to try the new ski. Would they still be the ski to make the mountain my playground or did I have to look elsewhere for a fun, do-it-all ski for Utah?
_
Shape/Flex/Construction:
Since I last rode the Devastator in 2018, they've changed up the shape of the ski enough to make a noticeable difference. With the addition of a slight taper in both the tip & tail, this year's Devastator's should give you more freedom to slash & surf your way around the resort. Adding to that, 4FRNT extended the flat underfoot section of their flat/reverse camber ski a little longer compared to the previous model, which had a tendency to feel squirrely when on hardpack. The new rocker profile (Reflect Tech) still felt buttery smooth initiating turns and releasing from them to slash when scrubbing speed or making quick cuts in the trees, but did feel less twitchy... more on that later. One last thing to note: the edges are 3/4 wrapped and I busted out my favorite detuning machine (Dremel) and did a light detune on the tips & tails and 1 pass underfoot before I rode these because I like my skis a little loose.
A quick point on the flex: the new Devastators feel quite similar to the 2018 versions which is a good thing. I'd rate the flex as follows: 7 tip/10 underfoot/8 tails which is getting close to my daily drivers, the ON3P Kartel 108 which are a very stiff yet surfy ski. They're stable enough for cruising at high speeds but you can still put some weight into them & get the skis to flex/bend how you want.
The skis feature the now near-ubiquitous semi-cap/capwall construction, but the sidewall on these is pretty extensive, running most of the length of the ski. An aspen-maple core, sintered bases, and 'Neotip' technology (neoprene in the tip for dampening and tip slap absorption) round out the spec sheet.
_
On Snow:
Now to the fun part, on-snow testing. I got these mounted up for the second half of the 20/21 season, which for me meant some powder days at Alta, spring slush at Brighton, and one day at Woodward Park City. Did I make the mountain my playground with these? You're goddamn right I did. I took my own advice from my 2018 review of the Devastators and mounted these at -2cm from true center which I found to be a more fun, less "on rails" experience than going at recommended which is ~4.7cm back from true (still a relatively progressive mounting point).
The rocker profile and new construction handled most of what I threw at it exceptionally well. In the steep & deep at Alta, pivoting was easy enough to quickly change direction or scrub speed in Eagle's Nest but they felt stable enough in the open expanses of Ballroom that I was confident in the ski to not tip dive unexpectedly. My ski style is a more loose, surfy style than a rigid, charging approach. In powder, the Devastator really tailors to that style as I found it incredibly nimble and easy to flick side to side, which was quite similar to the Lib Tech UFO 105s I rode last winter. The deepest day I skied was about 16 inches at Grand Targhee in mid-February and I had a blast, although there were a few moments when I would've preferred a wider ski from the 4FRNT range like the InThayne.
PITTED in 240p.
Being lighter than years prior, I had reservations on how the Devastator would ski in chunder and soft crud. Wide turns at high speed felt surprisingly stable, which is where the Reflect Tech really was meant to shine. Similar to the UFO 105s, the Devastators never felt too chattery or that they were getting hooked up on any turns, which was a welcome surprise. The only time they were unstable was trying to stop on a dime in chunky, chundery snow. Due to their light weight, the skis got knocked around quite a bit which means you have to be more thoughtful when slamming on the brakes. Speaking in the same vein in regards to dampness, they did feel similarly as damp as their predecessor which gave them a bit more stability in variable conditions, a la ON3Ps skis that I've ridden in the past, all of which are extremely damp making for less chatter. All that said, they still skied the best in a couple of inches of fresh snow, soft chop, or anything where the snow had some give to it.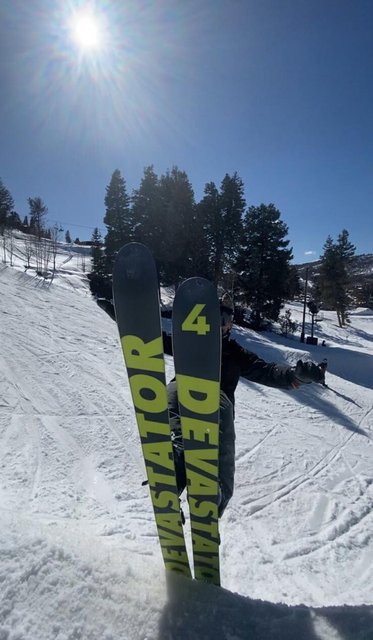 Rock to Switch at Woodward PC
I had one day in the park at Woodward Park City with the Devastators so I can't elaborate too much on their performance but what I can say is that, while they aren't really meant to be ridden as a dedicated park ski I had a great time in the flow section of the park. Railing the berms and jibbing the QPs that are plenty abundant at Woodward were an absolute blast on a wider platform ski which also translates to more stability on landings. The swingweight this time around is much lighter, due to the new construction, which made quick changes of direction in and out the park a dream and reminded me of the Lib Tech UFO 105s. Because of the lighter swingweight, I felt the Devastators were more lively and with the new layup they still retained solid amounts of pop for boosting off natural jibs and cat-tracks which was a great combo for riding at the jib havens that are Alta & Brighton.
Durability:
When I get skis to review for Newschoolers, I really try to not hold back from giving them the beat down. If a ski can handle my fat ass riding over rocks, into the parking lot, bouncing off trees and other bullshit, they'll probably hold up for you. With that, I was glad to see that they held up to my unofficial torture test of sorts. With no major base damage, 0 edge cracks, or delamination imminent, I'm glad to see 4FRNT's lighter weight construction didn't mean a compromise in quality.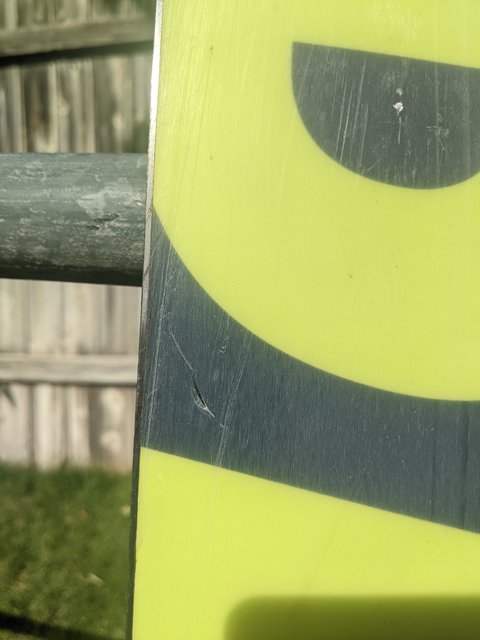 The worst of the base damage, not to the core.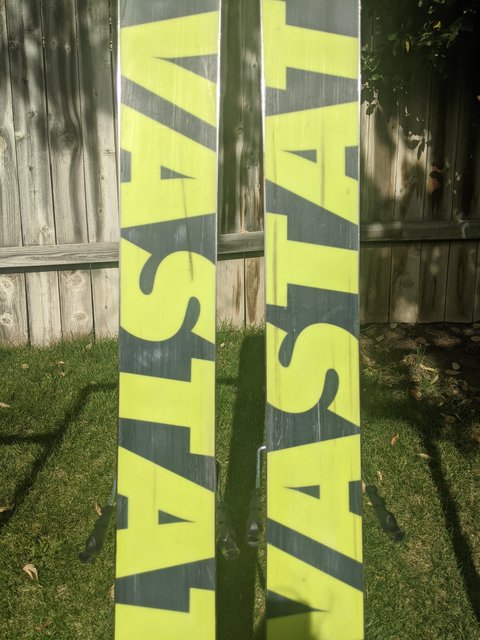 Base damage, of which were just minor scratches.
-
Conclusion:
Would I call the Devastator a one ski quiver? Not necessarily, but is any ski a true one ski quiver? Did it handle everything I threw at it with relative ease? Sure, but I certainly had moments where I would have preferred a different ski better suited for the job (deep snow particularly) because I'm a big guy.
Who would I say these skis are best for? The park kid turned all-mountain rat that wants to throw down tricks on a lighter ski but also rail turns with his FWQ friends who love their nerdy dad skis. Skiers who have a surfy/loose style that want stability when they do have to point skis downhill and make turns in variable conditions.
-
To see our reviews before anyone else, download the Newschoolers App: iPhone - Android
Find out what I'm doing when I'm not on Newschoolers: @notnewschoolers