Ski: Lib Tech UFO 105
Length skied: 185cm
Actual Length (Tip-tail w/ straight tape): ~185.4cm
Shape: 137-105-128
Sidecut: 18m
Weight: ~ 1825g/ski (4.02lbs/ski)
Mount: Core center
Binding: Tyrolia Attack² 13
Days skied: 22
Reviewer height/weight: 6'2 (188cm), 200lbs
Review Location(s): Alta & Brighton, UT
Conditions skied: Hardpack/groomers, powder, chunder, park (1 day only)
[Editor's note: Our review was conducted on the 2020 Lib Tech UFO 105, which is unchanged for 2021, 2022 & 2023 except for graphics]
_
Cover Photo: Joey Manship
Introduction:
I first heard of Lib Tech as a result of Travis Rice's antics in Art of Flight, which prompted many of my single plank, park savvy friends to purchase the Lib Tech Skate Banana, which had this funky waved edge I didn't quite understand the purpose of. Fast forward 8 years and I'm riding Lib Tech's skis that have the same, wavy edge and commitment to an eco-friendly approach to construction.
"- The most exotic, high performance, environmentally friendly materials.
- The safest, most efficient, environmentally friendly process. Including maximized material yields, recycling, and repurposing.
- The factory produces Zero Hazardous waste.
We do it all ourselves because we love it and nobody does it better. The world's best boards… dream boards."
These are the second of three skis in the UFO lineup that Lucas Wachs rips on. It was exciting to get on a pair of skis that are both(seemingly) environmentally sound & are fun to ride in their intended environment. Unfortunately, they didn't make me ski like Lucas but I can live with that minor shortcoming.
-
Shape/Flex/Construction:
To reiterate Twig's thoughts on the shape of the UFO 95, the UFO 105 comes complete with the classic Lib Tech appearance: elongated, pinned noses and less rockered, square tails and a directional appearance although these are most certainly "freestyle" skis. I hit up Lucas Wachs in regards to where I should mount these and went with his recommendation of Core Center.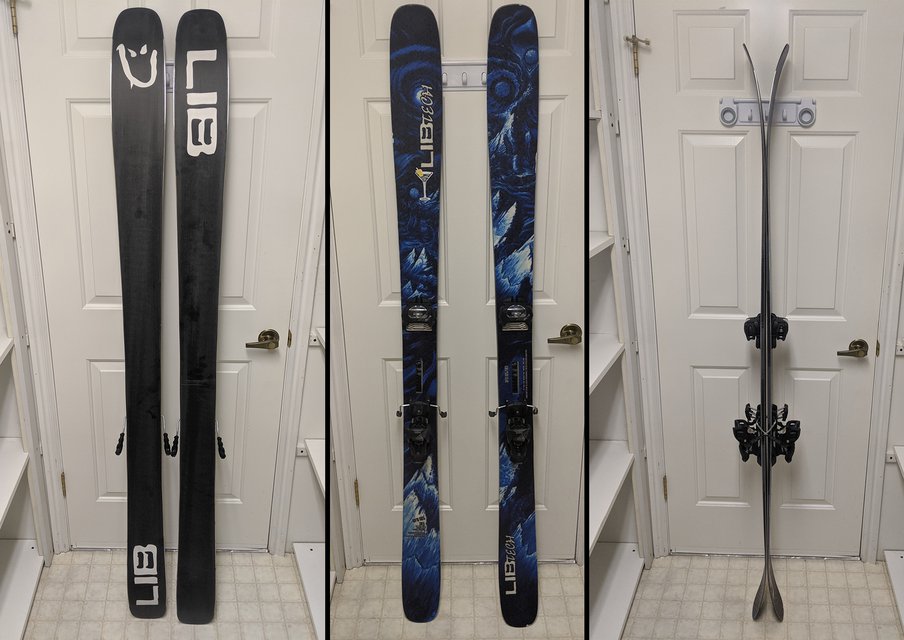 The flex pattern is similar in design to the 95s, with a softer, shovel-esque nose (5.5/10), stiffer mid-section (7.5/10), and a tail that is a bit in-between those (7/10). Riding at Alta, I didn't have any issues washing out on these as I have had with previous review skis, where the tail just seemed to give up when I had to lean on them to keep me up-right.
Like all Lib Tech skis, these also feature their Magnetraction "serrated steak knife" technology which is so subtle, at least to me initially I didn't even notice it was there. The edges are ¾ wrapped like several other brands and that's which I'm particularly fond of. The skis also feature full sidewalls and 'Bio Beans' top sheets, made from a bean-based plastic, not a petroleum-based one to staying true to their efforts to stay enviro-friendly.
-
On Snow:
Initially, I kept the skis as is and left the edges sharp as they were out of the box since it was going to be a couple of weeks before I could get them in the park. Before dishing out my first impressions I have to clarify something I've noted in many of my reviews before; I typically ride skis (ON3P Kartel 108, 98s) that are much burlier skis in the weight and flex category, not that that is a bad thing by any means. That said, the UFO 105s are quite the opposite of that. Coming in at just over 1lb lighter/ski than what I usually ride, the first thing I noticed was the maneuverability of the skis both in the trees and navigating the sometimes tricky in-runs at Alta. Being able to change direction with such ease was refreshing, for lack of a better term.
Typically, a lighter ski tends to deflect more while racing through chunder and uneven terrain but the UFOs handled most of what I threw at them with relative ease when straight-lining a landing. On the flipside, like Twig, I too had quite a few hook-ups when initiating turns in deeper snow (18 inches or more) which took me for a few interesting tumbles into the surrounding trees.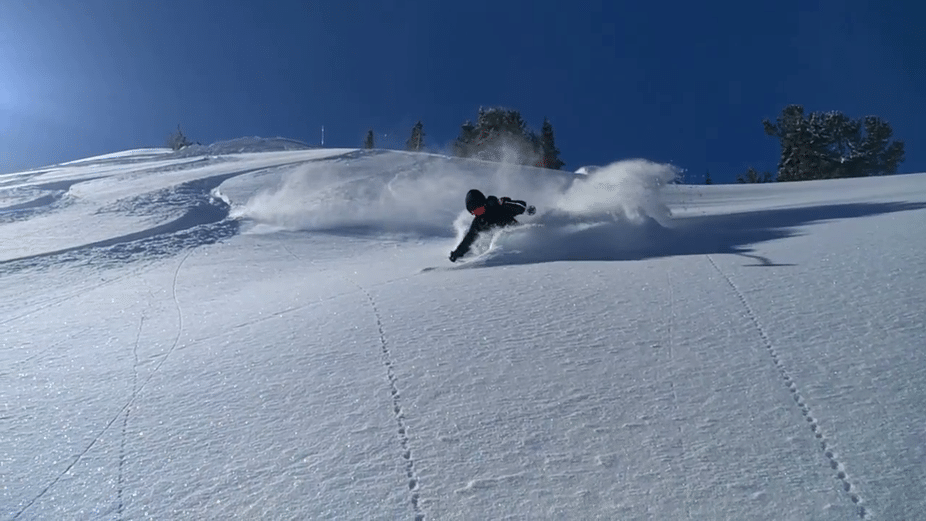 Having a "serrated" edge for a ski was rather interesting. I didn't encounter too much ice before (or after for that matter) I detuned them for my one day in the park & some more icy night skiing at Brighton, so my experience was a bit different from Twig's in that regard. I did ski them several days at Alta after detuning them and I thought the Magnetraction functioned as intended. I had very few slip-and-slide moments on the groomers or while traversing the High T, which can get quite hairy on days when there's fresh snow to be had out in the trees of Eagle's Nest or elsewhere and the traffic is consistent.
-
Park/Playfulness:
I only spent one night on these lapping the park and surrounding trees/groomers at Brighton so it's tough to speak too much on the performance in that regard. I would say these are the type of ski you should get if you want to be able to dip in the park for a few laps and just as easily dip out to ski anywhere but there for the rest of the day. I felt no weird snags on rails and hitting the jumps Brighton had open that night, all about 25ft or smaller, the tail seemed stable enough where any type of backseat landing wouldn't end in you washing out every time and the softer nose made noseblocks pretty enjoyable. The shove-esque nose made it a bit easier to initiate and stall butters but I felt like the skis sort of 'gave out' in the nose if you flexed them too hard which resulted in a few embarrassing faceplants. Keep in mind I weigh 200lbs so your experience may vary there.
To briefly touch on the swingweight at my Core Center mounting point, I'd didn't notice a huge difference due to 2 factors: first and foremost I usually ride 2-4cm back on my skis so the core center position wasn't a major change of pace for me. Second, the low weight of the ski would counteract any odd feelings if I had any reservations initially, a la Twig.
-
Durability:
Mervin, the producers of the UFOs, use 'green' materials in their skis and after spending over 20 days on them, I had no type of delaming/peeling of the top sheet nor did I have any edge cracks although I expected not to after only spending 1 day of rail riding on them. I had a few chips on the topsheet, but nothing so severe that it went through the triaxial fiberglass weave that could have compromised the ski in the long term.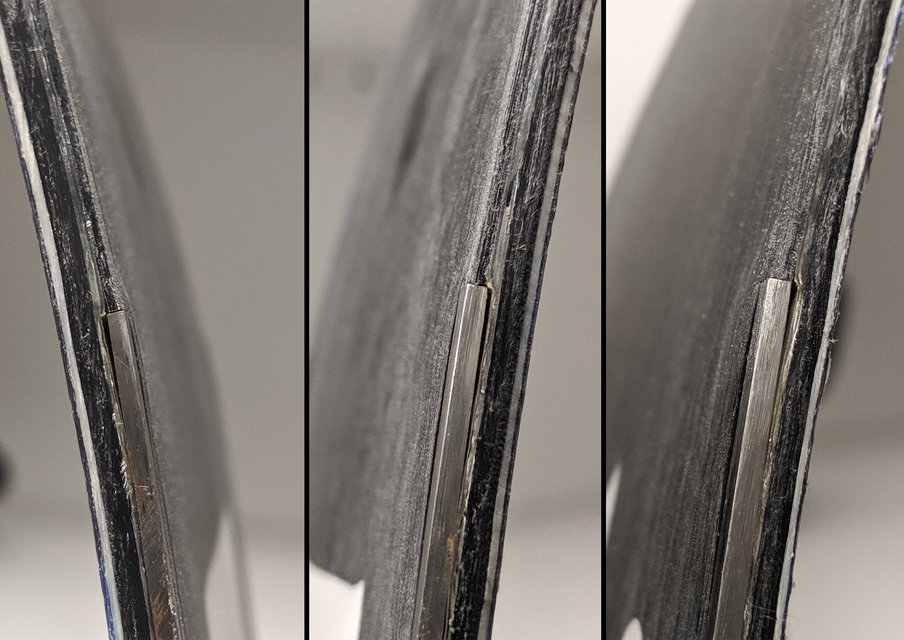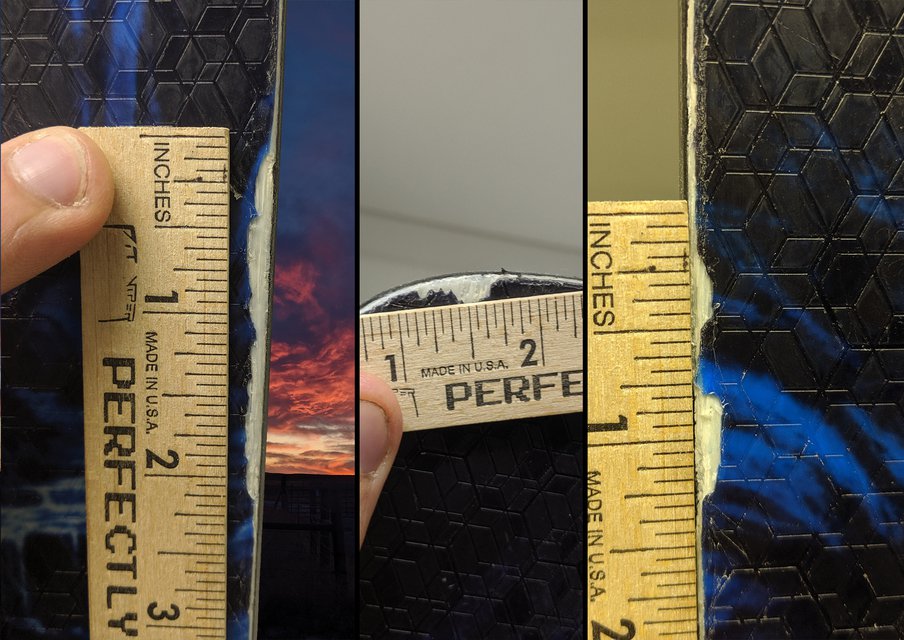 L > R: Predominantly left ski inside edge (near the nose), Tail, predominantly right inside edge (near the tail)
I did have 3 of the 4 edges seemingly pull away from the base, as noted above, but so far they still seem sealed and haven't been getting much worse. More riding this winter will be the true test to see if they stay this way or become worse with more skiing. With the sintered base, I had several deep scratches while sliding rails and jibbing some trees but nothing that wouldn't buff out with a tune.
-
Conclusion:
I had mixed feelings and several reservations about these skis before I started riding them, but the UFO 105 was a nice change of pace for me after I got through the initial 'feeling them out' period . They ultimately proved me wrong for worrying that they'd be too soft and light, and by the time the season ended and I can honestly say I'm really looking forward to getting back out on these this winter again. The issue of the edges separating is a concern but I plan to keep skiing these for the foreseeable future, so we'll see how they go.
These skis sit in that weird middle ground of not really a park ski but not quite a powder only ski. These really are a true all-mountain option. They carve well, they float and they are fun for jibbing. So the UFO is situated in a really good spot for those who like to get a lap or two in the park every so often but spend 90% of their time elsewhere, still skiing playfully but predominantly forwards. All of us who spent time on the various Lib Tech UFOs this year really enjoyed them, expect to see them highly rated in our upcoming editors' picks.
-
To see our reviews before anyone else, download the Newschoolers App: iPhone - Android
Find out what I'm doing when I'm not on Newschoolers: @notnewschoolers