The Powell Movement podcast recently released this excellent interview with "Digi" Dave Amirault, and I highly recommend giving it a listen. Dave is certainly one of the smartest and most forward thinking people in the ski industry, and is always worth paying attention to. But what that podcast really reminded me was that even though we've never met, Dave was one of the very first people to take my role in the ski industry more seriously than I deserved.
The 2014-15 winter was only my third season on skis. I'd taken a few photos that did well on Newschoolers, and my friends and I had cooked up a plan to try to ski as many resorts in the newly formed Powder Alliance as we could in a weeklong trip over Christmas Break. I pitched Doug Bishop, and for some reason, he put the whole weight of this website behind a couple college kids and pitched the Powder Alliance for us. I went from being a kid who liked shooting and writing about skiing, but wasn't getting paid, and didn't feel like he was part of the industry to being the same kid, with a little money promised, and lodging and lift tickets lined up at four resorts. It was a big deal. It still feels like a big deal eight years later.
That trip was great, showing up to comped hotel rooms blew our minds, emailing with actual resort marketing directors was terrifying. But, when it came to the last stop on our trip, Dave blew our expectations out of the water. He was running marketing at Sierra at Tahoe back then, and it was the last stop on our trip. We showed up in Truckee, exhausted, ready to be done, when we realized that all the Tahoe resorts are not close together, and we'd have another hour and a half to drive to get to this last resort. There was barely any snow on the ground, our boots stunk, and we were over it.
And then we got an email from Thea at Sierra at Tahoe. Dave was out of town, but he'd set up a private park build for us, roped off to the public, they couldn't wait for us to come. That news revitalized our spirits. It was a little intimidating, none of us were really park skiers at heart, none of us loved rails, but here we were, with a few features set up with big resort branded letters stacked in the gap, just for us.
As a young photographer who'd never been published, and wasn't sure there was any kind of future for me in skiing, that icy, technical private park was a really, really big deal. Dave and Thea were taking us seriously, setting us up for success, giving us a chance to be our best. So we rallied, and made the most of Sierra at Tahoe.
That trip was a turning point for me, it gave me the confidence to abandon the mundane future I'd imagined for myself, and instead chase skiing, chase shooting, chase writing. That week, and especially that day Dave set up for us at Sierra at Tahoe was a turning point for me. Without that there'd be no ski art, no photography, no traveling to write about skiing, no moving to a ski town and meeting a skier girl and adopting a crappy ski dog. Dave took me seriously, and gave me a shot.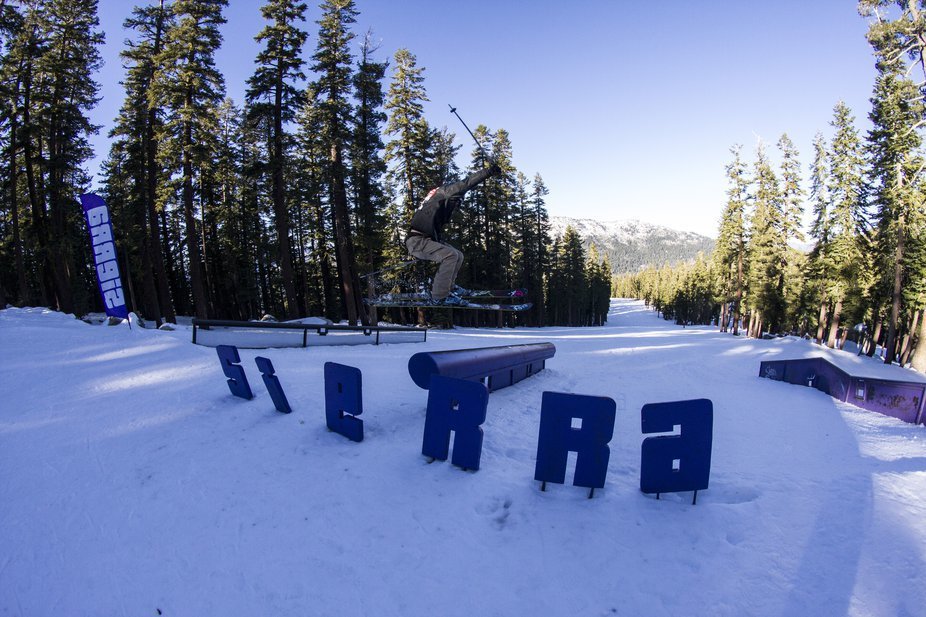 I'm pretty sure Caleb was the only person on that trip who could really slide rails well, so in retrospect, this feature put a lot of pressure on him, but he stepped up and killed it.
I don't know what it cost him to have that park built. I don't know what it cost those resorts to put us up and comp our tickets. Probably not much, that's the point of marketing budgets after all. But the payoff on my end was incredible. It showed me that it was possible to not be a life-long skier, to be a newcomer in skiing, and still make it.
Since then my definition of making it has changed. Somehow I'm still writing for newschoolers and working for friends I made on this website. And I love it. But I want more people to be given the sort of opportunities I was. I want more people to experience the worldview-shifting magic that happens when someone in a position of power takes you seriously, works with you to make your ideas a reality.
Skiing is bad at that. We're bad at letting new people in, we constantly fail at helping folks capitalize on their contributions to this industry. But we can be better. We can afford to take those risks, hire those less experienced people, give them the tools to succeed, make the small gambles that have the potential to help them change their lives. That's sort of the point of "making it." So take that risk, give that new face a chance, give 'em a shot. What do you really have to lose?