The third stop of the Freeride World Tour took place in Vallnord-Arcalís Andorra in a perfect bluebird powder conditions. While it's been a bit of a rocky start for the FWT this year between the canceled Hakuba stop, injured athletes and unfortunate avalanche fatality, the level of competition from the skiing reached new levels at this stop. Everyone threw down.

Women's Ski
The women skiers focused on linking together as many features as possible on the insane-looking venue, which offered many options compared Truth or Dare in Kicking Horse. Eva Walkner charged the compulsory chute, which gets its name due to the mandatory air at the bottom of the run and earned herself a 78.00. Arianna Tricomi linked together plenty of features in the venue - but the best part of her run was the three off the windlip. The judges awarded her a 90.67 and another first-place finish.They clearly want to see more tricks from the women.
https://www.newschoolers.com/videos/watch/896781/GoPro-winning-run-Arianna-Tricomi---FWT18-Vallnord-Arcal--s-Andorra---Freeride-World-Tour-2018

Hazel Birnbaum stomped an epic line that included zones neither the women skiers or snowboarders touched, but only received a 73.33 due to a bit of hesitation. Kylie Sivell's blackslap and Rachel Croft's hesitation hurt both of their scores, putting them out of contention for a podium finish.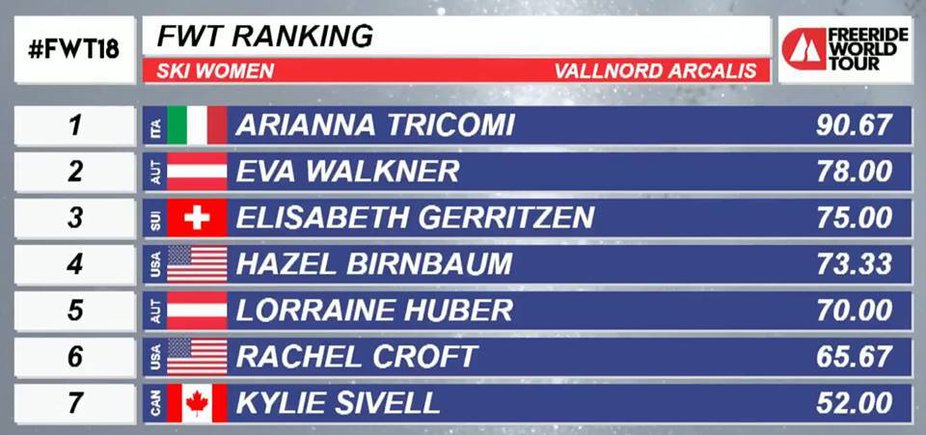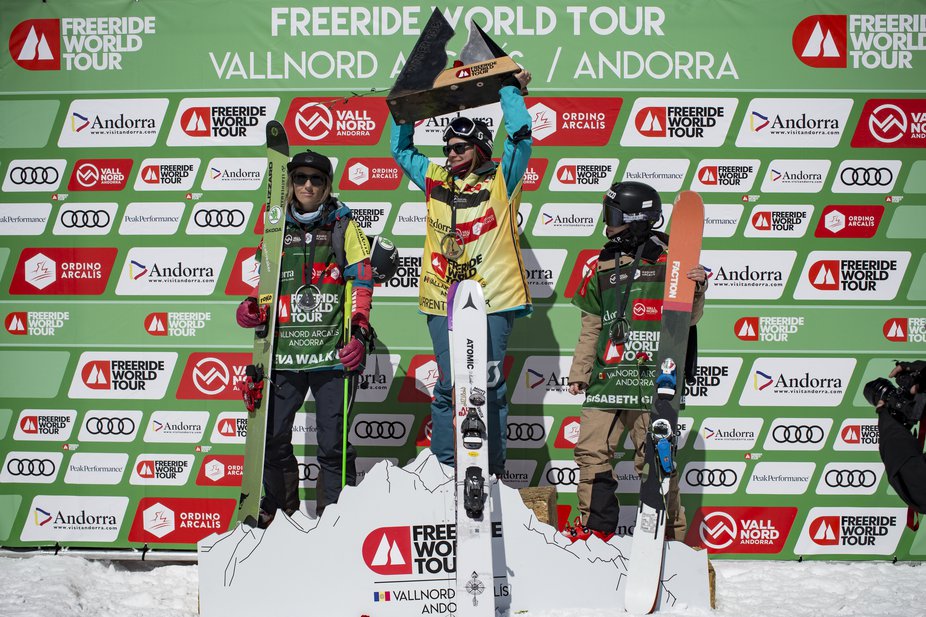 Men's Ski
The men's ski category was unreal. Many of the skiers are dealing with knee injuries, but everyone skied such impressive lines it was impossible to notice. The compulsory chute was the most popular choice of line for the skiers, but because of the traffic going through the landing became completely skied out with a giant bombhole.

https://www.newschoolers.com/videos/watch/896779/Highlight-Ski-Men---FWT18-Vallnord-Arcal--s-Andorra---Freeride-World-Tour-2018

Local Aymar Navarro had a lot of pressure on his shoulders - but he put on a SHOW and stomped an amazing no-hesitation line. However, he was rewarded only a 72.67 from the judges; the crowd at the finish gate was disappointed in the score. Kristofer Turdell's upper section of the run was similar to Aymar's, but with a more speed, air-time as well as a huge backflip which shot him into first place with a score of 88. Craig Murray - WAY TO GO MATE. After a couple of falls in the first two FWT competitions he completely stomped his run at Andorra by not only linking together features but throwing down a different trick on every single feature. Judges awarded him with an 85 and second place. Loïc Collomb-Patton's entry was not only unique, but insanely technical and absolutely stomped. He threw down a backflip off the same feature as Kristofer and Craig and ended it with a gnarley drop to a flat landing. With a 83.33 he was bopped into third.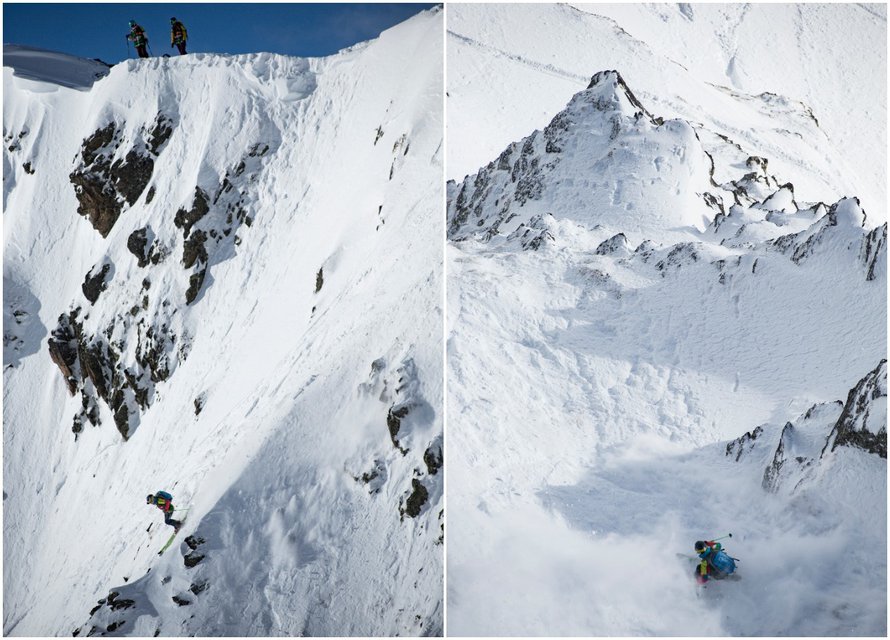 The runs that didn't quite go according to plan were still epic. George Rodney 'fell' after a double drop through the compulsory chute, but it was a purposeful frontflip if you ask me. Logan Pehota, Fabio Studer and Drew Tabke all took heavy (and heartbreaking) falls in which they lost their skis, resulted in NS for all three. Reine Barkered started so solid but he must have clipped a rock at the top of a huge cliff and landed almost sideways. He skied away alright.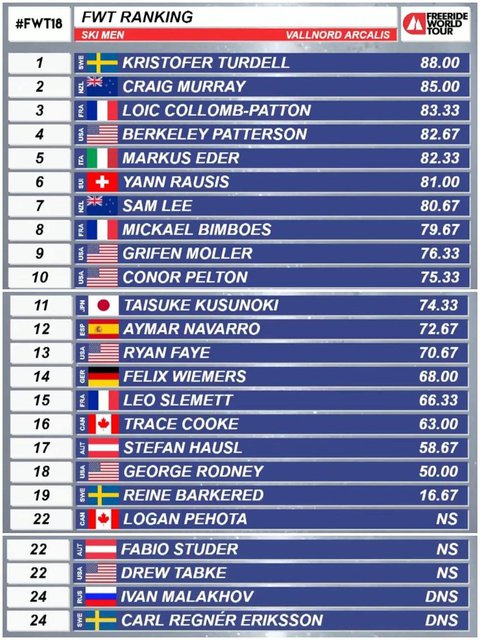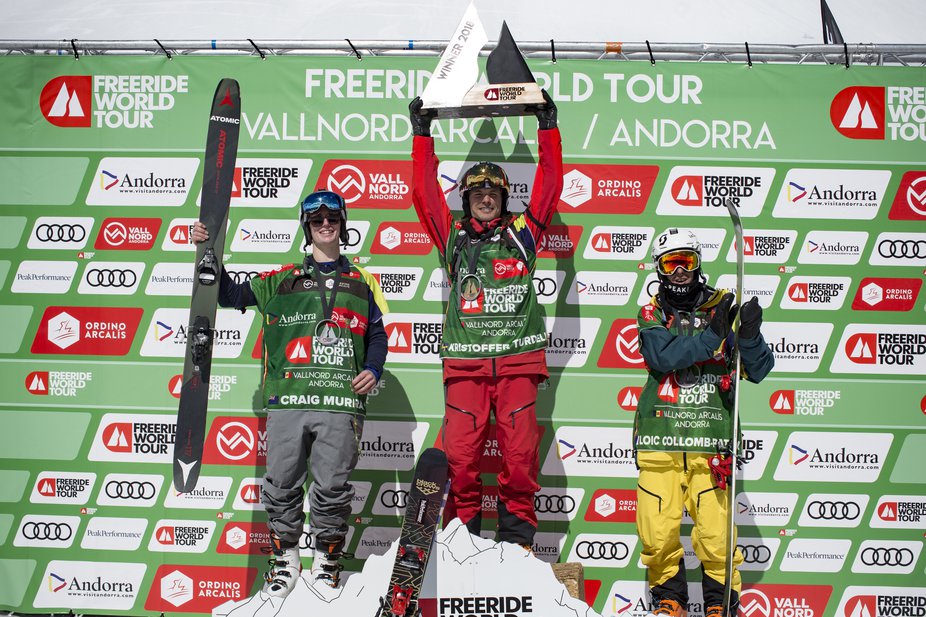 The competition has never been higher and every skier threw down an amazing run. The complete replay can be watched here. The next competition window starts in just three days, from March 9th to 15th in Fieberbrunn Austria.