All Photos by Alric Ljunghager
1000 Skis launched with a bang with a stacked team, who all turned out to be owners. Today sees the addition of their first proper team rider, Anni Karava. The Finnish prodigy has a unique style that compliments the rest of the team and will also be taking 1000 Skis on the competition circuit this winter; we may even see the Swedish red devils at the Olympics this year.
When I first spoke to Magnus, Peyben and Hackel about 1000 skis, they emphasized giving back to the industry as they saw fit. One big thing they wanted to do was to move away from the idea of, "shrink it and pink it" that has plagued women's ski gear for years, by selling only unisex products. Adding Anni to the squad is the first step in that direction and it's awesome to see her getting the recognition she deserves. Magnus is well known for his eye for skiing talent. Just look at the squad he built at ON3P. So I have no doubt this will be the first of many shrewd additions to the program.
_
Anni debuted her 1000 Skis two weeks ago in Stubai for the slopestyle comp, and is now shredding them hard on the big air jump in Steamboat… undoubtedly the biggest jump 1000 Skis have hit so far. Anni, riding the 171 Park Ski, gave me her thoughts on them so far.
"They're still fresh but so good. They're a bit longer than my previous skis so it took a bit of getting used to, but in a really good way. I'd been feeling like I wanted some longer skis. They're a couple centimeters longer, and also have a longer contact point. They're great to carve on because of that, which is something I've been wanting from a ski.
It's weird because they're playful and soft, but they're stable, even jumping on the big air jump. If I'm going faster or it's a bit icier they still perform well. It adds a bit more to my skiing as well because they're easy to jib. Smaller rails and parks are so much fun on them. It's everything you can ask for from a ski."
_
https://www.newschoolers.com/videos/watch/1020376/IMG-7825-mov
Anni testing out the 1000 Skis park ski on the big booters
_
The 1000 crew are all creative, energetic and entrepreneurial, their work as The Bunch and early success of 1000 Skis has shown that. Anni fits the mold perfectly but was surprised and stoked to be approached by Magnus to join the squad
"It feels like something I've always dreamed of, joining a team like that. I was really surprised when Magnus messaged me. I couldn't believe it! As a skier there's so many things you look for and want and to be a part of something like this is exactly that. These guys are a part of a crew that I've looked up to for years, so it's sick. Being at the start of something that's going to evolve so much as well; I'm so honoured for that. They've started off by addressing important issues - sustainability, transparency and gender equality - and used that as the building blocks to make skis. It's amazing how it's way more than just a ski."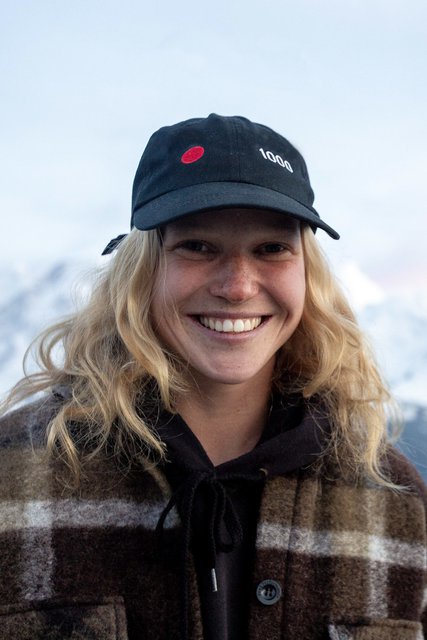 _
Expect to see some great projects from 1000 Skis this coming winter. With a full in-house team of filmers, photographers, editors and more we're sure to see the 1000 Skis team in some mind bending content. Anni's first winter with 1000 Skis is going to be a balancing act of competition and film projects.
"In the run up to the Olympics I'll be busy with the qualifying events, travelling to competitions and working hard on that. Then the Olympics, if I get there. It'll be pretty hectic apart from Christmas.
After that I'll hopefully be linking up with the rest of the crew for some projects and doing something that isn't comp skiing. A big dream of mine is to open the door to other aspects of skiing that aren't comp skiing, backcountry and street. I have hit street spots with my friends but backcountry is pretty new to me. We're talking about doing a trip to Engelberg to do a powder shoot or something like that but it's all open at the moment. Working with them has already been so good and we're just getting started."
1000 Skis are reshaping the way we think about how our skis are built and epitomising their idea of 'core' in skiing (I hope I don't open a huge can of worms with that one). They plan to shake up the industry and look at things from a fresh perspective. Their team of riders is only going to get more stacked and it's awesome to see Anni Karava as the first female name added to that list. We can't wait to see you shred on these sticks this winter!
_
To See The Full 1000 Skis Lineup: Click Here