Today sees the official confirmation that Alex Hackel, Lucas Stål Madison, Pär Hägglund, and Magnus Granér have not simply joined 1000 Skis, they are in fact the owners of the new brand. Of course, those of you who keep up with the forums already knew but that's how these things go. Anton Pohjolainen, a friend of the group from home, is acting as CEO and Alric Ljunghager is also on-board providing epic photography and website skills.
1000 Skis, operating out of Åre, Sweden have come to shake up the industry. The confirmation that this is a rider-owned brand echoes the seismic creation of Armada back in 2002, with some of the biggest names in the current generation of skiers branching out on their own. I got the chance to catch up with Pär, Magnus and Alex whilst out in Zermatt to hear a little bit more about where the ideas for the company came from, their mission and vision for the red sticks and the industry as a whole.
Pär: We'd been talking a lot about the skateboard industry compared to the ski industry. How it started from nothing therefore all the skate brands are owned by actual skateboarders. Whereas freeskiing started from regular skiing so it's got some baggage. So we'd been talking a lot about that and how skiers should be supporting skiers. Then we just figured, "what are we doing talking about all of this? We gotta make some waves!"
All four riders; Alex, Lucas, Pär, and Magnus, recently announced their departures from their sponsorships with Line and ON3P to begin riding for 1000 Skis - which, we now know they are running. It's a huge leap of faith, I wanted to hear more.
Alex: Peyben got the ball rolling, that was a big moment for me. Then when Magnus was fully involved and knowing how much he'd put into ON3P, how much Pär had done on the Blend for Line, and the years they'd spent with those respective brands. I saw both of them really committing. I knew this was real. If they're willing to put their energy into this, it's going to be serious.
Magnus: I took a huge cut not having the ON3P budget, for a while that was my main income. Everyone did though. Throughout the whole season, I didn't know if I was going to be a professional skier anymore. I was like if that's the case then fuck it like we're gonna go all-in with 1000.
Pär: For me, it got really serious kind of later. Anton, who's the CEO, came up to me while I was at a dinner with some friends and I hadn't even talked to him about it and he's like, "I heard you guys are starting a ski brand, I'm in. When can we have a meeting?"
We all show up there and he's prepared slides, looking at the industry, other brands, all the stuff that I wasn't even thinking about. He just came in and owned the room and showed us all of these slides about the industry and where we should be in it, and so he was in. That was pretty amazing.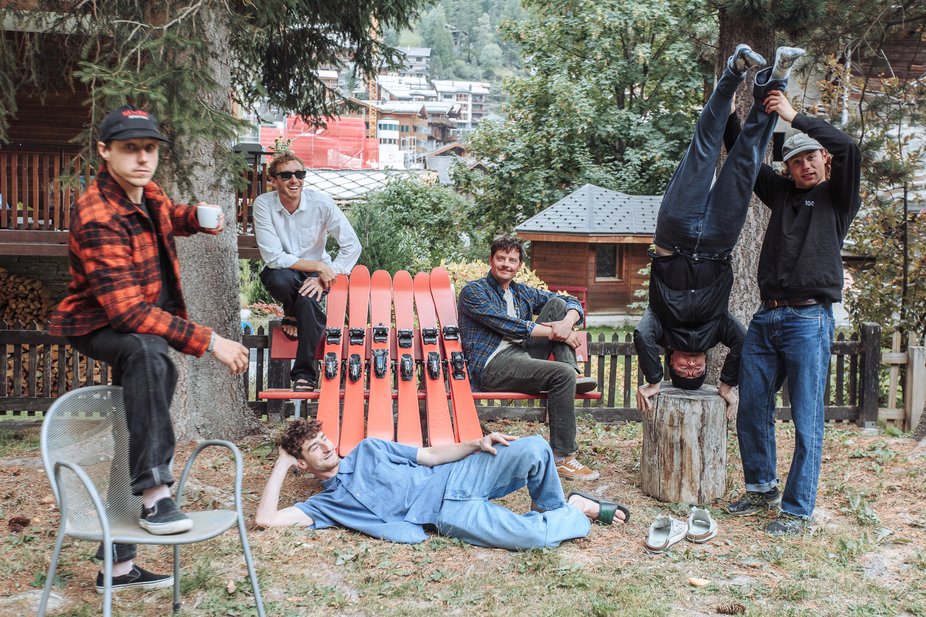 The brains behind the operation hanging around with their new line-up of skis
Once they'd got the boys together and got the CEO on board it was time to figure out what their overarching vision for the company was. They told me that they wanted to support skiing in a way that they believe in, shaking up an old-fashioned industry. Focusing their attention on the little things, like spending two months making the perfect cardboard box for ski transportation as well as the big things; the ski themselves and the consumer experience.
Pär: Well for a start you've got to make a ski that's the best ski, to you, that's out there. Definitely, that's number one. We all loved the skis we were on before so moving away from skiing skis that you love is hard. None of us are gonna ski skis that we don't love. It was crazy at the first prototype round in Funästalden we were so scared, wondering if this was even going to work. We did one run and we're all l like, "wow these are actually really good!"
We want to be able to support skiing in the way we see fit. It's a big thing for us to step away from shrink it and pink it too. We wanted to be a brand for all genders. It's 2021 you buy skis for skill and size, not anything else.
Magnus: We want to come up with new ideas for everything. That's our main focus and once you get into that lens it just keeps going.
Alex: Creating something that people who come from our skiing background and heritage, like Newschoolers members, will like is important but we're also not trying to 100% cater to that because we want to change the whole experience for all skiers. And to do that we can be too much in one direction.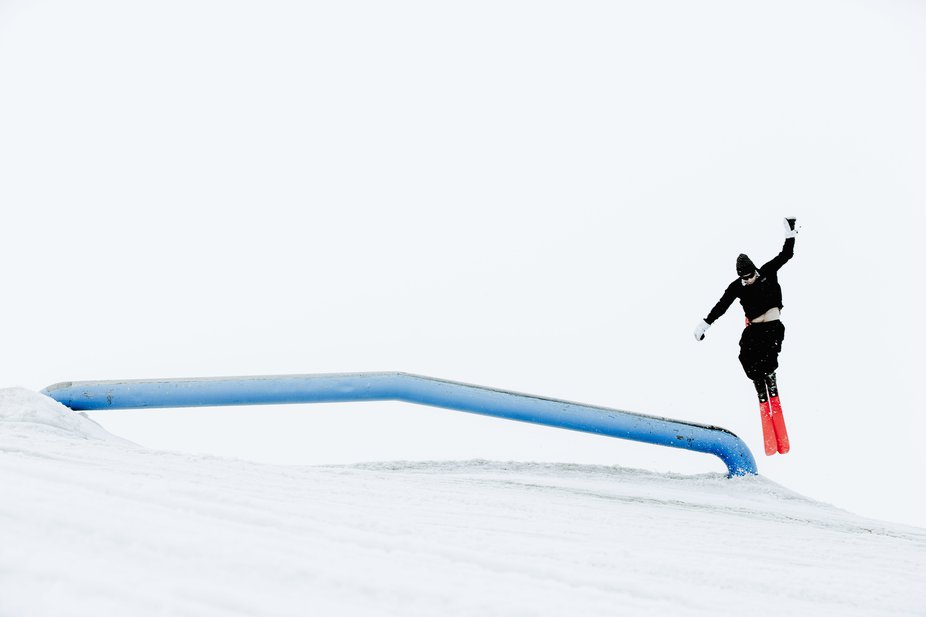 Alex Hackel busting out a dope nollie
There are some additional challenges faced as a result of manufacturing the skis in Åre, increased costs are obviously one of those. But there are huge benefits in terms of sustainability and technological innovation, two core pillars of the 1000 Skis brand.
Pär: When we started we were trying to figure out what factory to build our skis in. There are plenty of ways to go that are cheaper than doing it in Sweden. It's definitely hard to say no to the prices in China. I think the first thing though is we're really trying to be transparent, we're not here to greenwash. Simply by being based in Sweden we're bound by laws of sustainability that you're not in other countries. When you're starting off you don't have the funds to do everything perfectly but at least you can start out with a goal and figure out where the ship is leaking along the way.
Alex: It's like at the end of Is There Time For Matching Socks? we showed our emissions. We're not perfect like Pär says, but we're committed to showing our progress and our shortcomings and pushing that conversation forward. Instead of telling our customers how to think or feel, we're showing them what we're doing so that they can come to their own conclusions on whether we're a sustainable option or not.
_
Innovation is part of what is driving the sustainability pillar of 1000 Skis. Working with scientists to find new, more eco-friendly solutions to problems other companies don't even acknowledge as being there.
Magnus: We're looking at different bio-fibres for the ski to change from fibreglass, which is super energy-intensive to create, as part of this study. In two weeks we will also be testing a prepreg flax fibre in the skis - hopefully making the construction process more repeatable and less wasteful than wet layups done by hand. We're starting fresh with a new mentality, not like a big company hiring someone in sustainability to greenwash with their hands tied by the board up top.
Pär: We're also doing a life cycle assessment of the ski as part of the study. All the way from the raw materials to when the ski is not being used anymore. A lot of companies only look at their production. We're not pushing people to buy new graphics for example.
Alex: It's sustainable design to some degree, not just production and materials being more sustainable but producing items that are meant to be in use for longer and are meant to be repaired and passed on to people, say after the optimum performance is complete. Then it can be used for a different type of performance.
We're banking on change because what we're trying to create doesn't exist. We're banking on the ski market being willing to change and that people want a different product and aesthetic from a ski company.
It's amazing to hear the guys talk with so much passion about the brand. They also emphasised the social sustainability aspect of producing in Sweden as opposed to outsourcing to China and being able to have more hands-on involvement in every step of manufacturing too. They articulate an understanding of the higher price tag but explain to me that included in that price is a guarantee of both social and environmental benefits alongside the expertise these four bring to the table.
_
As with any ski, the bottom line is how well they ski and whether or not they perform when it really matters - I got to give them a go out in Zermatt, check out my quick review here. While stating he hates the word playful, Pär describes them as such and the guys tell me a little bit more about what you can expect from the red sticks.
Pär: The skis are pretty soft, we all like soft skis and we also think that a lot of people are riding skis that are too stiff. The park ski is definitely a solid soft ski, they're not a noodle. We tried to make something with an even flex too, so when you flex the ski you flex the whole ski and store more energy in the ski for more pop. I'm super stoked for people to not ski park on them, I raced until I was 16 and I'm really picky on my carves. These are great and that's something that really excites me.
Alex: The park ski gets its stiffness from the camber, so it can be a little softer than other skis but maintain stability, which comes from the long contact point. If you watch our skiing and want to emulate that to a degree, these are skis that facilitate that. We want a ski that works for us but is also conducive to a beginner learning how to butter properly and spin in the park. We want to open that door for everyone. We went out to build a ski that can charge the mountain and hit big jumps but also stays playful for butters and nollies.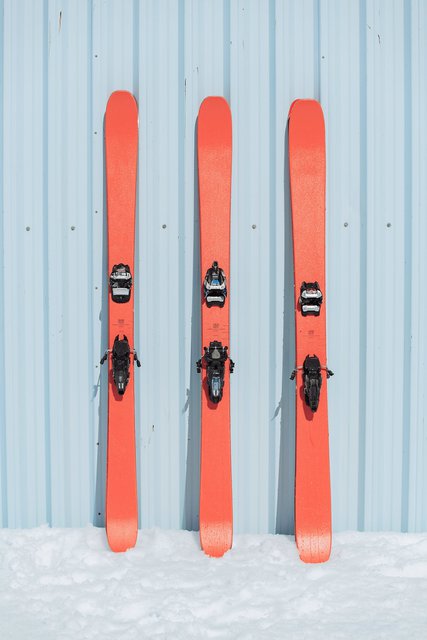 The full line up:
Left to Right: Park, All-Mountain & Powder
That is the magical dichotomy we're all looking for in a park ski I suppose and having skied them, I can say the park skis do a great job.
Pär: The all-mountain ski comes from the same vision. It has a thicker core, slightly stiffer material in the core as well (beech wood), and a slightly longer turning radius. It's definitely a slightly more stable ski. Lucas loves it in the park too. It's not made for here or there specifically, he's even ridden it in Japan in the pow.
Alex: I think it is the one-ski quiver, park, chunder powder, and groomers. I really do love it on all of those. As long as it's not the deepest powder of my life a 106 will get me through it.
Pär: The powder ski for me excited me the most. It's built soft torsionally. A lot of powder skis are built torsionally stiff to hold an edge on-piste and ice, meaning you have to lift the absolute widest part of the ski to edge it and they just feel really big. A torsionally softer ski flexes easier on edge and is easier to get there in the first place. When we tried the prototypes it was the first time I've been able to do a nollie 5 on the ground on powder skis. It's amazing to ride a pow ski that feels light in that way.
_
The team is obviously stacked with just the owners but they have plans to support many up-and-comers as well. With a focus on supporting female riders and using their platform to create inspiring content as well as do rider sponsorship in the best possible way - like the cardboard box. Their big drive is clearly to support all aspects of skiing and to grow into a representative and inclusive brand.
Just to conclude, both @Twig and myself have been talking to the boys for months about this project and they are super hyped. They've been dying to tell you all this stuff and now that all their contracts with previous sponsors are up, they finally can. I am stoked to have been able to tell the story. This is the first chapter of many and I can't wait to spend more time on the skis.