View The Full 2018 - 2019 Gear Guide Here
There's a lot of small but important tweaks to the Armada line this year. Henrik's ski undergoes its first changes since its inception. Fatter 2.5mm edges and a slightly softer tail, address the only the minor complaints we had about the current model. There's also a complete redesign of the ARV series with each model featuring changes. All the skis in that line have new poplar and ashwood cores to increase playfulness across the mountain, 2.2mm impact edges and 75% sidewalls vs the current 50s. The JJ (ARV 116 JJ) has an entirely new flex profile to increase confidence in tight zones, and 3D beveling on the tips/tails for endless buttering capabilities. The ARV 106 includes a new and stronger sidewall construction and has taken on a shape similar to that of the late JJ 2.0.
SKIS:
Signature Series
The Signature Series features three skis designed to the exact specifications of some of skiing's leaders- Tanner Hall (Magic J), Henrik Harlaut (EDOLLO), and Phil Casabon (BDOG).
__
Park

Sizes: 164, 172, 180
Dimensions: 133 / 98 / 123, Radius 20.5 @180cm
What's new: Fatter edges, flex tweaks, new lengths.
__
Park

Sizes: 165, 172, 179
Dimensions: 125 / 90 / 119, Radius 19.5 @179cm
__
Powder

Sizes: 180, 190
Dimensions: 139 / 144 / 127 / 141 / 135, Radius 22 @190cm
__
ARV Series
Powder / Freestyle

Sizes: 175, 185, 192
Dimensions: 139 / 116 / 135, Radius 19 @192cm
__
All Mountain Freestyle

Sizes: 172, 180, 188
Dimensions: 136 / 106 / 126, Radius 21.5 @188cm
__
All Mountain Freestyle
Sizes: 163, 170, 177, 184
Dimensions: 126 / 96 / 118, Radius 20 @184cm
__
Park

Sizes:163, 170, 177, 184
Dimensions: 118 / 86 / 112, Radius 18.5 @184cm
__
ARW Series
All Mountain Freestyle

Sizes: 156, 163, 170
Dimensions: 123 / 96 / 115, Radius 18.5 @170cm
__
Park

Sizes: 156, 163, 170
Dimensions: 115 / 86 / 109, Radius 17.5 @170cm
__
Zero Series
Powder

Sizes: 175, 185, 192
Dimensions: 139 / 116 / 135
__
Park

Sizes: 163, 170, 177, 184
Dimensions: 118 / 96 / 112 @184cm
__
Park/Pipe

Sizes: 166, 171, 176, 181
Dimensions: 118 / 96 / 112 @184cm
__
Outdoor Retailer Photos: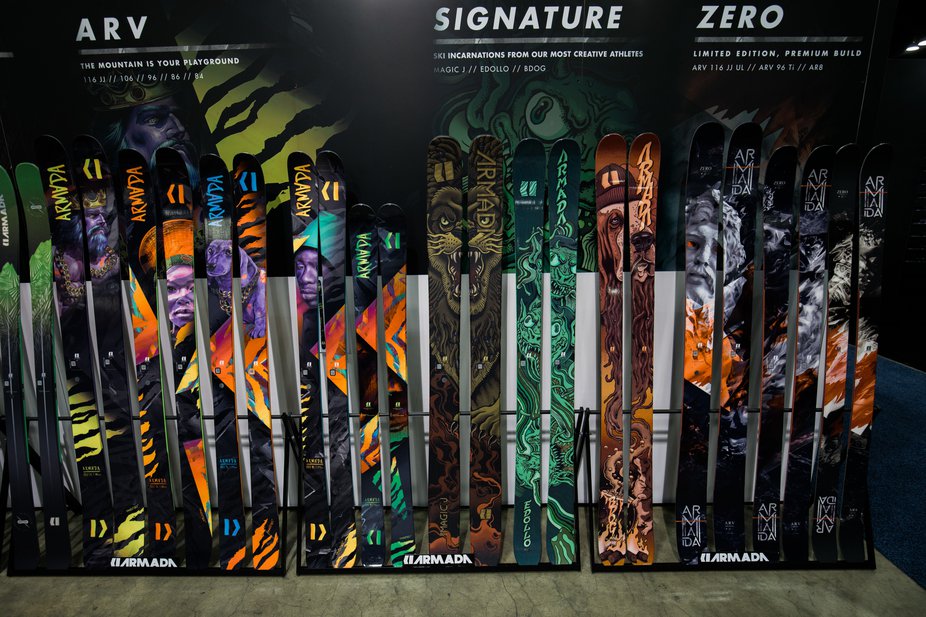 Left to right: ARV 116, 106, 96, 86, 84. Magic J, EDollo, BDog. JJ Zero, Arv96ti (Zero), AR8 Zero
Shop For Armada skis

Merchant

Sale Price

Retail Price