interview by Josh Bishop
The sun is setting on the Jeff Anderson Memorial skate park in Mammoth Lakes, CA. A young, genuinely stoked Swedish kid just finished sessioning endless flat land tricks. Prior to skating, he skied Mammoth from 8am to last chair at the Salomon Jib Academy final. While most kids would be happy to take their ski boots off, Henrik is disappointed when the lifts stop and skiing is done for the day. Unlike most kids, Henrik just keeps going. Whether skiing handrails until 4am in Salt Lake, traveling the world for photo shoots and competitions, or producing one of the most well liked Super Session entries, Henrik Harlaut loves to ski. Everything from his smooth style to his never-ending excitement makes Henrik a blast to ski with. At the age of 16, with major podiums under his belt and invitations to JOI, JOSS and Freestyle.ch, Henrik is on the verge of becoming one of the most talented and driven athletes in the game. In an attempt to grasp what motivates the young Swede, I sat down with Henrik to hear his thoughts on traveling the world, the ski scene in Sweden, and skiing handrails. 
Did you have a good season?
Pretty good yeah.
I know you traveled a lot this winter, what was your favorite trip?
My favorite trip was when we went to Park City. After the US Open, I stayed in Colorado until the Aspen Open and then I went over with Tom Wallisch to Park City, Utah to hit some handrails and film with 4bi9.
I heard you went to Boulder in December to film handrails with Stept Productions, How was that trip?
It was also really good, it was a little bit early in the season so I hadn't trained that much for 270 onto rails, but it turned out pretty good too. 
What is your favorite trick on skis?
Guess what? Pretzels!
Where are you right now?
We are trying to get some last shots for 4bi9, Slamina in Mammoth, CA. Hope we get some dope shots down. It's very slushy, so it's fun. Out here with Josh Bishop, Andrew Napier, some 4bi9 kids and the Jib Academy.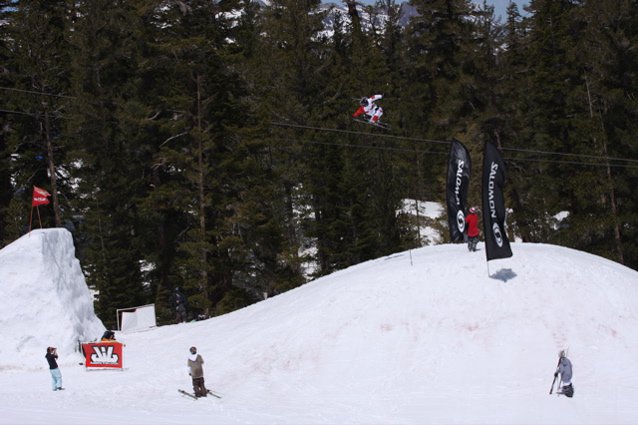 photo: cko
Nice. What's up with Jib Academy, how's that going?
I'm not competing this year, so I am out here for being a coach or something. It's pretty fun, pretty chill, I don't have to throw down the best trick.
Along with you, there are a few solid European riders out here, and even a kid from your hometown in Åre.
I am really stoked about that because he is my little brother, I can kinda say that, because I have been chilling with him a lot of years, giving him props and always think that he's so sick. Last year he had bad luck because he broke his collarbone three times in a row so he couldn't do the Jib Academy. But this season he was so stoked because he normally spins switch right, but he learned how to spin switch left, so he learned 10s both ways. Now he's in Mammoth and I hope he's going to be one of the future riders. 
What's his name?
Victor Menga Hörnfeldt aka Menga. He's the little midget one, with the tall tees.
Are there any athletes at Jib Academy other than Victor Menga that you're stoked on?
Yeah, one kid, named Alex something, lives in the same village as Phil Casabon and has exactly the same steeze but had bad luck and broke his collarbone yesterday.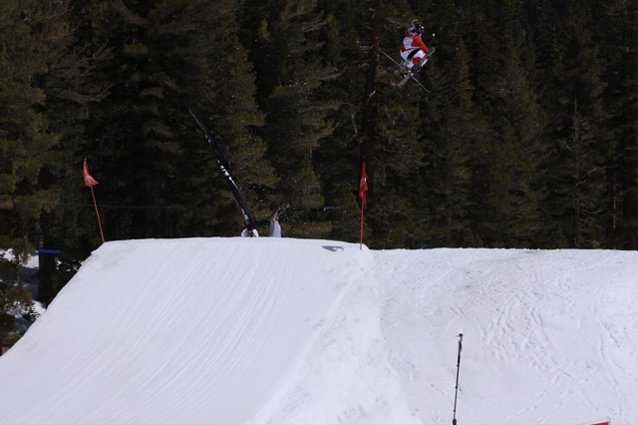 photo: cko
I heard you were doing some switch cork 12s this morning at the photo shoot!
It turned out pretty good. We hit a 70-foot tabletop. It was really good; you came down so smoothly so we were able to throw down some sick tricks. I had a good 10 and 12. STOKED.
Speaking of 12s and 10s I saw your JOSS edit and your team crushed it. You were skiing against some of the biggest names in the industry. Were you nervous at all? Did you do anything to prepare mentally?
No, I didn't really prepare mentally. I felt pretty confident at it. I was just mostly stoked that I could compete at the JOSS. We tried to be as creative as possible. We tried to go out every night and hit handrails and in the morning tried to hit all the features.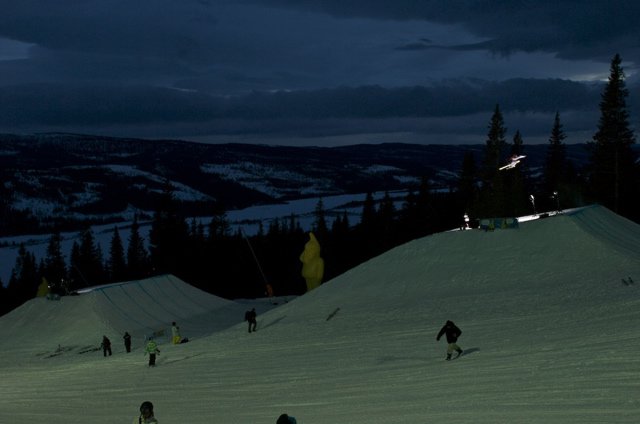 photo: Felix Rioux
Was the Super Sessions the best competition you have ever been to?
Yeah, because they didn't have any pressure, you didn't have to throw down really, you could just chill and do best trick everyday. I really like to film and check the footage to see what I'm doing good and what I'm not doing good, so I can do it better.
Who was on your team at JOSS?
My filmer was Andrew Napier from 4bi9 and my photographer was a young, upcoming Norwegian guy named Yngve Staberg.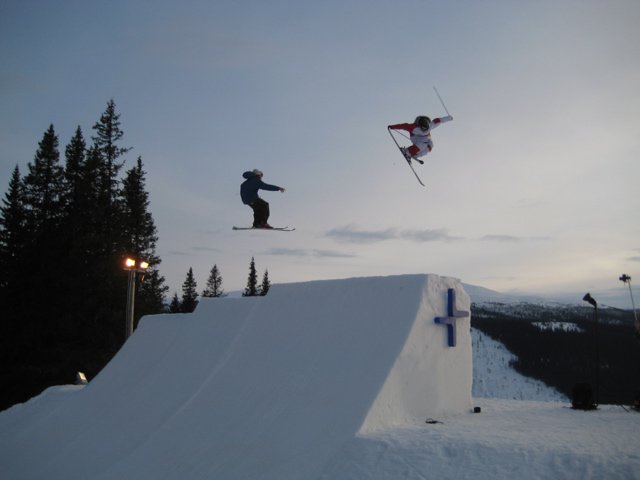 photo: Jeff Schmuck
You did handrails every night, skied the Super Session features, and even lapped the public park. Were you pretty much skiing 24 hours a day?
I did like I usually do at home, like, skiing as much as possible and always having fun.  Cuz why wouldn't you ski that much when it's the funnest thing in the whole world? Why spend much time on other things than skiing?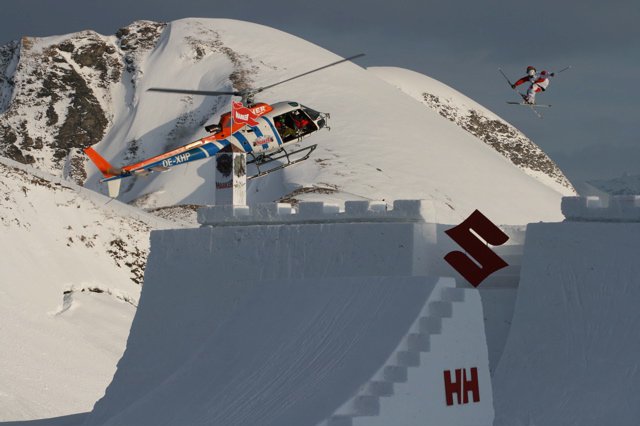 photo: Daniel Schiebl
How did you do competing this year? I know you just took 1st at 9 Knights in Germany, were there any other competitions wins?
A couple of rail competitions in Sweden, a big air competition in Belgium, and Swedish World Cup big air, and it turned out pretty good. I came 6th in the Freestyle.ch big air competition in Zurich.
Sick, how was Zurich?
SO FUN! Like 25 degrees warm and just slaying in a t-shirt.  It's next to the beach and yeah, so fun.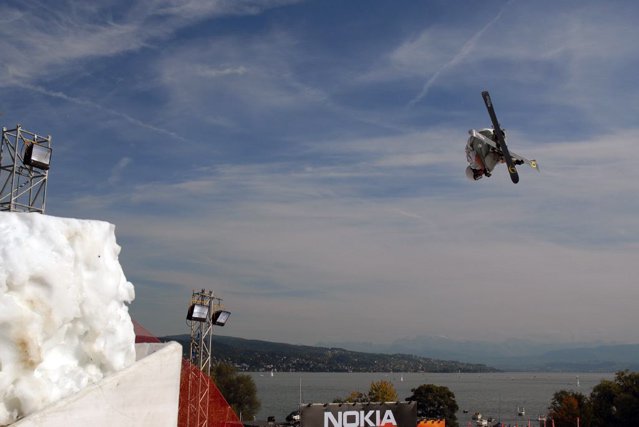 photo: Ruedi Fluck
Where else did you travel this year?
I had a pretty fun trip also to Switzerland. I went for the European Open. There was a really fun park and they had a sick rail park next to it. Filming a little bit more for the 4bi9 movie. Also, I went out for a competition called Newschool Picnick. I did really well in the qualification and the semi final, but not as well in the super final. I got third, so that was fun.
So, when you go to these competitions and look at the names of athletes on the roster, are there any guys that you get worried to ski against?
Not really worried when thinking about competition, like, when I see a tough name, I was like "shit that's going to be so fun to watch," and so dope if I win against that person.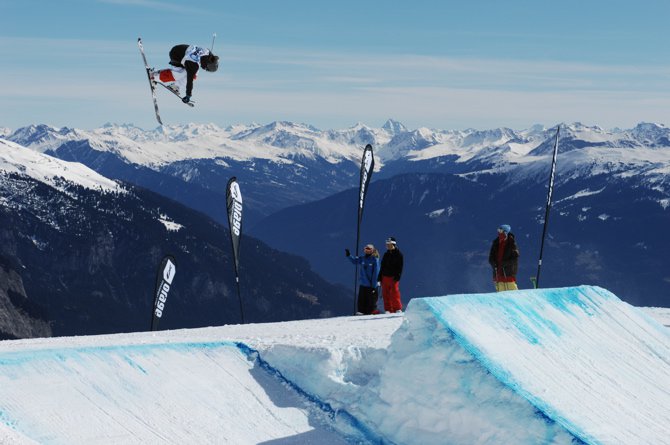 photo: Felix Rioux
Who do you have the most fun skiing with?
I ski with so many fun people. But one of the sickest that I've been skiing with is probably Tom Wallisch.
Why do you think Tom is so sick?
Why? Cuz he's the pretzel man! He spins both ways, and he's got that ride away like a ballah! 
Who are you really stoked on in skiing other than Wallisch?
Newschoolers' favorite, Jon Brogan and Philippe Casabon.
What do you think separates Casabon from other skiers?
One reason why I like him so much is that he's totally not overrated and he's sooo sick. His steeze is so crazy to watch, everything he does is so sick. And he listens to Biggie Smalls!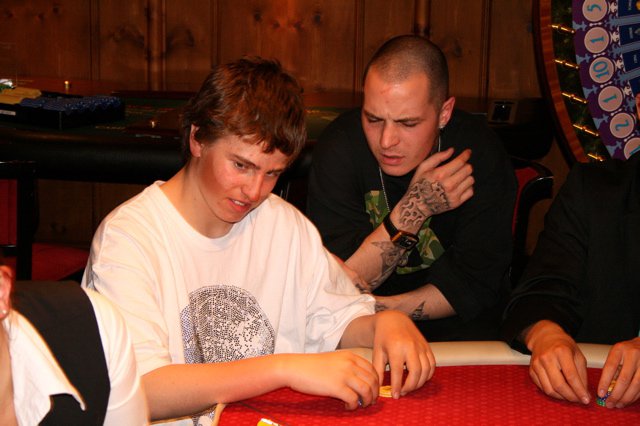 photo: Daniel Schiebl
Do you listen to music when you ski?
I normally do, but in Mammoth I haven't.
What's your favorite artist or band to listen to while skiing.
Hum. Could be E-40, fo sho. Hyphy type of music. OHHHhh.
So you filmed with 4bi9 all season. I heard you got some sick BC shots in Jackson.
Yeah it was the first trip I have ever done to backcountry and powder. I never done any backcountry or powder before and it turned out really sick. Like, first day I got a switch 9 out of a pillow, which was fun, a couple of drops 180s and stuff.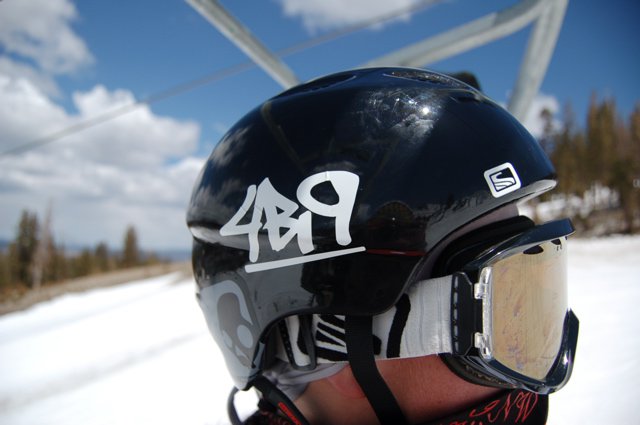 photo: Josh Bishop
I heard you stomped switch 12 in the BC too.
Yeah. It was fun. I wasn't thinking about it before, like doing a 12 in the backcountry, but it happened. I was stoked, also cuz I heard that no one has landed a switch 10 in backcountry, so it was more fun to land a 12.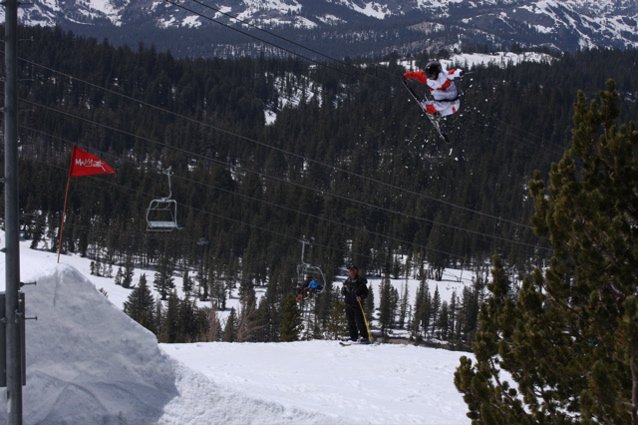 photo: cko
While traveling with you this year, I noticed you really, really enjoy American fast food. Do you have favorite restaurant?
Yep. Sure do. TACO BELL!
Why Taco Bell?
Cuz I normally love taco and now with Taco Bell, you don't have to make taco, which is the hard way with taco, cuz they all make it for you and you just got a sweet burrito to eat.
What's your favorite menu item?
Probably the 9th meal, burrito supreme, with a Mountain Dew!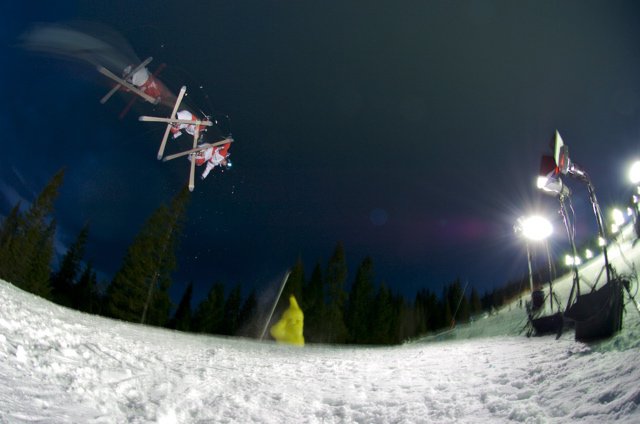 photo: Felix Rioux
Growing up, did you look up to any particular athletes or ski movies that influenced what you do today?
Yup. A lot. I watched every single ski movie like 30 times a day. My favorite skier has always been, until two years ago, Tanner Hall. But now, from last year, I saw Tom Wallisch enter the Superunknown video contest. So it was pretty awesome to see that and see what you could do on rails and then try the tricks in his promo. Is it okay to claim?
Yeah for sure.
I almost got all those tricks in his Superunknown movie video!
Did you watch a lot of ski movies?
Yeah. I still do.
What is your favorite ski movie?
It's 4bi9's Look it up and Level 1's Long Story Short, and Shanghai 6. And, if you count small ski movies, I can say Jiberish Breckenridge video, with Mike Hornbeck, Adam Delorme, Tom Wallisch, and Jon Brogan.
That's sick. So you're feeling the edits the Jiberish crew put out?
Yeah yeah!
Do you wear Jiberish a lot?
Yeah! I would say, one of the dopest brands out there, making the biggest hoodies. I got one from Wallisch, so I'm repping that shit, wearing it all the time. Yea. I think it's a dope brand really. So many dope skiers, just steezy skiers, all the steezy skiers. Stoked about their shit.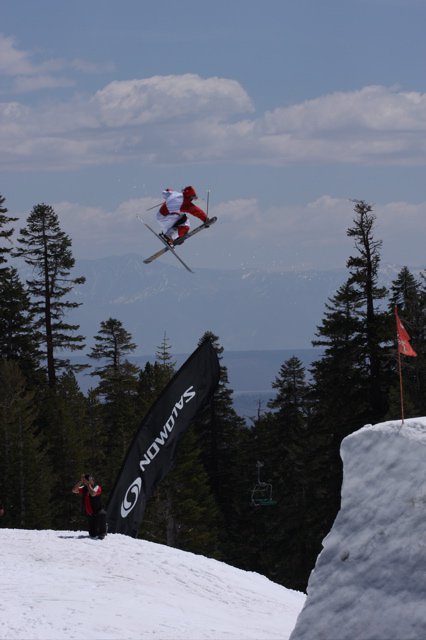 photo: cko
Speaking of big clothes, you ski for Salomon outerwear, how's that going?
Yeah. I ski for Salomon outerwear, bindings, and boots – it's doing excellent. The ski clothes are exactly what I'm looking for. Like, pretty tall jackets that go down far and tall pants.
I notice while skiing with you the last few months that you made some adjustments to your pants.
Yeah, I didn't make them. I steal them from the American people, the suspenders. The suspenders you put on your pants that keeps them from falling down but still low.
Who else do you ski for other than Salomon outerwear, boots, and bindings?
I ski for Scott goggles, helmet, poles, and gloves and I ski for Ninthward skis.
How do you like Scott goggles?
Really good. I can't see any bad things with any pair of goggles. For the next year's, all the colors are looking so good on the goggles so, I like it.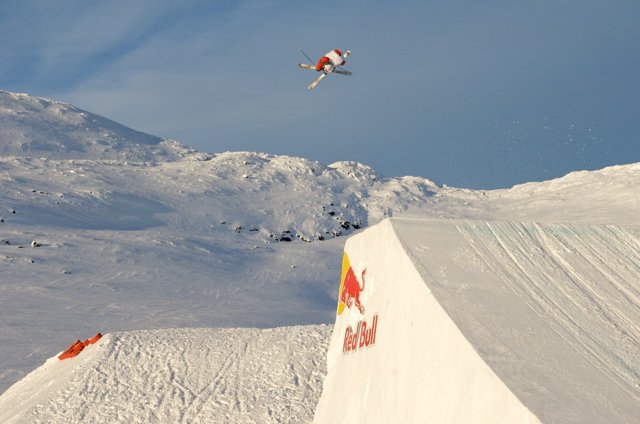 photo: Felix Rioux
Compared to the ski scene in America, how is the scene in Sweden.
It's almost as the same, pretty much. Sweden has a lot of young, upcoming talent. Especially Åre! A small village that has all the good skiers in Sweden. Which is so awesome. 
Growing up skiing in Are, were you lapping the park with Jon Olsson, Jacob Wester, and the other big names to come out Sweden?
No, in my dreams I was skiing with them, but not in real life. But the coolest thing I figured out a couple years ago was that, I was living in the capital of Sweden called Stockholm, until I was 9 years old. Then I moved up to Are and saw a big jump the skiers were hitting and I didn't know what the sport was all about. Then I saw Jon Olsson and those kids doing cork 9 and switch 9 and figured out that was the sport I wanted to do, it was the coolest sport I ever seen, so I started. And now, I almost am at the same level, like, they were doing switch 9 when I was doing straight airs.
Growing up in Åre gave you had an opportunity to compete in JOI at a young age, did you learn any tricks at that contest?
Yeah, I was 14 and learned switch 14, so that was awesome.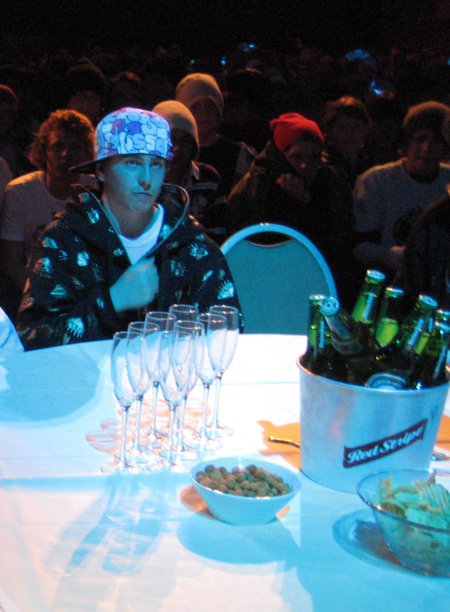 JOSS Awards. photo: Jeff Schmuck
Was there anyone else your age hitting the jumps with you?
Yep, Oscar Scherlin was.
Oscar is blowing up too, he did pretty well in Red Bull Play Streets and is traveling around doing similar photo shoots. Are you pretty good friends?
Yeah we're pretty good friends. We're not hanging out that much at home. He likes hanging out with older people pretty much and I like to hang out with kids younger or the same age more, those ones that like to hit handrails.
Do you like to hit handrails a lot?
Yeah. It is the way for skiing to go - The skiing future.
Are there any handrail tricks this year that you are particularly excited about?
Yeah I'm really excited about my handrail part for the 4bi9 movie – which is the best thing I have done ever on handrails. Before this season, I have never done a 270 onto a rail with a side kick, but this year I got 2 pretzel 2 on so many rails. In Salt Lake I got lip slide to front side 360 switch up. So I'm stoked!
In your travels you have the opportunity to meet so many new people. Was there anyone that you were really thrilled to meet?
There have been many. but one kid that was really fun also to meet was LJ Strenio. He is always giving you props and excited! And then, Josh Bishop, I can safely say. Cuz, yeah. He is so fun to ski with. Same reason as LJ, always giving me props, always making me stoked, and making some food for me and just a really friend person too.
Are you just saying that because I'm interviewing you?
No, you can check it out, look it up, Google.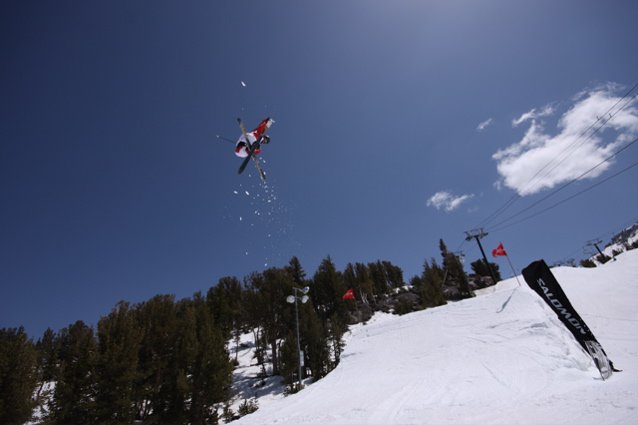 photo: cko
What's your school situation like? How do you manage being a professional skier with going to school?
First of all, I'm not a professional skier. I'm still underground and unknown, I hope.  And, I just have like a three classes in Swedish, Math, and English. I did all my Swedish and English from September till December cuz I knew I was going to be out all season pretty much. Then I try to take with me the math book and stuff, but it doesn't really work every time. I don't really have that much because I'm doing newschool, jibbing school.
So there is a school in Åre specifically set up for kids that want to travel the world and ski?
Pretty much, yeah. All that go there are traveling much. Traveling mostly in my class is really easy because my teacher is really down for me to travel and ski.
Did you have any goals this year that you accomplished?
One of my life goals was to first film with 4bi9 and to meet Tom Wallisch. So both of those were completed. And then, I don't know. I had a goal to do well in comps and have fun.
In the seasons to come what are your goals? Where do you want to take skiing?
I want pretty much for the jumps that it's going to stay steezy. Do 10s and 12s like really steezy. And then, the handrails. I want all professional skiers to hit handrails as well as the underground skiers. That is a big thing of the sport too. So many of the professional skiers thinks that rails is something that not fit to the competition. I think some people should spend more time on rails too.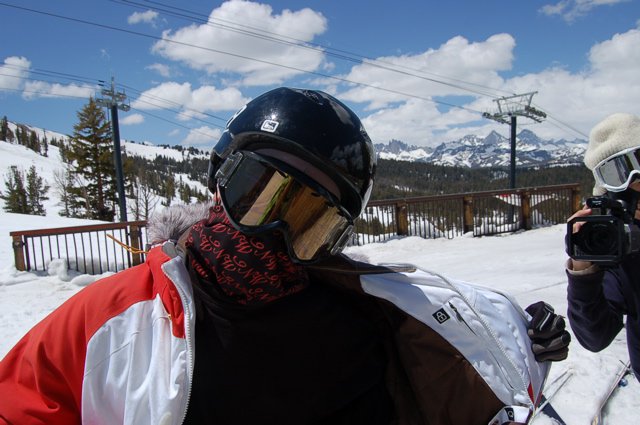 photo: Josh Bishop
Is there anyone you want to thank, any shout outs you want to give?
Pretty much everyone I'd say! And I want to see what Newschoolers have to say. Hopefully they giving me props. Cuz they been doing that a lot since I was in the Jon Olsson Super Session, they been giving me so much props, which I am so happy of.
Nice, so you're stoked on all the kids on NS supporting your skiing?
Yeah yeah, I'm so stoked about that.
Do you go on NS a lot?
Yeah I started pretty much now. Cuz I finally find out how to read threads. Just before I've been checking top rated photo and top rated video. Now I go in the forums.
And I just want to let everyone on Newschoolers know that they should for sure buy the new 4bi9 movie. We got, dollies, new cameras, got cable cams, all skiers are throwing it down this season, it's going to be epic!
Thank you so much for doing the interview and spending time talking with NS.
Thank you so much!
Special thanks to Andrew Napier from 4bi9 Media and Alex Martini from Stept Productions for providing the video and audio equipment to conduct the interview.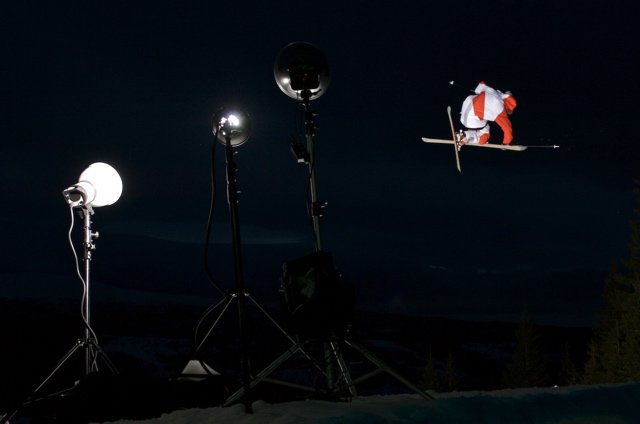 photo: Felix Rioux