I'm located in France so if you know someone here or have a place to ship here it'll be cheaper, but I'll ship to the UK if needed.
A lot of this stuff cant be found in Europe elsewhere!
Will trade for Jesters, Griffons (demo version is cool too) or any demo bindings, and possibly Oakley Splices.
1- Black Crows Nocta size 188. Third mount at around -2 from true
for Jesters for a 307mm sole but adjustable. Base has one coreshot but profesionally fixed and has held up perfectly ~30 days. Skis are in really good shape and are amazing powder skis.
300 euros for the setup.
2- Surface Double Times size 180. Mounted only once for the Head Mojo 15's on them, at true center for 307mm. Bases are in great shape, some hairline edge cracks but nothing more. Topsheets are a little chipped. Skis have developed some tip and tail rocker.
200 euros for the setup
3-Brand new Salomon SPK Pro's in 26.5, never used, still in plastic and box, with extra heel and toe pieces for when yours get worn.
250 euros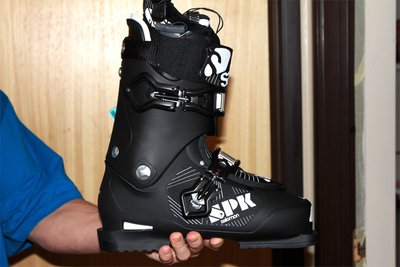 4-Used first gen SPK's, but with barely used liners and barely used heel and toe pieces. So, these are in excellent condition since all the vital parts have like 2 days use.
100 euros
5-My pride and joy: Oakley Loubet Jacket in XL. LOVE this jacket but need some cash. Long fit, 90 cm = ~35 inch zipper length, 15k waterproof, warm as well, tons of pockets, mad steeze. Some light lift oil stains on shoulder, barely noticeable. Excellent condition.
120 euros
6-Holden Camo jacket size L. Really dope jacket…20k waterproofing, excellent condition. 80cm = ~32inch zipper length.
80 euros
7-Bond Pioneer pants in black size L. Fit pretty baggy but not massive. 20k waterproofing, great condition with just some scuffing at the bottom which is pictured. Nice waterproof shell.
60 euros
8-Surface Hoodie size XL. Good condition, minor rip on one cuff (no big deal) and slight fading. Still real sick. ~31 inch zipper
25 euros
9-Causwell Hoodie size XL. Also good condition, no cuff rip. ~31 inch zipper
30 euros
10- Epoch apparel crewneck. Really dope small independant company from Bellingham, WA. Great condition, tiny hole on front.
35 euros
11-Rip Curl hoodie size L. Excellent condition, just one button clasp replaced by a seamstress lady (can be seen as the black button in pic). Sick varsity style hoodie.
30 euros
12- H&M Jacket size XS but fits more like an S. Pretty cool coat just outgrew it.
10 euros
13- Vans sweater size M. Good condition.
10 euros.
14- Nixon New Era barely worn, size 7 3/8.
10 euros
15- Meike Battery Grip for Canon T2i/550D. Nice piece of equipment but I don't use it much anymore.
25 euros
16-Bunch of Contour HD accessories. I lost mine so no use anymore. Waterproof housing (originally $40), tons of attachments, extra lenses kit, etc. Everything in picture.
20 euros
17-WeSC tee size XL, slightly faded. free with any order!