Reviewer: @aileonard
Reviewer height/weight: 5'10", 135 lbs
Boot weights: 1250 g / 26,5
Size Skied: 26.5cm
BSL: 295 mm
Locations: Shames Mountain (BC), the Howsons Range, Northern British-Columbia (CAN)
Conditions skied: Hard pack, icy, glacier, sastrugi, spring snow
Days skied: 5 days, end of last season (2022)


The Dalbello Quantum Free Asolo Factory 130 is one of the top "very-light-but-still-stiff-and-fun-to-ride" alpine touring boots out there. I'm a backcountry skier spending my seasons in Terrace, Northern BC, where you walk long distances to get to your lines. I am used to going on long backcountry missions and therefore it made sense to give an "uphill-first" option a go. I have previously prioritzed downhill performance, so these boots were the perfect opportunity to answer my need for light boot and a wide range of motion, without compromising too much on the performance on the way down.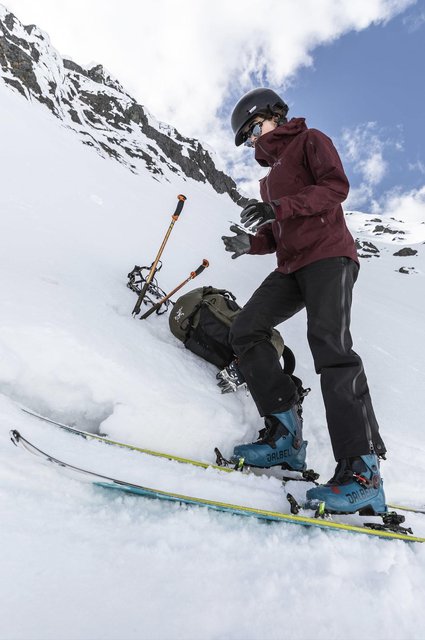 Fit
The Dalbello Quantum series runs on the smaller side: I usually ski with size 25.5 but have noticed that the Dalbello boots fit far shorter than on my old Tecnica Zero Guide Pro G. I thus had to order a size bigger than usual, 26.5, to get the length right, which made the rest of the boot a bit bigger and less snug.

I am used to having all of my boots fitted by a professional boot fitter. All feet are different and specific, and a good fit is essential to controlling your skis, which makes boot testing tricky. The Dalbello Quantum Free Asolo Factory integrates what they call "My fit" liners. I took them out on a big backcountry mission on day 1 without even going to have them fitted. As of now, they are very comfortable and I don't seem to have any pressure points. They do feel a bit loose on the width, but I'm not sure if it's the liner or the boot itself. In the past, the liners of the boots I've skied (Tecnica, Black Diamond, Dynastar) were very tight to allow you to fit them for perfect, custom support. I think I will have to change from the stock liners in the future to get more of a snug fit.

Weight
I think this is where this boot becomes a winner in its category. With each boot at 1250 g (in 26.5, with liner) they are made to offer a lighter option to the stiff touring boots out there. I definitely felt the difference going uphill compared to my Tecnica Zero Guide Pro G which weighs in at 1540 g per boot. The Dalbello Quantum Free Asolo Factory stands at almost 300g lighter per foot for the same flex.

Ease of Use

The Dalbello Quantum Free Asolo Factory is definitely unique in the way it is constructed. I was a bit confused when I saw them the first time. The front of the boot is a soft, gore-tex surface and the boot shell itself almost looks like a skeleton. This definitely helps for the weight, but it has its good and bad sides. I felt less supported than with a regular plastic tongue. Also, putting my liner back in the boot became more of a mission as I had to hold the soft fabric in one hand and push the liner with the other one. In the backcountry, I got more snow in my boot than in my old Tecnicas. I question the effectiveness of this feature to keep my feet dry in the Northern Coastal range's deep and wet snow in the midst of winter, and its warmth on very cold days. That being said, the liner is quite thick and could compensate for the thinness (and lack) of the shell to a large degree.

The boots tighten with cord tensioners in both lower and upper closures. This feature has been proven to be a liability on other touring boots (like the Atomic Backland carbon 2018) which can leave you stranded with a broken cable in the backcountry. The Dalbello does seem well made, and the cords don't seem like they're going to break, but they definitely leave me feeling a bit exposed and vulnerable to a failure.

After only day three of using this product, I ripped the power strap off from the boot (a bit too easily) while putting my foot back in. I used to pull on my strap all the time with my Tecnica Zero Guide Pro G 2018, and never had an issue. I tried to put back the power strap myself, but realized that I'd have to scrap the feature which holds the strap to the boot as it isn't a screw system. I like gear which I can fix myself when they break (especially spending a lot of time in very remote areas), which isn't the case with these boots.







Uphill Performance
... is why I'd chosen to get this boot in the first place. In addition to its lightness, the Dalbello Quantum Free Asolo Factory has a very wide range of motion (65 degrees). It has a 3 part feature that allows an even larger range of motion. I feel very comfortable going uphill, even after 8 hours of touring in various conditions (mellow to very exposed) and multiple pitches in boot crampons. I felt safe and ready to go up technically demanding terrain.

I was excited by the 2-buckle feature and especially the cuff which tightens and locks with one motion. Coming from a 4 buckle boot with Tecnica, I was always the last one ready during transitions. Let's say that it was a multi-step mission to go from uphill to downhill mode. Though the Dalbello Quantum Free Asolo Factory is definitely quicker, it is still not as practical and user friendly as the Dynafit Hojis. The "Hoji Lock" transition closure allows you to go from touring mode to ski mode in one move, replicating skimo race gear in transition ease. In comparison, the Quantum Free Asolo needs a few tweaks in tightening the buckles and arranging the power strap every time I transition (as this one cuts the range of motion if left at the tightness wanted for downhill). Allowing my friends to STILL be quicker than me. It's a work in progress.

Downhill Performance
The Dalbello Quantum Free Asolo Factory is definitely made for uphill performance. Downhill was a bit of a challenge. I feel like I've traded lightness and rapidity of transition for downhill performance : this boot, with its 2 buckles and cord tensioners, doesn't give my foot as much a sense of tightness and thus, of control. I always suggest to people to invest in boots first and skis second, as the boot will be your tool for controlling your ski. In this boot, I feel like my ankle doesn't get the support it needs. I feel like my ski takes a few milliseconds extra to react to my movements, which plays with my level of comfort in highly technical terrain like chutes, couloirs or tree runs.

That being said, I was pleasantly surprised by the Dalbello Quantum Free Asolo Factory's stiffness. Even with their soft looking build, I felt like the boot really held me with its 130 flex and that I could really work and push them in steep terrain.

Conclusion
The Dalbello Quantum Free Asolo Factory are definitely made for folks having to walk the distance for their epic lines. Advanced to expert backcountry skiers who don't mind giving away a bit from their downhill experience in exchange for a lightweight boot allowing a better range of motion for the uphill experience. Overall, they felt like a great boot, but mine were in need of just a few adjustments to get that custom fit you need to get the control and power going downhill.


_
I'd like to thank the talented photographer Alexandre Choquette for these amazing shots!
Check out more of his work and adventures here:
https://www.instagram.com/alexandrechuck/
_
The Quantum Free Asolo Factory is the top of the range versatile freetouring boot that combines the best of both worlds: excellent fit, control and power transmition in downhill mode as well as smooth and comfortable walking when hiking uphill. Its innovative, two piece shell and cuff construction make for little weight, anatomical fit and high rigidity. This does not effect the freedom of movement so that the climb is easy and less energy-consuming. The two-piece X dual link cuff allows more than a 65° range of movement! On descents the larger cuff ensures loss-free power transfer, excellent support and ski control. The buckle Power Strap and two dedicated buckles ensure effective and smooth closure and lateral stability. An improved mechanism allows more foreward lean and can very quickly be changed from hike to ride and vice versa. The exclusive IF Touring Pro liner with high-density paddings and full lacing offers great comfort, snug heel hold and fit. Of course, it can be adapted to the shape of the foot. A profiled Vibram dual density rocker sole offers good grip when walking and climbing plus smooth power transfer to the binding and ski.