The RVX Mag OTG goggle is Dragon's top-of-the-line model and a team favorite, with Hunter Hess rocking it as his goggle of choice. The RVX is a modern classic, and now comes newly improved by the power of magnets. Dragon's groundbreaking Swiftlock Magnetics has been augmented with magnetic contact points coupled with the one-sided release lever to create a secure and quick lens changing solution. Add in OTG compatibility, expansive Lumalens Color Optimized technology, Dragon's Patented Frameless Design, and you've got one heck of a goggle. Of course, the RVX is helmet compatible and features the toughest anti-fog on the market. Discover the RVX Mag OTG today. This goggle utilizes features derived from Dragon's patented Advanced Projects X (APX) technology.

https://www.newschoolers.com/videos/watch/1052443/Dragon-W23-RVX-HH-Final-16x9-mp4

_
GOGGLE HIGHLIGHTS:

Lumalens color-optimized technology:
LUMALENS® is a color-optimized lens technology offering ultra-high definition optics across the entire spectrum of light conditions. Engineered to improve and optimize visibility in all environments, Dragon's exclusive LUMALENS® technology delivers superior color vividness, improves depth perception, and reduces eye fatigue for better performance.
Swiftlock Magnetics Lens Changing System:
Newly improved with the power of magnets, Dragon's groundbreaking Swiftlock has been augmented with magnetic contact points coupled with the one-sided release lever to create a secure and quick lens changing solution. With engineering improvements over the first generation, Swiftlock Magnetic allows for the goggle to be (OTG) Over-The-Glasses compatible.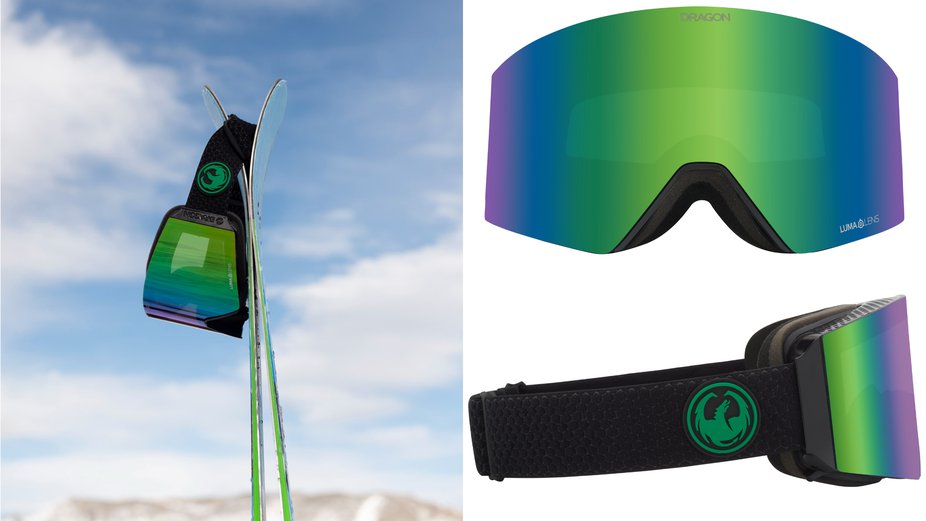 OTG Compatibility:
Dragon's Over-The-Glass compatibility has been designed to easily allow for most users' glasses to be worn underneath the goggle without sacrificing comfort, goggle fit or peripheral vision.
Armored Venting:
Armored venting makes clearing out snow-packed vents a snap. With improved attachment points for secure fit, this system is built to endure the elements.
_
FULL FEATURES:
Swiftlock Magentics Lens Changing System
Lumalens color optimized technology
Premium Injection Molded Cylindrical Lens
Patented Frameless Technology
OTG Compatibility
Armored Venting
Super Anti Fog coating
Silicone Strap Backing
Helmet Compatible
Medium Fit