Newschoolers Review:
A few years ago I worked with SunGod, a company based in the UK to review their first line of goggles– The Revolts. By now, you may have seen SunGod on the face of Woodsy, or as the official eyewear sponsor of the Freeride World Tour. I'm back this year to review their latest– The Vanguard. The Vanguard is a larger goggle, with a 20% increased field of vision from the Revolt line. Just like the Revolts, the Vanguards allow you to customize your pair by choosing your own strap, frame, and lens. - Matt Masson.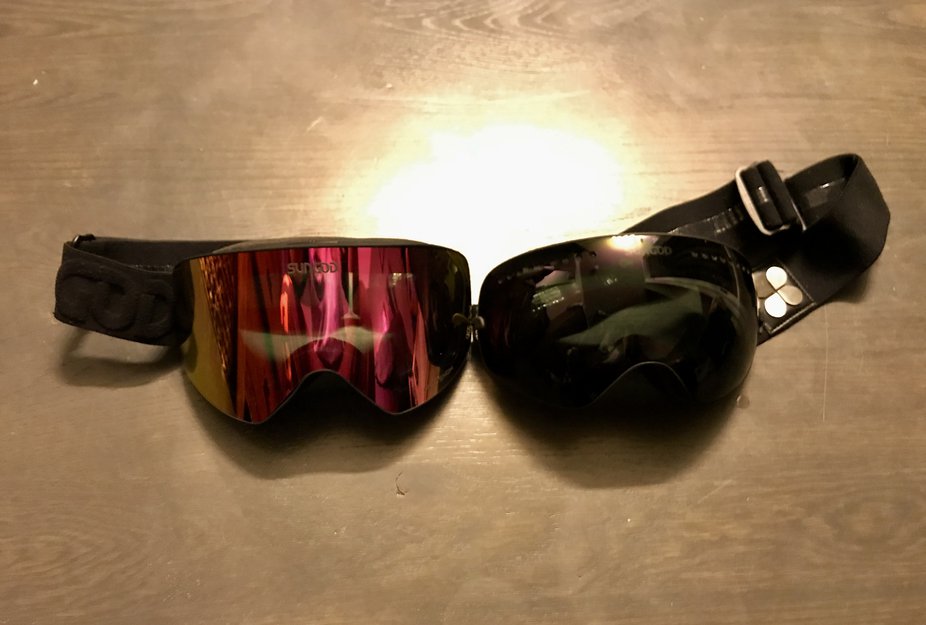 Vanguard left, Revolt right
Fit:
I'd argue the Vanguards are definitely better for a larger face, see: men. It's not that they don't fit me at all, they just feel a bit large/ fruit fly style. While I haven't used these others, I'd imagine they're similar in size to something like the SPY Legacy. They're significantly larger than the Revolts, which are comparable in size to the Smith IO's and Anon WM1/M1s. As for feel, the foam is soft and sturdy, and the field of vision is much larger than I'm used to (in a good way!). I wear them over the helmet with a Pret Cynic X (/Lyric X) and the strap is no-slip with a seamless fit.

Lens:
SunGods only come with one set of lenses, so I went for the 4KO Snow High-Vis PINK. It has 100% UV Protection and a 38% VLT (the lowest SunGod offers), making it best fit for cloudy and snowy days. I tested the pair in Jackson Hole, Wyoming, where a majority of our days are cloudy/snowy or have cloud cover in the afternoon. I pretty much never use a full sunny or blackout lens, so these worked perfectly, and the optics are comparable to lenses I've used from both Anon and Smith.
Out of the 10+ days, I've used them I had some lens fogging up one of them when I was hiking with them on in colder conditions– which with perspiration is to be expected.
Lens Change System:
I haven't had to do this much as I aforementioned that they only come with one set of lenses, but I tried it out for the sake of this review. If you're having an issue with it,
check out their how-to here
. The Revolts definitely have an easier system, I still haven't quite mastered the Vanguards and I wouldn't classify an easy lens change as their strong suit, but if you have 5 minutes to spare and are only making the switch once a day they get the job done.
Overall, The Vanguard is a solid goggle choice for everyday conditions! Its large field-of-vision is definitely its standout feature, and I feel comfortable comparing the lens quality to the big names such as Smith, Anon, and SPY.
Buy here:
https://sungod.to/6Go9NcsY