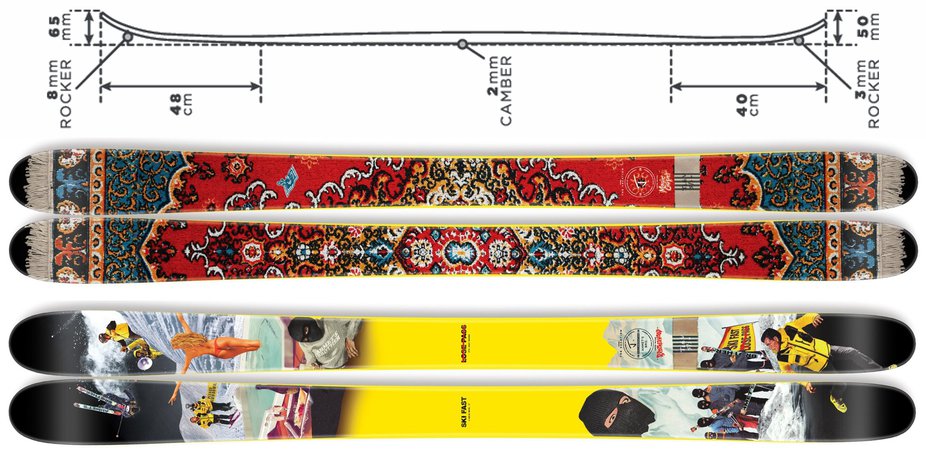 Newschooler's Review: I rode the Ahmet's Brother Vacations last spring in Wisconsin shredding slushy, spring groomers, park laps, and sending it off side hits wherever possible for 5 days. As a pretty big guy I was able to flex the skis with ease which was perfect for buttering and never an issue except for when I was taking extremely tight, high-speed turns, where the ski sometimes over-flexed and I ended up washing out. In the park, I had a fucking blast buttering around, pressing on boxes, and bouncing on features a la The Bunch. Perfect for someone who truly values a ski that can rip groomers/trees/some pow at the top of the lift then dip into the park at the end of the run to slay a few rails and jumps with ease before heading back up for countless laps. -Kretzschmar

Characteristics: A wide ski with a soft, playful flex for throwing tricks all over the mountain, especially in powder

Manufacturer's Description:

The Vacation is the ultimate get away. . . from traditional stiff fat skis. If your idea of fun is to slash, butter, press, air, nollie & jib throwing tricks all the way down the hill from untracked pow to the groomers and everywhere in between, it's time for a Vacation! This is one of the widest skis you'll find with such a soft flex pattern turning boring terrain into a jibbers playground, coupled by deep sidecut for arcing mind blowing carves (like a futuristic version of "Elixabeth"). Giray Dadali AKA "Ahmet's Brother" style of jibbing the entire mountain from the pow to the park was a huge inspiration while developing this ski.





Shop For J Skis

Merchant

Sale Price

Retail Price