iF3 MONTREAL 2020: Movie registration is CLOSING soon!!
A DEADLINE EXTENSION to July 19th, 2020 has been granted by the iF3 judges!
Be sure to register your movie in time if you want to be part of the iF3 2020 official selection and get the chance to be part of the unique iF3 movie awards gala.
https://festivalif3.com/en/awards/#registration
Thank you to everyone who already registered their movie!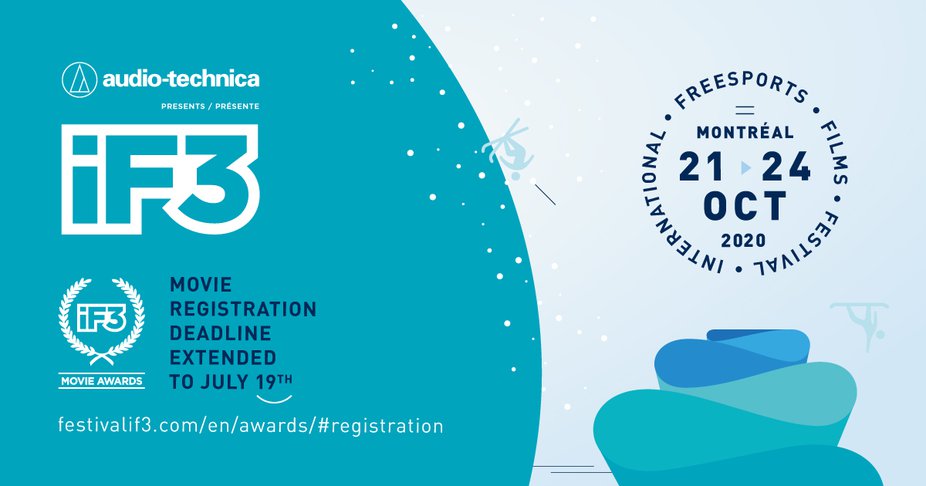 iF3 2020 Broadcast is in planning…
As a result of the evolving situation surrounding the COVID-19 pandemic, and in an effort to put our fans' health and safety first, the iF3 Festival is going virtual, and will be broadcasting the annual rendezvous live from their studio in Montreal, Quebec on October 21 to 24 , 2020.
Our presenting partner, Audio-Technica Canada, will be supporting iF3 with the technical equipment necessary to operate the broadcast, which will include presentations of ski and snowboard films officially selected for the occasion, interviews with producers and athletes involved in the projects, and the 13th annual iF3 Movie Awards gala.
iF3 plans to broadcast the festival via a private channel, the specifics of which are to be determined at this time, and all iF3 media partners will be given the ability to embed the broadcast on their respective online platforms. This will provide skiers and snowboarders from all over the world with a unique opportunity to converse and react with their community virtually, all while watching the year's best ski and snowboard films.
About iF3
The International Freesports Film Festival was founded in 2007 to recognize and celebrate the excellence in freeskiing &
freeriding. It is the biggest festival tour of its kind, travelling the globe to present the world's best ski & snowboard movies of
the year. The festival's reputation and recognition stem from being the only independent ski film award ceremony with an
international and diverse jury panel in which not only athletic performances are rewarded. In fact, a major part of the gala is
dedicated to the artistry and production work involved in bringing ski films, and snowboard films to life.
Press & Media Relations:
Luc Skypowder, 819-578-3448, skypowder@if3festival.com
Communication & administration:
Camille Martin, 514-578-3448, skypowder@if3festival.com
Event Sponsorships/partnerships:
Audréane Béland-Côté, 514-442-5165, audreane@if3festival.com