Many of us know evo as an online retailer, but they have in fact had a brick and mortar store in Seattle. This past weekend, they opened a second location in Portland, Oregon and would like to invite you to a grand opening party on Saturday, November 15th, featuring live music, food, drinks, a silent auction and dancing. The party will benefit The Chill Foundation, an organization that uses board sports to motivate and challenge youth to accomplish goals. The program teaches participants life lessons about patience, persistence, responsibility, courage, respect, and pride. Tickets are only $5.00 and you can buy them here!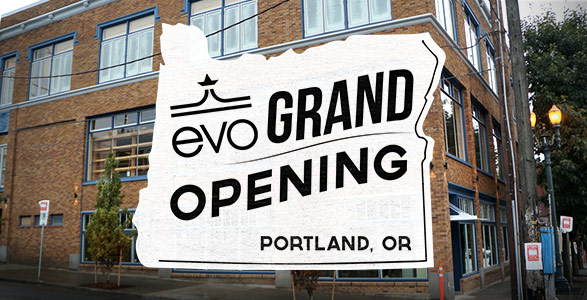 From the guys who brought us member of the month last season and great deals we have all come to love....:
The 11,000-square-foot Portland store is located at 200 SE Martin Luther King Jr. Blvd. in the historic, 120-year-old former Salvation Army headquarters. The three-story brick building, freshly painted a deep blue, is on the National Register of Historic Places.
Founded by former professional skier and native Oregonian Bryce Phillips, evo is an action sports and fashion apparel retailer with deep roots in the Pacific Northwest. Started in Seattle in 2001, evo has a thriving online business with a dedicated fan base. It also operates an 11,000-square-foot flagship store in Seattle's Fremont neighborhood.
evo selected Portland as its second brick-and-mortar location because it was a leading source of customer traffic to the company's website, and the area aligns with the company's vibe and values. Portland's outdoorsy culture and proximity to ski areas at Mount Hood cemented the deal.
Founder and CEO Bryce Phillips, who grew up in Roseburg, Ore. said, "Portland is a natural extension for us, part of our broader community. The opportunity to create an extraordinarily unique customer experience in a beautiful building with such a deep history is remarkable. We want to establish evo as a place for people who share a passion for skiing, snowboarding, skateboarding, surfing, biking, music, art, travel and the lifestyle that we live and breathe."
evo in Portland features a ski, snowboard and bike service shop in the basement, with retail space on the first and second floors. The store will offer an expansive selection of more than 150 brands in action sports gear and apparel for ski, snowboard, wakeboard, skate, surf and bike. Featured Portland launch partners include Adidas, Armada, Burton, Dakine, Line Skis, Nike, Quiksilver, Saga, The North Face, YES., Arc'teryx, Lib Tech and Smith… See all of evo's brands here.
Designed as a community gathering space, the store will regularly host events, monthly art shows featuring pieces from action sports athletes and brands, fundraisers, movie and music premieres, and parties. evo works directly with organizations like the Northwest Avalanche Center to provide free Avalanche Safety clinics throughout the season and hosts a series of Ladies' Nights throughout the year.
The store is open Monday – Thursday from 11am – 7pm, Friday from 11am – 8pm, Saturday from 10am – 8pm and Sunday from 11am to 7pm. For store events and happenings, check out evo.com/Portland, follow twitter.com/evoportland, Instagram.com/evoportland and like fb.com/evoportland.
#evoPDX