Tahoe early season has been deceptive as usual. It snowed pretty good as early as October 6th, giving everyone some hope for a killer year. But instead, everything kinda petered out and followed the same pattern as the last few years, with warm temps and very little precipitation. Still, everyone seems to be keeping the stoke alive, and with some colder temps and snowmaking the last couple weeks, things have only been getting better!Things originally got going back in October with the Skigasm ski movie premiere. Jex, Joel and Jay put on a dope showing of four ski flicks that was positively skigasmic! On the way up from school in Davis, I was stoked to find that mother nature had done her thing with a few inches of snow over Mt. Rose pass. Yes! So me and Jess put on the skis to shred a little log jib thingamajig real quick.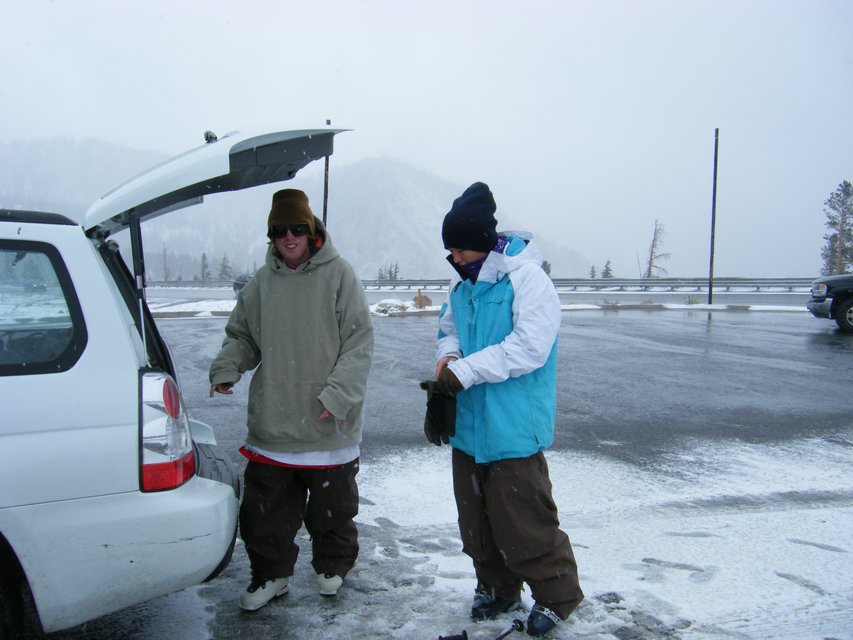 90 degrees in Davis, 22 degrees at Rose. I sold my ski coat last week... awesome!
Got like 3 feet of air this time, stoookedSo after the minishred sesh at Rose, we headed down for the premiere and had a blast. One of the best parts of early season is getting all your buddies together again in one spot, swapping stories from the summer and just having an all around good time!A couple weeks later I went to SF for a ski expo and rail jam demo. It wasn't quite what I expected, but it was fun to do a carpet jib for the first time, and I got to hang out with Boone and DingoSean a bit as they manned the booth and sold some skis. The only downside was the rain! The railjam setup was outside and it was absolutely pouring buckets. But everyone was so stoked to ski that we just hit the box like a hundred times or something until we were soaked to the bone. Good times!
who knew a flat box in the rain could be such fun?
on the way out of town, we got to cross the golden gate bridge. always cool, especially as the fog rolls in.Since SF, though, it kinda just hasn't snowed at all. Most of the resorts really have had to struggle to get open, but we have been able to ride the last few weeks and it's been way fun just the same. Everyone seems really stoked and good vibes and good times are all around. Some folks are starting to try some pretty creative rail grinders to keep things fresh as we go through the longest, driest early season in recent memory.I included a little edit from the last couple days of riding. We finally got a couple small jumps this weekend so I think everyone's pretty pumped about that. I got to spin a couple film laps with fellow Boone riders Martin Rubio and Sugar Dorszynski, so watch out for them at the end!weekend edit from Bret on Vimeo.
http://media.nscdn.com/uploads/member/videos/1228706398boone_update.mov(i tried to embed it, but you might have to click the link? i dunno how this works!)Hope your respective winters are all alive and kicking! Have fun out there, stay stoked, take a minute to do a little snow dance for Tahoe... we need some more of those frosty flakes to fall quick stat!