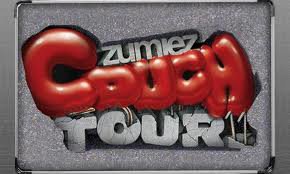 Once again, Zumiez is hosting their annual skate/music/festival event, the Zumiez Couch Tour. For the 5th year in a row, Zumiez bring the tour to Utah. This year it is being held at the Fashion Place Mall on June 9th. The Zero skateboard team will be performing a demo with the likes of Jamie Thomas, Tommy Sandoval, Tony Cervantes, Garrett Hill, Ben Hatchell, John Fitzgerald, Tom Karangelov, Chris Cole. Music guests Forever The Sickest Kids will be putting on a concert after the demo as well. So come down and watch some of the best skateboarders put on a demo and listen to some music afterwards on June 9th.
Here is the detailed schedule:
Schedule (All times Pacific Standard)
12:00-1:00pm
Zumiez Best Foot Forward Local Qualifier, 20 spots up for grabs
1:00-2:00pm
Zumiez Best Foot Forward Am Skate Contest
2:00-3:00pm
Zero Skate Team Demo
3:00-3:30pm
Zumiez Best Foot Forward Final Heat
3:30-5:30pm
Zero Skate Team Autographs
4:00-4:30pm
Band TBA
5:00-6:00pm
Forever The Sickest Kids concert
12:00-6:00pm
CAUTION: Festival featuring free games, prizes, giveaways, music, skateboarding and more!