Cover Photo: Erik Olson
The summer park in Zermatt is fast becoming a ski institution, a summerly pilgrimage following the footsteps of Will Wesson, Sami Ortlieb and the rest of the Glacier Days crew. Each summer, the number of skiers and snowboarders making the trip grows - and with good reason. The park isn't just good 'for a summer park'; it's one of the most creative, flowy parks anywhere in the world, at any time. A huge amount of credit for that should go to Marcel Brunisholz and his mind-bogglingly dedicated shape crew. It's one hell of a challenge to keep a park looking and riding this good in the heat of summer, but year after year they do just that.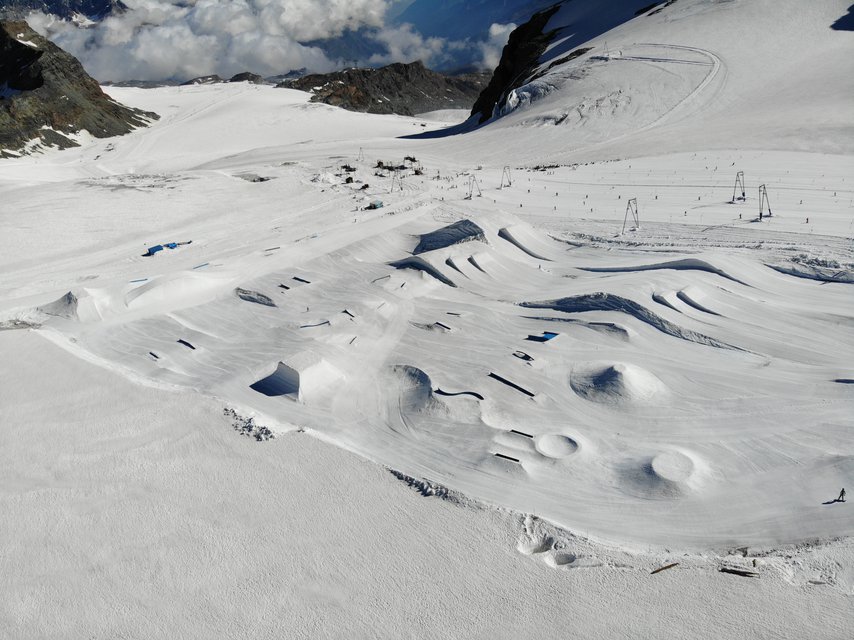 A work of art. Photo: Anna Plocinska
_
This summer's park was unveiled last weekend and, thanks to an epic winter having left near infinite snow to build with, it's probably the best yet. I've been here a week now and I'm still figuring out the multitude of line options and finding new ways to hit features. It's certainly too good not to post as park porn. Here it is in its full glory. There's nowhere else like it, that's for sure.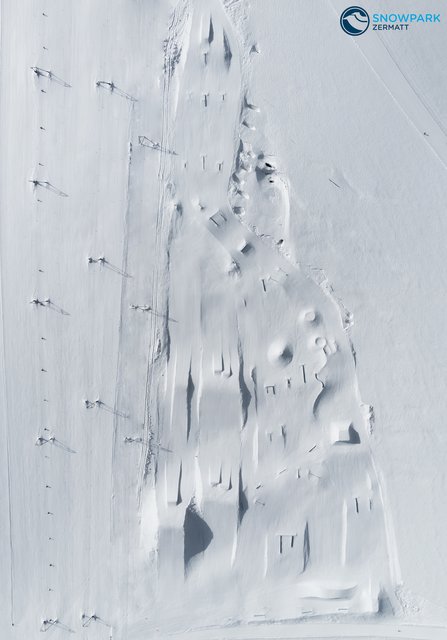 A bird's eye view of the whole park. Photo: Anna Plocinska
_
To highlight how far things have progressed in the past few years, the usual Glacier Days summer webisodes have been shelved in favour of a full movie of summer goodness. Much of the core crew (Will, Sami and Erik Olson) are back and there will be a constant flow of pros coming through to shred and film for the project. Remco Kayser, the winner of SuperUnknown 2018, Fabian Boesch, Simon Bartik, Sebastian Hein, Lauri Kivari and Kai Mahler have all made an appearance and summer has only just begun. We might only be at the end of the first week but shots are already being stacked. With Sami behind the lens and editing the project as well as riding, you know this is going to be as creative as they come.
Top rail line ft. Linus. Photo: Anna Plocinska
_
At the beginning of the winter just gone, I spent a bunch of time at Kitzsteinhorn in Austria. One of the things that made that place so special was a small group of people whose passion was fuelling the growth of the scene, in spite of many parks facing difficult circumstances. The same is true in Zermatt. There's a group of people here who, through their own hard work, have made this one of the best places to spend some time on your planks. If there's a chance you can make it up here this summer, don't blow it. The park crew also had a couple of events they wanted me to highlight, so here's what's on if the park itself isn't enough to tempt you:
_
21st July - Grill and Chill Day: The crew will be firing up the barbecue in the park, which is a great chance to meet new people to take a few laps with. If the weather is terrible, this will go down the following weekend.
4th-5th August - Girls' Weekend: Featuring a pro level contest and chilled riding in groups, Girls' Weekend is a yearly fixture on the Zermatt Park calendar. Definitely a great weekend to be up here for the ladies.
18th August - Shred Coffee Live Session: Live DJs, barbecue and contest.
8th-9th September - Italian Closing Weekend Contest: Probably the biggest event of the summer, this one is a full-blown rail jam to mark the closing of the lifts on the Italian side. There'll also be food, ski/board tests from numerous brands and live music.