All photos: Mateusz Bocian
Zermatt. It conjures up images, first and foremost, of the Matterhorn, arguably the worlds most famous mountain, but also of champagne bars and fur coats. Until recently it was not a noted destination for destitute park rats trying to get a fix of rails and jumps. But over the past couple of years that, at least, has changed though the champagne bars still remain. In spring and summer it's now arguably the place to be in Europe.
https://www.newschoolers.com/videos/watch/868243/Top-To-Bottom-at-Zermatt-Spring-Sesh-Park-
The Zermatt Glacier Days crew with one of the best ever top to bottoms in last spring's park
The park crew is next level dedicated, building creative features that require hours of hand shaping. Day in, day out the park is perfectly shaped, even if snows the night before, which it tends to do a lot southern Switzerland in the spring. The crew have been known to shape right through the night and go straight from shaping to riding the next day and that's what I'd call a worthwhile all-nighter.
The setup this week
This spring, notable features include a mini-pipe between the jump line and the rails (yes, you can hit jumps, pipe and rails in one lap) and an XL pyramid/bowl feature at the bottom of the park. Both Zermatt and Cervinia (the Italian side) resorts are still open so there's plenty of non-park skiing to be had too. There's been more snow this year than any year I can remember and I've been going to the area for 20+ years, so the summer park is bound to be all time too.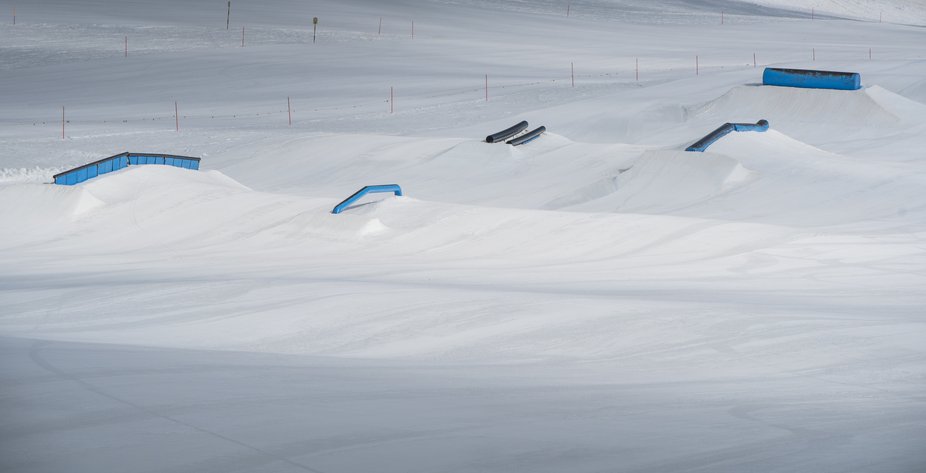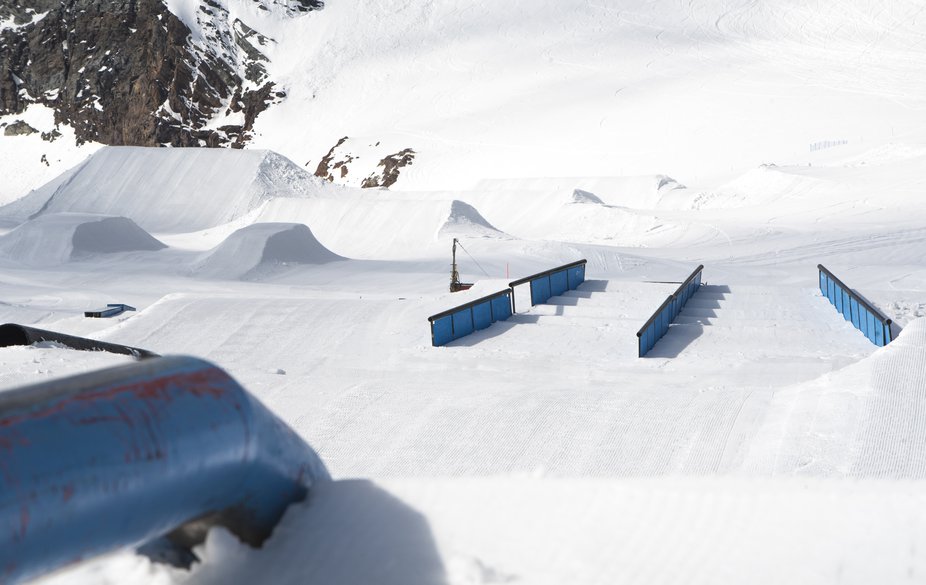 Some feature closeups
The downside with Switzerland is usually the cost but for the next 3 weeks there are cut price passes for both individuals and crews. If you're heading up on your own, passes are 20% off and if you buy with a group of 3 or more it's a whopping 50% reduction. And yes this is shameless (yet sadly unpaid) promotion, but Zermatt is my home park for the next 4 months so hopefully I'll see as many of you up there as possible.
Details and pass booking can be found here.
_
Events:
Coming up this weekend, Saturday 12th, is the Cash 4 Tricks Jam with a prize pool of 1000 CHF supported by Doodah Store and Zermatt Bergbahnen.
One week later the special Sunset Session will take place on Saturday the 19th. For the first time during spring sessions the chairlift will stay open until 4pm so everyone can enjoy a longer shred.