The story of my 08 season….by Alexis Godbout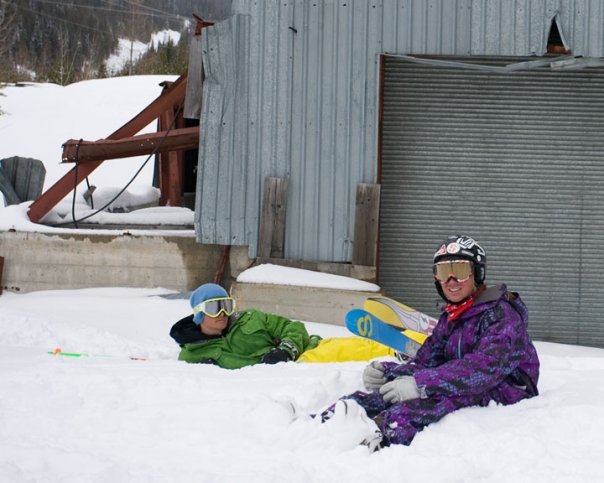 with Dane Tudor at Red Mountain
My winter started of in Whistler around December 5th doing a bit of
filming with Jeff Thomas from Theory-3 and already training for the US Open. It had been 10 months since I last skied, because of my knee
injury. A week later I took a plane to Denver to meet with the Salomon
team in Breckenridge for an early season camp. It was nice to ski with
all the guys again, AJ, Charles and Vincent Gagnier etc...
Tremblant. photo by Audric Gagnon
Whistler. photo by Sophie Beaudoin
I spent X-Mas in Whistler and then flew home for New Years in
Tremblant, QC. I then headed to CO a few weeks before The Open to train
with Phil Casabon aka B-dog and Vinnie Gagnier.
US Open. photo by Felix Rioux
The US Open almost went well...ahah I was first after semi-final but
then I messed up on both of my final runs (remember to always shut off
your phone during a comp!!!.....) I was pretty happy with the Aspen
Open finishing 3rd. After those comps I was pretty confident again with
my rebuilt knee.
Euro Open. photo by Felix Rioux
I was pretty stoked to be part of the Orage Master's on the Salomon
team, but unfortunately I hurt my back on my first day filming at the
Poor Boyz shoot in Schweitzer, Idaho a week before the Master's! After
few weeks of rehab I started filming with my friends Ben Cormier and LP
Sansfacon from MLP, who actually just won the Peoples Choice award at
IF3 with their new movie *BROADCAST*.
IF3. on stage with Poorboyz...
...and with the Salomon crew (Sammy Carlson, Mike Douglas, Jenny Naftulin and Charles Gagnier)
Later on in the spring I headed to the SALOMON JIB ACADEMY at MAMMOTH
MTN. This was the highlight of my season and probably some of the best
times I have ever had on skis! Blue bird sky everyday, awesome park,
sick riders etc...
Mammoth
Then it was Summer time WOOOHOOOO!!!
I skied Whistler all summer at Momentum ski camp shredding with Paul
Bergeron aka B-Paul and Dane Tudor both members of the Salomon Team. I
improved my skiing and filmed a bunch with MLP.
Momentum. photo: Dan Carr
I spent the rest of my summer back home with my girl friend and family.
I went on a trip to Cape Cod, surfed for the first time and skimboarded
a bunch.
summer jibbin
Cape Cod
Right now I'm in school and working out at the gym until the season starts!
a bientot
Alexis