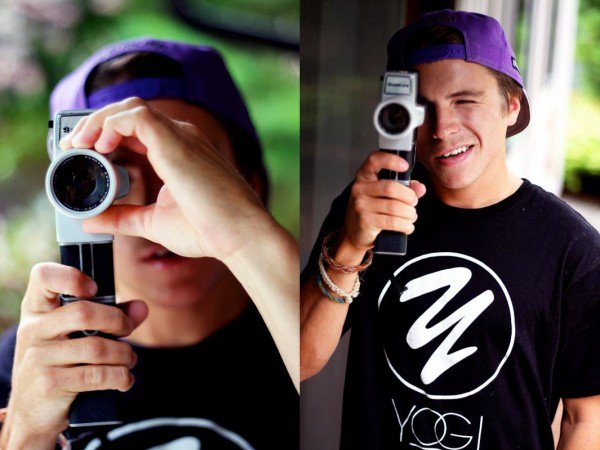 Forum's Austen Sweetin has been hanging around camp for the last couple weeks. When he's not riding or skating in the Concrete Jungle, Sweetin has been working on some new leather products for YOGI. YOGI is an up and coming brand from Seattle that specializes in leather accessories. It is ran by some good guys that are in the snowboard industry, including Sweetin.
WHAT IS THIS YOGI THING ALL ABOUT AND WHO IS BEHIND IT?
YOGI goods is a hand made leather goods company that is out of Seattle Washington. Brant Wahlman and Seth Kitzke started it, and I joined in a couple months after, sharing the same vision they had. We basically just want to make handmade, quality leather accessories, that are simple and functional.
WHAT ACCESSORIES DO YOU GUYS MAKE?
At the moment we have just been making a variety of different types of wallets, such as bi-folds, tri-folds, t-folds, and card holders. We have started experimenting in making macbook sleeves/cases, and I am currently working on a iphone case. Backpacks are also in the works.
IS THIS A SNOWBOARD COMPANY OR JUST ACCESSORIES?
I would say its more of a lifestyle brand. We all have grown up in the snowboard industry and are working within the snowboard industry. All three of us are influenced by fashion and feel like there is a lack of attention to making a solid, minimalist product. We are tired of seeing giant and cumbersome wallets with crazy patterns that sell in mall shops like Zumiez. We wanted to set out to make quality products that are accepted within both the snowboard/skate industry, and fashion.
YOU GUYS HAVE A PRETTY CRAZY TEAM BACKING YOUR STUFF. TELL ME ABOUT THAT.
I wouldn't necessarily call it a team, it's more like a family that consists of all the homies we grew up riding with in the N.W. and then some. That would include Jacob Krugmire, Austin Hironaka, Nick Visconti, John Shaw, Jonah Owen, Derrek Lever, Blake Geis, Spencer Schubert, Johnny Brady, Dylan Dragotta, Seth Kitzke, and myself. I also started hooking up a few of the Forum riders with wallets and tee's when they came to hood, such as Stevie Bell and Cam Pierce. We're like the Brady Bunch; one big happy family that keeps growing.
THAT IS SOME SERIOUS SUPPORT. ARE YOU GUYS IN ANY SHOPS? HOW DO YOU GET YOUR HANDS ON YOGI PRODUCTS?
We haven't released our line to the public, were still trying to narrow it down to our best products. Were hoping to launch in shops Spring 2012. If you would like a wallet or some other piece of leather accessory hit us up on our facebook page or twitter @YogiGoods and we will do special orders. Thanks for all the love and support, YOGI!
Windells - BMX. Skiing. Skateboarding. Snowboarding.