words by Jeff Schmuck
photos by Felix Rioux, cko & Jeff Schmuck
The ski side of Winter X-Games 12 is over. Today's slopestyle finals was the last event for our sport at the biggest event of the year, and the Games themselves will culminate later tonight with the snowboard superpipe finals.
The slopestyle course was ripe for the picking today with manicured jumps under clear skis before the rain began to fall near the end of the comp. Twenty skiers were narrowed down to ten earlier in the day in the qualifiers, including Andreas Hatveit, Jon Olsson, Colby West, Charles Gagnier, Jossi Wells, JF Houle, Tanner Rainville, Peter Olenick, Anders Backe and Thomas Dolplads.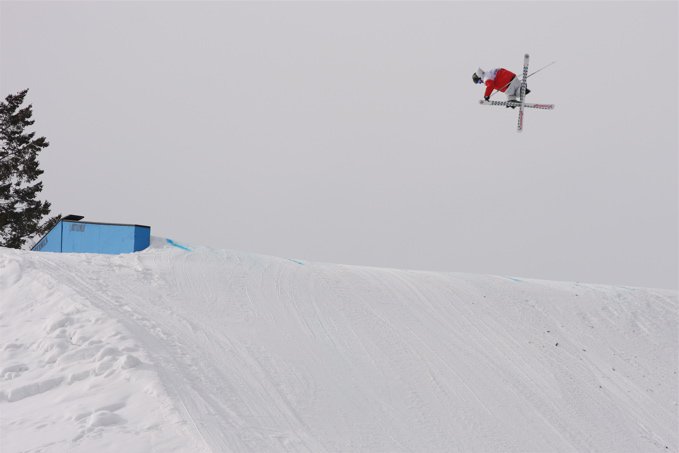 Peter Olenick
Pete kicked things off after qualifying on the bubble position of 10th and put down an excellent run. However the judges took the standard protocol of giving low scores to the first run a little far, giving Pete a much lower score than he deserved.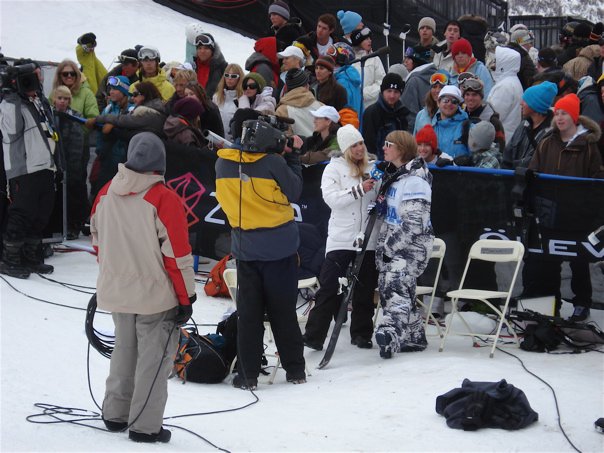 Jossi Wells
Jossi dropped in shortly thereafter, and threw down what would become the run to beat until the last possible second. With two massive and styled-out switch 10's, one right and one left, Jossi set the bar awfully high and secured himself a comfortable position for the remainder of the day.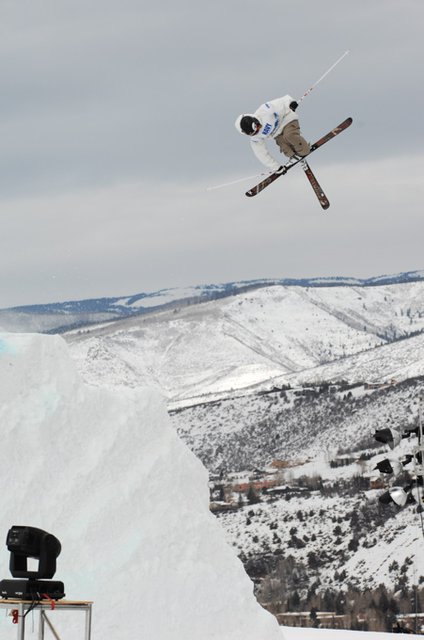 JF Houle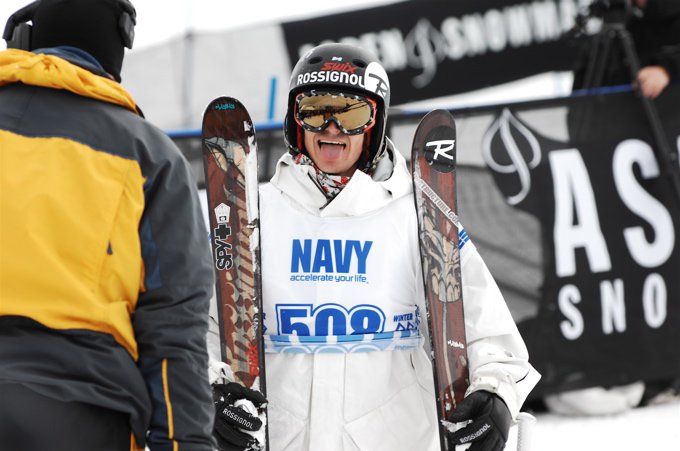 JF Houle, who had been skiing extremely well all day, continued to do so on his first run, but fell on his second much to the disappointment of the large Quebec-contingency cheering him on at the bottom. And speaking of Quebec, Charles Gagnier was up two spots after JF and proceeded to slay the course with switch left and right 10's and a huge switch 9 octograb at the bottom, landing him right behind Jossi in 2nd place.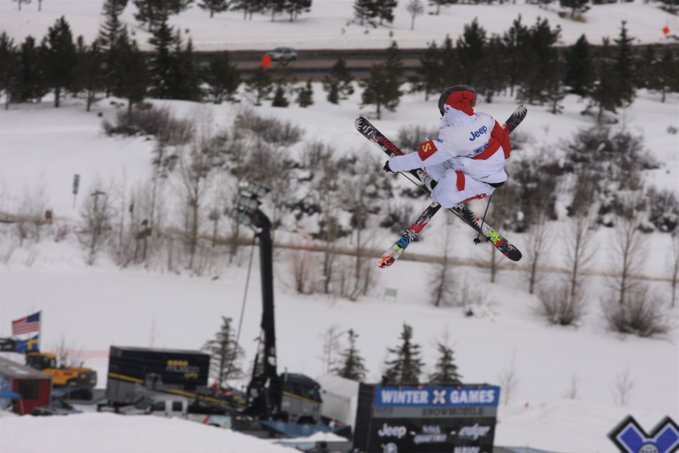 Charles Gagnier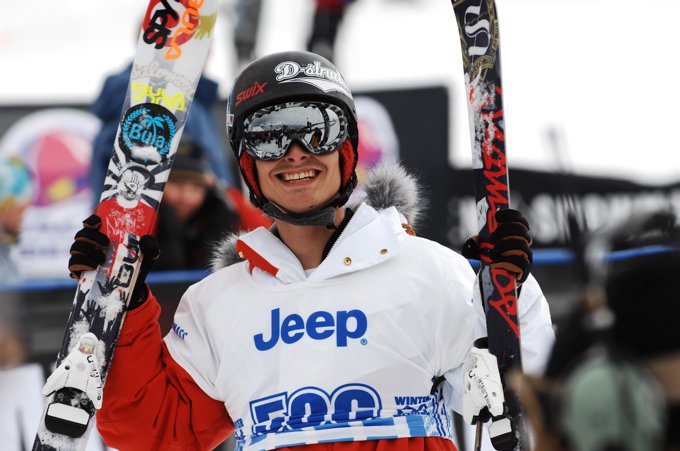 His silver position was short-lived though, as after Colby fell on his first run (and then threw a fat, laid-out backflip off the bottom hit to please the crowd) it was Jon's turn to shine. With a gorgeous switch 5 off the top jump (which he jokingly told me was for all the kids on Newschoolers), followed by a cork 9 to switch misty 9 to huge kangaroo flip, Jon snaked the 2nd place spot from Gagnier with a 87.00, but still fell short of Jossi's 92.00.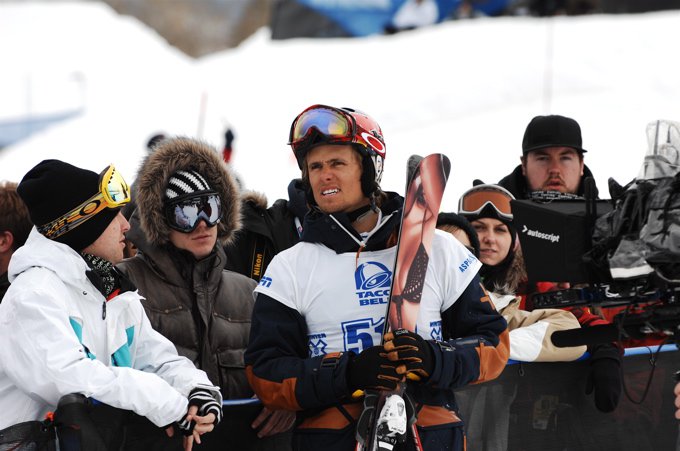 Schmuck & Bishop with Jon
Last to go was 1st place qualifier Andreas Hatveit, who disappointingly crashed at the bottom and began to stress out, telling me that when he crashes on his first run he usually crashes on his second.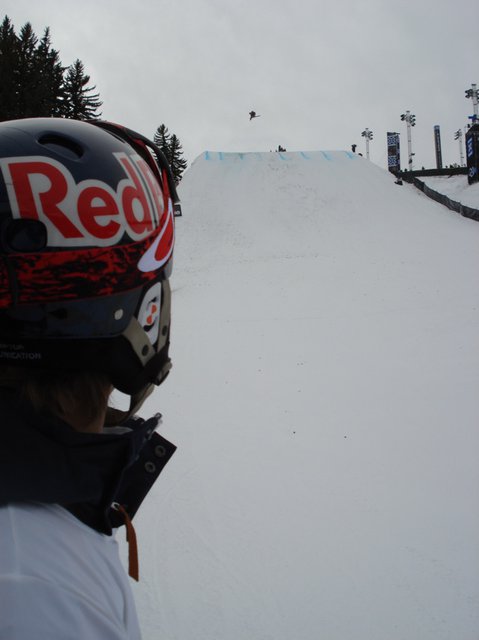 Jon looks on as Andreas sends it on the bottom hit
With everyone's first run in the bag it was back to the top of the order for the second and final run (what happened to the three run standard of years past?). Pete bobbled on his third air, and was followed up by Thomas Dolplads, Tanner Rainville and Anders Backe, who all skied well on both their runs but were a bit behind the top of the field.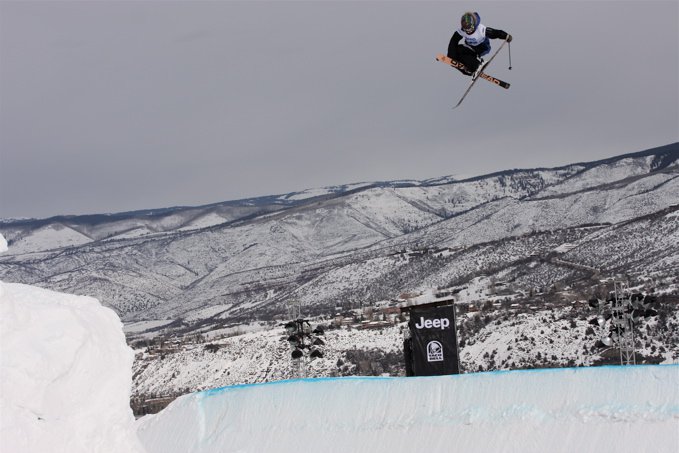 Anders Backe
Team Quebec was up next with JF's disappointing fall followed by one from Charles, who attempted to take his switch 9 octograb off the bottom hit to 12, and went way too damn big for his own good and washed out on the landing.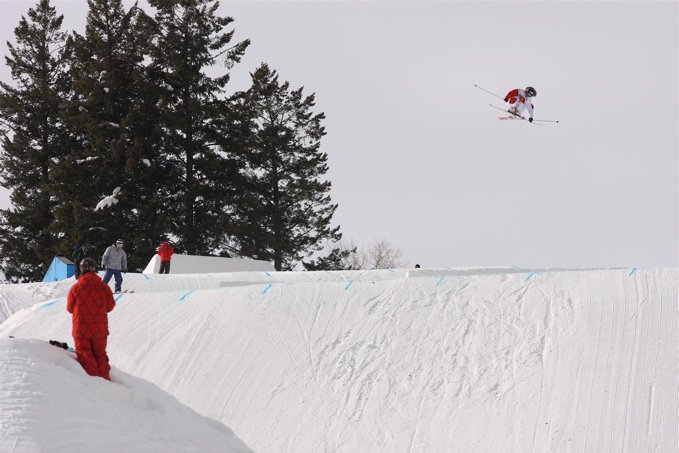 Gagnier
Things then started to get really interesting as good ol Colby James West (who in case you didn't know is just a prince of a guy) redeemed himself after crashing on his first run with a stellar second one, sneaking past Gagnier to land himself in the bronze medal position.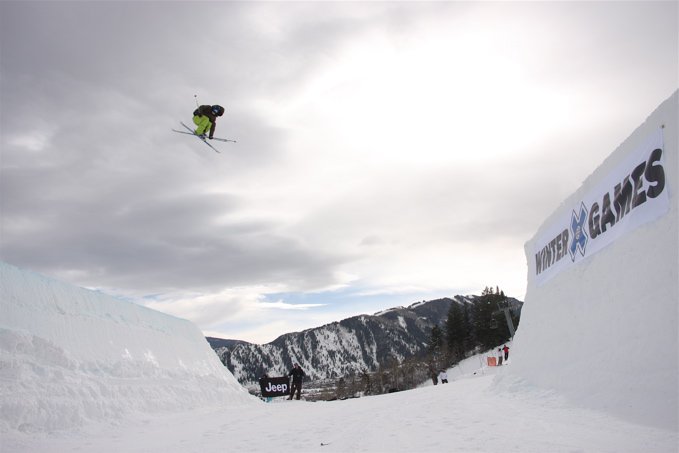 Colby West
Jossi came next, attempting to better his first run but it was not to be after he too went down on the third hit. Jon then did his best to take Jossi out and secure himself double gold at X, repeating his first run and throwing a even bigger kanagaroo, but much like Charles went a bit too large and sketched out on his landing.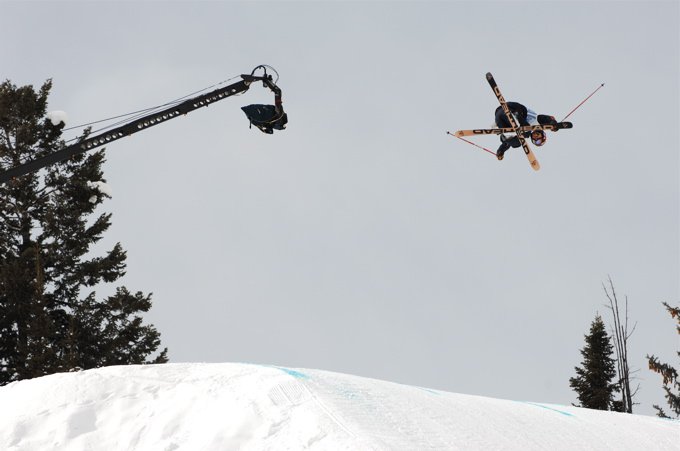 Jon
As Jossi fidgeted nervously at the bottom, the last man with a chance to take him out dropped in. Andreas Hatveit had been dealing with mind games for more than a few commercial breaks, but proceeded to do what he had to do when the time came, with a 450 on the box, a rodeo off the up-box, a stellar right 9 tip grab followed by switch left and right 10's and capped off with an absolutely large and in charge switch 12 nose grab (that he held the whole way), which he later said he decided to do at the last second.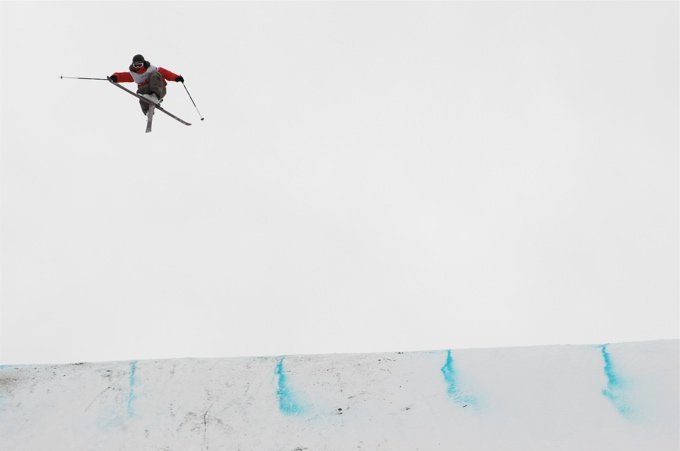 Andreas
As Colby, Jon, Jossi and Andreas gathered to wait for the results, the crowd became strangely and deathly quiet before it erupted in approval and admiration for Andreas' first place score of 94.00, which knocked Jossi off the top spot, Colby off the podium and secured Jon his 7th bronze medal.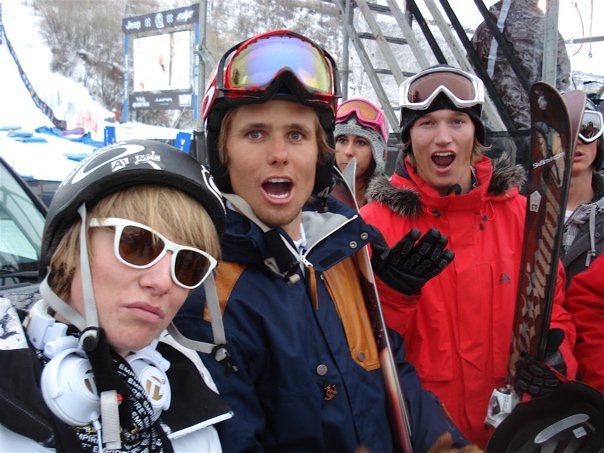 Andreas' had been working and training extremely hard for this event since the snow began to fall and his hard work paid off today in what he called a dream come true. As the media frenzy began the Norwegian's smile beamed wide and there were high given all around as the Scandinavian dominance of the slopestyle scene continued at Winter X-Games 12.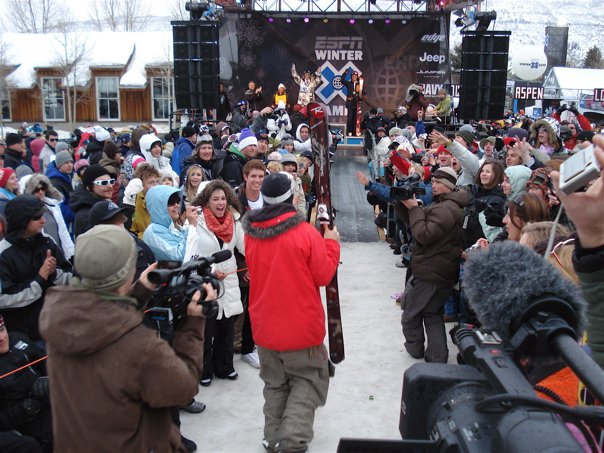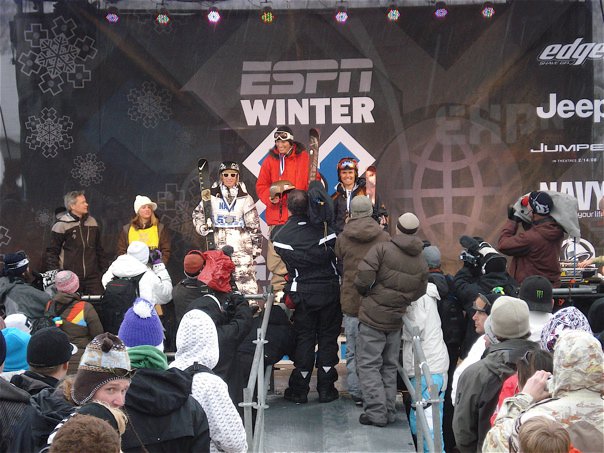 Final Results
1 Andreas Hatveit - 94.00
2 Jossi Wells - 90.00
3 Jon Olsson - 87.00
4 Colby West - 85.00
5 Charles Gagnier - 83.00
6 JF Houle - 79.00
7 Anders Backe - 76.00
8 Tanner Rainville - 72.00
9 Thomas Dolplads - 70.66
10 Peter Olenick - 60.00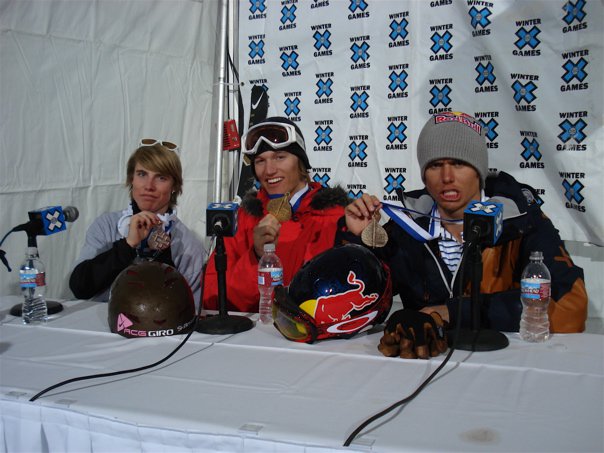 So there you have it. We hope you enjoyed our coverage of X-Games as much as we enjoyed doing it, and stay tuned for the moment a lot of you have been waiting for, as we descend on Las Vegas, Nevada for the SIA tradeshow beginning Tuesday, where we'll be bringing you as many pictures of next year's gear as your little hearts desire.