Words by Jeff Schmuck
Wow. What a night.
Unless you've been hiding under a rock for the past 12 hours, then you know what went down, so let's cut straight to it...during last night's X Games Ski Big Air, Henrik 'E-Dollo' Harlaut made more jaws drop than at any other point in the history of X Games freeski competition by throwing a nose butter triple cork 16 (yep, you read that right) to authoritatively claim a perfect score of 50 and his first X Games gold medal...
http://www.youtube.com/watch?v=55ACj3ki7Hs
Henrik Harlaut's nose butter triple cork 1620
Second place went to Kai Mahler, who after tweaking his knee at the beginning of finals performed a feat of his own by scoring his second X Games silver medal in as many years after taking only three jumps (which included a triple cork 14 and a switch double misty 16) during the 18-minute jam session final round.
http://www.youtube.com/watch?v=Iw2Yp4oYd5c
Kai Mahler's switch double misty 1620
In third was Elias Ambuhl, who also unleashed a titanic triple cork 14 of his own, along with a silky smooth double cork 16, while Bobby Brown placed fourth, Gus Kenworthy took fifth and PK Hunder rounded out the top six after the field was narrowed down from 12 following the semi-final rounds, during which (amongst other mind blowing trickery) Alex Schlopy attempted a triple cork 1980.
http://www.youtube.com/watch?v=JZrb1tYuGxk
Elias Ambuhl's triple cork 1440
http://www.youtube.com/watch?v=C1HtoGWQEb4
Bobby Brown's triple cork 1440
http://www.youtube.com/watch?v=3bFRZ9O7dQw
Gus Kenworthy's switch triple cork 1440 during Round 1
http://www.youtube.com/watch?v=FdbUdlXeOE8
PK Hunder's switch double cork 1440
http://www.youtube.com/watch?v=4pAdzSGkSx4
Alex Schlopy's triple cork 1980 attempt
Harlaut was without question the story of the night though, along with this year's X Games so far, so be sure to stay tuned for the latest action packed installment of our behind the scenes style video coverage, where with chat with him about what prompted him to do what he did last night along with his thoughts on triple corks and how they relate to the state of the sport.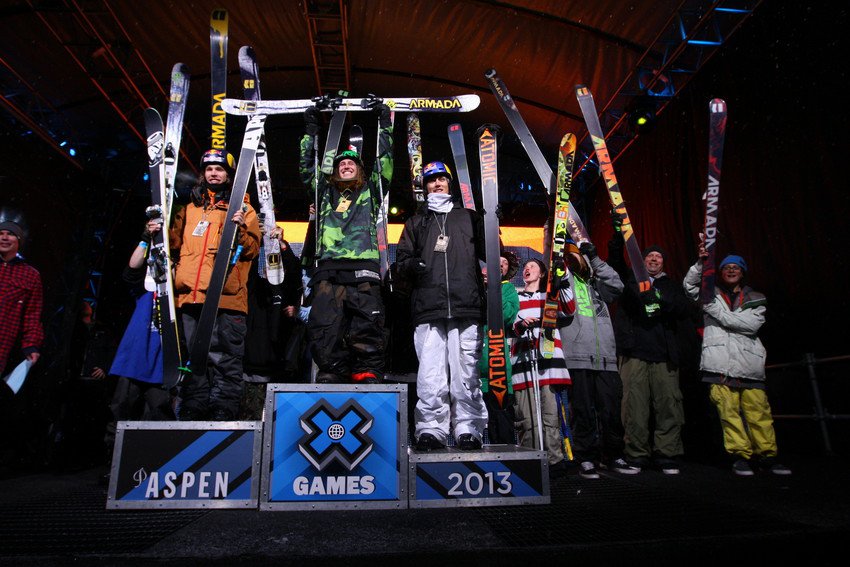 Kai Mahler (2nd), Henrik Harlaut (1st), Elias Ambuhl (3rd). Photo courtesy of ESPN.
Results
1) Henrik Harlaut - 97.00
2) Kai Mahler - 91.00
3) Elias Ambuhl - 89.00
4) Bobby Brown - 86.00
5) Gus Kenworthy - 81.00
6) PK Hunder - 79.00
To see how this event affects the AFP World Rankings, go to afpworldtour.com.
Stay tuned for more from X Games, which concludes today with Men's and Women's Ski Slopestyle Finals, which will be broadcasted live on ESPN, WatchESPN and ESPN 3D beginning at 12pm MST. For more information on X Games, visit xgames.com.